Hogu's Love Episode 12 Brief Recap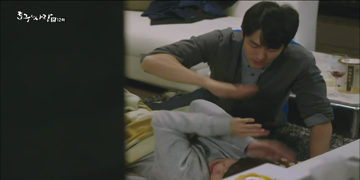 Almost got caught by Do Hee, Kang Chul reacts fast. He brusquely slaps Hogu. Hogu wakes up & startles. He doesn't want to go home, but after Do Hee reminds him the bus will stop running soon, he has no other choice but to leave.
Meanwhile, Kang Chul is still questioning his sexual preference. He prefer Ho Kyung to tell him the research result than he (aka his client) do the experiment himself. She promises to bring the test results when they meet in the coffee shop tomorrow. Kang Chul fell into her trap, again. 😀

Looking at the trophies and his certificates, they find out Kang Chul has many weird hobbies. He even climbed Mount Everest last winter (January – March). It means… he was almost freezing to death climbing Mt Everest when baby Geum Dong was conceived. Hogu finally realizes Kang Chul is not Geum Dong's dad. Do Hee and Kang Chul have been telling the truth. But why did they talk about condom in the hospital that day? And why did Do Hee go to Kang Chul?

Hogu refuses to go home because he can't leave Do Hee and Geum Dong in the bachelor's house. Kang Chul abruptly sends him home but he knows Hogu will ask about the baby's father. Do Hee begs him not to tell Hogu. He assures her he won't make a big mistake because as an expensive lawyer, client's confidentiality is his fundamental obligation.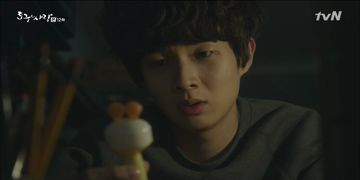 Of course Hogu can't sleep tonight. He's curious what really happened and who's the baby's father. But most importantly, he's jealous Do Hee and Kang Chul are together. He also misses cutie baby Geum Dong. He's wondering if his parents knew he'd grow up like this hence they named him Kang Ho Goo (fool).
The next morning, Hogu gets get a new haircut. When asked if he plans to confess his love, he replies ye. He also wants to find the answer because he's Geum Dong's older brother & his mother's guardian.

On behalf of Do Hee, Kang Chul interviews prospective adoptive parents but Do Hee rejects every candidate.
He decides to help her because he feels bad he didn't help help back then. He knew as a famous athlete, he would put her in a more difficult position if he helped her that time. Do Hee admits she resented him before but she realizes he was right. He assures he doesn't have any romantic feeling for her. Then abruptly leaves as she just starts to cry. That's why you can't date anyone, Kang Chul ya… You're very insensitive to woman.

Hogu spotted Do Hee with a couple visiting someone's grave. While waiting for the bus, he spoke with this couple who told him their son and Do Hee were friends. They shocked when Do Hee came to their son's funeral and truthfully, they didn't know if she had any special relationship with their son. But they're grateful Do Hee found a lawyer when that accident happened.
Did Geum Dong's dad pass away because of an accident? That's why Do Hee was looking for Kang Chul? He remembers she told him both the man & the baby were a mistake and she wouldn't be able to love again. What happened? He cut his hair so he must be courageous and strong enough to ask these questions to Do Hee.

Kang Chul put an ads looking for a babysitter, Hogu decides to be Geum Dong's babysitter. That's the reason why he got a haircut because it's not ideal to have long hair while he's looking after a baby. Hogu who knows Kang Chul's house passcode, comes to his house & makes himself at home.
But instead of asking the questions he's dying to know the answers, Hogu tells Do Hee that he prefer to witness Geum Dong's milestones (ie. crawling, talking, tc) rather than knowing what happened in the past. He doesn't want to have any regret sending Geum Dong away without doing anything for him.

Ho Kyung barges into Kang Chul's house to give the documents he requested. Do Hee and Ho Gu are still in the bedroom discussing about the contract, to ensure it's strictly a professional working relationship.

Ho Kyung is suspicious if Kang Chul hides a woman because he's dying to kick her out. Just then, Do Hee comes to the living room. Not wanting to lose against Do Hee, she introduces herself as Kang Chul's blind date, making Do Hee is amazed he even went to blind dates. Yup, he's a man full of surprises.

But the other man who's also full of surprises is here. Kang Ho Goo! His sister is shocked to see her brother holding a baby. Do Hee proudly introduces her baby. Kang Chul steps back, afraid Ho Kyung think what he thought. Yup, she is! She punch him before they reveal he's not the baby's father.

Do Hee tells her that she needed a legal advice hence she stays with Kang Chul. But Ho Kyung doesn't understand why her brother is here when his relationship with Do Hee is over. Does it mean he's dating Kang Chul?
Ho Kyung then realizes he wasn't talking about his client, but himself. He's gay? Kang Chul is startled. He gets up and shows everyone the nanny's contract. Congratulations Hogu, you're hired!

While Do Hee is working & practicing, Hogu's looking after baby Geum Dong. While he's working, Do Hee is looking after her baby. Kang Chul still helps Do Hee interviewing prospective adoptive parents. Ho Kyung… she stops by to see the baby. She couldn't tell her parents the truth because Hogu threatened to show Kang Chul her pre plastic surgery pictures. She warns Do Hee for not seducing charitable good man Kang Chul so she tells the jealous woman the truth that he doesn't have any feeling for her.
After Ho Kyung points out she's a national bitch for taking advantage of Kang Chul's kindness, she replies she should call her sister (because she's Hogu's sister). She refuses, Hogu isn't the baby's father so the real baby's father will get upset. Do Hee intimidates her by asking if she knows the baby's father. Ho Kyung clearly doesn't know so she accepts defeat.

Kang Chul ignored Do Hee when she really needed him that time (when the baby's father got into an accident). Hogu tells him he's a competent & amazing guy hence Do Hee went asking for his help. He's glad he was Do Hee's ex-boyfriend.

Hogu ordered cloth diapers but he wrote wrong address so the delivery man delivered it to the sender (his house). Kim Ok Ryung decides to deliver the parcel (a box of diapers) to her son's new "workplace" aka Kang Chul's house where she run into Mok Kyung Jin in the lift.
Kyung Jin gets off the lift first and is pleased to see Do Hee in front of her son's house. But this time, she's holding a baby! Whoa… She almost faints. Ok Ryung is shocked to find out that's Kyung Jin's son's house. Putting pieces of puzzle together, they think their sons are dating. Talk about misunderstanding.
Ok Ryung knew something was wrong because Kang Chul often slept over at Hogu's room which smells milk formula & diapers. He even ordered cloth diapers. Kyung Jin is perplexed & distressed. While Ok Ryung is overjoyed they're family now.

Kang Chul's client, a celebrity, is caught up in a rumor that he's gay but Kang Chul believes it's not a good idea to file a lawsuit. Kong Mi think he should sue because society in Korea will execute a gay man harshly. All his good image & career he built will be tarnished forever. He came to Kang Chul because he's an expert in this field, making Kang Chul explodes in anger (he's not a gay case expert). His attorney points out he's an expert in defamation.

After handing out all the documentation to Kang Chul, Ho Kyung invites him for a drink. She opens the bottle's lid with a spoon reminding him she did the same thing last time.

Director Park wants Do Hee to do couple photoshoot with Kyung Ho, the national's mermaid. She jolts hearing his name. She refuses although Director Park points out all her pregnancy rumor will be buried after this photoshoot.

Do Hee blankly stares at Hogu so he's wondering if there's something on his face. He knows something's wrong but because Do Hee is home, it's time for him to go home.

When Ho Kyung went to the bathroom, Kang Chul filled out the questionnaire and it made him crazy. He uncontrollably drinks the alcohol, advising Ho Kyung it's no use for her to like him because he's gay. He screams out he's gay! So why this woman keeps flirting with him. Ho Kyung assumes he's drunk, doesn't believe anything he said.

Hogu realizes Do Hee is very exhausted after working so hard earning money to buy diapers for her son. He offers to hug her because at his home, they hug without asking for anything. An offer she gladly accepts. In return, Do Hee kisses his lips.

Hogu is over the moon. He can barely walks home due to legs suddenly become weak, very weak.
Do Hee think she's lost her mind for kissing him. She opens the sketchbook Hogu gave her *aww she still keeps it
All her sweet moments with Do Hee are flashing on her mind. This sketchbook she received from him few years ago. Their meeting in the pedestrian crossing few months ago. Their meeting at school reunion. Then that fateful night when he took her to Yeoso, the happiest yet saddest moment. But it was the time she finally let some of her burdens out.

She cries… confessing that she tried hard to hold everything inside, but she admits to Geum Dong that Hogu is her first love.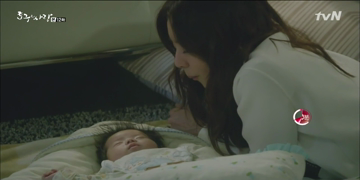 Do Hee kisses her number one treasure, baby Geum Dong. And she introduces Geum Dong her number two treasure, Kang Ho Goo!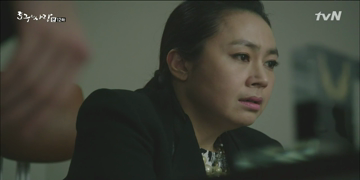 Director Park learns that Do Hee has a baby. And she was raped!
Brief Comment
OMG, so that's what happened! Do Hee was raped. She had nobody she could trust so she carried her burden alone until her fateful meeting with Hogu at the school reunion. If Hogu didn't go back to the restaurant to get his bag, if he didn't have courage to accompany distressed Do Hee to Yeoso that night and let her vent her anger out, Geum Dong wouldn't be here. If he didn't hug her that night, Do Hee would never have the courage to trust him. Hogu did it again this episode. He knows how exhausted and tired Do Hee is, but instead of demanding to know the truth, he gives her what she needed the most. A warm hug which heals her brokenness and loneliness.
It takes this drama 12 episodes to tell us that our OTP is each other's first love. All along I thought it's just Hogu's one-sided love. It was destroyed when he mistakenly assumed Do Hee and Kang Chul dating rumor was true after he spotted them having a meal together. He didn't realize Do Hee approached him to take advantage of his club's membership, not because she had feeling for him. Then, Hogu started to ignore her driving Do Hee away. But Hogu drove her back to him because he wanted to help her as a friend although she repeatedly told him to leave. Do Hee finally admitted Hogu is her first love, the smile & glimmering hope on her eyes are really sweet to see.
I'm baffled the writer chose to continue making Kang Chul suffers with this misunderstanding. It's all in his imagination that Hogu is his first love. Like many people who can't forget their first kiss regardless how awesome or bad their experience was, Kang Chul's heart still beat fast whenever he meets Hogu. Because he can't forget that first kiss, he feels he was robbed. So he refuses to have feeling for women because in the back of his mind, he dislikes the fact a man kissed him. I hope the writer will solve this misunderstanding soon and tell him it was Ho Kyung who kissed him because he deserves to know the truth and he shouldn't waste his life pondering about his sexuality.