Hogu's Love Episode 14 Brief Recap
Episode 14 – Being ordinary is the best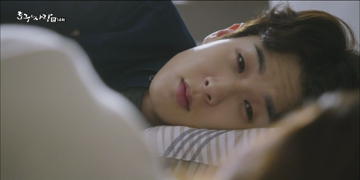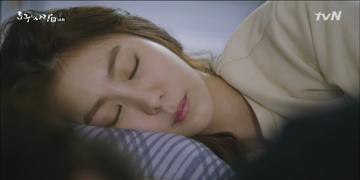 Hogu wakes up first, sweetly gazes at his first love whilst admiring her beauty. She's very pretty even when she cries.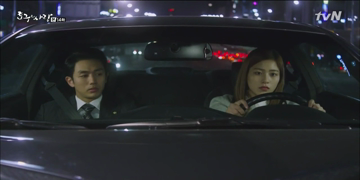 The reason why Ho Kyung decided to help Kang Chul is because she wants to settle her feeling. It's going to be harder for her to cut him out straight away. She promises to give him all advice he needs hence Kang Chul concludes she's a better person that he thought. He notices a sticky note in the book with name "No Kyung Woo".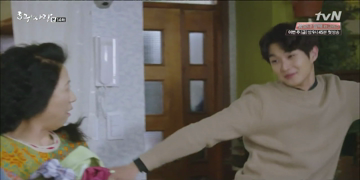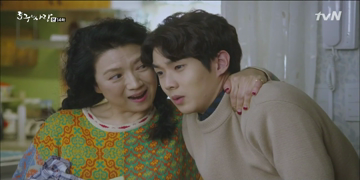 Life is really beautiful nowadays for Hogu, he sings children song The Little Zoo & dances around the house. Mom invites him to drink rice wine. But it's still early in the morning, mom? It's okay, we need to talk, son. 

Do Hee is also in a good mood. Her swimming records are great. As soon as her practice finished, she went straight home to look after her son. She sings & dances the same children song but she changes it into a techno children song 😀 Kang Chul who knows it's Hogu's favorite song is clearly sick of it, begging Do Hee to sing another song.
Kim Ok Ryung lectures her son for hiding the secret. No matter how ashamed he was, he should tell his family. It'll be okay. Hogu decides she should know the truth that Geum Dong isn't his baby. Meanwhile, Kang Chul also tells his mom the truth about Geum Dong. Both mothers are shocked their sons live with a married woman and her baby although they're not the baby's father.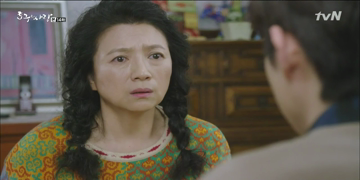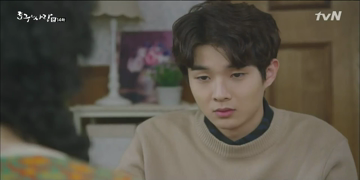 Hogu: mom, the baby's father is in Heaven that's why I'm looking over them. Because she's the baby's mother and I love her. 
Ho Kyung hits her brother for breaking their mother's heart. Do Hee admits she shares the same feeling, she also likes Kang Ho Goo. Ho Kyung almost faints >.<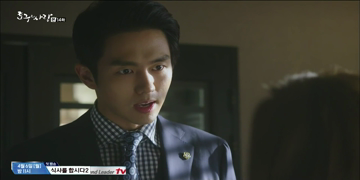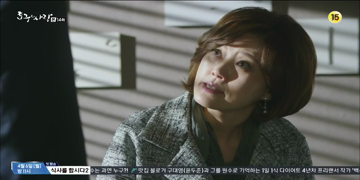 Kang Chul: mom, she's not a married woman. She's a single mother & I'm her legal representative…
Kyung Jin mocks her as a low class girl. That makes Kang Chul angry – mom, you're crossing the line. Kyung Jin slaps him. They raise him in luxury so he wouldn't and won't hang out with people like her. But it's no use, mom. Because you're son is… gay. OMG. Ho Kyung is shocked Kang Chul told mom that he's gay.

The two dads' reactions are totally different. While Hogu's dad can't stop crying, Kang Chul's dad is going to kill his son with his golf club.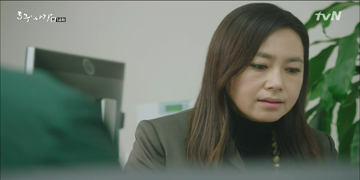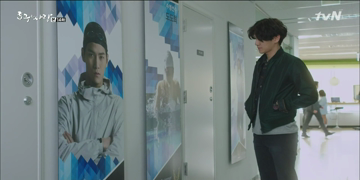 Director Park bluntly asks No Kyung Woo if he dated Do Hee. He explains they had a drink together when she experienced her slump. That's it. Director Park tells him… Do Hee got pregnant.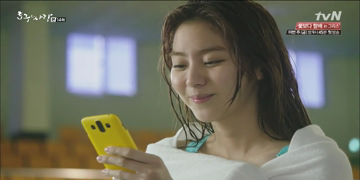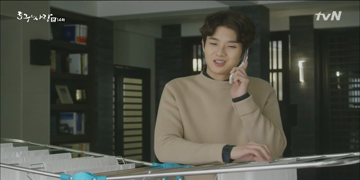 Hogu calls Do Hee after she finishes her practice, her face lights up when she saw his name on the phone screen. She talks to him in a very sweet voice. These two are so adorable together. People who listen to their conversation will think they're Geum Dong's parents. Hogu whispers he misses her. So do I says Do Hee.
Do Hee can't hide Geum Dong again from Director Park because she found out the "truth" from Kyung Woo. After knowing about their past history, she understands why Do Hee didn't want to do couple photoshoot with him. Director Park will cancel it for their sake.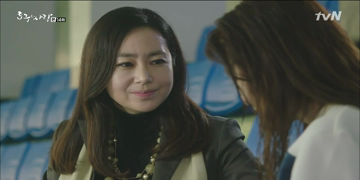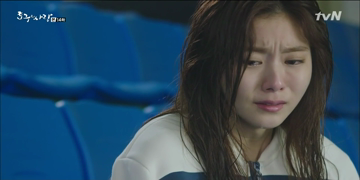 Do Hee starts crying, asking what Kyung Woo told her. She confesses that night wasn't a mistake (albeit Kyung Woo said he was too drunk to remember). When asked if it was a sexual assault, Do Hee nods.
While feeding Geum Dong, Kang Yong Moo asks if his son likes Do Hee. He admits he does as he apologizes.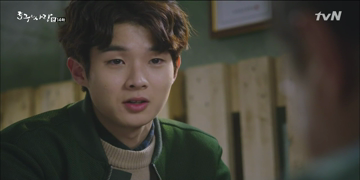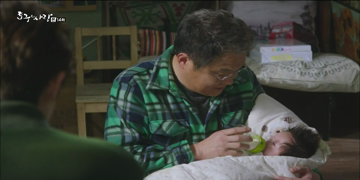 Dad: What are you sorry for?
If Hogu likes her, then he likes her. He only wants his son to love & date like a normal person and most important, be happy. Hogu promises he'll be happy like everyone else. Dad agrees because his son has a talent for turning the extraordinary into just ordinary (in a good way).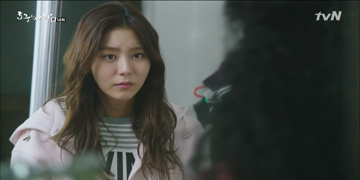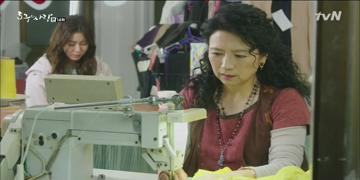 Do Hee apologizes to Kim Ok Ryung, but she tells her there's nothing to be sorry about. Especially after she found out the baby's father passed away due to an accident. She isn't confident her son who finds joy in the smallest thing can heal her. But he can be happy when she's happy. Are you prepared to be happy, Do Hee? She tearfully apologizes again. :'(  Ok Ryung gives a gift for Geum Dong.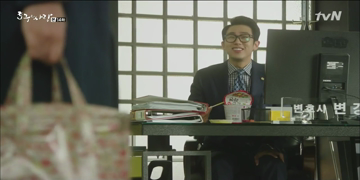 Kang Chul's work colleagues avoid him. Feeling unjust, he decides to eat ramyun alone in his office. He smiles when he hears Ho Kyung's voice because it's time for their consultation. She brought him delicious lunch. After carefully listening to his complains that his work colleagues mistreated him, Ho Kyung reminds him of all people he hurt at court, they were unjustly treated as well. He won the cases by destroying those people's lives.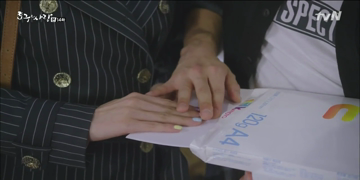 Chung Jae brought Kong Mi to his office, cheerfully tosses Do Hee's pillow. Hogu hands him the A4 paper he was asked to buy. They take a look at the paper, both of them feel a gentle electric buzz when his fingers touch hers making romantic Chung Jae tells his girlfriend that she's like this soft paper. Cheesy 😀 Tae Hee changes the subject.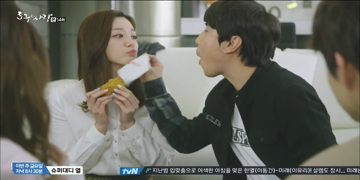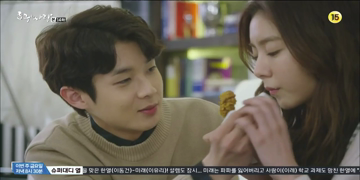 They go to Kang Chul's house where they witness another romantic couple… Do Hee & Hogu. But Do Hee is no way like Kong Mi who surrenders to Chung Jae's cheesiness. She's tougher and doesn't show her feelings in front of their friends.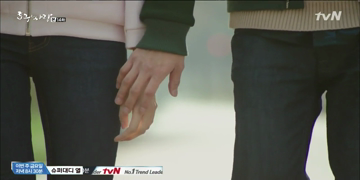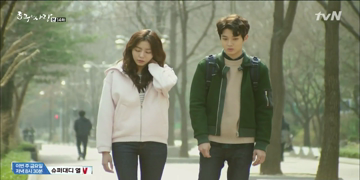 Hogu is already planning for Geum Dong's 100th day celebration. Do Hee doesn't want to do it so he reminds her promise to raise him as ordinary child until he gets adopted. It works, she finally agrees. He's way more excited than Do Hee, so sweet it's hurts. He tries to hold her hand, but she refuses. She even tells him to leave. Hogu is hurt but he pretends to be okay.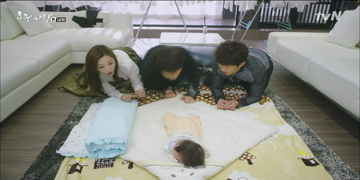 Kong Mi, Chung Jae and Tae Hee are encouraging Geum Dong to turn over by himself. He couldn't do it but he tried his best.
Kang Chul is surprised to see his secretary at his home, what is she doing here? Pretending she just stopped by to see the baby, he tells her to go back to work.
Chung Jae who doesn't know he's her boss is upset he scolds his girlfriend in front of him. Tae Hee explains Chung Jae is Kong Mi's boyfriend & Hogu's buddy – Kang Chul's face lights up. Buddy? Let's drink then, buddy!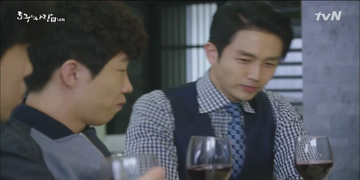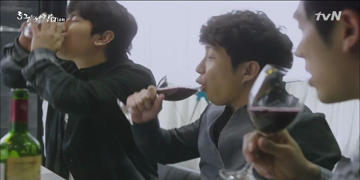 He realizes he doesn't have real friends in his life after Ho Kyung asked him about his real friends. According to him, his friends are people he meets at his work's gatherings. But that's not what Ho Kyung meant. She wanted to know if he had same gender friend who he can fully trust, who he's most comfortable with. Because he doesn't have any personal relationship (friendship) with the same gender & he only experienced that with that man, hence he's confused with his true identity.
She gives him an assignment to drink: try to make friends with the same sex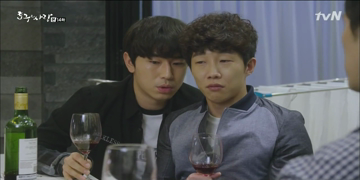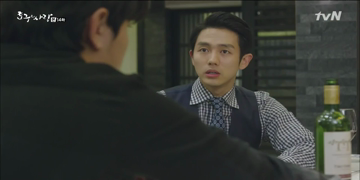 The drinking session isn't going too well because Kang Chul keeps talking about investment stuffs, all things that sound foreign for his new buddies. So they invite him to their favorite cart bar but Kang Chul who never shares anything with anyone, refuses to go.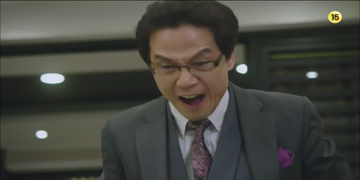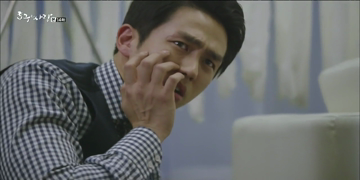 Suddenly, they hear someone is here. It's Byun Kang Se who slaps his son before he realizes his dad is here. Calling him crazy for embarrassing him. Kang Chul screams out he's his son, why dad doesn't want to figure out what caused him to turn out like this.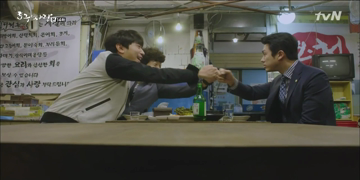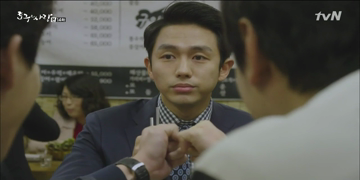 Feeling hurt, he decides to go to the cart bar with Chung Jae & Tae Hee where he experiences many new things. His first taste of soju – he complains it's bitter. They feed him squid – he think it's a rubber. He does look weird, but he's an ordinary person like them too because he also got hit by his dad. They thought he dated lots of women, dined in expensive restaurants with his women so it's mindblowing when Kang Chul admits he never held a woman's hand. He's still a virgin bachelor like his new buddies. Kang Chul, you're our new friend.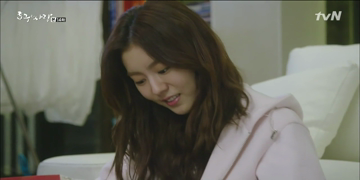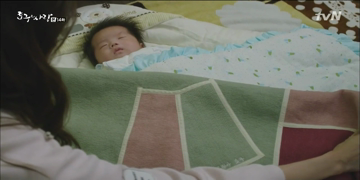 Hogu's mom gave Geum Dong Hogu's embroidered baby blanket "My pretty angel, Ho Goo". Awww..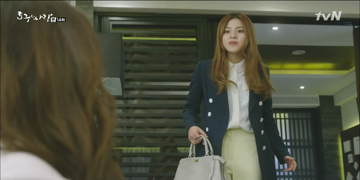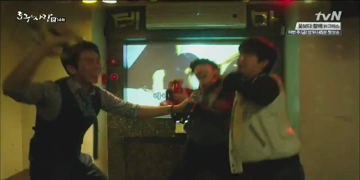 After she heard about the huge uproar, Ho Kyung rushing to Kang Chul's house, shocked that Kang Chul is currently having fun with his friends. He has friends, since when? He's currently having so much fun with them, noraebang's time 😀
Ho Kyung is worried. Should she wrap Kang Chul up like baby Geum Dong? Although he confessed he's gay but she doesn't care if he's gay or even a cyborg because her heart won't let him go. Do Hee admires her honesty & the fact that she's proud of Kang Chul. But Ho Kyung is more jealous of her amazing "sister". If Do Hee is her brother's girlfriend, then she's her sister. Right? ♡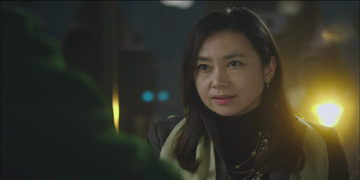 Hogu is confident he, Do Hee and Geum Dong will do fine. He'll wait for her until she's ready, he hasn't told her his plan to raise Geum Dong together. But Director Park breaks the news which breaks his heart. Geum Dong's dad is well & alive, they made a mistake while they were drinking & Do Hee used to be close with that guy. Do Hee probably didn't tell him the truth because she's ashamed of herself. Ouch…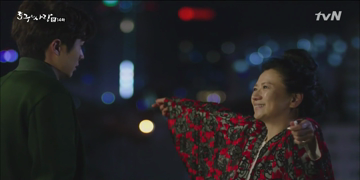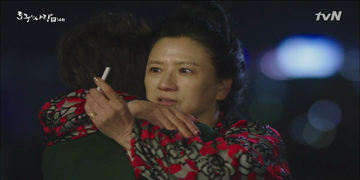 He caught her mom at the rooftop biting the cigarette. Straight away he knows mom is sad, upset & worried because she has stopped smoking. Mom sweetly says that if he likes her, she accepts it. He's wondering if it's love. Mom gives him a big hug encouraging him to do it if he decided to do it. She'll try to bear & handle all the pain herself.
Ho Kyung also accepts Do He openly because she knows her brother likes her. But she asks her for not making soft-hearted Hogu cries. Hogu grew up in a house full of love, so amazing & awesome his family are worried yet they fully support him. They believe & trust Hogu's decisions & choices.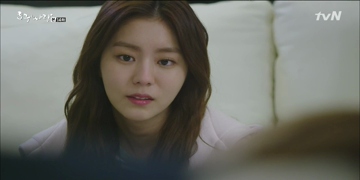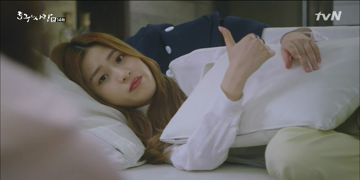 Do Hee is wondering why the mermaid became sea foam (based on the mermaid Hogu drew). Ho Kyung replies maybe because she lost her voice hence she couldn't tell the prince the truth. Do Hee tries to interpret it: what if she didn't lost her voice, would she still tell him the truth? She might be afraid he would get hurt or he wouldn't believe her. Ho Kyung is impressed with her sister's emotional interpretation.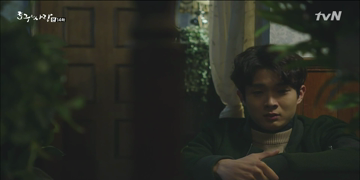 Hogu overhears his mother sobbing to his father. She realizes her son is having a hard time because his body was cold when she hugged him. She didn't expect anything for Hogu, she only wants him to love & date like an ordinary person. Her husband comforts her, it's what he wants as well.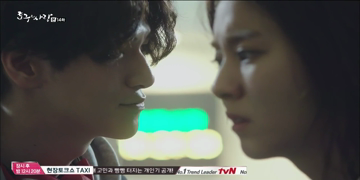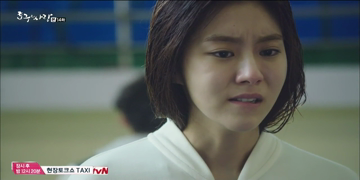 Kyung Woo taunts Do Hee if she's sure he's the baby's father. Do Hee who's decided to bury it, tells him to shut up. If not, she'll tell the whole world what he did that day. He threatens nobody would believe her, they were just close friends who drank together.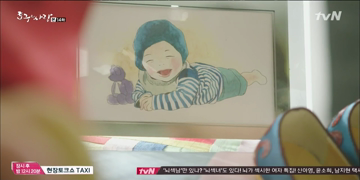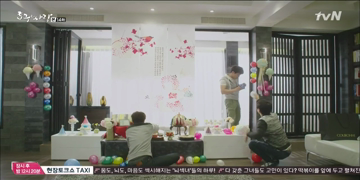 Hogu, Chung Jae & Tae Hee decorate the living room for Geum Dong's 100th day celebration this afternoon. Hogu's drawings, the cake, balloons, the guys are doing awesome job.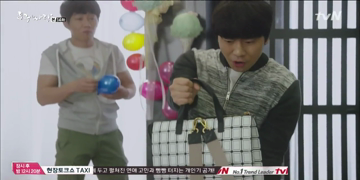 Chung Jae gasps when he saw the expensive handbag Hogu bought for Do Hee, he believes any woman in love including Do Hee will love it. Hogu spent his emergency money to buy it. Chung Jae begs him not to give this bag when Kong Mi is around (in case she gets jealous).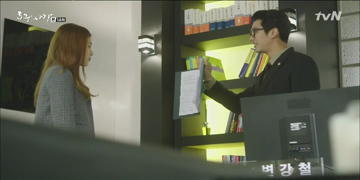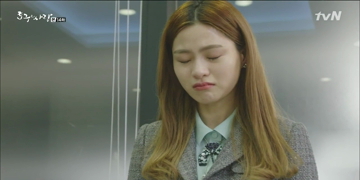 Kang Chul answers the empathy assessment again after spending few hours with his new buddies last night. Pleased his score went up. But Ho Kyung is upset with his selfishness. He only cares about finding out his real identity without considering her feeling. He even gave her number to that man without asking her permission. She warns he won't be able to love anyone except himself.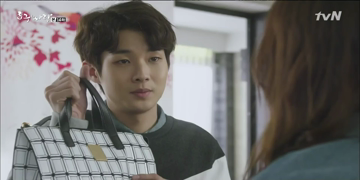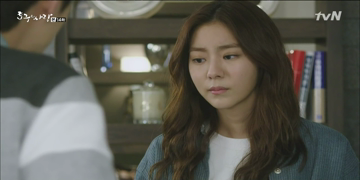 Do Hee put up a brave face but she's not in the mood to celebrate her son's 100th day although everything's ready & they've dressed Geum Dong up. Chung Jae advises Hogu to give the bag to cheer her up. But she refuses. Didn't she already tell him she doesn't want a gift?
She keeps saying sorry making Hogu upset. He wants her to stop apologizing & date happily like ordinary couple. But Do Hee realizes she can't be like those ordinary people. She doesn't even have the courage to tell him the truth.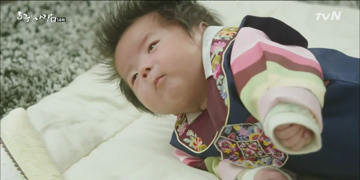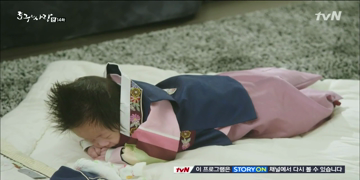 Just then, Geum Dong turns over by himself. Awww… Do Hee can't help but smiles witnessing her son's milestone.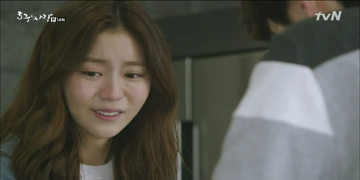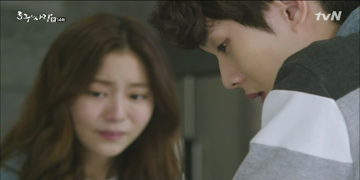 But Do Hee knows she must end this… She can't hurt him even further. So she calls it quit. Heartbroken Hogu holds back his tears: Sure… Let's end it