Hogu's Love Episode 15 Brief Recap
Episode 15 – Let's not hide our face
Hogu: yes, let's end it. But he then says… Let's stop & take pictures as he coolly apologizes he was too sensitive.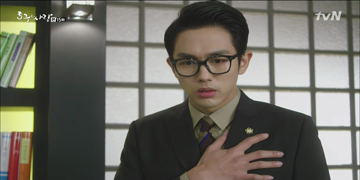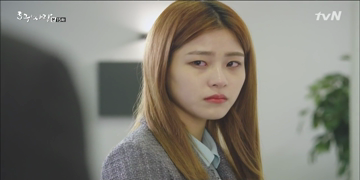 After Ho Kyung lectured him for being too selfish, Kang Chul suddenly felt his heart raced really fast. He invites teary Ho Kyung to his house to celebrate Geum Dong's 100th day.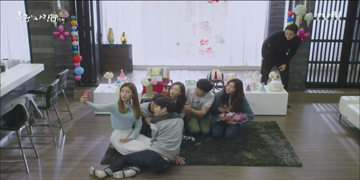 They take pictures to commemorate the happy occasion. Selca maniac Kang Chul shows off his monopod and keeps taking pictures in many different angles making Ho Kyung annoyed & frustrated. Kang Chul invites Ho Kyung to join him & his new buddies to drink somaek (soju & beer) today but she refuses it flatly.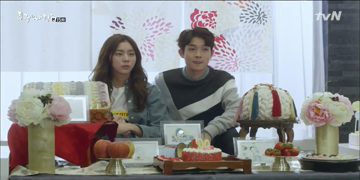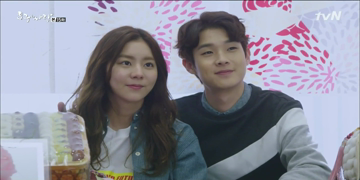 Ho Kyung wants to take picture of Geum Dong's "family" but it's clear Hogu & Do Hee are currently in a very awkward situation. Hence, Ho Kyung tells them to be more affectionate.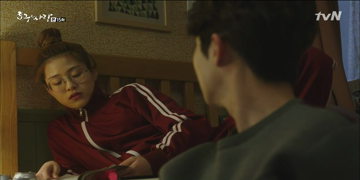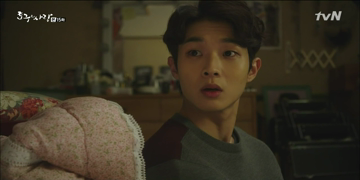 After Do Hee talked about Andromeda kind of story (that mermaid story), Ho Kyung concluded her brother is having a hard time digesting the truth that Geum Dong's dad is not the man he thought he was. She knows Do Hee is hiding something from her brother yet she's unable to tell him the truth. Do you feel betrayed or are you tired, Hogu ya?
Meanwhile, Do Hee recalls what Hogu and his mom said about being happy & if she's prepared to be happy (so Hogu can be happy too). Kang Chul arrives home after his happy karaoke time with his new buddies, singing 2AM song Can't Let You Go Even if I Die.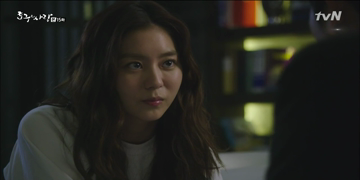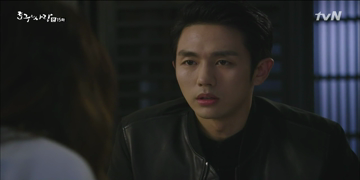 Do Hee notices he becomes more human after he found out he's gay. He argues back he's not gay – he made same sex friends and passed the assessment. He also coolly says he's already forgotten about Hogu (oh yeah). Do Hee points out Kang Chul let her & baby Geum Dong stay at his place was because of Hogu, not because he likes her. This prompts Kang Chul to admit that Hogu made his heart beat fast but he's not sure if it's merely just a cultural shock or a romantic feeling. But thanks to him, he's able to sympathize with Do Hee. She teases him it's better for him to stay being gay because he's so much better & become more human like this. It upsets him so much.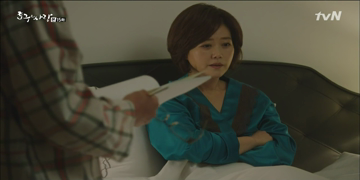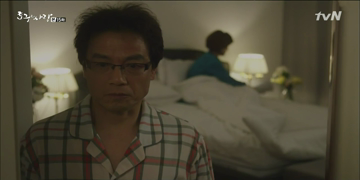 Professor Mok is preparing her material for next week's meeting about finding out the cause of homosexuality from genetic view through scientific research. Are they planning to find out human's sexuality through this research? She's clearly furious. Then she kicks her husband out of her room (wait they sleep in different rooms?). Byun Kang Se who couldn't sleep because of Kang Chul, wants to sleep with his wife tonight. She initially refuses, but then she sullenly agrees. He gulps, nervous… then takes a really deep breath.
After digging through Kang Chul's study room, Professor Mok found out about Do Do Hee's lawsuit & she shows a scanned copy of the lawsuit to Ok Ryung. That night, Ok Ryung can't sleep so she writes a letter for Do Hee.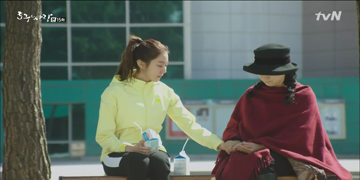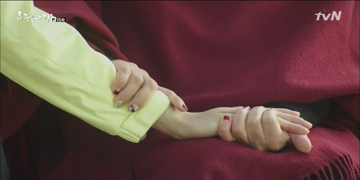 The next day, she visits Do Hee. Sweetly massages her wrist & arm, a common new mom injury. She points out Hogu takes over his mom's timidness & soft heart; although she appears strong on the outside but her small-minded sometimes hurt her children. Do Hee realizes it's because she really loves her children, because she's a mother. She knows Ok Ryung is here to say something to her, so she encourages her to speak up. But Do Hee has to leave to meet the physical therapist now, she promises she'll be back soon while Ok Ryung promises she'll wait for her here.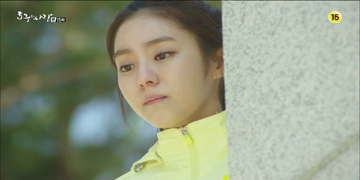 After she finished her consultation, she doesn't see Ok Ryung in the bench. But she then hears her crying heart out to her husband as she confesses she couldn't say what she wanted to say, it broke her heart when she saw Do Hee.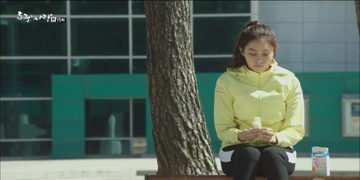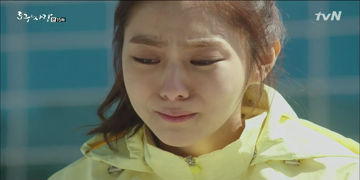 Hogu really takes after his mother. Do Hee found a letter Ok Ryung wrote last night inside the juice box. Ok Ryung couldn't bravely ask Do Hee herself these questions: Do Hee, do you plan to raise you baby herself? Do her parents know about the baby? Can she can meet her parents? Will she continue dating Hogu and what are her plans?
Do Hee can't help but cries reading all her honest questions. She really loves Hogu and doesn't want him to get hurt.
Director Park has arranged Do Hee to live in the dorm starting from today. She also has put Geum Dong's name under her so she'll arrange someone to take a good care of him. It's mindblowing everyone knows Kang Chul's passcode. Who told Director Park? Coach Shi Min?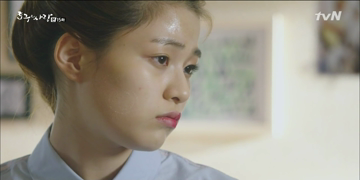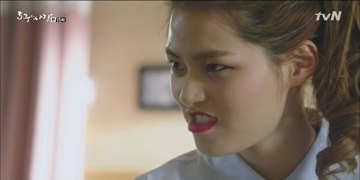 Kang Chul begs Ho Kyung to continue with his counselling session. Ho Kyung is currently confused… So she "transforms" into two different people. Evil and angel Ho Kyung. Her left face has full make-up on (evil Ho Kyung) while her right face is bare-face (innocent Ho Kyung). Angel Ho Kyung: should I let him win again this time? Evil Ho Kyung: No! And I won't call him back. Angel Ho Kyung: but at least I can send him a text message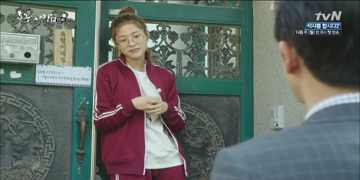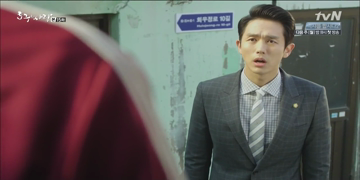 Bare-face Ho Kyung stands in front of her house, still wearing her tracksuit when Kang Chul asks if Ho Kyung lives here (omg he doesn't recognize Ho Kyung :D). She tries to hide her disappointment as she cheerfully says she's just someone's passing by here. She then cries her heart out to Kong Mi.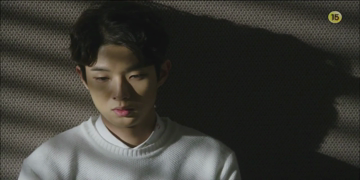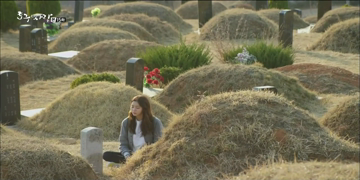 After Director Park took Geum Dong, Hogu feels the emptiness inside his heart. He writes a letter. Then he goes to Kang Chul's study room to borrow his glue where he shockingly sees Do Do Hee's lawsuit! He sits there for hours, too shocked & hurt to say anything.
Do Hee who's currently at Ji Yoon's grave is told by Kang Chul that Hogu now knows everything. She tearfully tells Ji Yoon that her prince found out. But because he's her prince, she should tell him everything before she leaves.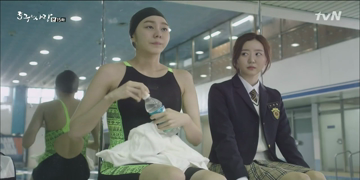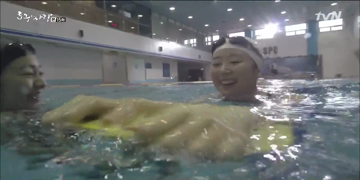 Do Hee imagines she's talking with her classmate who crushed the virginity candy at the school's assembly. Her practice was a total mess today. But she decides to teach her "friend" how to swim. They have a great time together but Do Hee is confused why her friend hates swimming although she likes swimming pool. It's because she hates everything which touches her body, that includes water. Do Hee is shocked to see her friend's body – bruises everywhere.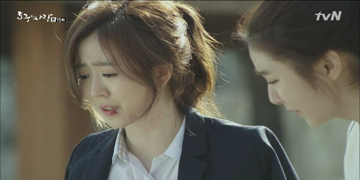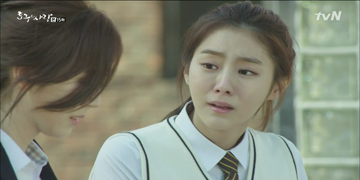 Flashback
Do Hee came to someone's house and was surprised to see her friend Ji Yoon leaving from the house – crying. Do Hee wanted to report it to the police, but her friend didn't want the whole neighborhood to falsely accused her for seducing that man. Most importantly, she didn't want her parents to get hurt. She hated people would look at her the way Do Hee looked a her now. With a pity in their eyes.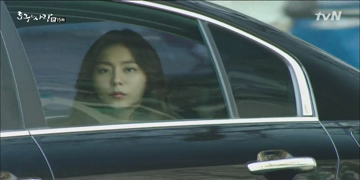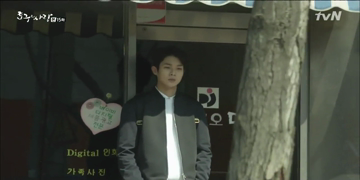 Back to present time
As Director Park drives her to her new dorm, Do Hee is wondering if Hogu is also looking at her with that pity in his eyes. But she has decided to move on. When the car passes by a photography store, Do Hee sees Hogu's standing there. They've planned to meet there as Hogu wants to give her something. She starts crying as the car drives away. Can she forget her prince? Can she move on from her prince?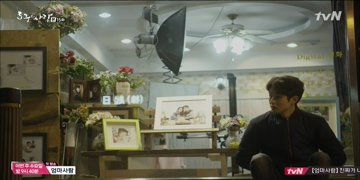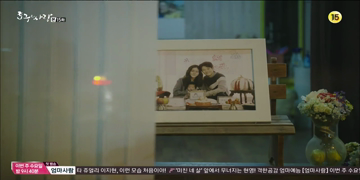 Hogu printed Geum Dong's 100th day celebration pictures at this photography store & he plans to give the frame picture to Do Hee and the letter he wrote earlier. He waits for Do Hee all day until the store closes. But because she didn't come, he'll come again tomorrow. The store owner left the picture in the shop window.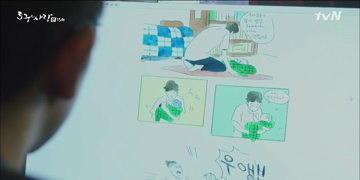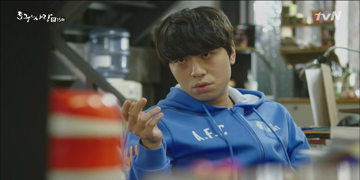 Time jump – few months have now passed
Hogu hasn't picked up the picture yet, it's still displayed almost forgotten in the shop window. Hogu has now become a successful webtoon writer, his new new webtoon Winged Baby has a really good rating, higher than Chung Jae's webtoon.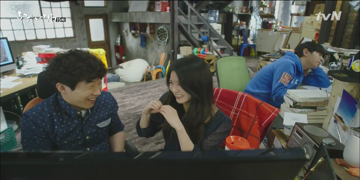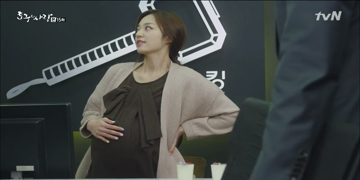 Kong Mi is now heavily pregnant. She reads Hogu's webtoon at work & plays 1TYM "Hot" as her prenatal music (bossing around her own boss). Tae Hee has a girlfriend. No Kyung Woo has been beating swimming records everywhere.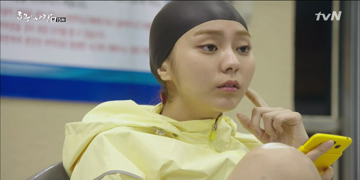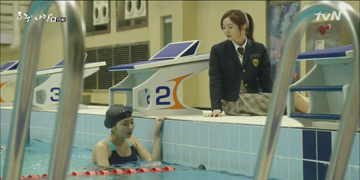 Do Do Hee? She has insomnia – looks like she hasn't slept for days or even weeks. She's even more depressed after reading Hogu's webtoon on her phone. Almost lost all her motivation, Ji Yoon cheers her up from the side.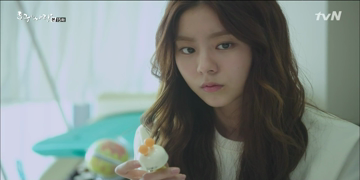 Geum Dong's nanny still doesn't know Do Hee is his mother. But she regularly visits her son and knows all his milestones & progress. Do Hee is  surprised to see Geum Dong's rattle there. Who brought it here? The same person who brought him a good ointment for his rash?
Director Park offers Do Hee to do CFs but she flatly refuses. Just then, Kyung Woo enters Director Park's room. Do Hee avoids him then asking herself, why did she avoid him? Ji Yoon tells her she has no choice, she'll get hurt if she fights him.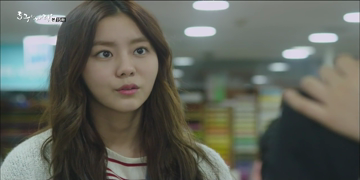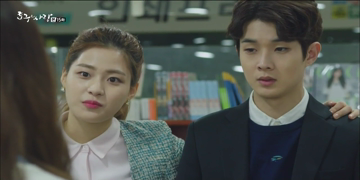 Ho Kyung spots Hogu reading a comic in the bookstore. She dressed him up for his book signing event today, but it's too tight for him & he's uncomfortable. Running late, he bumps into Do Hee in the bookstore.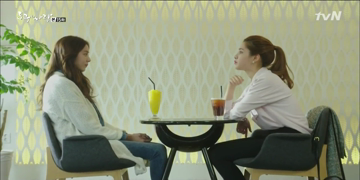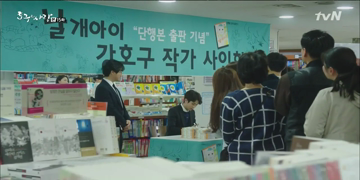 While Hogu is busy with his new book signing event, Ho Kyung is lecturing Do Hee for dumping her brother as she proudly points out everything started to work out well after Geum Dong and Do Hee left. What about Kang Chul? it's not a big deal, she broke up with him.
But what really breaks Do Hee's heart is… finding out from Ho Kyung that Hogu is getting married with a pretty, young woman. Frustrated Do Hee decides to have a drink with Kang Chul who promises to find a doctor to cure her insomnia. She pretends to be okay, she didn't have any relationship with Hogu anyway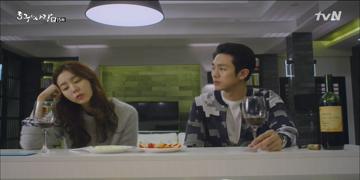 They notice Kang Chul's house is empty now. But he hasn't changed his passcode yet explaining he's too busy to do it. Do Hee decides to go to this year's school reunion. Not to see Hogu… But to see her lovely high school friends. Her friends are clearly surprised to see Do Hee there, fighting each other to take pictures with her. She gave 32 autographs, took 42 pictures and signed two insurance contracts. As she leaves the reunion, she runs into Tae Hee who explains Hogu couldn't come because he's busy preparing for his wedding. Do Hee almost gives up, he's not coming then.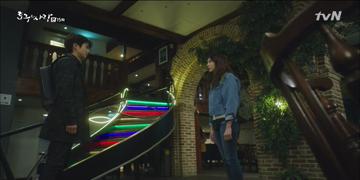 But surprisingly… he comes! It's like what happened after their school reunion last year. They take a walk in the Han River. But it's Do Hee who's nervous today. She finally speaks up starting a casual conversation. Then she apologizes she didn't say goodbye at the bookstore that day. When asked if he returned Geum Dong's rattle, he denied.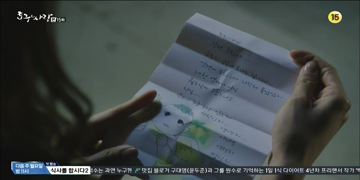 They then drink the orange juice sitting at the same bench. She congratulates him for his wedding and starts talking about the day they planned to meet in front of the photography store. Wondering what he planned to give her that day. But he doesn't want to bring up painful past, he suffered a lot.
Like last year, he goes to the bathroom. Do Hee opens up his juice cartoon to find his letter inside. A letter Hogu wrote on the day they said goodbye to Geum Dong. That day when he questioned himself and his future plans with Do Hee. He didn't even know if they were dating, flirting or they loved each other. But one thing he's sure of – Do Hee is Geum Dong's mom and she hasn't given up on him.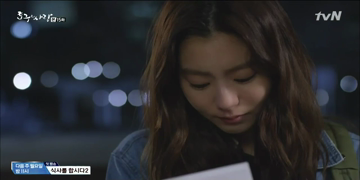 She endured 9 months pregnancy alone, 15 hours hard labor, had many sleepless night, she saved Geum Dong & protected him. For Hogu, Do Hee is an amazing woman and it's more than enough for him. He encourages her to throw away all her guilt, don't be ashamed, Do Hee yaa. It was the letter he wanted to give her that day. She cries admitting Hogu is her happiness, but she's too late now 🙁 He's getting married!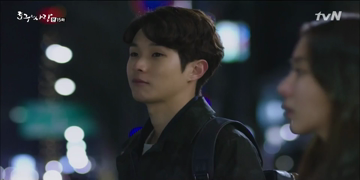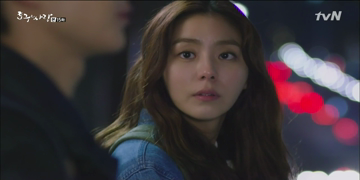 They run into each other at the crosswalk where Hogu asks if it's too late to build a sandcastle at the beach. She's surprised then nods, it's too cold now. Hogu suddenly says he wants to see the beach now. As the traffic light turns green, he knows it's time for them to part. He says goodbye. Do Hee hesitantly asks if they can see each other again, in which he replies not sure.
Do Hee remembers what happened that night a year ago. Maybe because the full moon shone brightly or the night air was really sweet, it was the first time she became a loser. But it was the best thing she ever did.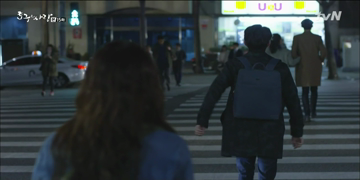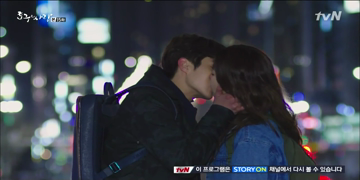 She runs and catches up with Hogu in the middle of the crosswalk while smiling Ji Yoon watches from afar. Their eyes lock, she says let's go to see the sea! When he reminds her he's getting married, she hesitates then apologizes.
Just then… Hogu kisses her in the middle of the crosswalk (awww crosswalk kiss). Hogu: my name is Kang Ho Goo.