Hogu's Love Episode 16 Recap
Episode 16 – Let's cross the red light together
Do Hee regrets she didn't receive Hogu's letter on the day he was supposed to give it to her, before she moved to the dorm. Now it's too late, he's getting married.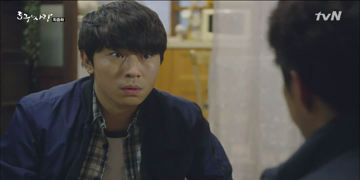 But is he really getting married? His boss & friend Chung Jae who just heard about this news, rushed to find out if it's true. In a very serious mode, Tae Hee replies it's true! Hogu will tie the knot on the 31st of March at 3PM in the Octopus room (this drama loves squid & octopus 😀). He screams out: are you serious?
Both of them burst into laughter before finally telling him the truth… It's just a joke 😀
Flashback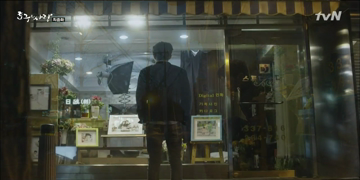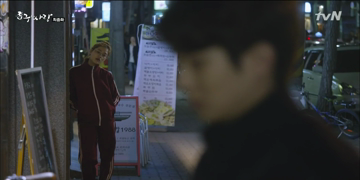 Hogu waits for Do Hee in front of the photography store, staring blankly to their picture displayed in the store window's at exactly 6PM every day. Chung Jae & Tae Hee are going crazy because he's like a zombie at work and as soon as the clock ticks 6PM, he runs to the photography store.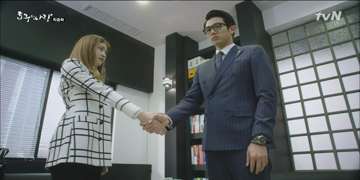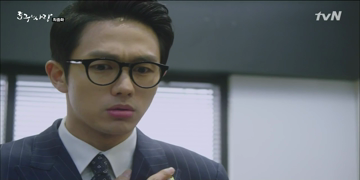 Ho Kyung wraps up Kang Chul's last counselling session. When asked about her brother, she replies he's like a lost man but don't worry, he's fine (not). Kang Chul is upset he won't see Ho Kyung again, as if she dumped him. Well, he had a chance to win her heart, but he chose to ignore her feeling. His heart beat really fast when she coolly said she'll like another man.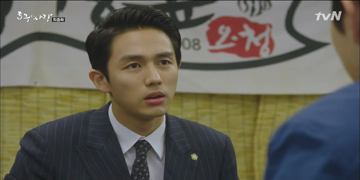 Hogu meets Kang Chul in front of the photography store this evening & they go to the squid restaurant where Kang Chul urges him to get his life back, to achieve his dream. He showed Hogu's manhwa to his client & they wanted to turn his manhwa into a webtoon. Hogu only needs to send the synopsis and his manhwa's outline, but he flatly rejects this great opportunity. He's not inspired to be a great cartoonist nor webtoon writer, he draws because he enjoys drawing. Kang Chul: this is the reason Do Hee left you. Ouch… that hurts!
He lectures his hopeless friend who sacrifices everything, his life, his ambition, for the girl he loves. A selfish man who likes Do Hee only for himself, one-sided love. He gets drunk from the fairy tale he created himself and now he's acting as a victim. It earns Kang Chul a nice punch from Hogu.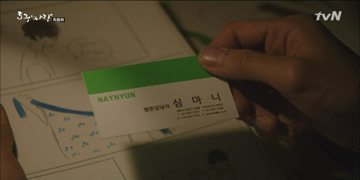 After both of them calm down, Hogu asks if he's too small-minded. Kang Chul honestly replies he's weak and he has Do Hee, a strong woman by his side. So what should he do to be with her? At the moment, this weak man is not the right man for her. Usually people said I left him / her because I love him / her and this is probably the reason why Do Hee left him. The heavy burden Do Hee carries becomes heavier when she stays with him, so it'd lessen her burden when she left. He encourages him to think of practical method to win her heart back instead of standing in front of photography store every evening.
Hogu realizes he didn't think about anything else than Do Hee and Geum Dong. As he looks at the manhwa he drew and the business card Kang Chul gave him, he realizes never in his mind he had a goal nor dream.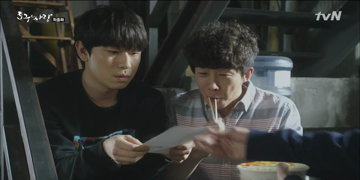 The next morning, he hands out his resignation to Chung Jae by giving him two drawings symbolizing he opens the new door to leave his past behind and I'm sorry. He decides to approach his life differently now.
Present time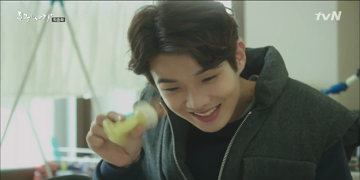 After Hogu ran into Do Hee in the bookstore, his heart hurt because he couldn't say what he wanted to say. Should he call or send her a text message? Ho Kyung casually tells her brother about her fake wedding lies because she was too angry Do Hee looked fine, better than she thought she was.
This gives him a great idea, let's keep lying so they can start anew, give their relationship a new chance. He confesses he secretly followed Do Hee around, he visited Geum Dong (and returned the rattle to him) but he didn't want to break Do Hee's wall hence he didn't show up in front of her.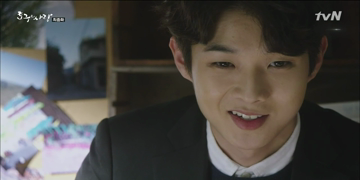 He wants her to break through that wall herself. Once that wall breaks, she'll find Hogu standing on the other side waiting for her. Hogu yaaa T_T  His sister promises to help him with his fake wedding.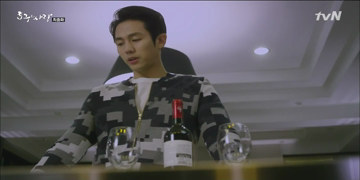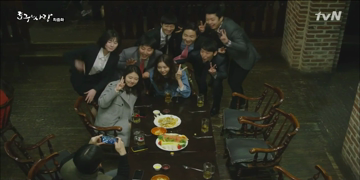 First plan: school reunion. It's Kang Chul's responsibility to make sure she's coming. He's even wondering why he's helping them. 😀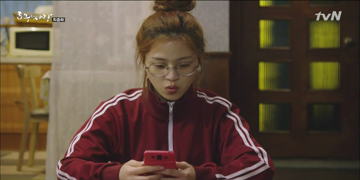 Second plan: "force" the mermaid to look for the squid. They knew Do Hee will look for Hogu at the school reunion, so Tae Hee needs to make Do Hee jealous by emphasizing about Hogu's fake marriage. It's a huge success. While the mermaid is looking for the squid, he sends a text message to Ho Kyung. She instructs Hogu who's waiting nearby to proceed with their next plan!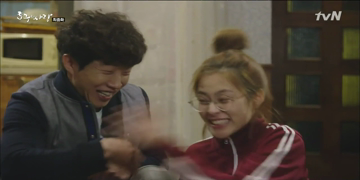 Third plan: Mermaid and squid fateful meeting. Success!
The outcome: date at the Han River. Crosswalk kiss. A romantic success!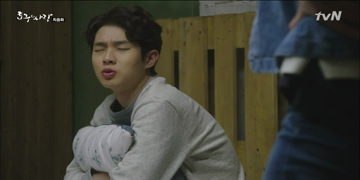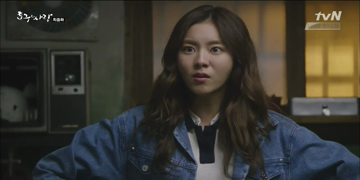 Instead of going to the beach, they went to Hogu's house. Do Hee is furious she's been conned by Ho twins and their friends. Hogu is such a good listener, but he has enough. Cheekily asks her to pause her complains so he can hold her. Awww..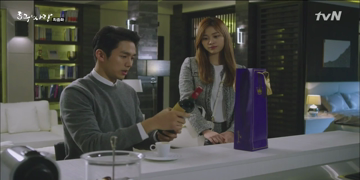 Ho Kyung doesn't drink with a man that she's not flirting with, so she leaves as soon as she gave the wine to Kang Chul, thanking him for helping them with this fake marriage project. He clearly wants her to stay longer, at least drink a wine with him, so he follows her. He's also curious why she stopped liking him. She replies because he's never seen her without a makeup on and she can't show him her bare face either. Did he ever curious about her bare face? Never. Yes, he doesn't hate her but it's because she took a good care of him.

The elevator's door opens. Ho Kyung steps inside but because I guess she's not used of wearing the high heels, she stumbles. As Kang Chul is trying to fix her heels, she suddenly kisses him – her last gift for all the wonderful times they had. His heart beat really fast again, similar feeling as he had when he had his first kiss (with Hogu). He finally realizes it was Ho Kyung who kissed him, not Hogu.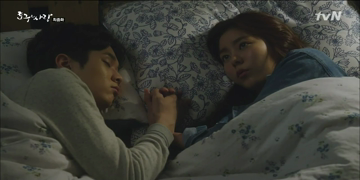 Holding hands, Hogu & Do Hee are catching up with everything which happened in their lives, all those boring stories that he wanted to hear so much.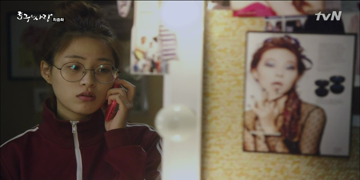 Meanwhile, Ho Kyung regrets the abrupt kiss. But she comforts herself saying that it'll ease the sting of his unjust treatment. All the efforts, time, days she spent chiseling her face transforming herself as the perfect Ho Kyung in front of Kang Chul who rushed to see Kong Mi asking if Ho Kyung had plastic surgery! And if she popped open a beer bottle with her cell phone. Kang Chul also took her store plastic bag from Tae Hee's desk.

Putting all the puzzle pieces together, Kang Chul knows she's the same Ho Kyung he mistakenly thought Hogu. The same person who could open the beer bottle like that, the same person who has the same kicking style. As he panicky drives to her house, his parents spot him while their cars are waiting for the traffic light so they decide to follow him.

Kang Chul loudly knocks Ho Kyung's house door, apologizing for disturbing at night to her parents. He wants to confirm if Kang Yong Moo came up with his store name "Two Two", in which he replies yes. His wife says it's named after their twins Ho Goo and Ho Kyung.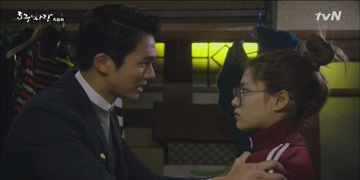 The kids all come out from their rooms. Kang Chul's parents arrive. Hogu's parents are pleased to see Hogu and Do Hee together while Ho Kyung takes Kang Chul to have a private conversation in her room. Asking if he's happy to see her bare face. He screams out, blaming her for fixing her face making him confused. Why did she take off the ugly mask & hat she that time and only appeared in front of him six years ago looking all fixed up? He suffered thinking he's gay only because she couldn't show her bare face.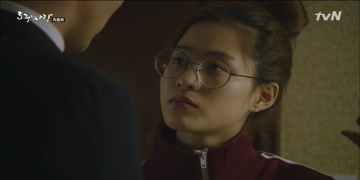 She's so upset… The reason she hid her face under thick layers of make up because he ignored her in the bus stop six years ago. She never expected anything from him but she doesn't want Kang Chul to hurt her again. But you're pretty, Ho Kyung. She's now 15 times prettier after getting the cosmetic surgery. He thought she was a man back then as she was a total mess. Why are you insulting her again, Kang Chul ya? You're hurting her now. Get out, Kang Chul!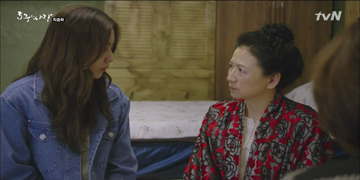 Hogu is shocked Kang Chul didn't realize he and Ho Kyung are twins. Meanwhile, his dad is happy his son is not gay. His mom is very glad her son is normal as she talks to herself like reciting a spell while Ok Ryung asks Do Hee if she's still not confident to get back together with her son.

Kang Se advises his son to apologize to Ho Kyung because she's a woman. But Kang Chul doesn't know how to apologize because he's never seen his dad apologizing to his mother. Like father like son, they're the same. Yong Mo is surprised these men never apologize to women, it's man's necessary duty!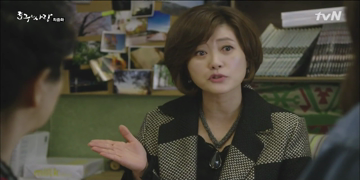 Professor Mok believes a treatment is needed for any incident / accident. Silence is never an answer especially for an assault victim. Assault is the main thing in sexual assault, sex is not the problem. They need to catch the culprit! When she's reminded about her gay son, she's distressed. People will point fingers at them if the truth is out. Well, it's similar with assault victim who mostly receives the blame, Professor Mok.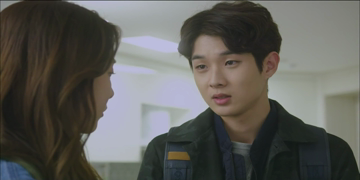 Hogu asks Kang Chul's a favor to take Do Hee's case if Do Hee decides to sue. He can't tell him the culprit's name yet. Do Hee took Hogu to her dorm, he's amazed with all her achievements. About Little Mermaid, it has sad ending because the princess loved the prince so perfect that it ended sadly. Hogu unfortunately is a squid, not a prince; so he wants to sue the culprit. He'll be next right to her.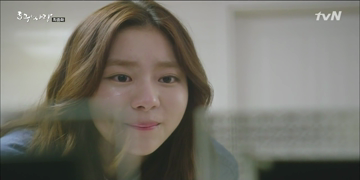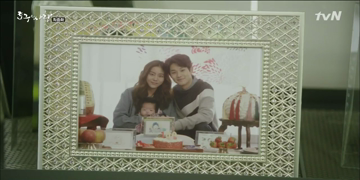 She asks if he can continue loving Geum Dong because she may hates him once in a while and she thought & will always be reminded about that time when she was raped. He's her son, he'll always be her son so she can hate him while she loves him. But she's scared the man she really loves may hate her child. Hogu ignores her, then he put the picture they took on Geum Dong's 100th day celebration in her dorm. This squid is not a joke, Do Hee. He'll be more aggressive, so you'd better be prepared.
Nation's brother No Kyung Woo knows his image will be ruined if the case goes to court, the lawyer advises him to settle outside the court. He agrees. Kang Chul is currently in charge of this case, mocking him for taking an easy way out after the netizens posted comments about him.

Ho Kyung visits her friend Kong Mi where she meets with Kyung Woo again. She accepts his invitation for a cup of tea, with Kang Chul angrily looking at her. He regrets giving her number to Kyung Woo. His secretary orders him to apologize to Ho Kyung first and get her back instead of regretting the past. She throws a bundle of document to her boss who plans to get back to his love aka his work.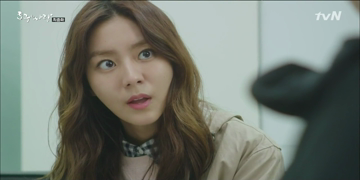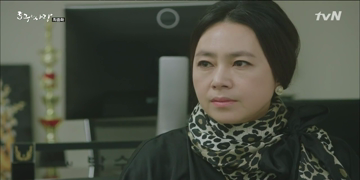 Do Hee confronts Director Park, explaining she'll raise her baby. There's no way she'll get along with Kyung Woo again although Director Park keeps wanting them to rekindle their relationship for the sake of their images. She's surprised Do Hee will sue criminal No Kyung Woo. Do Hee didn't do anything wrong, but why is she the victim here? Director Park scolds her for not behaving properly (aka gave birth to the baby). But Do Hee knows she's doing a great job, enduring everything on her own, gave birth & raises her baby. Director Park can no longer protect her and kicks her "child" out.  It's okay, goodbye… Then she calls Hogu to get Geum Dong. Hogu promises to Ji Yoon that they'll do their best.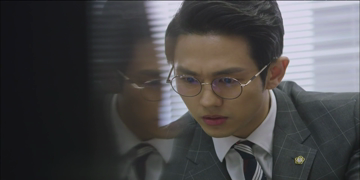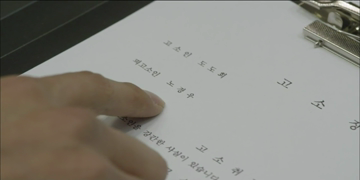 He then calls Kang Chul advising their decision – he sent the lawsuit to Kong Mi, hoping he'll take a good care of Do Hee and her case. Kang Chul is shocked Do Hee is suing No Kyung Woo! Ho Kyung is in danger! Kyung Woo doesn't want to date Ho Kyung, he only wants her to be drinking buddies.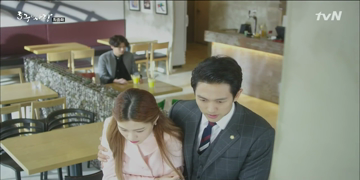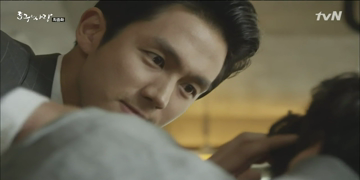 She tries to find out about Do Hee from him, confused she was his drinking buddies because Do Hee can't drink really well. He sarcastically replies Do Hee can be coy. Just then, Kang Chul arrives to save his princess, he warns him to get his lawyer.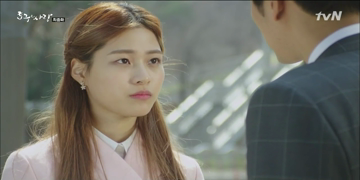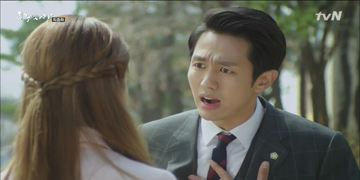 He lashes out… so upset she easily accepted another man's invitation for a drink. In front of him! But what he really wants to say is… I am sorry, Ho Kyung.

Instead of confessing your feeling, it's better to seal your apology with a kiss, Kang Chul ya. In a voice over, Kang Chul asks what is dating? She replies.. dating is timing. Is that person a green light or not? Will my green light and the one across the street fall at the same time? You have to read the signs carefully so you won't make any mistake.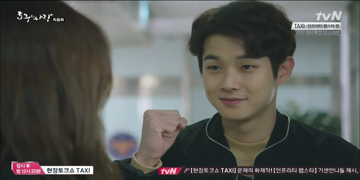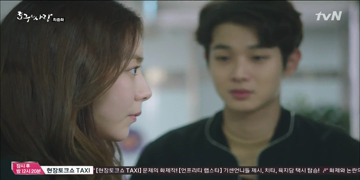 As promised, Hogu, his parents and Kang Chul stay by Do Hee's side as she bravely sues No Kyung Woo. He realizes dating is difficult as he walks her to the interview room. Ho Kyung agrees – dating is difficult but that's what it's all about.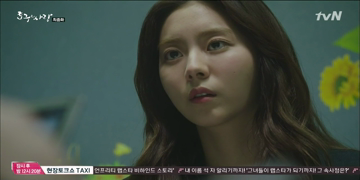 It's a tough interrogation as the cop keeps blaming her for not acting more aggresively when he took her home & when he assaulted her. Her behavior and the way she resisted doesn't add up, she's not like a typical sexual assault victim. She chose to give birth to her baby, not aborted him. Do Hee asks: how's an assault supposed to behave & respond?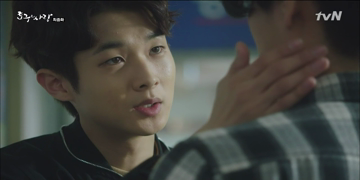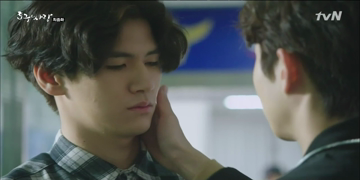 Outside, Hogu bumps into No Kyung Woo and has to hear this guy mocking him for believing in Do Hee. He's angry but no, violence is no use here. He'll put him in jail he prepared for him by calling & dissing him three times a day. He will attend all his swimming competitions & let everyone there know he's a rapist. Nonsense? Of course not. It's Hogu's talent to turn nonsense into a perfect sense! Because he is Kang Ho Goo.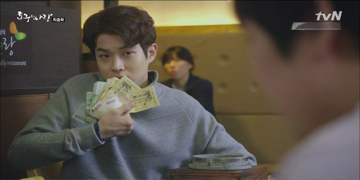 As expected, Do Hee lost the case. While she's enjoying her meal with Hogu in the restaurant, the news about her case is broadcast on the TV screen. A couple who sit next to them are discussing about her case, wondering if she sued because of money because her career is over.
Do Hee screams out calling the waitress, ordering three more servings of meat. She's still filthy rich. And don't worry, her boyfriend is paying because he's a famous main writer and he's rich too! Oh yeah.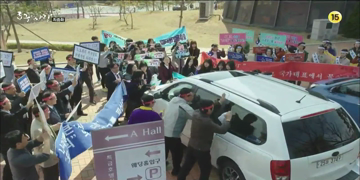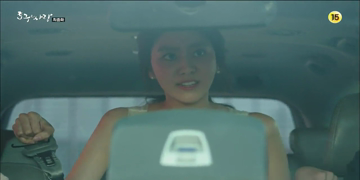 No Kyung Woo's fanclubs (Righteous Mother club and Resignation club) are blocking their car, protesting to save their favorite swimmer and mocking Do Hee. Kyung Woo's mother is the president of Righteous Mother while his father is the president of the other club.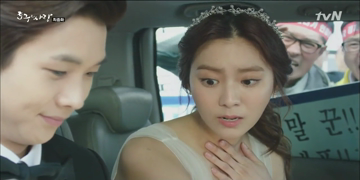 Do Hee is annoyed & frustrated. She curses, screams out until Hogu begs her to calm down because she's scaring her baby. She sweetly apologizes to her husband and son. Well, they can no longer hide in the car. It's time to get out and face the crowds.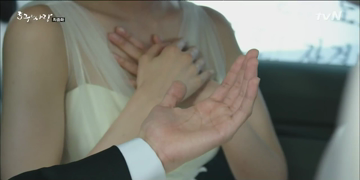 The groom who still doesn't understand the difference between flirting and dating, takes his wife's hand to run together.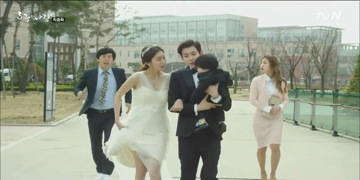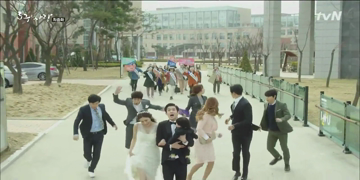 Hogu: Should I cross the street from the girl's hand signal? Should he stare at the signal while wondering when it'll turn on? Is this what dating is?
Ho Kyung: If it's not dating, then what is it?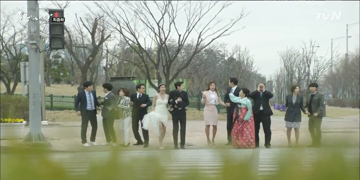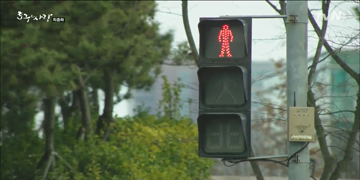 Hogu: All we did was we looked at each other and we recognized each other among all other people. That's the reason we don't know if the light is green or red because we're too busy looking at each other. We look into each other's eyes and have faith, furiously run towards each other. Isn't that what love is?
Ho Kyung: You're going to get hit by a car & die if you cross a red light!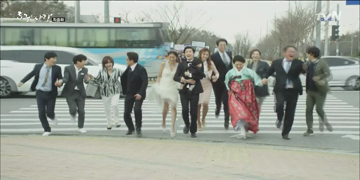 Hogu: Who cares? We're going to cross it together!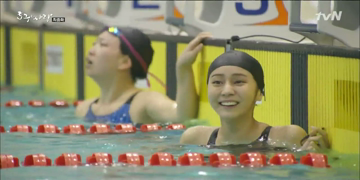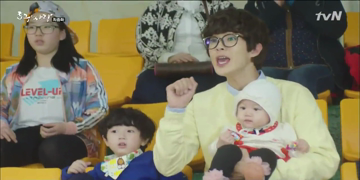 Few years have passed. Do Hee wins gold medal with her family cheering for her. Beautiful family. =)
Comment
It was a fake wedding, thank you KDramagods! My initial reaction when Ho Kyung told Do Hee that her brother is getting married last episode was exactly like Chung Jae. Shocked, disbelief, angry. How did he move on so quickly to another woman? I totally underestimated Hogu, I should have more faith. Because he's Kang Ho Goo.
Hogu and Do Hee are blessed to be surrounded with amazing family & friends (except Director Park & that jerk). They endured hardships together, they got hurt & split up because they didn't want to hurt their lover. After a wake up call from Kang Chul, Hogu finally stepped up and grew up to be the perfect man for Do Hee. He was already a supportive man, but Kang Chul reminded him not to just be the best boyfriend but the best husband & father who can make his wife & children proud of his achievements. The months separation was hard on both of them, but it forced them to be mature & appreciate each other more.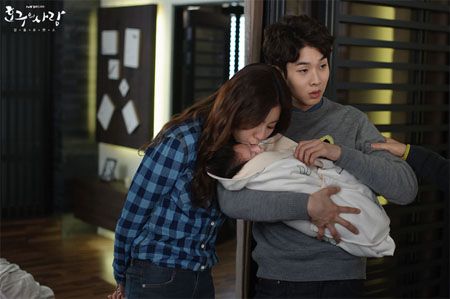 What really touched me is when she asked if he can continue loving her son despite knowing he's that jerk's son, to comfort her whenever she hates Geum Dong because he reminds her of Kyung Woo and that night which was a total mistake. It's the heaviest burden she has to carry for the rest of her life, the burden she was too scared & hurt to share to Hogu. But rest assured, Do Hee ya. Hogu will always be there for you and Geum Dong through thick & thin as he always was. Even after he knew the truth, Hogu never stops loving Geum Dong & continues looking after him although they split up. He's be the best father for Geum Dong and their little girl who love them unconditionally.
Although I hoped Kang Chul would find out about Ho Kyung sooner, but it was still an awesome ride watching him discovering his true identity. Although his parents seem perfect from the outside, but they are quite a mess inside. Kang Chul learned from his parents, particularly his hot-tempered father. Ho Kyung, Ho Gu and their friends opened up a new world for him; although he was hesitant to step out of his comfort zone, but he was brave enough to step into the new world. He's awesome in so many ways.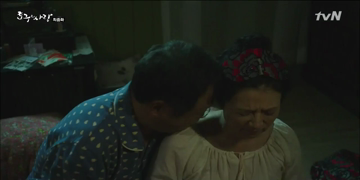 Hogu's family is one of my favorite KDrama family. His parents are so sweet & supportive, although they hurt inside but their children happiness are the only thing that matters for them. They can freely share their feelings and emotions with their children because they love each other so much. Tears of happiness when Hogu's mom accepted Do Hee although she knew what really happened to her. Beautiful motherly love.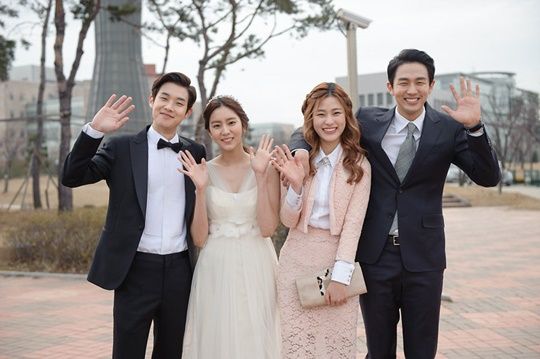 Thank you so much, Hogu's Love for reminding us once again that this is what a heartwarming rom-com should be. Unpretentious. Reminding us again the meaning of love and happiness. Loving one another without expecting anything in return. Loving one another with all their strength and weaknesses. Supporting & comforting each other when things get tough. Most importantly, everyone deserves to love and be loved regardless of our looks & dark past when we are brave enough to look into recognize each other among all other people when we see each other's eyes & have faith. 🙂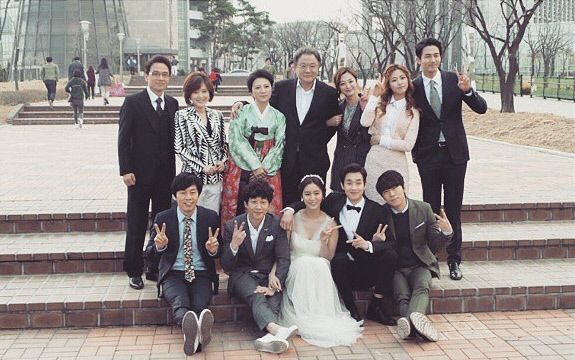 I'm gonna miss this drama and the casts. Didn't know it's Choi Woo Sik's first leading role, he's the perfect Hogu for me. UEE was awesome as Do Hee while Seulong and rookie actress Lee Soo Kyung did a good job portraying their characters.
Bye bye squid 😀