Hogu's Love Episode 2 Brief Recap
February 13, 2015
|
Recap
While Hogu and Do Hee are going to the sea, at home Hogu's mom tells Chung Jae that's how they got married. But it wasn't Hogu's mom who wanted to see the sea, it was Hogu's dad and Kim Ok Ryung caught his green light and took him to the sea. 😀
Ok Ryung then tells flustered Chung Jae that going to the beach itself is not dating. They need to take it further… like… staying overnight…
Just then, Hogu calls his sister letting her know… he's not coming home tonight.
In the bus station, Hogu is incredibly nervous. What should he do? Can he do it? He receives a card from a nice man encouraging him to be a real man. lol. His sister calls giving him tips… he shall not do anything. Just spend lots of money if he doesn't know what to do. So he draws money from ATM machine.
lol Hogu's family & friend really take Hogu's first night out with a girl seriously. Tips from Ho Kyung:
If you want to do something for your girl, don't say anything, don't ask. Just do it!
Hogu wanted to tell Do Hee to put on her seatbelt but he remembered his sister's advice so he tried to put it himself, only to find out it's his seatbelt. lol.. awkward moment.
Then he suggests to listen to music (Yeosu Night Sea by Busker Busker) which Do Hee agrees. He smiles. Awww.
At home, Hogu's parents are dancing & hugging each other. His dad is worried if his son will do well tonight, his wife assures him he'll do fine because he takes after her. lol. And he won't overdo it because he takes after his dad. hahaha.
He swaps seat with a woman who holds her baby. The message on second episode: give your seat to the pregnant ladies & nursing mothers.
The woman recognizes Do Hee because according to her Yeosu is her hometown and she used to live in an apartment complex with Do Hee. Do Hee is confused because she's never seen that woman before and she lived in a house. Hogu helps her picking up the wallet she dropped (apparently she has the same wallet as him).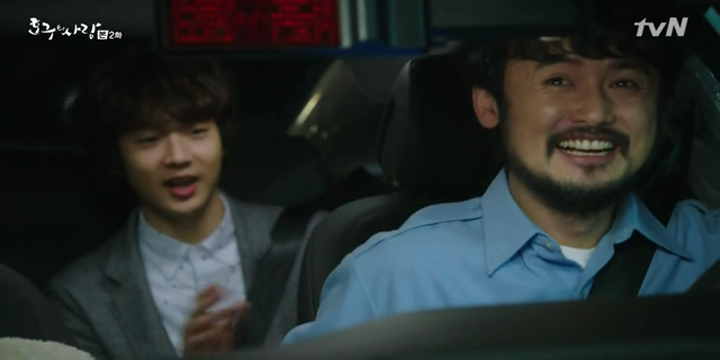 They catch a taxi to go to the beach. Do Hee is in a very good mood so does the taxi driver. Hogu whispers to the taxi driver to speed up which he happily oblige because nothing is impossible for a man who's trying to win a woman's heart. 😀
Hogu realizes something's wrong… he can't find his wallet. Do Hee tries to put things together… that woman with a baby who has the same wallet as Hogu, she's a thief?
Hogu believes a man should pay, but Do Hee tells him the person who has money should pay. The taxi driver agrees – there shouldn't be any discrimination to man and woman about money. He keeps talking about money, romance, etc until Do Hee realizes her wallet is also gone. So the taxi driver kicks them up in the middle of the road.
Annoyed with endless phone calls, In Gong Mi decided to tell her boss Lawyer Byun Kang Chul (Im Seulong) all messages he received today which she supposedly did it four hours ago but he was too preoccupied with his work.
She passes on the message from Do Hee, his ex-girlfriend. But he doesn't want to read her msg. Cold man. Kang Chul also refuses to go to the school's reunion although his friends are waiting for him.
Do Hee and Ho Goo are a bit jealous with a passing high school couple (cameo by Reply 1994's Min Do Hee) who's so innocently in love. They don't really care about money nor their future, as long as they're together that's the only thing that's matter.
They keep saying people around this age are so adorable no matter what. Ho Goo remembers Do Hee was so pretty back then.
Flashback to the sport day at school when Do Hee impressed everyone with her athletic talent and her aggressiveness.
Do Hee took off her jacket to celebrate her win. When her school friends were so shocked, she coolly asked them if they've never seen a sport bra before. lol… School president Byun Kang Chul looked from far away.
In Gong Mi keeps teasing Lawyer Byun Kang Chul… asking him why he broke up with Do Hee. He answers: because she's scary. oh yeah…
She's a scary woman. They meet with the high school couple again and this time… Do Hee scolds (and curses) them for smoking and drinking beer. Ho Goo breaks up their fight (after the girl recognizes Do Hee) and takes Do Hee to the beach before this fight escalates to something much bigger. Before he leaves he took their cigarette and soju (and paid with 500won he had on his pocket).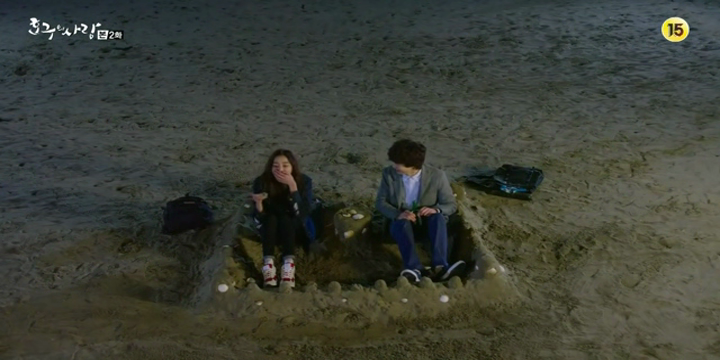 They sit in the sandcastle they built and enjoy a sip or two sips of soju. It's Do Hee's first time, which she doesn't like it but she asks for another sip until she gets drunk. She runs in the beach then wails like a little child. Keep saying it hurts… it hurts… it's cold….
Ho Goo is having a tough time calming her down. Until they finally sit down. He tries his best to listen to her, accommodate her only to get scolded. He doesn't understand what she really needs, what she wants. On the other hand, Do Hee is upset he doesn't understand what she feels inside 🙁
He grabs Do Hee's eyelash as he tells her to hold it before it flies away and make a wish. But before she makes any wish, the eyelash flies away. She cries begging the eyelash to take what's inside her away from her because she's very scared.
He hugs her, assuring her everything will be okay. He initially thought it's because of constipation which Do Hee suffers since they went to school together. Never did he know it's because of something much bigger.
He sweetly kisses her. Do Hee kisses him back.
In the morning, Ho Goo goes back to Seoul alone thanks to couch So Shi Min who sent money to Do Hee. Do Hee stays behind lying that she's going to have a surgery for hemorrhoids. She looks really nervous and upset as she's explaining what she'll have to do before and after the surgery. Ho Goo assures her it'll be ok, she'll be clean after the surgery.
Before he leaves, she asks him to keep her silver medal & return it to her on Christmas Day. She also promises to return the comic book on Christmas Day. On his way back to Seoul, Ho Goo keeps smiling as he proudly wears Do Hee's silver medal. He's so adorable 😀
Do Hee meets with the woman who stole their wallets, ordering her to wire 300k won to the bank account she wrote on her palm. But is shocked to hear this woman's plea. What's really shameful is abandoning her own baby. She knows what she's doing isn't right, but at least she's doing everything she can for her baby without anyone else she can lean on. Her words struck her heart. Should she do what she thought she'd do now?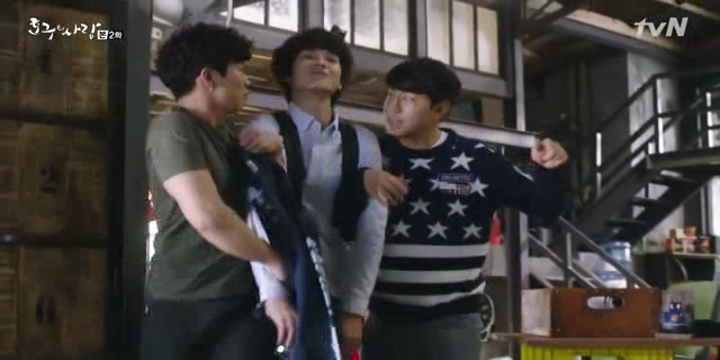 Ho Goo returns back to work and after finding out he spent the night with a girl, his friends want to know everything he did last night. So they go to the Chinese restaurant listening to him telling them about his kiss(es). hehe.
When he returns home, he finds a huge banner from his family congratulating on his first night out. That's so cute.
Do Hee is now 13 weeks pregnant so if she wants to do the surgery, she has to do it asap. She looks at her ultrasound on the screen, touched with how small it looks so doctor Seo Tae Ji turns off the screen. He doesn't know anyone else who has the same name as him, not even famous singer Seo Tae Ji. But he has the note from Byun Kang Chul's firm. Oh… He asks her once again, when will she have the surgery?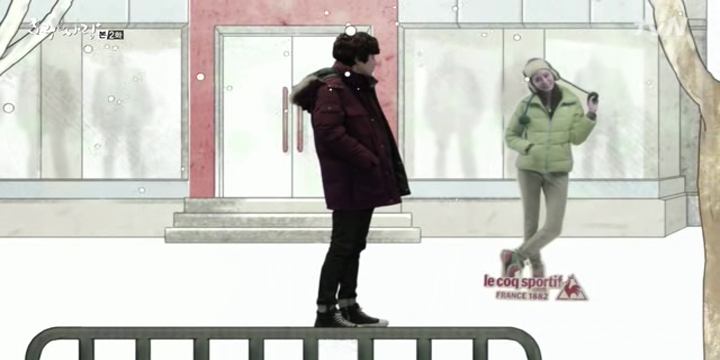 Time flies like an arrow. Ho Goo really wanted to call Do Hee because she never replied to his text messages but he's promised he wouldn't contact her until Christmas Day. He's worried about her surgery but there's no way to find out.
He asks his sister about hemorrhoid, she tells him she had this surgery before. The recovery process is not too long. He contacts couch So Shi Min in case he knows where Do Hee is. But Shi Min asks him the same question. Do Hee told him exactly the same things (ie. hemorrhoid surgery, she'll be back on Christmas Day). Ho Goo returns the money Shi Min lent him when they were in Yeoso. Shi Min is surprised but he tells him not to put his hope up because he's not Do Hee's type. Moreover, she's a national treasure…
Ho Goo feels like he's just woken up from a nice dream (in the happiest moment) then stabbed with a knife 🙁
He gives up his seat when he saw a pregnant lady in front of him. He helps her when she dropped her stuffs but stops when he finds the comic book Do Hee promised to return on Christmas Day. When he looks up, he's shocked to see Do Hee sitting in front of him.
Impression & Comment
This show is doing a great job balancing the serious topic of pregnancy & single mothers and the light comedic moments. I know I can trust you, show.
Do Hee's desperation to get rid of her unborn baby broke my heart. She's afraid, she's very scared yet the man who's supposed to take responsibility of his action… tossed her like she never exists. Byun Kang Chul, why did you break her heart to pieces?
Thankfully Ho Goo was there for her… Although he doesn't really know what's going on, but he listened to her cries & comforted her. He's naive but he has a sweet gentle heart. Looks like Do Hee only treats him as her friend for now because she's dealing with a much bigger problem now. She still doesn't trust Ho  Goo 100% but it's a nice baby step for her to show her brokenness in front of Ho Goo, she's not as strong and scary as people thought she is.