Hogu's Love Episode 4 Brief Recap
February 19, 2015
|
Recap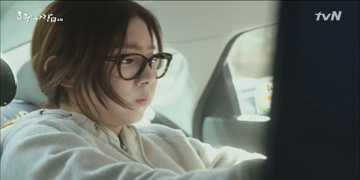 A crazy dash to hospital with clueless confused Hogu, panicked taxi driver and Do Hee who's having contraction every 20-25 minutes. They arrive in hospital safely.
Thinking her husband will arrive soon, Hogu leaves. He silently comes back to her room after finding out her husband won't come because he lives overseas.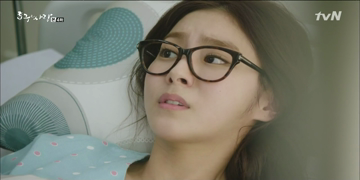 He peeks into her room, eavesdrops her conversation with the nurse that she's going to have her baby alone. He's shocked Do Hee lied to everyone about her identity (she "changed" her name to Elize Do and told the nurse she lived overseas with her husband). Hogu realizes something is strange here. Because even the nurse thought she looks like swimmer goddess Do Do Hee. Why did she hide her real identity and why nobody knew she got married?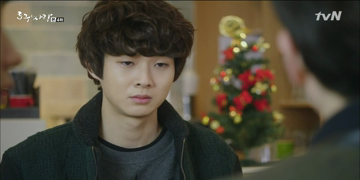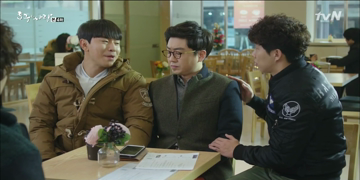 But before he can think of anything else, his friends call. They face a huge crisis because their last project failed so the manager couldn't give them another chance. Chung Jae and Tae Hee beg him but the manager is unmoved. Although they've worked well for several years, this is it… the end of their fate.
Hogu can't concentrate on their very important meeting, he tells himself that he cannot behave in hopeless manner anymore. His fate, he cannot entangle with Do Hee anymore. But he still remembers clearly how desperate she was to get rid of "something" inside her stomach when they spent the night together 6 months ago. Only now he finds out that "something" is a baby.
He makes his decision. He dashes off to the hospital to be with Do Hee. Because he's Kang Ho Goo.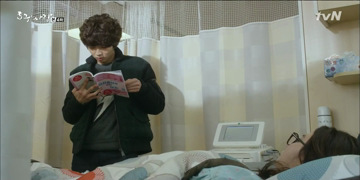 He stopped in the closest mart to buy essential items as listed in the pregnancy & childbirth book Do Hee gave him in the taxi. He knew Do Hee didn't have any chance to prepare her delivery hospital bag because she endured everything alone. The only thing he didn't buy was maternal pads because he had no idea what it is.
He has so many questions he wants to ask, but those questions can wait. He just wants to be here with her because he heard she's alone. Because they're friends. So it's okay for him to be here, to pay for her taxi fare and to buy things she needs when she's having her baby.
When he refuses a blanket, Do Hee sweetly asks the nurse to give him one because he tends to get cold. He smiles because it means she accepts his kind gesture. He goes to buy maternal pads and bread for her in case she's hungry. After the nurse tells him Do Hee can't eat during labor, he gives the bread to her and shares the reason why he's here.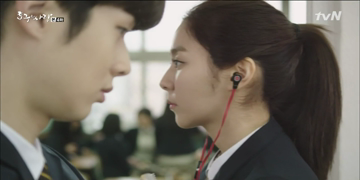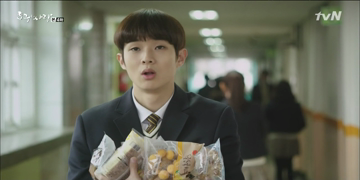 Because they're school friends and he was bread shuttle back then.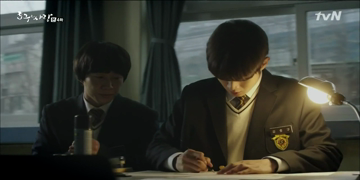 One day, Young Bae dreamt of naked Do Hee swimming on the pool only with her fins on. He asked Hogu to draw his "dream", if not, he might kill him.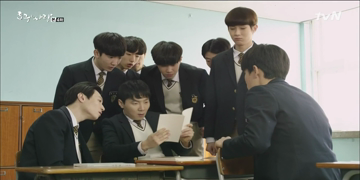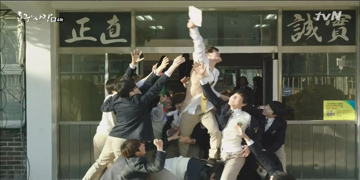 He took the challenge very seriously and succeeded to make every single man in his school went crazy with his drawing.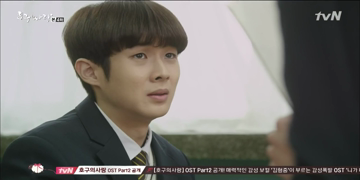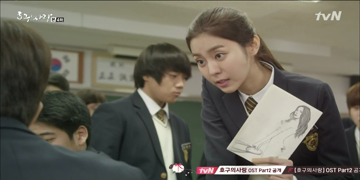 But Do Hee wasn't happy he drew her breasts too small. Lol… She was a haughty girl, a strong one who's very proud of herself. Until now… Hogu is speechless whenever Do Hee is screaming in pain as if she's going to die. The nurse assures her everything will be ok because she's progressing well. The only advice she gives to Hogu is… please comfort her.
Hogu doesn't know what the pain of childbirth is like, he tries to comfort her only to make her screaming in frustration.
Hogu yaaa.. your sister Ho Kyung will help you. She calmly "tests" one man to experience the pain of childbirth by hooking him in a machine to discourage young couple to get pregnant before marriage. No, she's not giving a lecture about childbirth pain. She's selling condoms!
Professor Mok Kyung Jin once again praises her bright student's talent from dating expert to saleswoman. What else can't she do? She even made four of her male classmates dropped out from school. Was it because of her? Did she on them? Ho Kyung denies her professor's accusation.
Suddenly, it becomes like a street fighter between Chun Li and the boss. Lol.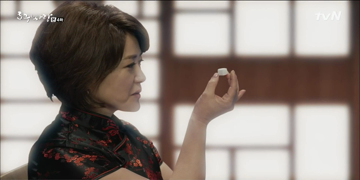 After finding out Ho Kyung is currently single, Kyung Jin proposes "some" project to help her very busy son who has no experience in dating. Her son is… Byun Kang Chul! 😀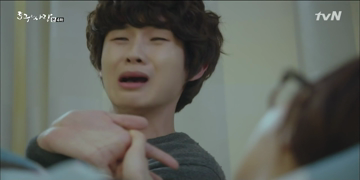 Hogu tries to apply Lamaze relaxation technique to help Do Hee with her labor pains. But it doesn't last long, she almost crushes his hand as she calmly asks for an epidural.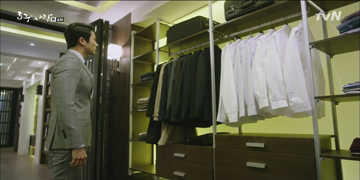 A neat freak Kang Chul inspects everything at home to ensure everything is in order.
Ho Kyung is contemplating whether she should take this "some" project challenge or not. Dad warns her he doesn't like lawyers nor doctors.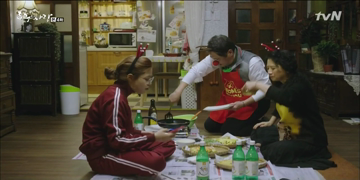 A huge contrast between Ho and Byun family Christmas dinners. One is low key yet intimate, the other is lavish yet cold (dad and Kang Chul are both busy with their smartphones).
Ho Kyung decides to accept this project, much to Kyung Jin's delight. Kang Chul is too busy to date anyone, but he changes his mind after dad promises to give him extra 100million won for the wedding.
Meanwhile, Do Hee keeps asking for epidural whinging she never thought it'd be this painful. The nurse calmly checks her comforting her.
Hogu calls dad wanting to ask for some advice only to be told he shouldn't touch any string today because dad had a bad dream about him. Anyway, dad advises him to provoke her instincts which always be different for everyone. In his case, he promised to do things Hogu's mom really hated… such as washing dishes. Like what he's doing now. Awww..
Hogu tries to remember what can provoke her instinct.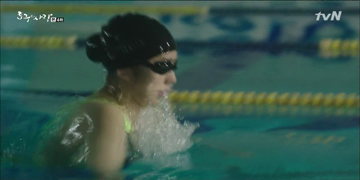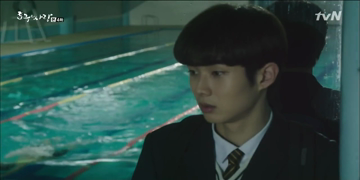 Swimming! He used to follow her to the pool. Back then he realized a person can fight without making a sound… when she was swimming, she was fighting someone.
Do Hee wants to give up and wants to have a surgery. Hogu provokes her instinct encouraging her that she's more than capable to give birth without a surgery. He encourages her to just endure the contraction pains, like she did when she was swimming. She once told Hogu that swimming is something she endures… not she does. Do Hee, please remember you're an Olympic silver medalist. You can do it!
Hogu who keeps her silver medal on his bag, shows it to her. He encourages her she'll get gold medal soon. If not, this silver medal is all she got for the rest of her life.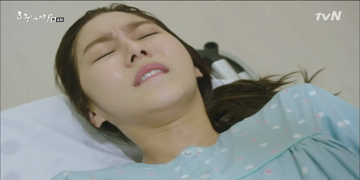 Before she's wheeled down to the delivery room, she asks for her goggles.
Back then she told Hogu that her mind has to be clear to swim. She had to look at the floor of the pool seven days a week while she swam more than 100 laps. Although there're silver and bronze medal but her only goal is to get the gold medal. That's why she endured really hard and kept her mind clear.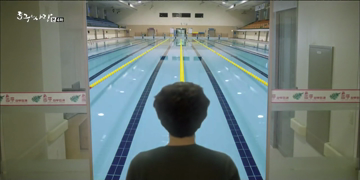 She's cleared her mind & promised to endure the pain and win the gold medal.
Dad explains his dream to Ho Kyung and his wife. He saw his son climbed a tree and held a clear elastic long rope which snapped so he fell as peppers came pouring down. Ho Kyung thinks rope means life and death.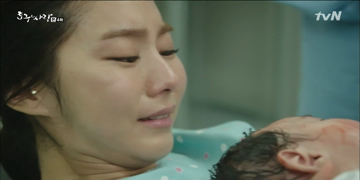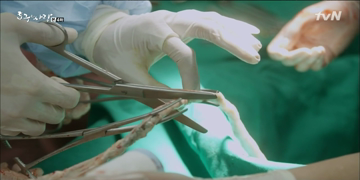 Ho Kyung's right… That rope means a new life.
The nurse calls Hogu to enter the delivery room. Do Hee has just won the gold medal! She gave birth to a healthy baby boy, conquering & enduring the pain with her mother's instinct. He cut the baby's umbilical cord before almost collapsing into tears. He keeps crying… awww Hogu yaaa…
Byun Kang Chul sends a text message to a very delighted Ho Kyung who's pleased he took the initiative to send the first message.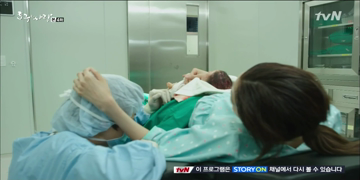 The snow begins to fall. The baby holds Hogu's finger making him overwhelmed with emotions. He can't stop crying. Merry Christmas & Happy Birthday baby boy!
Brief Comment
This week's episodes show us the roller coaster journey Hogu had to endure, but at the end of the day he chose his friendship over his bitterness showing Do Hee his true sweet heart. I almost cried when he was told he's like a squid who can't compete with expensive tilefish like Do Hee and Kang Chul whose levels are way higher than him. Just like he wanted to give the live squids freedom to hang out with all other fishes in the sea, he's also longing for his freedom to be with Do Hee whom he really loves but apparently she doesn't reciprocate the same feeling. Until… he decided to be her birth support not as  her lover or boyfriend or husband, but as her friend.
Provoking her instinct as a swimmer and a mother was the best thing Hogu ever did. He understands how meaningful and important swimming is for Do Hee and how she always strives to be number one, to win the first place. She never realized her capabilities during her labor because she never expected this baby. It's not her goal to have this baby. So everytime the contraction pain hit, she couldn't think clearly and focused on the pain the baby caused her. Unlike when she swam, she could keep her focus because it's her goal to win. No matter how hard it was, she endured it because of her goal. Once Hogu provoked her mother's instinct, it's the time for her to clear her mind and endure the pain to give birth to her baby naturally & safely. She has become the first place winner at the end of an exhausting journey and receives a present so much bigger than gold medal, money can never buy it. A healthy baby boy!