Hogu's Love Episode 8 – Brief Recap
Episode 8 – Let's abstain from being physically affectionate in front of the house
Hogu bravely confronts Kang Chul who clearly still remembers him, much to Hogu's surprise. He wants to talk about what happened that "night" when he came to see Do Hee at the hospital. Kang Chul mistakenly thought it's that "night" when he kissed "him".
It's hilarious yet frustrating they are arguing about two very different nights. Hogu who still can't forget Do Hee's pain when she was in labor, advises Kang Chul to take responsibility for his actions because someone had and is having a hard time because of him. Well, Kang Chul refuses because he didn't start it (Hogu was the one who kissed him first).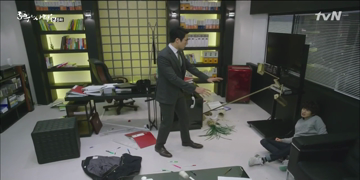 Kang Chul confesses he didn't have any feelings (for him) that night making Hogu frustrated with his answer. They punch, kick, hit each other. Suddenly, he finds Do Hee's four-leaf clover on the floor.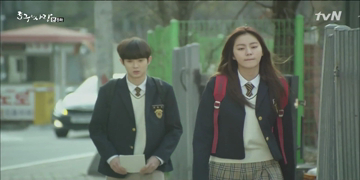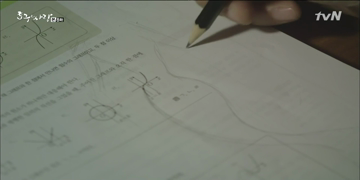 Flashback…
Hogu waited for Do Hee and followed her when she ignored him. She thought he wanted to apologize because of that drawing, but she didn't want his apology and she didn't want to talk to someone like him again, told him to get lost. Ouch…
He drew her again in his sketchbook then planned to give it to her, but couldn't because she went to Kang Chul first to return his notebook (as seen on episode 6 last week). The day when Hogu saw her four-leaf card then bitterly returned it to Kang Chul. Told him never throw it away.
Back to present time…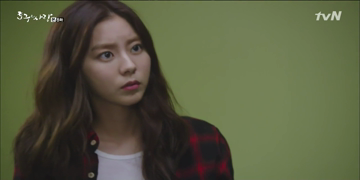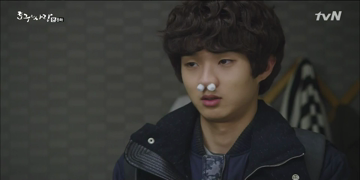 He returns Do Hee's baby back to his very worried mom, he cutely thought she's worried for him. She's wondering about his bloody nose, can't believe his explanation that he fell. She accuses him of picking his nose, but which one is more humiliating – admitting Kang Chul hit him or he picked his nose? Fortunately, coach Shi Min arrives.
Kong Mi tells Kang Chul that those men brought a baby with them, probably it's a case about single mother? He's surprised, instructing her and his Attorney to let this incident go.
Flashback…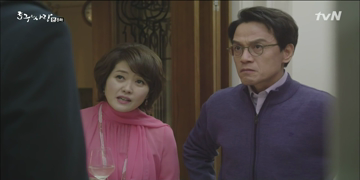 Kang Chul arrived home, welcomed by his father's flying sandal. Kang Se enraged his son skipped school, his wife calmly asked where did he go until late today. He couldn't answer, could only touched his lips. After smelling alcohol, Kang Sae exploded. What caused his school president son who never drank alcohol before did things he never did when he's supposed to be preparing for his important exam? Mom woke him up with water (or white wine?), ordering him to go to his room to study.
He tried hard to forget about that night's kiss, but it's not easy because he kept running into Hogu until he gave him that four leaf clover card forcing him to keep it and never throw it away. After that day, Hogu acted as if he didn't know him so he didn't show any reaction whenever he bumped into Hogu.
Present time…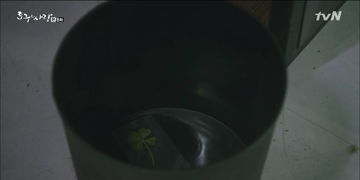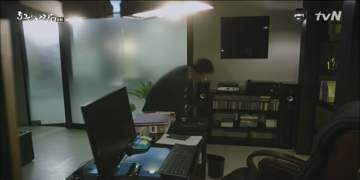 They haven't seen each other in the past 6 years, so why did Hogu barge into his office begging him to take responsibility? Kang Chul throws the four leaf clover to the bin, but comes back & picks it up again.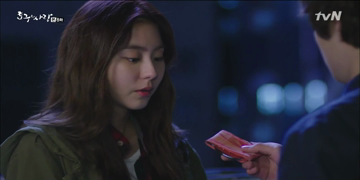 Hogu wanted to return Do Hee's silver medal but she tells him to keep it as a token of gratitude for everything he's done for her. He can sell the silver & get a lot of money. He knows the medal is important, but she's determined to win a gold medal. Please don't look down on her because she's a single mother. Hogu respects her and her decision. But he's shocked to find out she'll put her baby for adoption.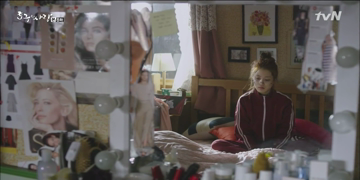 Ho Kyung can't easily forget what happened last night. She cursed Do Hee, her rival of love, Kang Chul's ex-girlfriend, on her face. After she realized it's Do Hee, she ran home begging her not to follow her. Why did she run into Do Hee and why was she in her neighborhood?
She's embarrassment because she wore her favorite tracksuit that she hasn't washed for days. Her dad honestly comforts her that she looks like a homeless person now. It means… Do Hee probably thought she's a homeless person.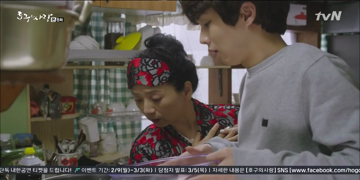 Hogu noticed Do Hee is still in pain because she doesn't have proper postpartum care. And in Korea, new mothers recovering from childbirth are given seaweed soup.  So he decides to cook it for her. Mom is curious so straight away she asks: did someone have a baby? Ups… Mom knows best. He dodges her suspicion explaining he just wants to eat it. But mom isn't satisfied with his answer. Is her son dating someone and today is her birthday? She's disappointed he never cooked seaweed soup for her birthday but he's cooking it for his girlfriend, Hogu explains she's his friend not his girlfriend.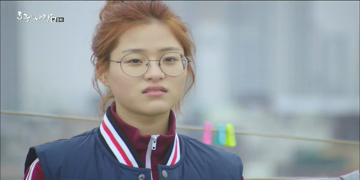 According to Hogu when a man says the woman is the second prettiest, it means he likes the prettiest woman more. But that guy is a jerk, he should've just tell her she's pretty that's it. He urges Ho Kyung to contact this man first but she doesn't because it appears she's desperate & more into him.
So Hogu advises to be courageous. Don't hold back because it'll get hardened half-way – paint and our heart, they're the same. He shares his experience when he thriftily only used very little paint at art school because he wanted to conserve it. But it turned stiff halfway so he had to throw it away although he only used less than half. She also encourages her brother to do whatever he wants because he's an impressive man. Well, that's what he'll do from now onwards. Yay Hogu ya!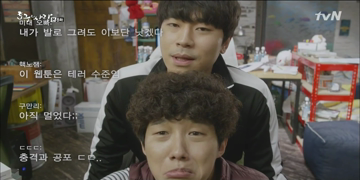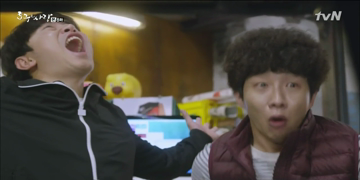 Chung Jae & Tae Hee are pleased to read positive comments, but as they scroll down, they're upset reading negative feedback. They get more depressed finding out this week's rating dropped from 6.2 to 5.5 stars. As a minor player, can they even make it to season 2? Should they move somewhere else?
They expected bad news but instead… manager Kang offers them to do season 2. Time to celebrate now!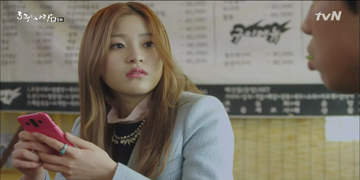 Ho Kyung unintentionally stops by the squid shop where these two men celebrating their new contract. Chung Jae gratefully treats her because her curses drove them to write a better script.
When they ask about her blind date, she gets depressed one second but cheers up soon afterwards. She asks their help to write a text message, Tae Hee helps her but it's too cheesy. Suddenly Chung Jae screams it's very spicy. Shocked, she accidentally pressed send. There's no turning back, Ho Kyung.
She immediately calls Kong Mi because she usually has his cellphone but unfortunately, he's working from home today. Just then, Hogu arrives at his office with a pot of seaweed soup!
Kang Chul has already opened her message "I miss you, cute bwing bwing" 😀
Hogu came all the way to Kang Chul's house to give… this pot of seaweed soup. He believes it's the best possible plan for Kang Chul sacrifices himself so everyone can be happy. Kang Chul is shocked… what's in the pot? Hogu repeats: please sacrifice yourself, Kang Chul!
He opens the pot, Kang Chul jumps out. His maid think he really hates seaweed soup. 😀 Hogu is wondering if there's something wrong with the soup.
Hogu's plan: Kang Chul brings this seaweed soup for Do Hee who's hiding so she can't get proper postpartum care.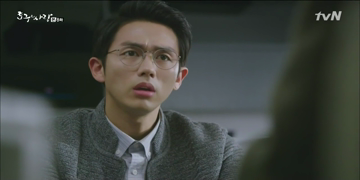 Kang Chul is astonished Hogu knows about Do Hee's baby. How did he know? He refuses to answer because for Hogu, the most important thing right now is Do Hee's and the baby's health. He pleads Kang Chul to bring this seaweed soup to Do Hee because he's the baby's father! Please patch things up with her because the baby will be put on adoption. If she goes through with the adoption, how will they live the rest of their lives with this scar?
Putting things together, Kang Chul realizes the reason Hogu looked for him was because of Do Hee. Hogu apologizes for butting in but Kang Chul hasn't forgotten Do Hee either (he still keeps her four leaf clover). Likewise, Do Hee clearly still likes him because Kang Chul is her first love and her baby's father.
Hogu is curious why does she like a guy like Kang Chul?
Coach Shi Min hid with Do Hee's baby after the reporter finding out the place she rented. Thankfully Do Hee went out to buy food when the reporter came so they didn't see her. Hogu decides to take the baby to his warm room. The baby can hide here in the meantime.
Kang Chul stares at the pot of seaweed soup, contemplating to take it to Do Hee. But does Hogu like Do Hee? OMG, love triangle between Kang Chul, Hogu & Do Hee! He's jealous! 😀
Ho Kyung is disappointed Kang Chul hasn't replied her messages while Do Hee who's looking for Hogu's house quickly hides when she saw Ho Kyung.
Ho Kyung is upset to see her favorite sneakers in the trash box. Well, it's old, has holes and her mom already bought her a new one. She's angrily screamed out to her dad, only to be told off by her mom reminding her this is her house & Ho Kyung can't raise her voice to her "man" aka Ho Kyung's dad. She loses the argument but she took her old sneakers to her room.
Do Hee assures the baby that everything will be ok, he won't have to move from one place to another & hide again because his dad will find him soon. But he's soon disappointed finding out Kang Chul hasn't even contacted Do Hee.
Because the reporters are like hungry sharks, Do Hee plans to stay in a motel room but Hogu advises her to stay in his room tonight (it's in the basement, a safe hiding place) because it's dangerous for her to find a motel room in the middle of the night. Do Hee believes so.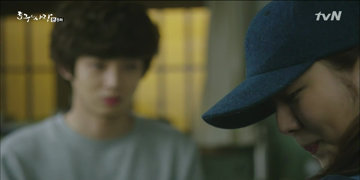 Do Hee, don't worry. It's safe here. Hogu is a super safe guy. Nothing happened in this room for the past 25 years. Do Hee chuckles at his honest confession. 😀 he's still a virgin.
Clutching her sneakers, Ho Kyung is so disappointed he hasn't replied her message. Hogu borrows Ho Kyung's blanket she washed a year ago.
He plans to sleep at Tae Hee's place but Do Hee tells her to sleep with her here. Do Hee lays out another blanket on the floor, telling him to sleep there. He shyly agrees. Hogu can't sleep because it's too quiet & he's too nervous. So he turns on the radio, coincidentally they're playing Lee Juck & Jung In's song Before Sunrise
Stop thinking about what happened that night
The more you think about it, the bigger that thought gets
Stop thinking about what happened that night
The more you do, the lonelier you'll get
…………………..
We were young
We didn't know anything
We couldn't know about our futures
Back then, neither of us knew
That we would become this earnest after such a long time
(English lyric by popgasa)
Do Hee thanks him for taking her to Yeoso few months ago. It was her turning point. He was thankful too. Thanks to her, he had a good time and was happy.
That night… they kinda promised they won't date, right? She's relieved nothing else will happen with their precious friendship.
But… Hogu knows he can't hold back now confessing he didn't think to date her, he only wanted to love her. Awww… It's so sweet he doesn't want to date her because he only want to love her – one word, the feeling, the most important thing about dating that many people forget nowadays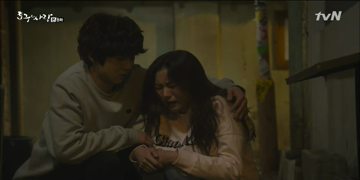 Do Hee excuses herself to go to the bathroom but Hogu finds her outside the house, crying. He innocently asks she's crying because she couldn't find the bathroom or she's in pain or if she's having a hard time? He put his hand over her shoulder, trying to comfort her.
Oh no… Kang Chul sees them at the alley after he decided to give the seaweed soup to Do Hee.