Hogu's Love Episode 9 & 10 Brief Recap
Episode 9 – Stray cats have names too

Do Hee think she won't be able to fall in love again, Hogu assures her she can. Kang Chul spots Hogu's sweetly hugs her. *another misunderstanding… sigh* so he abruptly leaves.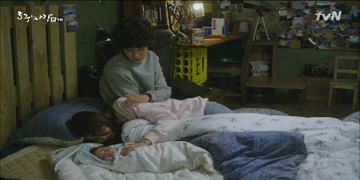 She can't stop crying, tears won't stop. Hogu comforts her, encourages her to cry it out – let it out. Don't hold back, don't let it suffocate her.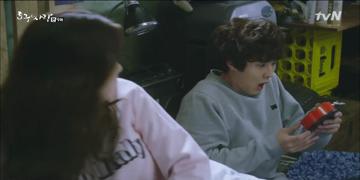 Kim Ok Ryung wakes up Hogu for breakfast the next morning, but because the door's locked, she can't get in. Mom is panicked, but it gave Do Hee and her baby plenty of time to hide in the wardrobe & Hogu to clean up the baby's stuffs in his room.
Mom knows better, she smelt a scent of woman in his room, thinking he slept with his girlfriend last night, hence he locked his basement room's door.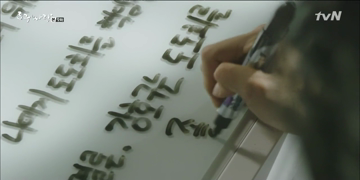 Because 1) Hogu kissed him and 2) he likes him, Kang Chul think Hogu is gay. But based on what he told him, he concludes Hogu likes Do Hee.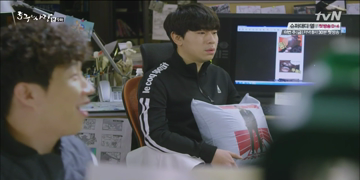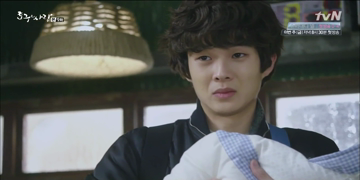 Hogu is relieved Kang Chul is trying to make up with Do Hee. He promises to look after the baby so she doesn't have to deal with unnecessary trouble (ie. reporters, etc). Because he has to work, he brought the baby to his workplace. Chung Jae obviously isn't happy.

Do Hee promises she'll explain everything to Hogu, telling Kang Chul he's just her friend, her ex-classmates. When asked why he cooked a seaweed soup for her, why he told him to be responsible for her baby; Do Hee strikes back asking if he's jealous. He explains he's angry because Hogu's suspiciously accused him as the baby's father.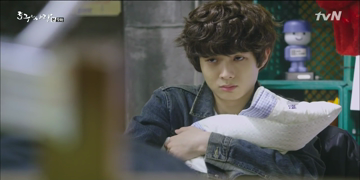 Hogu refuses to tell his friends who's the baby's mother, only tells Chung Jae he's his friend's baby. Tae Hee explains she's their ex-classmate who's fighting with her MIL so she can't look after her baby. So Hogu asks if they have any childcare leave. No, not a good question, Hogu. lol. He's just contracted assistant! Chung Jae is squeezing Do Hee's cushion to release his anger.
Tae Hee think Hogu is an angel, he sweetly looks after a baby of the woman she likes although she's trying to make up with another man who she likes (Kang Chul). Of course, Hogu is angry but what else can he do? Kang Chul is the baby's father. While he's just a man who likes her.
Meanwhile, Kang Chul is confused why a gay man like Hogu likes a woman again. How could love change so easily like this? Just then, Ho Kyung sends another text message, explaining the last message was a prank from her friend.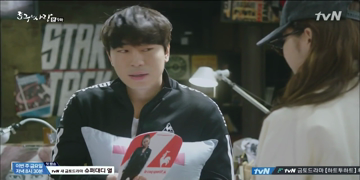 Do Hee is at Chung Jae's office to pick up her baby. He lectures her for not leaving her baby at someone else's workplace as he asks what she does. Explaining she's a swimmer with a record of 1 minute 25 seconds for 100m, an Asian record for Do Do Hee. Chung Jae notices she looks like Do Hee, so she takes off her glasses and just then, Hogu and Tae Hee arrive. He's surprised to see someone he admires for years in front of him.
Chung Jae proposes she should stay in Hogu's room for the time being because people have already started gossiping about her and her baby. She refuses to stay at someone else's place with her baby but he turns it around explaining because she has a baby then she must stay at someone else's room. Don't carry the burden herself, let Hogu takes some of her burden so he can protect her and her baby. He even offers Hogu a childcare leave! Because it's a labor right! 😀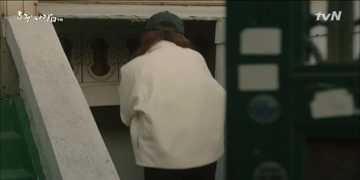 They sneak inside, mom is so happy Hogu brought his girlfriend home! Do Hee reveals the adoption process is delayed, but Hogu believes it's best for her to raise her baby up with the father aka Kang Chul.

When they heard the neighborhood stray cat's cry, he tells Do Hee the cats' names. His dad named the cats because he believed even though they lead the life of being alone & abandoned, they have a right to have a name. So does her baby, Kang Chul should give a name for him. Do Hee clarifies Kang Chul isn't the baby's father, they didn't have any special relationship as he suspected. So, please don't meet him again.

Kang Yoo Moo and Kim Ok Ryung are celebrating Hogu's achievement! They don't allow Ho Kyung to go to her brother's room to take her comforter he borrowed last night, not wanting anyone to disturb Hogu and his girlfriend.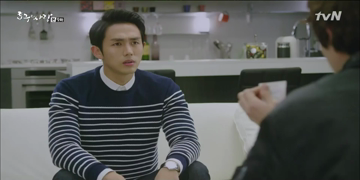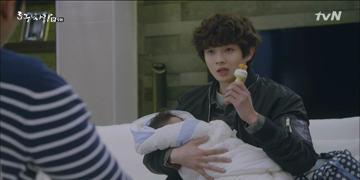 Hogu comes to Kang Chul's apartment with the baby as his last attempt. He explains everything he needs to know to take care his baby, but he doesn't bother. Hogu wants him to hold the baby, Kang Chul explodes saying he's not the baby's father. Yup, he knows it as Do Hee told him but it's because she likes him that she tried to protect him and carries her burden alone. Even though he likes Do Hee and wants the person he likes to be happy, so he's trying to like the person she likes. Suddenly, Kang Chul's heart beats so fast. Hogu hopes he'll give the baby a name as he left the baby's rattle for him.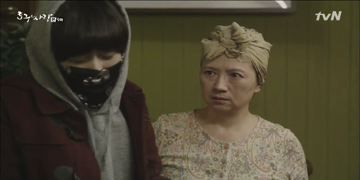 Flashback to several years ago… Ah it was mom's idea for Ho Kyung to wear that tracksuit so they could ace the test. But Ho Kyung got really upset because she wanted to wear Ho Gu's outfit. So later that night, she took Hogu's uniform and wore it to school the next day. That fateful day when he met Kang Chul & splashed kimchi on his white shirt.
Kong Mi is wondering why Ho Kyung got upset over a text message, is he her first love? What does she see in him? She bashfully tells her friend that he's cute, much to her disbelief. Honestly tells her he's her first and only love. Unfortunately, Kong Mi is already passed out.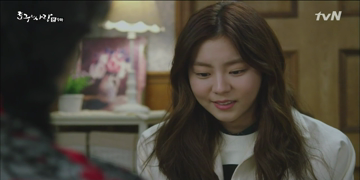 Do Hee apologizes to Ok Ryung she stays in Hogu's room without their permission, but she assures her it's okay for her son's girlfriend to stay there. Mom explains she may get frustrated with Hogu who failed in many relationships before, but Do Hee knows him too well. She loves Hogu's smiles because he freely smile with all his heart. She wants him to meet someone nice. Mom is touched… Because she's someone her son likes, so she's ok as long as he's not married with a woman who already has kids. Do Hee starts crying… :'(
Ho Kyung is rehearsing what she should tell Kang Chul as she waits for him outside his office building. But Kang Chul is still pre-occupied with what Hogu told him last night. He throws the rattle to the bin.

Ho Kyung believes it's fate that her best friend works for him, like in drama. But he shuts her up by saying he never watches drama (well, he does!). She understands, he's a very busy lawyer. But like people who can't catch up with any drama series because of timing, second date is also like this. If they miss the timing to ask, second date would never happen (a gentle hint for him to ask her out again). But he knocks her down again pointing out he didn't miss the timing! He truthfully confesses they don't go well together, so he hopes this is their final meeting. It won't make any difference even if they meet again because he never changes his opinion. She explodes, pleading him to go out with her!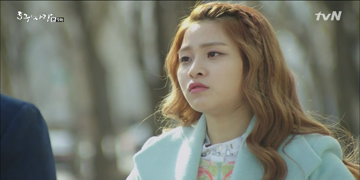 He refuses so she chases him. There's only one Kang Chul in this world and if she let him go, she doesn't think he'll fall in love again for the rest of his life. Describing he has to be around other humans & watch them live if he's human. But if he keeps living like he's living now, locking himself up, he'll die out of loneliness. He stubbornly tells her he only needs himself, he doesn't need anyone else.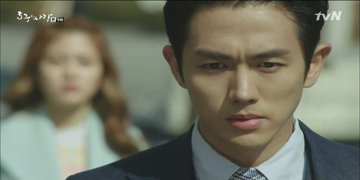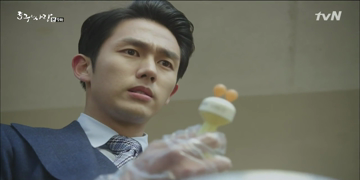 But Ho Kyung tells him that he's too scared to look into his own soul, a coward man. Kong Mi knows Kang Chul won't be able to take a subway, he's very individualistic. He'll die locked up in his own house.
Kang Chul makes up his mind, he takes the rattle back from the bin,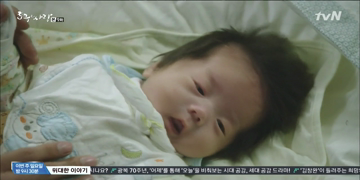 Do Hee found a nice, educated, wealthy adoptive parents for her baby. It's most likely they'll take the baby to live in the USA. She don't allow Hogu to meet with the adoptive parents.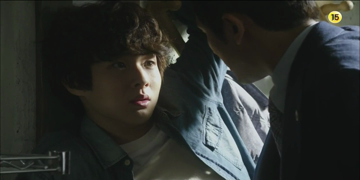 Do Hee is confused why Kang Chul is here, holding the rattle. He locks the door, plans to settle everything here today. He wants to know who does he like? He needs to put an end (to his feeling) today so Hogu needs to be honest. Who does he like? Do Do Hee?
Episode 10 – Take a good care of the belly button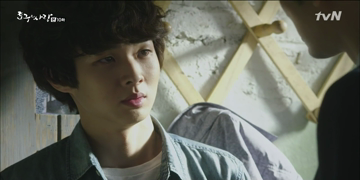 Hogu confesses he likes Do Hee although he knows he shouldn't like her but he can't stop denying his feeling. Kang Chul then asks if he likes Do Hee more than he likes him. That makes Hogu speechless.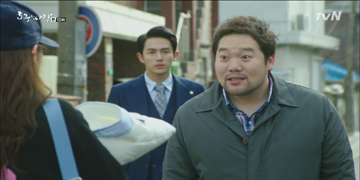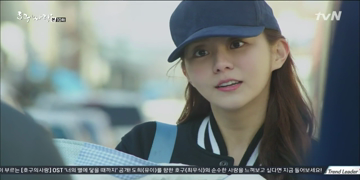 Reporter Go finally meets Do Hee after he stalked him for days. She's holding her baby, explaining he's her friend's baby. When asked for his name, both Do Hee and Kang Chul get flustered. She saw the stray cat and remembers the name Hogu's dad gave. So she tells reporter Go the baby's name is Geum Dong.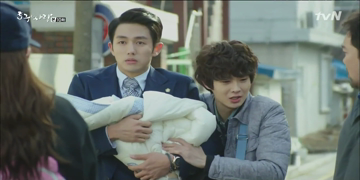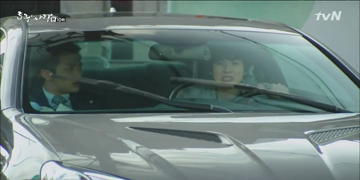 Hogu then screams out "Geum Dong yaa". He holds the baby, gives him to Kang Chul and shoves him to his car. He drives him home, leaving Do Hee alone. But he doesn't know how to drive a car although he already got his driver licence after his college entrance exam. He hasn't drove a car since then. He's relieved Reporter Go didn't follow them (Do Hee is busy distracting him). Hogu discloses the reason Do Hee stayed at his place is because of Reporter Go.
Because Geum Dong pooped, perfectionist Kang Chul tells Hogu to put him on the floor. But instead, he carries him to his bedroom, throws his dirty diaper to his bed. 😀 Kang Chul is so upset but he can't fight with the baby so he quietly changes the bed sheet.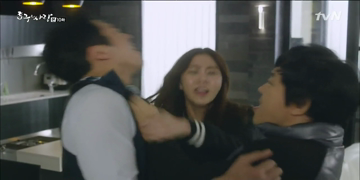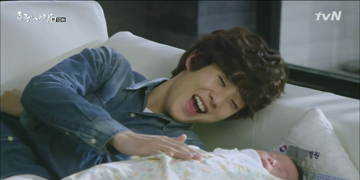 Coach Shi Min reveals the baby's adoptive parents will pick up Geum Dong today. He almost kills Kang Chul after Hogu told him he's the baby's father!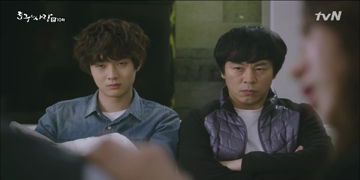 Kang Chul is shocked the adoptive parents are coming to his house to pick up the baby tonight. But they don't have any other choice, right? They can't come to Hogu's house, let alone Shi Min's small place. He finally agrees, setting up rules they can only enter the designated areas and nobody can touch his stuffs. Coach Shi Min is curious if Do Hee and Kang Chul dated before.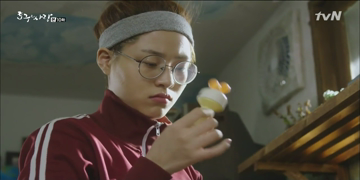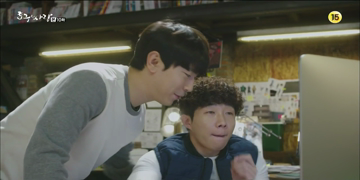 Ho Kyung sneaks in to Hogu's room, trying to find a clue about his girlfriend. She finds the rattle and asks Tae Hee who's already having to deal with Chung Jae who keeps asking him about the baby's father. Tae Hee tells her the girl who went to Yeoso with Hogu and made him drunk in squid was Do Hee.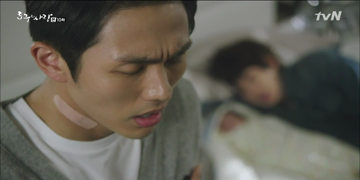 Hogu begs Kang Chul to use his bed because it's his last chance to be with Geum Dong. His heart starts beating so fast again so he let him to do whatever he wants as long as he doesn't change Geum Dong's diaper there.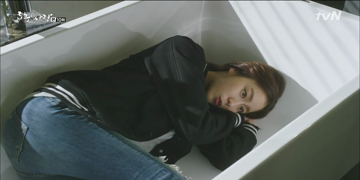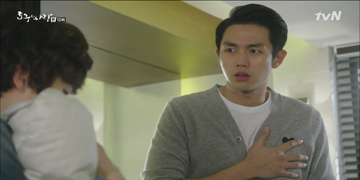 Do Hee lays on his bathtub, it's so big and warm. Both Do Hee and Hogu want to give Geum Dong a warm bath, so Kang Chul reluctantly allows them as long as he doesn't pee in the bathtub.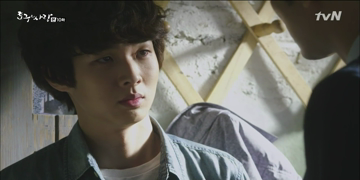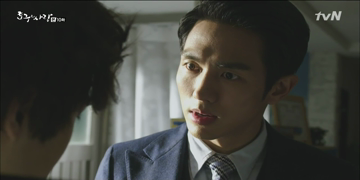 Hogu is aware he's stuck between Kang Chul and Do Hee but his first priority is the baby. Kang Chul is shocked with Hogu's abnormal emotional mess. He likes the father, the mother and now the baby!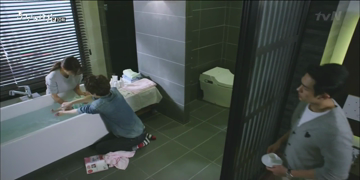 Ho Kyung is wondering what's going on between Hogu, Do Hee and Kang Chul. They're busy giving Geum Dong his first warm bath like a nervous new parents, as they read the guidance from the book. Do Hee once again clarifies Kang Chul is not her baby's father.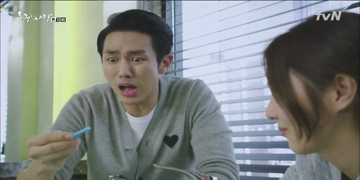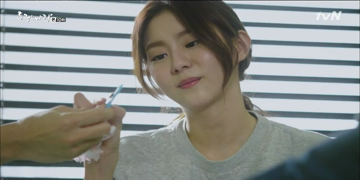 Do Hee and Hogu were upset they wouldn't be able to see the umbilical cord came off. But today is their lucky day. After Kang Chul splashed warm water to the baby, the umbilical cord came off. He's shocked, while Do Hee and Hogu are touched yet happy witnessing this special moment. Do Hee plans to give it to his adoptive parents.

Coach Shi Min reminds Do Hee that her company (Phoenix, Korean's largest agency for athletes) still defends her even though she's been absent for six months and is no longer a champion, begging her to show to Director Park Soo Chung that she's still a strong investment for them. She asks the men if she still looks like a woman who just gave birth. While Hogu sweetly says she's pretty, Kang Chul honestly points out her face still looks swollen.
Chung Jae knows everything about Director Park Soo Chung who paved the road of sport marketing in Korea, the person who saved Do Hee after she lost her parents. It's his obsession with Do Hee for the past six years which made him dug everything about her. Tae Hee and everyone knows he likes Ho Kyung though, something he can't deny.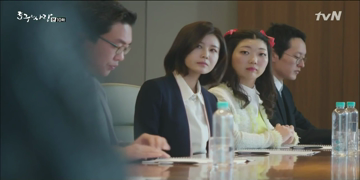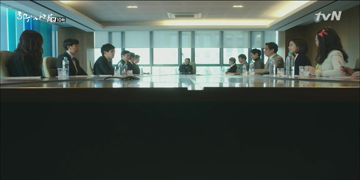 It's a very important meeting for Do Hee as the agency has decided to cancel her contract and replace it with her rival Han Sung Shil's contract. Because she's been missing in action for the past six months and the agency has been busy shielding her over the pregnancy rumor. But Director Park disagrees even though Sung Shil explains people prefer the trend & fresh face nowadays.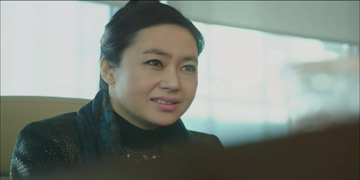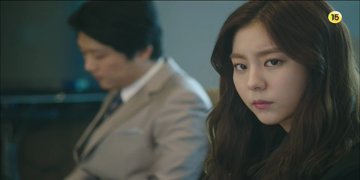 Director Park asks Do Hee directly if she has a baby, in which she replies no. She scolds her team for believing in rumors than their own athlete's words, pledging to resign if the rumor is true. Do Hee is touched yet speechless. Director Park doesn't care about fresh face so she's not signing a contract for Han Sung Shil.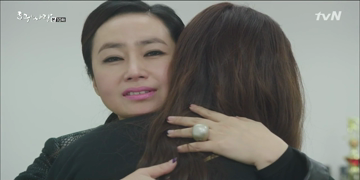 Do Hee prefer to leave the agency as the board of directors suggested but Director Park asks for something else. So she promises she'll work extra harder to crush her competitors & bring home the gold medal. That's the spirit! Director Park hugs her, comforts her. It doesn't matter what she's been up to, as long as she's back. She believes her.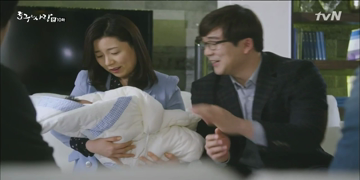 The adoptive parents are pleased to find out the baby's mother is currently studying in a decent university and the baby's father was studying for his bar exam. It means the kid is going to be smart like his parents. But they thought Geum Dong is a girl. What?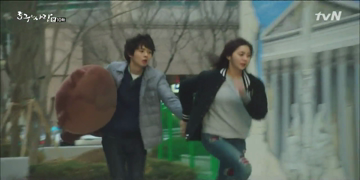 They are fighting because the dad likes son while the mom likes daughter better. Shi Min lied about Do Hee's status because it helped to speed up the adoption process. Hogu isn't happy although Shi Min believes it's best for both Do Hee and the baby. He asks Hogu to buy stuffed toys because he hasn't done anything for Geum Dong yet.
He runs into Do Hee as he's on the way back to Kang Chul's house. But they're too late, the adoptive parents have already took Geum Dong home.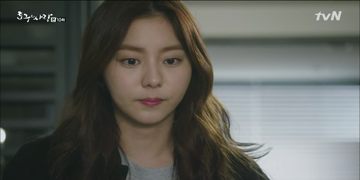 Coach Shi Min thought it's best Do Hee didn't see the adoptive parents took her baby. Do Hee shed tears as she's trying to comfort herself. Everything went well. She plans to start training tomorrow… Turning away the new leaf.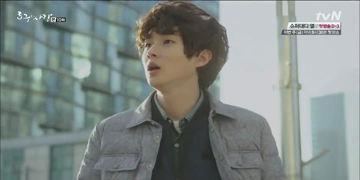 Meanwhile, Hogu is running around trying to give the umbilical cord to the adoptive parents. He doesn't feel it's right, he doesn't think they're the best parents for Geum Dong because they look weird. But Shi Min tells him everyone is weird in their own ways.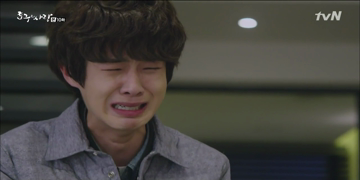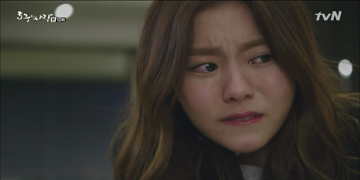 But the truth is… Hogu is upset they threw Geum Dong's umbilical cord after he told them to make a stamp out of it! He think they're bad people. please listen to him, Do Hee yaa. No parents will throw this precious thing, they'll treasure it forever.