Hyde Jekyll, Me Episode 1 Review
Hyun Bin is back! This time he portrays dual personalities characters theme park Wonderland Managing CEO egotistical Goo Seo Jin and his sweet alter ego Robin. He flawlessly acts his heart out and has great chemistry with Han Ji Min who plays Jang Ha Na, Wonder Circus' ringmaster.
Episode 1 introduces the main characters and setup the conflicts between Goo Seo Jin -v- Jang Ha Na and Goo Seo Jin -v- Robin and the fateful encounter between Robin & Jang Ha Na.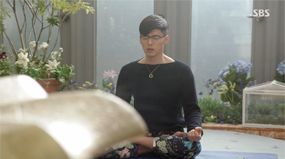 Goo Seo Jin is a self-centered cold person who can't (doesn't want to) help anyone, especially women. He has his own reason: his weak heart. Hence, he cannot touch women nor have any skinship with them. It'll make his blood pressure, his pulse and his MSP (Metamorphosis Signal Point) go up, very dangerous for his health. He enjoys yoga which helps to calm him down. Looks like Seo Jin and Healer own similar awesome glasses. Seo Jin's glasses can detect blood pressure and (temperature?)
Because he's a CEO of a famous theme park, he cannot show his weakness in public. There're people out there who're eyeing his position. He must keep this secret forever. The only ones who he can trust with his secret is his loyal secretary Kwon Young Chan (Lee Seung Jun) and his personal doctor, psychiatrist Kang Hee Ae (Shin Eun Jung).
One night, he dreamt of saving someone (Jang Ha Na) at his theme park from a giant disco ball. He knows straight away that man in his dream is not him. Because he never, he will never save anyone.
Jang Ha Na is Wonder Circus late ringmaster,  Jang Pil Seong's daughter. Awesome circus master, she returned to Korea to work at Wonder Circus.
The hilarious gorilla escape incident clearly shows the difference between Seo Jin and Jang Ha Na's personalities. Jang Ha Na is tough & fearless. Meanwhile Seo Jin… he pushes away the woman who begged for his help & escapes. He doesn't want his blood pressure to go up, so he hides. Jang Ha Na who knows Bing Bing (the gorilla) since he's born, saves the day.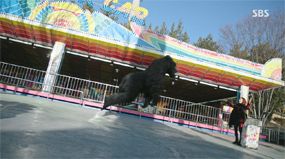 Seo Jin is baffled why his MSP drastically jumped up to almost 150 when Bing Bing jumped to Jang Ha Na. Not when he was running away from Bing Bing. Maybe his alter ego activated his protective instinct (to save Ha Na)?
After Seo Jin tells Ha Na he's going to terminate Wonder Circus' contract, she threatens to post the fancam from the gorilla incident (he refused to help that woman). After watching the fancam, he decides he'll extend their contract, but then he changes his mind. In that split second, looks like he changes into sweet Robin. But emotionless Seo Jin shuts his alter ego up.
Doctor Kang explains that people with multiple personalities mostly are aware they act completely different with what's inside (what they think). They remember everything, but chooses to forget what his alter ego does. She records her diary about Seo Jin's case. She believes it's gonna be her last record if the treatment is successful. A mysterious man knocks on her door.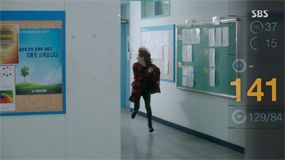 Seo Jin is elated when Doctor Kang told him she's found the cure! Jang Ha Na who's very upset that he's terminated Wonder Circus' contract, decided to trail him to Doctor Kang's office building. As a circus ringmaster, she easily enters the building using her aerial circus skill because she's a superwoman! The door is locked, so she tries to enter through the window in the nearby room, coincidentally it's Doctor Kang's room. She's shocked to see Doctor Kang's lying on the floor covered in blood. A mysterious man who entered her room earlier is still in the room, he runs to chase her. Seo Jin tries to escape after he heard Jang Ha Na's scream. He refuses to let Ha Na to join him in the elevator, although she begs him to save her.
This elevator scene reminds me of the epic Kim Joo Won's elevator scene in Secret Garden. Fantastic acting from Hyun Bin!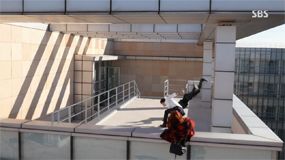 In the elevator, her plea to save her is ringing on Seo Jin's mind. Seo Jin is struggling as he's fighting with his alter ego, but Robin wins the fight. He rushes to the rooftop where the mysterious man tries to kill Ha Na. She almost falls from the building, so Robin jumps & both of them fall in the water. Thankfully there's a lake in front of the building. Robin protects her, hugs her. Ha Na is safe.
Ha Na opens her eyes in the hospital, she hardly remembers what happened except a handsome man saved her and both of them were in the water together.
Seo Jin is hospitalized. Ha Na comes to his room, asking if he's the one who saved her. But Seo Jin doesn't remember what happened after he pushed Ha Na out of the elevator. He knows it wasn't him. It's Robin… Who always comes everytime he feels guilty to save and protect people around him.
My first impression about this pilot episode: fun & enjoyable romantic comedy infused with fantasy. The hero is the typical Kdrama hero, cold, jerk, annoying, the one we desperately want to punch him yet we can't wait to see him gradually transform into a good guy (in this case, he's the hero's alter ego – Robin aka SuperRobin). Not going to compare it with the other multiple personalities drama Kill Me Heal Me because it will kill the fun. I'm just glad Binnie is finally back to the dramaland 😀