Jo Jung Suk, Jung Woo, Jung Sang Hoon heading to Iceland for Youth Over Flowers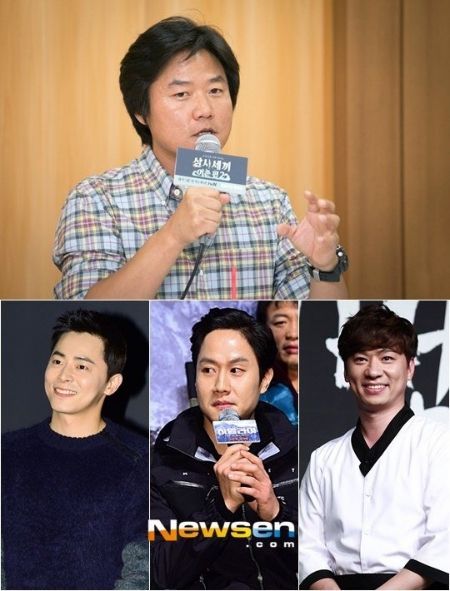 Daesang winner evil PD Na Young Suk has found his new victims: Jo Jung Suk (Oh My Ghost's Kang Chef), Jung Woo (Reply 1994's Trash Oppa) and Jung Sang Hoon (SNL Korea) for his next "flowers" series Youth Over Flower S3. The first two seasons aired last year – 40s singers-songwriters Lee Juck, Yoon Sang & Yoo Hee Yeol who went to Peru while Reply 1994 20s boys Yoo Yeon Seok, Sohn Ho Joon and Baro went to Laos with practically nothing except the clothes they wore.
Apparently the new casts had the first meeting late afternoon yesterday and flied to Iceland from Incheon International Airport at midnight. These three 30s boys men will spend 10-15 days backpacking in beautiful Iceland.
Based on the pictures released by the production team, they all looked perplexed and half-excited/sleepy/worried with this sudden travel news! Their faces show they've just been tricked to join this variety show and there's no way out 😀 I guess the production team pulled out similar trick as they did to the old youth trio. R94 boys' fake commercial shoot was beyond awesome so I don't mind if they surprised the new casts with similar hidden camera.
Some media outlets threw in Kang Ha Neul's name into the mix but sadly it was too good to be true. YoF always had three members per trip and they're keeping the same format for this trip.
Youth Over Flowers Iceland will follow Three Meals a Day Fishing Village though there's no news yet about the broadcast date. Hopefully the Three Js enjoying their youth backpacking trip and I cannot wait to watch them having fun together in the unfamiliar land. Safe trip boys!