Joseon Gunman Casts Hold First Script Reading with Lee Jun Ki, Nam Sang Mi, Han Joo Wan, Jeon Hye Bin and others
This morning, KBS2 released pictures from Joseon Gunman's script reading which was held in KBS Annex Building in Yeouido. Lee Jun Ki and Nam Sang Mi are match-made-in heaven, they're so adorable together. Thank you KdramaGods for reuniting them in this drama. Can't wait to see their sizzling on-screen chemistry again.
Lee Jun Ki and Nam Sang Mi were joined by actors Han Joo Wan, Jeon Hye Bin, Choi Jae Sung, Yu Oh Seong, Lee Min Woo, Choi Jong Won, Ahn Suk Hwan, Lee Dong Hwi and PD Kim Jung Min.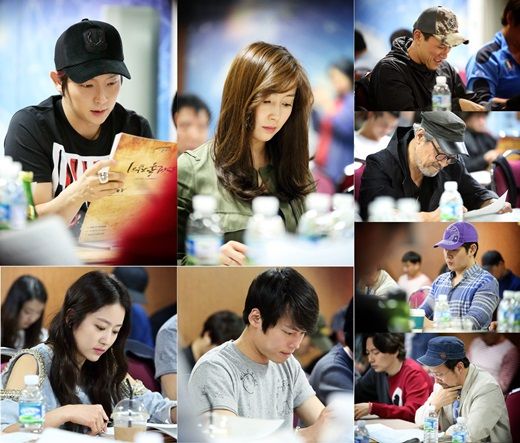 Joseon Gunman is a period romance melodrama about the illegitimate son of the best swordsman in Joseon who trades his sword with a gun to revenge for his father's and sister's death. This drama is scheduled to premiere on 25 June 2014 on KBS2, it follows Golden Cross.