Kill Me Heal Me Episode 1 – 4 Review
Cha Do Hyun's (Ji Sung) silent cry "I have a monster living inside me"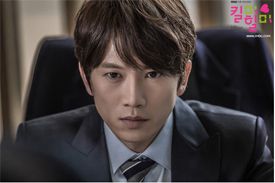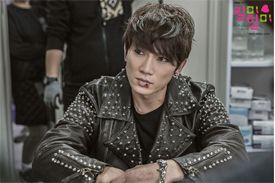 He's our hero who's diagnosed with dissociative identity disorder (D.I.D) few years ago. Seven different personalities (including his own), dominated by ferocious Shin Se Gi who takes over Do Hyun's mind & body, putting him in danger whenever he appears. Se Gi threatens Do Hyun's psychiatrist Dr Seok to stop the treatment, "kill" Do Hyun so he can live freely in Do Hyun's body. He doesn't want Do Hyun to remember his past either. That's how bad and scary Se Gi is controlling Do Hyun's life who suffers from childhood trauma after he's trapped in a house fire which (he believes) claimed his father's life.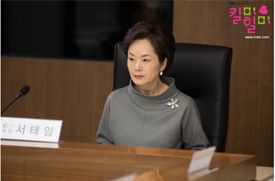 Do Hyun returned to Korea to claim his rights as the third generation of Seungjin Group where he meets his biggest threats – his second cousin Cha Ki Joon (Oh Min Seok) and his own grandmother, CEO of this company. Unfortunately, Do Hyun can't get treatment in any hospital in Korea because if he does and the news is out… it'll hinder his chance to inherit this company. To make things worst, whenever he's angry, Se Gi will overtake his life. This cannot happen.
The only way to prevent Se Gi to appear is… Do Hyun must stay calm, not putting himself in any situation which will trigger his other personality to come out. It's heartbreaking to see Do Hyun's struggle – fighting with his own alter ego. He has to "kill" Se Gi so he can fully healed. But who can help him to "kill" Se Gi and "heal" him?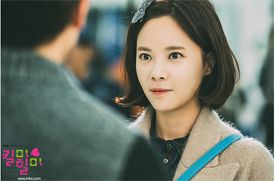 Oh Ri Jin (Hwang Jung Eum)! She's a dedicated first year resident psychiatrist who genuinely cares about her patients. Attentive, warm, tough, rough! Not the typical Kdrama heroine. She coincidentally crosses path with Do Hyun, Shin Se Gi and Perry Park. Only after several meetings she realizes they're the same person but different personalities (and eye colors – SeGi is purple, Perry Park is brown). Se Gi requested she should never forget his eyes.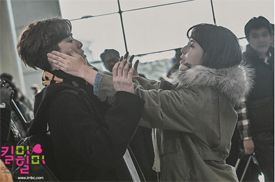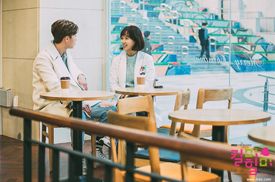 She's also a great sister to her twin brother – mysterious novel writer Oh Ri On (Park Seo Joon). Oh family is 180degree different with Cha Do Hyun's family who's full of hatred, jealousy and bitterness. They're close-knit fun loving family.
Dr Seok treated Do Hyun for seven years while they lived in the USA, he realizes his multiple personalities are stronger now. They need someone to help him secretly. Ri Jin is up to the challenging job to heal Do Hyun!
The plot thickens after Do Hyun realizes his alter persona Se Gi has found his first love (or his obsession because he's not real, hence… it's impossible he can love someone)… Oh Ri Jin… whom he met while they were little child. It'll be almost impossible for Ri Jin to heal Do Hyun because Se Gi appears whenever Do Hyun shares his painful story. Se Gi doesn't want Do Hyun to remember his past, because if he does, he'll disappear from his life forever. He keeps reminding Do Hyun that he fought for him whenever he ran away from his own pain.
Cha Do Hyun has a feeling for Han Chae Yeon (Kim Yoo Ri), recently appointed as Seungjin Group's Art Director. He can't confess his feeling because of his shy demeanor. He can't even tell her the truth about his condition although he indirectly warns her about Se Gi. Little did Do Hyun knows that Chae Yeon is using the excuse of their childhood friendship for her own benefit. Chae Yeon is the typical second female character.
On the other hand, Oh Ri On who hides his own identity and lives as mysterious writer "Omega" most likely can solve the first puzzle about Do Hyun's past. He must have a very good reason why he compiled the newspapers about the suspicious fire accident and keeps Do Hyun's picture. They met while they were kids, their lives somehow entangled in this mystery. The viewers also know the secret behind him and Oh Ri Jin. Though it's not yet known if either Oh Ri On or Oh Ri Jin know that they're not blood related.
Kill Me Heal Me is described as a healing human romantic comedy drama. So many things can go wrong here… I was a bit skeptical this drama is a rom-com because it's dealing with a very sensitive subject. Can the writer treat this subject with respect?
After watching the first four episodes, I'm pleased that the writer is doing a good job developing Do Hyun so we can understand the pain and the suffocated feeling he has. His bitterness because psychiatrists refused to treat him. His loneliness knowing that he can't trust anyone with his secret. He can't even tell his family and people around him. His anxiousness that his alter ego will appear unexpectedly and cause trouble or hurt people around him. Props to Ji Sung's solid acting and his raw emotions for making his characters alive.
So far the drama has only explored two out of his other personalities, Shin Se Gi and ahjussi Perry Park. Little girl Nana and suicidal Yo Sub were briefly mentioned. This drama has done a good job focusing on one personality per episode, though the focus is mainly Cha Do Hyun's unending battle with Shin Se Gi. I hope instead of "killing" Se Gi, the writer will "heal" Se Gi. Merge "him" to Do Hyun because it'll be awesome to see Do Hyun with a bit of badass personality that Se Gi possess.
Side note: I can't stop replaying Auditory Hallucination. The combination of NaShow's rap and Jang Jae In's soothing haunting voice = perfection.