Kim Soo Hyun and Park Shin Hye won popularity award at 50th Baeksang Awards (TV Category)
50th Baeksang Awards ceremony will be held this Tuesday, 27 May 2014 at Hall of Peace, Kyung Hee University and will be broadcast live on JTBC (live streaming link). Kim Soo Hyun & Park Yoo Chun and Park Shin Hye & Yoona fought for the top spot ever since the voting started last month.
Voting for most popular actor & actress officially closed last night and the results are:
For TV category Kim Soo Hyun won the most popular actor with a whopping 63.4% votes. Park Shin Hye won the most popular actress after topping the votes with 52.6%.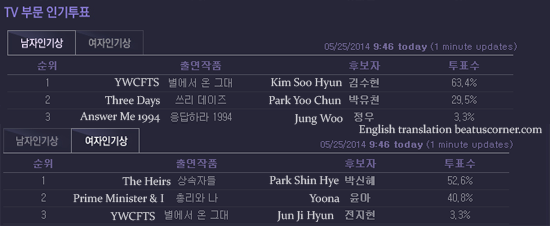 For Movie category, Kim Soo Hyun will also take home the most popular actor after he received 67.8% votes. Kwon Yu Ri won the most popular actress with 78.5%.