Beloved Korean celebrities who most likely will do their mandatory military service in 2016
Every year, thousands South Korean able-bodied men between 18 – 35 years old (I heard the age limit has been increased to 37yo now) go through their mandatory military service. It's 21 months for army, marines & conscripted policemen, 23 months for navy, 24 months for air force and between 24-36 months for public service / civil worker. Many Korean celebrities delay their mandatory service 'til their late 20s due to various reasons – some prefer to establish their career first, maintain their popularity (strike the iron while it's hot!), some probably are tied with fixed contract with their agencies, etc. Most Korean celebrities serve when they're 29 or 30 years old (Korean age) hence 86ers (most of them have already enlisted last year) and 87ers are most likely enlist this year.
Who are they? Let's find out!
✧ Lee Jang Woo (1 June '86) ?
It's revealed 4 years ago that his father was a General in South Korea military. Whilst sons of fathers who served in war usually get exemption (like 87er actor Kim Young Kwang who served only 6 months public service because his father served in the Vietnam war), it's unknown if he got exemption or if he'll enlist in the near future.
✧ Yoo Ah In (6 Oct '86)
The hottest star Yoo Ah In had two box office movies, got multiple best actor awards, top movie actor of the year in yearly Gallup survey and is currently acting in 50 episodes SBS sageuk Six Flying Dragons. He plans to report for mandatory duty after Six Flying Dragons wraps up in April but before leaving, he still has one more rom-com movie on his sleeve – Like for Likes will hit the cinema on 18 February this year.
✧ Kim Junsu (15 Dec '86)
Currently busy with Dracula musical stages, many believe he will enter military in the first half of 2016.
✧ Park Jung Min [Actor] (25 Feb '87) ?
✧ Im Seulong (11 May '87)
Last year he revealed he's still looking for the right time to enlist quietly.
✧ Ryu Deok Hwan (12 June '87) ?
He mentioned back in 2012 that he'd enlist next year (aka in 2013). But I haven't seen any news about him entering military so I'm not sure.
Update: He began his military service on 8 March 2016
✧ Super Junior Kim Ryeowook (21 June '87)
The idol has just released his first solo album The Little Prince and has also confirmed his enlistment date – 14 June 2016, only one week before his 30th birthday.
✧ Lee Min Ho (22 June '87)
As the ambassador of 2018 Winter Olympic, it'll be better for him to complete his military service before this ceremony opens on 9 September 2018. There's a report last year that he's asked for postponement due to his graduate study but it was rejected by the Military Manpower Administration. His upcoming Asian blockbuster movie Bounty Hunters is scheduled to premiere this year. And there's a rumor that he may be back to the small screen by reuniting with City Hunter PD Jin Hyuk.
✧ Ahn Jae Hyun (1 July '87)
He's cast in a new drama Cinderella and Four Knights set to air on the first half of this year.
Update: He finished his mandatory military service before he debuted in You Who Came from the Star.
✧ Ji Chang Wook (5 July '87)
The rising hallyu star actor who received Most popular Korean artist of the year in the 2nd annual Tencent App Star Awards last month is busy flying back and forth from Korea to China. Currently filming joint Korean-Chinese drama Mr Right, many fans expressed their wishes for him to do last Korean drama before he goes to army. He did mention he'll go this year.
✧ Jang Geun Suk (4 August '87)
He will be making a small screen comeback through SBS sageuk drama (written by Goddess of Fire writer) Daebak / Jackpot this March. Will he enlist after wrapping up this drama?
✧ SS501 Kim Hyung Joon (3 August '87)
✧ Kim Kibum (21 August '87)
✧ Jung Il Woo (9 September '87)
He's also cast in Cinderella & Four Knights and there's no news so far about his enlistment date. He'll probably go at the end of the year.
✧ Joo Won (30 September '87)
He closed year 2015 by receiving Daesang Award at SBS Drama Awards. He has upcoming Chinese drama Love Express, Chinese movie Passion Heaven and Korean movie Fatal Intuition before serving at the end of this year.
✧ Seo In Guk (23 October '87)
The superstar K Winner is cast in OCN Police Squad 38 which will be entirely pre-produced and planned to be released in May / June this year. He'll turn 30 (Korean age) in October so he still can postpone his military service until early next year.
✧ Big Bang T.O.P [Choi Seung Hyun] (4 November '87)
He is probably the first Big Bang member who'll report for army duty.
✧ Do Sang Woo (25 December '87)
Debuted in 2011 through tvN Flower Boy Ramyun Shop, Do Sang Woo wrapped up 50 episodes MBC weekend drama My Daughter, Geum Sa Wol in February 2016. He's confirmed to enlist in active duty early April this year.
87ers celebrities who're currently serving in the army: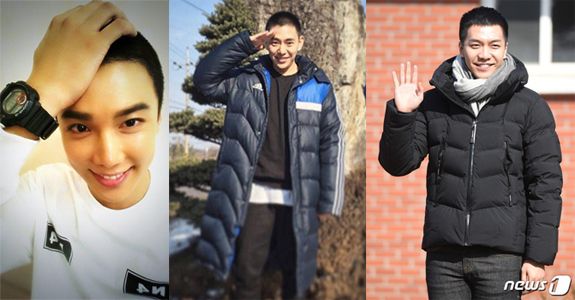 – SS501 Park Jung Min (3 April '87)
Enlistment date: 2 July 2015
Expected Discharge date: July 2017 (24 months because he's serving as a public service worker due to herniated disk on his back)
– Ahn Yong Joon (22 November '87)
Enlistment date: 22 December 2015
Expected Discharge: September 2017
– Lee Seung Gi (13 Jan '87)
Enlistment date: 1 February 2016
Expected Discharge date: 31 October 2017
*If I put a question mark after their name, it means I'm not sure if they've done their military service or not. Feel free to leave your comment below if they've completed their military service or there's any celebrity who should be included on above list. Thank you.
pic cr as labeled