Marriage, Not Dating Episode 1 Mini Recap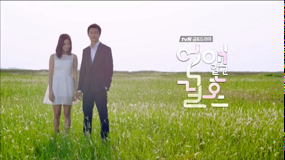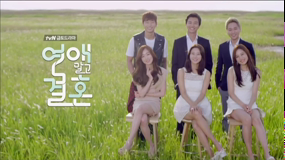 Marriage, Not Dating is a pleasant fresh rom-com which flied under my radar until I stumbled upon it on the weekend. I was a bit skeptical with the generic plot (hero doesn't want to get married while the heroine is desperate to get married), but the pilot episode surprises me in a good way. I fall in love with the heroine almost immediately. Joo Jang Mi is a quirky, strong-willed heroine who's willing to sacrifice herself to fight for her love. She learns the hard truth that her boyfriend who she really loved and adored, never loved her as much as she did. It was a one-sided love. 🙁 Kong Ki Tae is a refreshing hero. He's cold, but brazen. He "rescues" Jang Mi albeit he has his own agenda. So far, this rom-com has hit the right points, excited to see how the story will unfold after she meets his family.
Prologue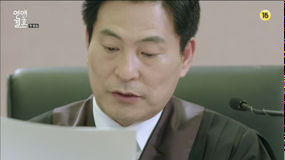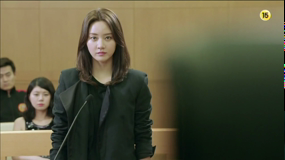 Defendant Joo Jang Mi (Han Groo) is at the court hearing for being convicted as a crazy stalker. She tells the judge what she told her (ex) boyfriend: "let's get married".
Meanwhile, our hero Kong Ki Tae (Yeo Woo Jin) rushes to give his testimony, when asked what's his relation with Joo Jang Mi, he tells them she's his fiancée.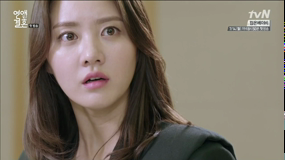 He's allowed to enter the courtroom, Jang Mi is surprised to see him.
Episode 1 Mini Recap – How to Break Up in a Civil Way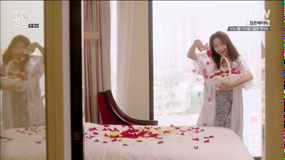 Jang Mi set up the hotel room with balloons, flowers, rose petals. She sings Lee Seung Gi's song Will You Marry Me as she prepares what could be the best wedding proposal ever. But the person who she wants to propose to, is nowhere to be seen.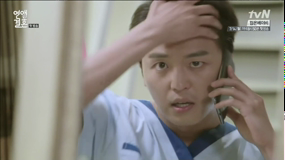 Plastic surgeon Ki Tae finishes his surgery and receives a phone call. Great editing here, they make it look like he's talking to Jang Mi, but the truth is, he's talking to his blind date set up by his mother & his friend, Hoon Dong.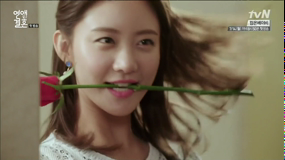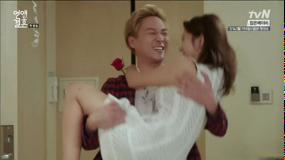 Hoon Dong arrives at Jang Mi's room. She welcomes him with a flower, he sweetly carries her inside.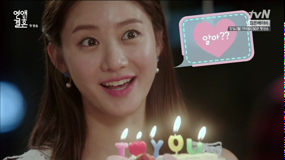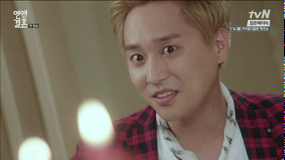 But his excitement dies soon afterwards. He's shocked to see her "surprise" and doesn't remember what special day today is. She explains today is the last day they'd be spending & meeting in a hotel. She proposes to meet, sleep together and have breakfast at their own place, aka… she's proposing to him! LMAO. He hurriedly blow the candles, pretending to be sick and rushes to hide in the bathroom.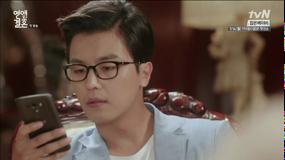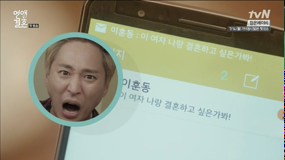 He begs Ki Tae to save him from the girl who's dying to marry him. Ki Tae sends a message back that the girl in front of him is also desperate to marry him.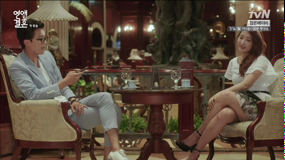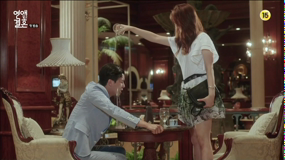 Ki Tae starts by bragging about his wealth & his profession to his blind date. Sarcastically tells her that he has what she doesn't have and she has what he doesn't have. It's an ideal marriage, isn't it? Because they can rely on each other.
His blind date is upset that he's been looking at his cell phone during their awkward date. Amusingly, he explains someone is waiting for him in the room upstairs, while the truth is he's negotiating with Hoon Dong how much he'll willing to pay if he helps him. Hoon Dong finally agrees to freeze the current rent for 3 years (his mom is the ladylord). Ki Tae approves the deal! He put down his phone, it gives his blind date a chance to pour a glass of water over him. Nice…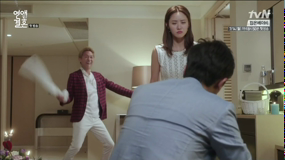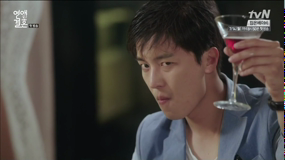 He goes upstairs to Jang Mi's room to save his friend. But his tactic doesn't work so he changes to Plan B. He tells her that she's the first girl he's introduced to him. This earns Hoon Dong one plus point.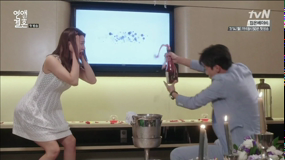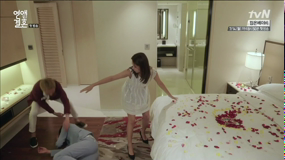 But he starts to ruin her surprise proposal until he pretends to knock himself on the bed. Pretended to be worried, Hoon Dong escapes from Jang Mi's room to take his friend home. On the way home, Ki Tae advises his friend to break up cleanly.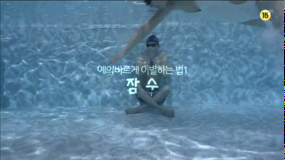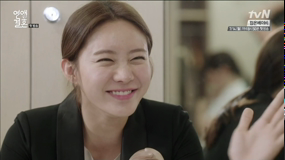 The first thing he must do to break up civilly is to disappear. So he hides underwater lmao. They believe his disappearance will make his girlfriend to be worried sick. But no, Jang Mi is different. She's still preoccupied with her amusing proposal plan.
Hoon Dong knows Jang Mi will regularly check his SNS account, so he writes "love always changes".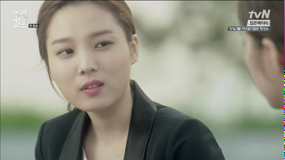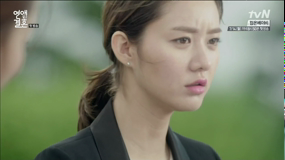 Her work colleague Nam Hyun Hee (Yoon So Hee) is curious if Jang Mi brought up the word "marriage" to Hoon Dong because this could be the reason why he tried to avoid her. This looks to be a "disappearing breakup". Jang Mi denies, she believes he was upset not because of the prospective marriage proposal but because she mistreated his friend. It's been over a week since they last met, Hyun Hee think it's over now. So does Hoon Dong.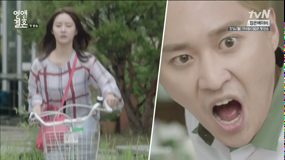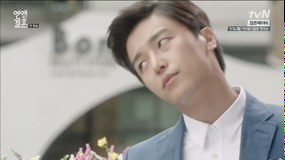 Jang Mi still hasn't given up her hope though. She comes to the restaurant where Hoon Dong works, he begs Ki Tae to help him again while he rushes in to hide behind the counter.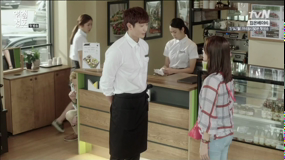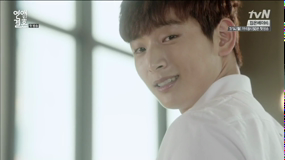 Cutie playboy Han Yeo Reum (Jung Jin Woon) welcomes her, he's surprised she's looking for Manager Hoon since most women come to this restaurant are looking for him. 😀
While Ki Tae's waiting for his drink order, his aunty calls to report that his family is furious he keeps messing up his blind dates. Especially the last blind date as the girl's family is very close with Hoon Dong's mom. He explains he really hates gold-diggers as he tells his aunt he's going to stop going to blind dates.
When asked if he has unconditional love with the girl he frequently meets in the hotel, he tells his aunt in front of Jang Mi that girl is so desperate to get married that day. Jang Mi instinctively think it's her, but Ki Tae tells her it's his blind date. 😀
His family is setting him up with another blind date, his aunt & his mother are coming to get him so he won't run away & mess this up again.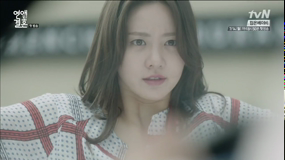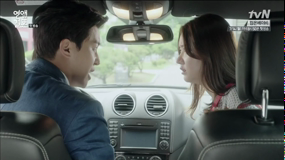 Jang Mi begs him to tell her where she can meet Hoon Dong, but Ki Tae coldly tells her it's all over. It's obvious why he keeps avoiding her. He breaks her "bubble" explaining that her "boyfriend" ran away because she forced him to marry her.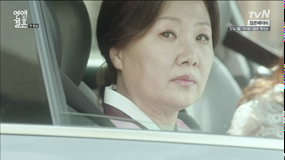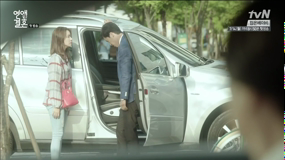 His mom & aunt witness their argument. Jang Mi is still living in denial, she doesn't realize she's holding on to a false hope.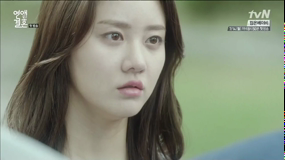 Ki Tae makes things worst by making abrupt assumption that Jang Mi chases Hoon Dong because of his money. He knows Hoon Dong only cares about her pretty face & body. That's more than enough for him to get a "fruit juice shower". She explains it's not about his money, she really loved him.
Still living in denial, Jang Mi sends a text to Hoon Dong asking if what his friend said was true.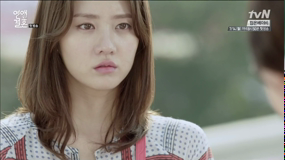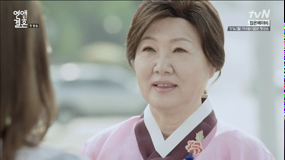 Ki Tae's family think Jang Mi's the girl who Ki Tae has been frequently met, so his mom invites her to her house tomorrow afternoon. Unfortunately, Jang Mi mistakenly think she's Hoon Dong's mother!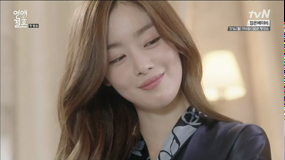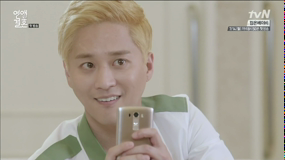 Ki Tae thought she looks sincere, but according to Hoon Dong she's just like any other girl he met before. He thanks Ki Tae for giving him a fresh new start. Just then, Kang Se Ah (Han Sunhwa) arrives at Ki Tae's practice.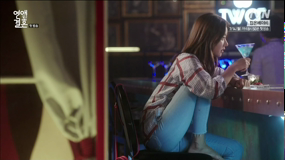 Drunk Jang Mi starts hallucinating that Hoon Dong is sitting beside her in a bar.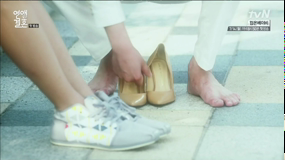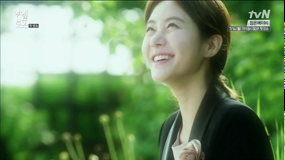 Flashback to Jang Mi & Hoon Dong's happy times. Hoon Dong liked her who ate like a pig. He brought comfy shoes for her. Everything seems like a dim memory for her. But she knows he cared for her before.
Hyun Hee advises she should bring up about their relationship with Hoon Dong's mother as he has to obey his parents. But Jang Mi doesn't want this kind of marriage, she doesn't need a jerk like him. Yay!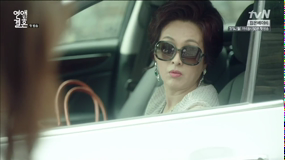 She arrives in front of Hoon Dong's house, contemplating to press the bell. She doesn't want to shallow her pride, but his "mom" invited her. So what should she do?
Just then, his mom arrives, confused why a stranger is lurking around her house. Jang Mi is baffled after she finds out the person who invited her is not Hoon Dong's mom.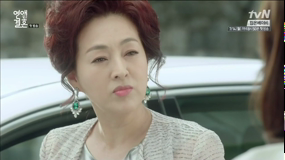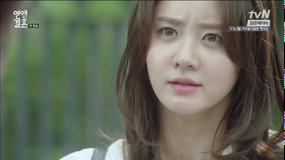 She is furious with clingy Jang Mi who's tormenting her son after he politely wanted to break up with her. She's stalking her son. Apparently, Hoon Dong has said lots of twisted things to his mother.
Jang Mi fights back… Her son can only hide behind his friend & mom. He's not considerate with the girl he's been dating for one year. He needs to say goodbye to her, himself. Be a man, Hoon Dong!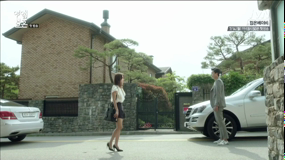 Unbeknownst to her, Ki Tae has been watching this whole thing from his car. He's here to apologize to Hoon Dong's mom for messing up the blind date.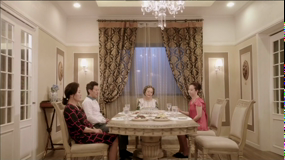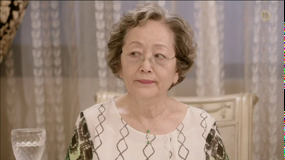 Meanwhile, Ki Tae's family is impatiently waiting for Jang Mi. His grandma whines that Ki Tae has never stepped into this house for the last 3 years, so how in the world would his girlfriend come here?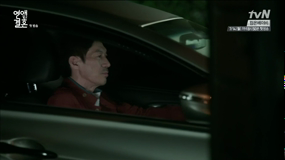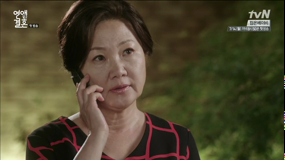 Ki Tae's Dad & Mom relationship are very cold. I wonder what's going on between them? His mom then calls a real estate agent.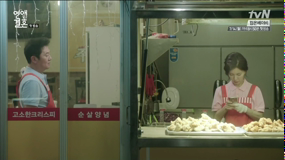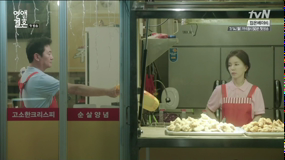 Same goes with Jang Mi's parents. They're running beer restaurant together, but they communicate by a cellphone & board.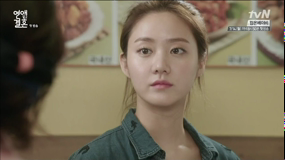 Jang Mi arrives and mom bombards her with questions about the restaurant manager & when they're getting married. Did his family disapprove of Jang Mi's family because they're selling alcohol? Mom knows well, she also doesn't want to have a daughter-in-law whose family runs similar business. So please ask dad to close this business. They then start arguing about the reason why mom can only fry tonkatsu, etc. But interestingly, they're so scared to fight face-to-face.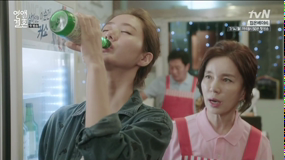 Jang Mi receives a break-up text from coward Hong Doon. Depressed but unable to say the heartbreaking truth to her parents, she grabs a bottle of alcohol & drink it in one go.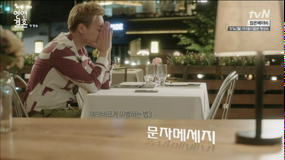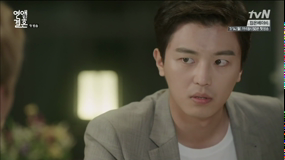 Ki Tae advises Hong Doon to man up. If he wants to break up, say it to her directly. He think everything is okay now, he ended it. But Jang Mi arrives at the restaurant, grabs a bottle of alcohol from Yeo Reum & gulps it in one go.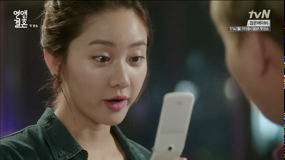 She reads his break-up text message: thank you, I'm sorry, be happy.
Hoon Dong requests help from his friend or his work mates, but everyone stays silent.
Jang Mi angrily questions his coward act by ending everything in a single text. She really loved him, she dreamed of a future with him! She aims the empty bottle to his head, thankfully Ki Tae comes to the rescue. Hoon Dong escapes, he reports to the police that a crazy woman is stalking him.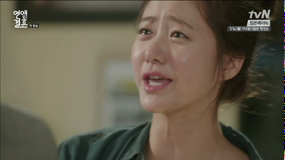 Jang Mi doesn't want her relationship to end in a civil way like this. They need to talk things through even it's really pathetic and embarrassed her. So Ki Tae let her go.
She begs Hoon Dong who hides in the bathroom to face her, to break up in front of her. She wanted to know why their relationship turned out sour like this. She wanted to see his eyes so she could understand the reason. They were in love, so why are they breaking up? She will leave him alone if he tells her the truth. He keeps calling the police. Coward.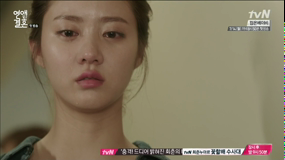 Jang Mi is speechless but she understands after she finally sees his face. She realizes she was the only one in love. He didn't love her at all.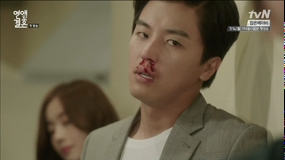 She accidentally hit Ki Tae's nose in the midst of the commotion. After receiving frantic call from Hoon Dong, Jang Mi is taken to the police station. Ki Tae comes with her.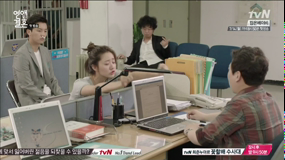 She explains the reason why she "stalked" him was because she missed him, she wanted to see him. They were in love before. Police officer advises her that if she insists of following him although he said no, it's a crime. Another drunken man who molested a college at a company dinner although she kept saying no, is agreeing with everything she said. LOL. He believes he's innocent too, as he loves her. He advises everyone that people get depressed because of lack of human touch.
This gives a fresh perspective for Jang Mi who finally realizes she's been stalking Hoon Dong. As this is her first crime, Ki Tae tries to lobby the officer so she doesn't have to go to court. A fine should be sufficient, right? But unfortunately, Hoon Dong's mom wanted a severe punishment 🙁
When asked if she assaulted him, Ki Tae pretends he injured himself.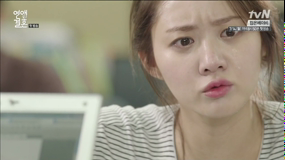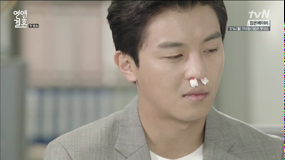 While they're in the station, Jang Mi asks the officer to find a missing person for her. She's looking for a nice lady who invited her to dinner.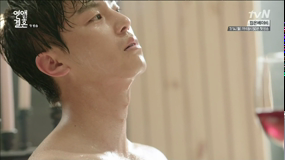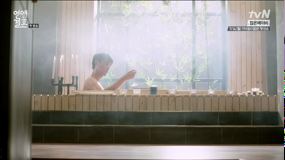 Ki Tae is thinking about Jang Mi's one-sided love and her denial although he has tried to tell her the truth. He also think about her court date, which is today.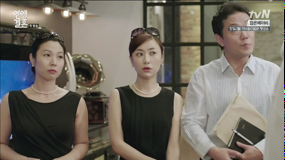 He hears the doorbell rings, but ignores it. After he finishes his relaxing bath, he's shocked to see a property agent and prospective tenants at his house. He kicks them out.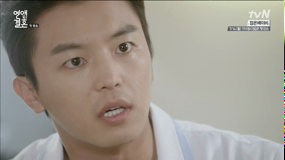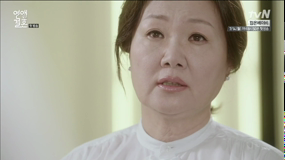 His mom was the one who put the house on the list, it's a very effective method to "force" him to finally see her. She tells him to bring the girl she invited before the prospective tenant sign the contract tomorrow. She gives him two choices: bring her to meet the family or move out from that house.
He's shocked that his mom invited Jang Mi! So he rushes to the court to "help" Jang Mi who's being charged with stalking.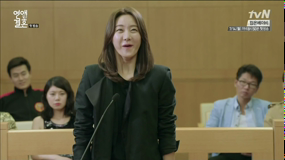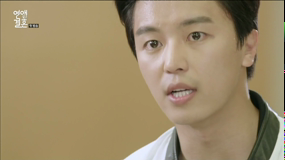 She laughs uncontrollably. Then she tells the judge what she said to Hoon Dong. Ki Tae is allowed to enter the court room after he lies to the guards that she's his fiancee. He's here as a witness who knew the whole story. And because he's Hoon Dong's friend, he's able to prove that his friend disappeared & kept hiding from Jang Mi. He never said "no" to Jang Mi to follow him. He urges her to submit all the text messages to the judge who tells her it doesn't matter now. But because she caused commotion at his workplace, she's guilty and has to pay a fine of $50.
Jang Mi knows the price she has to pay for her love is higher than this. Her love ended just like this. Will she be able to love again?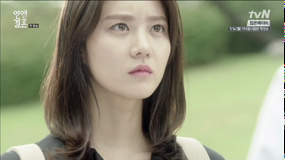 Ki Tae is waiting for her outside the court. He invites her to go to his house & to meet his mother. Because his mother was the kind lady who invited her few days ago.
Jang Mi is surprised!