Marriage, Not Dating Episode 10 Mini Recap
This drama is getting better and better. Jang Mi is more than ready to move on with her life & wrap up this game by pretending all the goosebumps, butterflies in her tummies everytime she thought about Ki Tae are just her own illusion & fantasy. What'll happen after the ugly truth is out?
Prologue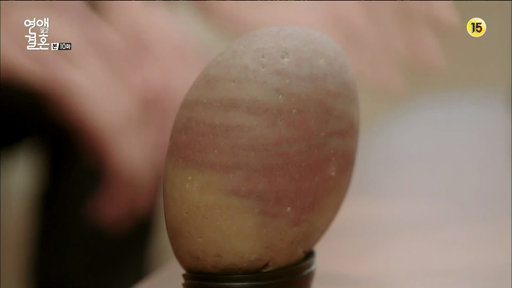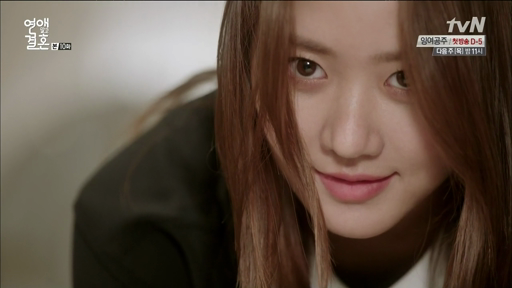 Jang Mi stares at Bong Hyang, asking if it has a very special meaning for her. Bong Hyang says yes, so please treat it preciously. Abruptly, Jang Mi grabs the stone ornament and smashes it on the table – in front of the whole family!
Episode 10 Mini Recap – You must not be found until the last moment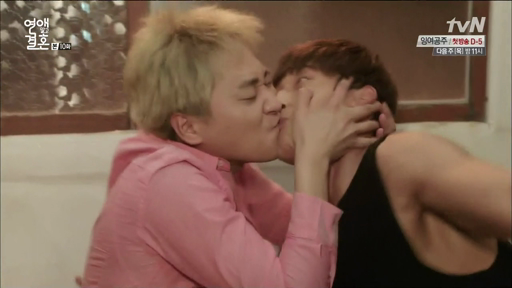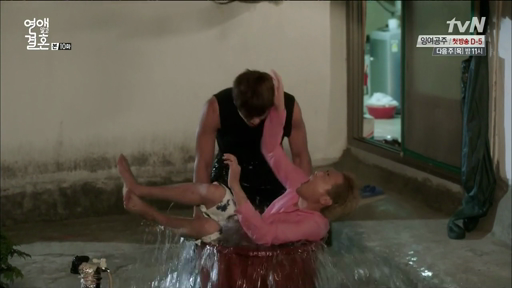 Yeo Reum tries to wake drunk Hoon Dong, but he suddenly grabs & kiss him. LMAO. So he dunks him in a freezing water to "refresh" him. On the way to Ki Tae's car, Yeo Reum tells him about Hyun Hee who's currently in the temple. Hoon Dong is wondering why he has to meet her there.
Yeo Reum who gets to the car first shockingly witnesses Ki Tae & Jang Mi's kiss but Jang Mi only realizes their friends are here after she heard Hoon Dong's voice. Yeo Reum pretends he didn't see anything though.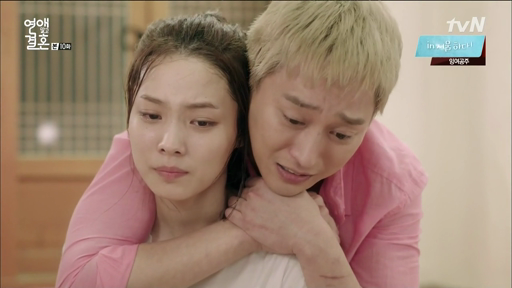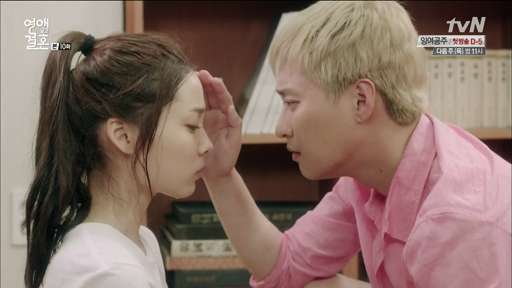 Hyun Hee mentions she has a "gift" for him, unexpected gift that can't be reserved which makes him wants to run away with all his strength. She wants to cherish this precious gift from Heaven. She gives him a chance to leave now, but instead of leaving, he hugs her as he cries why it had to be someone bad like him. He apologizes, assures her that he'll protect her.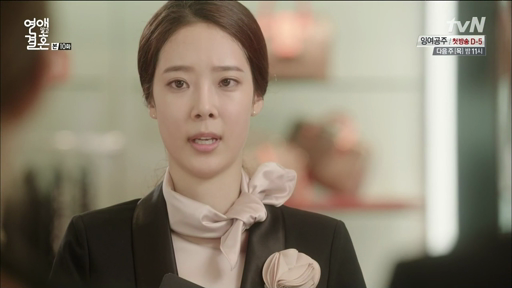 The next day at work, Hyun Hee is smiling because Hoon Dong promised he'd talk to his mother and she'll stop working, while Jang Mi is thinking about the kiss yesterday. Their manager scolds these two employees who're distracted during work hour, telling them they can't let their personal emotions be revealed to the customers because they're working as face of the brand they're selling.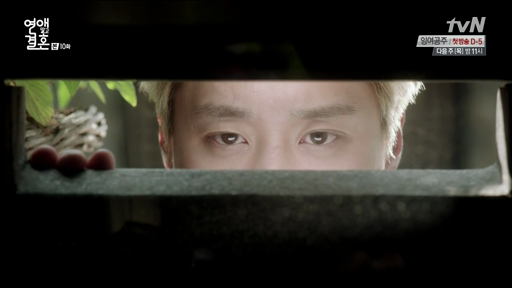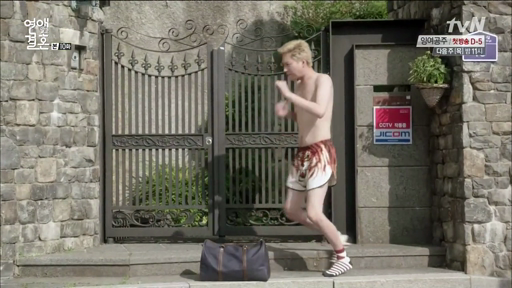 As Jang Mi predicted, things aren't easy for Hoon Dong. His mom refused to talk to him, he's locked outside wearing only boxers and socks. He cries out "mommy"!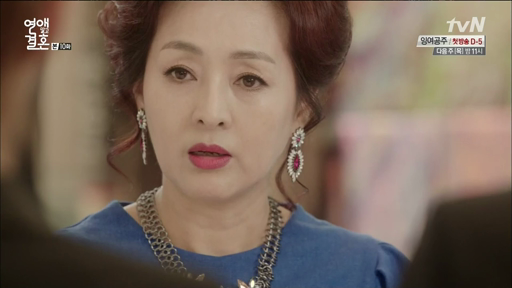 His mom confronts Hyun Hee at the department store, she's surprised to see her son's "stalker" Jang Mi also working here & defending her best friend. She tells the manager that a mistake is a wrongdoing done by accident, a wrongdoing done on purpose is not a mistake at all. The manager realizes she's talking about personal issues here, she sweetly apologizes because this whole commotion is disturbing other customers. She warns Jang Mi that she won't let them off the hook next time this happens again.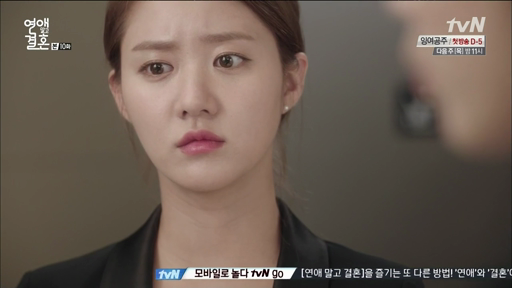 After working at the department store, Hyun Hee feels like she's become a product (handbag) instead of a human being. She really wants to get the promotion ASAP so she can be sold when she's the newest product when she's at her highest price before she's out of season and gets transferred to the outlet.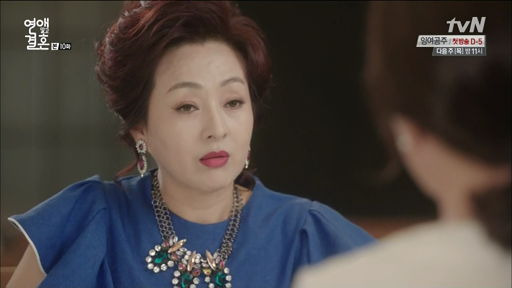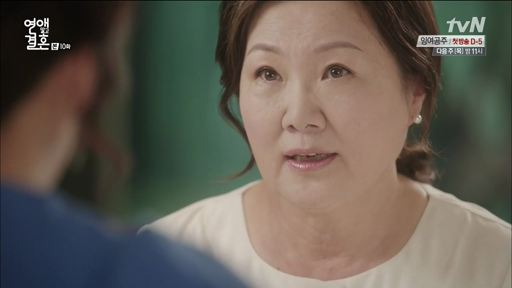 Hoon Dong's mom complains with Ki Tae's mom about their sons' complicated relationships. She's furious that Jang Mi is now dating Hoon Dong's best friend while she put her best friend to be Hoon Dong's girlfriend. So Bong Hyang advises the best way out: to find these girls' true intentions while they're preparing their wedding. Is it pure love or something else they have in their agenda?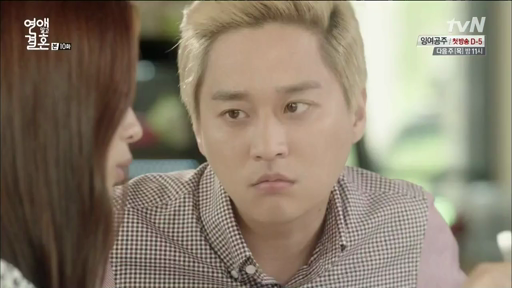 Good news for Hyun Hee because Hoon Dong's family has agreed to meet her parents ASAP. Although Jang Mi is her best friend, but she never talked about her family hence she's surprised Hyun Hee finally opens up (or is she lying?) She mentions her parents are currently on a cruise ship and won't be back for few months, so most likely they'd tell her to take care her wedding preparation on her own since she grew up independently. She skips the questions from curious Hoon Dong by pretending their baby "Luxury" is hungry.
Jang Mi who's going to leave is going back and forth between leaving & staying after she saw Ki Tae walking in to the restaurant. In the end, she leaves before telling Yeo Reum she'll wait outside.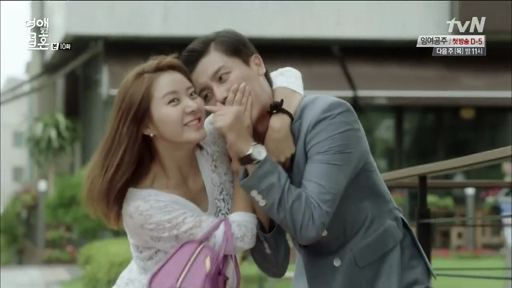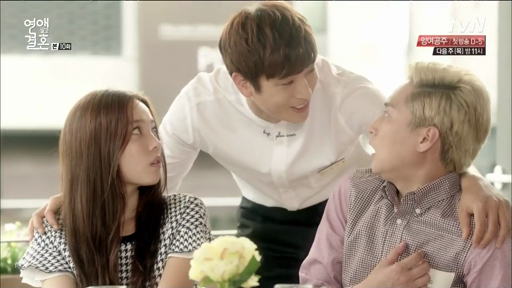 Ki Tae chases her to remind her that if she continues acting strange like this, people around them will start to get suspicious that it'd be better for her to tell everyone about the kiss. She quickly covers his mouth and drags him to his clinic next door.
Hyun Hee is curious why fake couple Ki Tae and Jang Mi always stick close together. Hoon Dong comments that they regularly go to Ki Tae's house but after Yeo Reum tells them that he also lives with him, Hoon Dong think that Ki Tae likes Yeo Reum. lol.
Ki Tae asks why Jang Mi doesn't let him to talk, she points his mouth telling him it's the problem. He teases her if her heart flutters when she sees  her lips and if she's avoiding him. Frankly she admits, she's avoiding him but she can't act like nothing happened. Though she can't talk about the (kiss).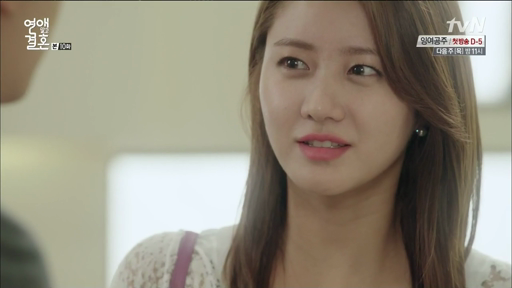 Boldly she asks one million dollar question: do you like me? He laughs at her which makes her relieved that he hasn't fallen in love with her. Remember it's all an act and she has Yeo Reum, so she has to draw the line now (he has to remind her she kept crossing the lines they drew).
She asks if the kiss has any meaning, he tells her it doesn't. She wants to erase that accidental kiss, he assures her he had already forgotten about it.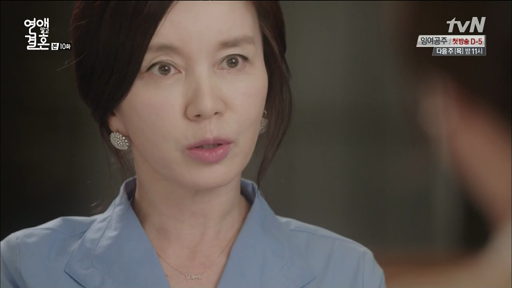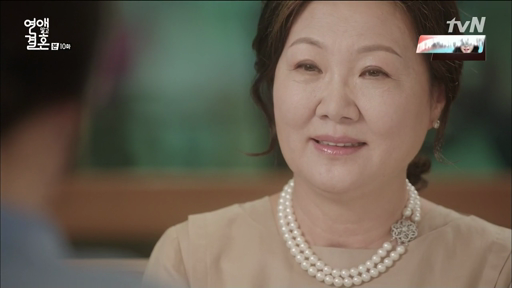 Jang Mi's mom apologizes for her rudeness the other day but she believes Ki Tae will make her daughter happy. Bong Hyang is not confident though, especially after his failing relationship with Se Ah. Jang Mi's mom knows things don't go her way now, so she changes her tactic by saying that her side will take care the wedding's preparation. Her plan backfires because Bong Hyang agrees with her!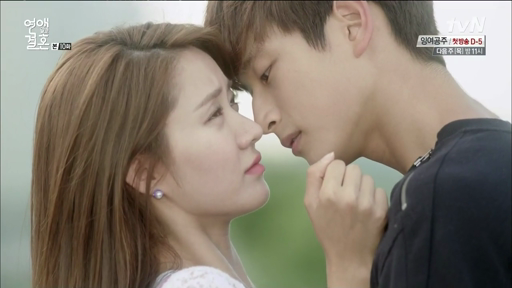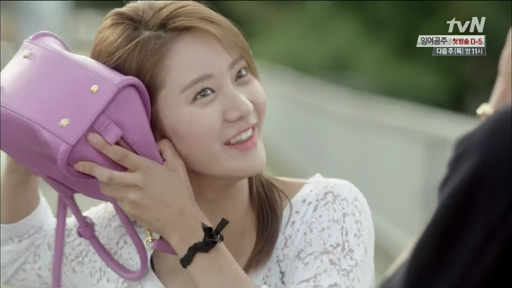 Yeo Reum pulls Jang Mi in close to protect her from a cyclist. He wants to use this "opportunity" to kiss Jang Mi who tries her hardest to pull away. Thankfully her phone rings, happily she picks it up. It's Ki Tae! Yeo Reum takes her phone away from her explaining to Ki Tae that she's too flustered to answer his call because she's too focused on him. Ki Tae has to tell Yeo Reum that Jang Mi's mom is already picking up the wedding date!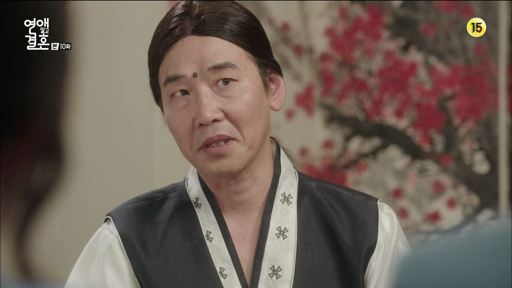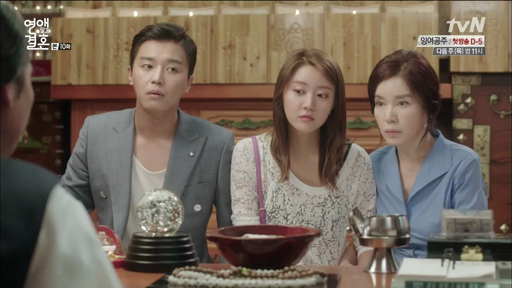 Jang Mi's mom took Ki Tae to see a fortune teller who tells them that luck doesn't follow him and people avoid him because he has a fate which makes people next to him feel lonely. Just then, Jang Mi arrives. The fortune teller says many good things about her that she brings fortune and has lots of luck. Ki Tae will regret losing Jang Mi especially because she saved him from death before (when she found him fainted in the bathroom after he's locked for more than 30 hours).
Mom asks if Jang Mi's life will be ruined if she marries him, he assures her that this couple is sexually compatible – they have strong sexual attraction to each other. But he raises one important point: if they want to get married, then do it properly. If not, then end it properly! Mom tells him that she's planning their wedding now.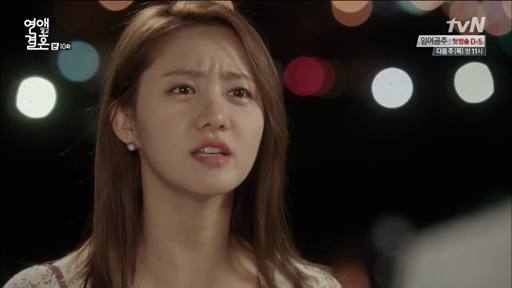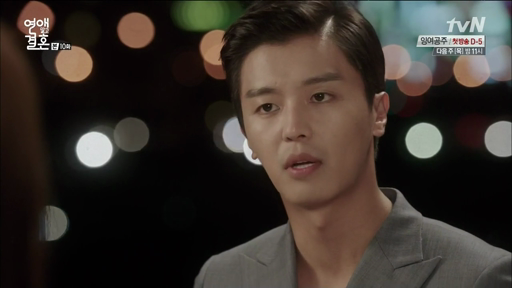 Jang Mi wants them to end this fake relationship now before it's too late. She's tired of lying, she's tired of calculating things she has to say and can't say to others. What's worst is to keep a secret from Yeo Reum who she really likes.
Just then, Jang Mi pulls Ki Tae close to protect him from a cyclist. They're electrified with the close body contact, but pretends everything is fine.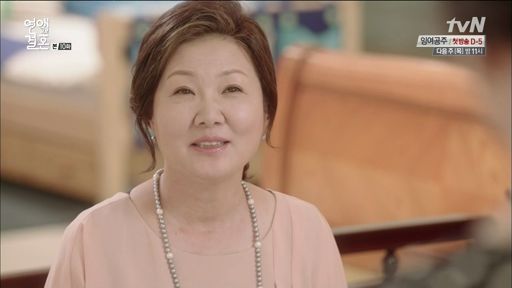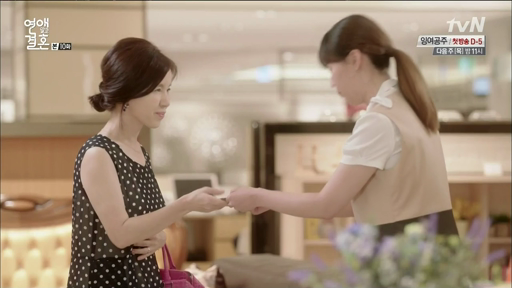 Their moms are shopping for the wedding, of course Bong Hyang doesn't waste this chance to ask for expensive wedding gifts. Moreover, she's not comfortable to receive monetary gifts on their children's wedding. She is a great manipulator.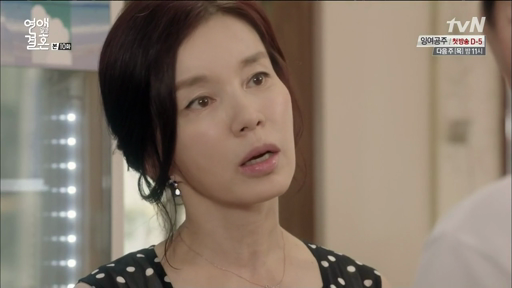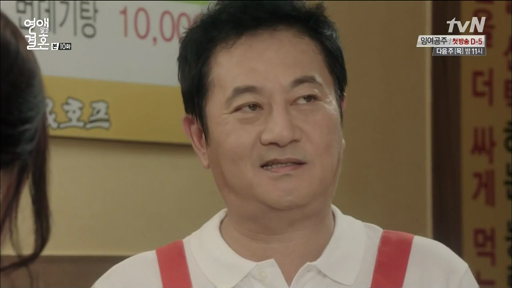 Jang Mi's mom tells her husband they'll have to spend at least $100k for their daughter's wedding (incl wedding gifts, etc). Dad suggests to get a loan and put their house as a collateral. His smart wife has already applied the loan by putting their house & store as collateral. Although they barely talk with each other, he can read his wife's heart – he knows she's put the store on sale. He chases her out of the store after she confesses.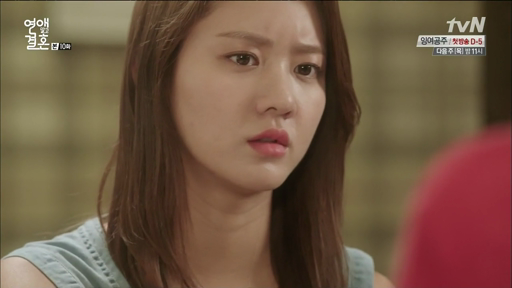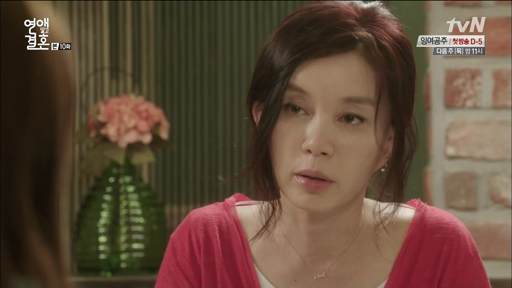 Even if Mom has to sell her soul, she will never let her daughter to feel ashamed in front of his family. She shows her the old article about his family where Ki Tae's dad gave his wife an expensive diamond ring – Bong Hyang promised she'd give this ring to her future daughter-in-law (ah so this is your true intention, Mom?) She doesn't want Jang Mi to live like her.
Jang Mi is speechless because she thought her parents were married because of love which Mom advises that love is not everything. Hence, she really wants Jang Mi to marry Ki Tae so she can have everything she couldn't have. No matter what happens, she has to receive that pink diamond.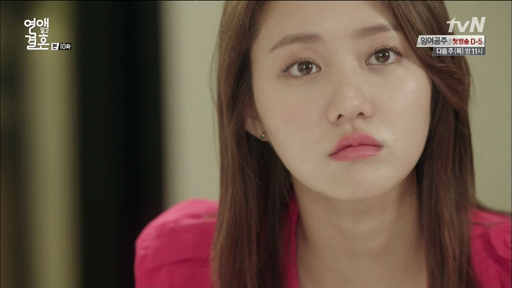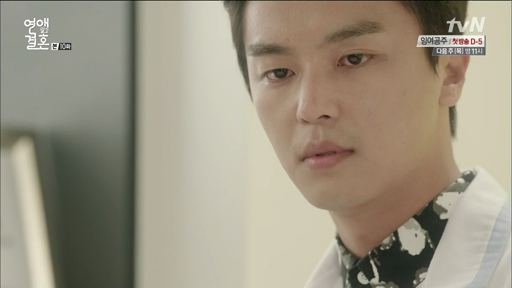 Jang Mi shows that article to Ki Tae, telling him that her family is almost fall apart because of that ring. So Ki Tae tells her to ask his mom to give her the ring to show she's against their marriage. He knows mom will never give it to her, so they'll be free soon.
Not wasting any time, Jang Mi calls Bong Hyang asking for the pink diamond as a recognition of her acceptance into his family. Bong Hyang is left speechless, she invites her to come to his house over the weekend to discuss this face-to-face. Jang Mi is relieved to find Bong Hyang's weak spot.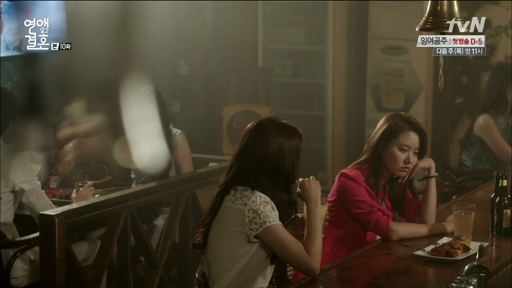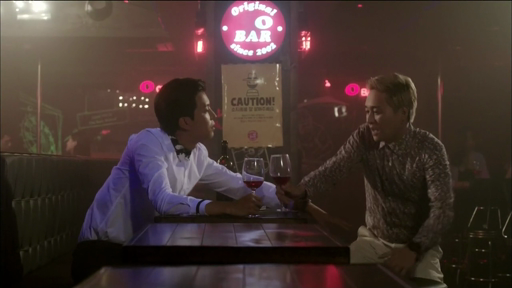 Jang Mi wants to marry someone she really loves, but Hyun Hee think she's swaying with Ki Tae's qualifications and falling in love with him after Jang Mi admits her heart feels strangely weird. She believes their fake relationship will be over soon, especially because she now has Yeo Reum… Though she has accidentally kissed Ki Tae that one time…
Hoon Dong think his best friend has fallen in love with Yeo Reum but he couldn't say it out loud. He offers to help, but flinches every time Ki Tae touches him. lol.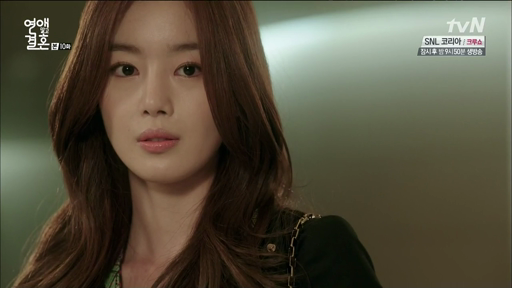 Ki Tae arrives home to find Jang Mi's sleeping on the couch, he sweetly watches her & strokes her hair. It wakes her up, she asks: why can't I receive the ring? Why can't his mom give that amazing ring despite her boast that she'll give anything to her? Is it because her family doesn't have money? Or is it because of her?
Ki Tae finally tells her that it's not his mother's ring.
Cue to Se Ah who's wondering: why it was not me?  She warns that he cannot have anyone else but her.
Flashback to three years ago.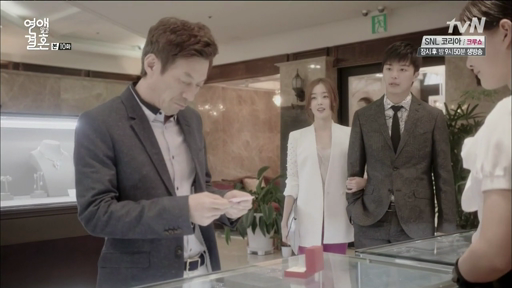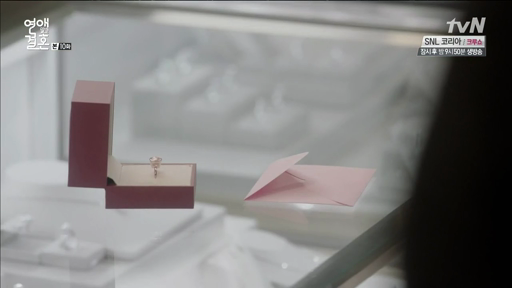 Ki Tae and Se Ah saw his father in the jewelry store while they're looking for their wedding ring. Se Ah spotted the pink diamond ring he just bought – thinking it's a gift for Bong Hyang. Father told them he'd propose for the second time with this ring. He hastily left, didn't realize he dropped the card. Ki Tae saw the name on the card To J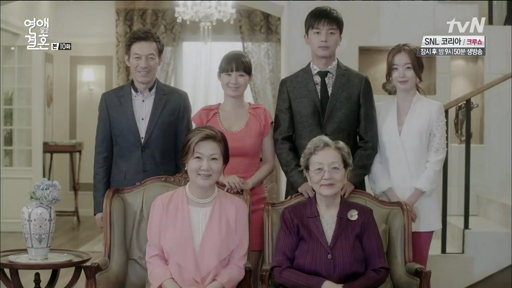 His family had an article photoshoot where Bong Hyang invited Se Ah to join them because she'd be family soon. She gladly accepted her kind offer. But accidentally blurted out about the ring and father's "surprise" second proposal in front of everyone!
Ki Tae had a private conversation with Dad, he handed the card back to him as he told him that J was definitely not his mother. Mom joined them advising them to keep it down because people would hear it.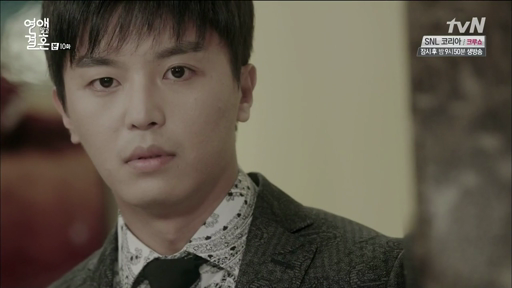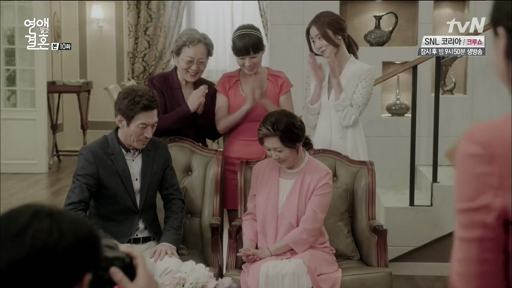 Bong Hyang proposed her husband to give the ring to her. That's when Ki Tae found out about his father's affair and his mom knew all along.
Jang Mi is wondering how could his mother wore that ring for everyone to see although it belongs to her husband's mistress. Ki Tae tells her that the reason: for everyone to see. His tears and confession really touched Jang Mi who gently holds his hand as she tells him he can tell his real feelings to her.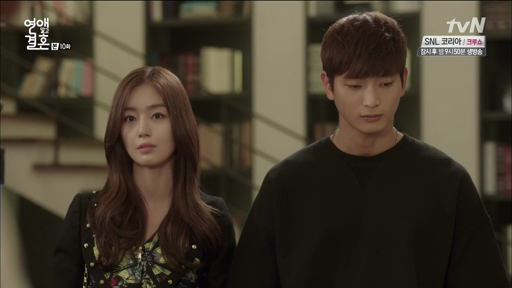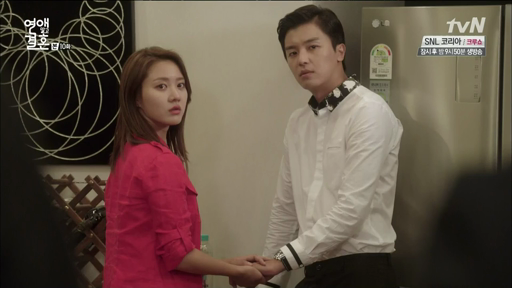 Just then, Se Ah & Yeo Reum walk in. Se Ah knows she's lost. Devastated Yeo Reum advises her that they should be extra mindful of his feeling and they shouldn't let him to see this.
On the way to Ki Tae's house, Jang Mi is determined to end this fake relationship today. But she feels unsettled, so does Ki Tae. Is it because she won't be able to see Ki Tae again?
Ki Tae tells her to do anything she wants since it's her last time, but do not make any mistakes. She promises, for their sake and for Yeo Reum's sake.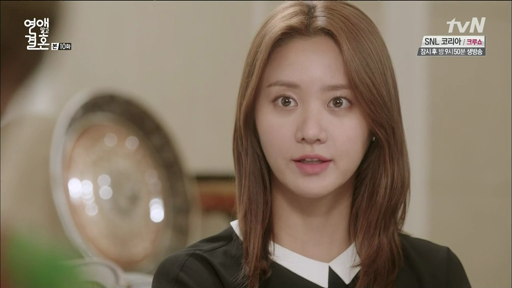 Bong Hyang cleans her favorite stone ornaments pretending Jang Mi is not here. Grandma breaks the silence by carefully asking if Jang Mi wants to receive the pink diamond, which she nods. She explains she wants to find out if they acknowledge her. If she refuses to give it to her, it means they reject Jang Mi.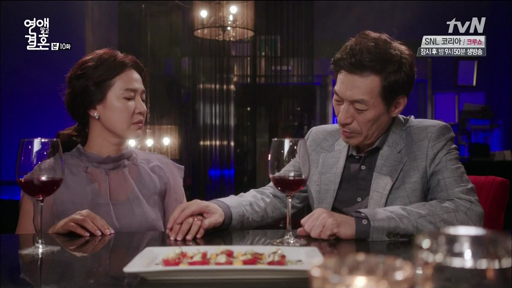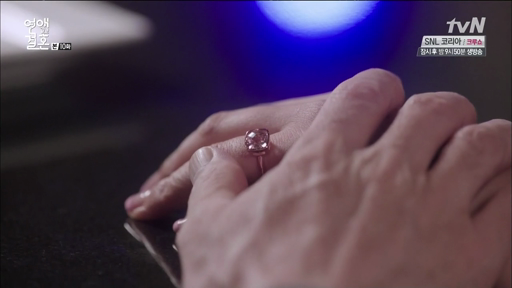 The reason why she cannot give the ring is because she doesn't have it. The owner is now wearing it.
But surprisingly, Mom gives the ring box to Jang Mi! What's going on here? How did she have the exact same ring?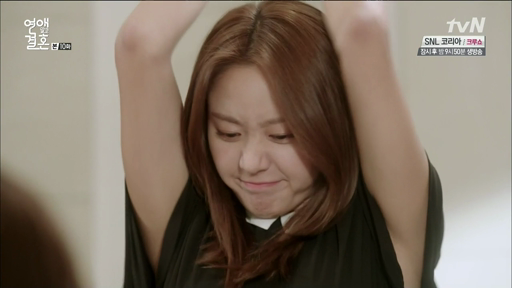 Jang Mi asks if this ring is precious for her & has any special meaning, Bong Hyang says yes. Suddenly, Jang Min grabs a stone to smash the pink diamond. As she predicted, it's fake!
She now finds out Ki Tae's mom true intention – she knows she's rejected her. But she asks Bong Hyang to let her son go, please stop forcing marriage that look good on others to Ki Tae.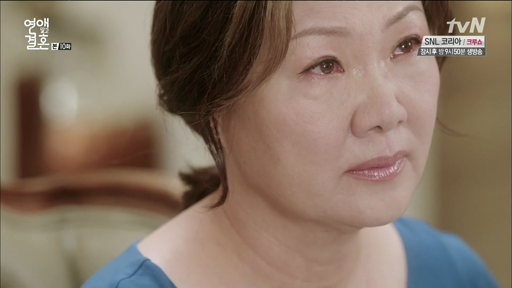 Bong Hyang asks if Ki Tae asked Jang Mi to ask for that ring. Jang Mi bravely tells her to listen to her heart & her true feelings because her marriage is different with what's shown in the magazines. Because she's very hurt, she doesn't want her son to go through the same painful marriage like her. Hence, she wants her son to have a perfect marriage. But if she wants her son to be happy, she has to be happy first. Stop tricking people with her fake happiness. She boldly tells Bong Hyang that she's the person who made Ki Tae so alone.
Jang Mi leaves and Ki Tae is following her. Bong Hyang goes to her room and cries her heart out (probably the first time in so many years).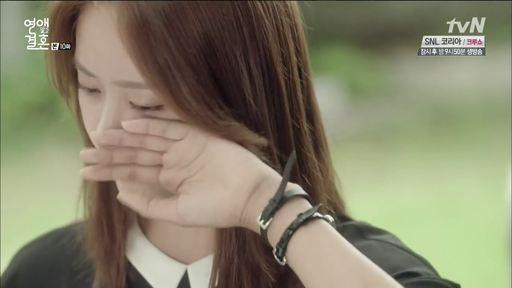 Jang Mi is still crying outside. She wipes her tear as soon as she heard Ki Tae's voice, putting her brave face while asking his opinion about her great acting. He blankly stares at her, very hesitant to thank her & close the last chapter of their fake relationship.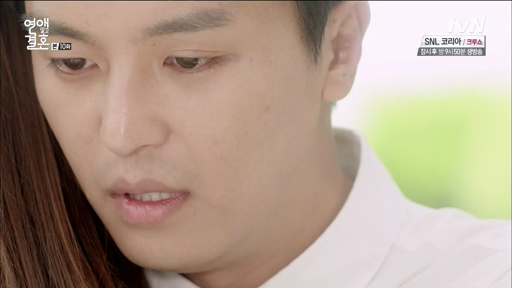 They hold hand, but then Ki Tae pulls her closer for a hug. Jang Mi advises him to start showing his emotions though she will not be by his side. Although he cannot admit it to Jang Mi, he admits he wants to stay by her side like this. She's relieved that their roller coaster wedding scam is finally over.
But… no!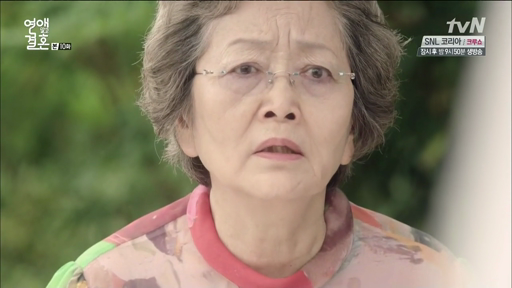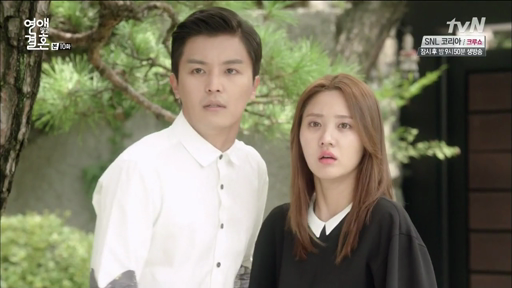 They're stunned to see Grandma's standing there asking "what did you say?" She accidentally overheard the wedding scam part!