Marriage, Not Dating Episode 11 Mini Recap
Marriage Not Dating is getting better & better. This episode is full of awesomeness. The battles of pride between Ki Tae & Yeo Reum and Bong Hyang & her husband's woman are epic. Most importantly, Ki Tae and Jang Mi are finally confessing their sincere real feeling.
Prologue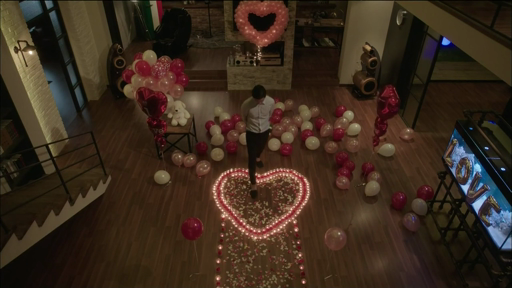 Ki Tae is preparing the sweetest proposal for Jang Mi (BGM: Lee Seung Gi – Will You Marry Me [same BGM when Jang Mi prepared surprise proposal for Hoon Dong). A woman enters his house, walks confidently to Ki Tae. He smiles… But… is she Jang Mi or another woman?
Episode 11 Mini Recap – Confession (Go Back)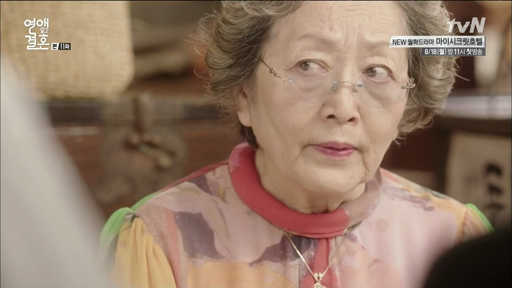 Ki Tae and Jang Mi are defending each other when Grandma asks the reason why they decided to lie to their elders. After Jang Mi experienced his family's obsessiveness, she knew the reason why Ki Tae doesn't want to get married. Grandma tells her to stop meddle in someone else's family especially if they're not going to get married for real. But Ki Tae defends her behavior, both of them explains they used each other for their own benefits. As she watched their bickering, grandma realizes they're not going to end their contract marriage soon. She tells them to take responsibility of their own actions.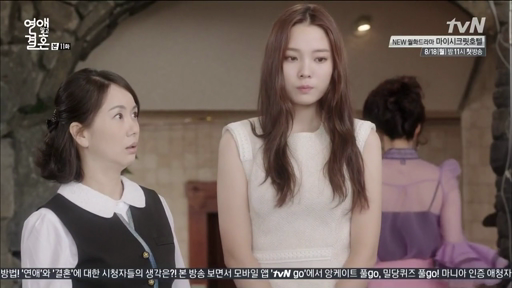 Hoon Dong's mom is treating her son and Hyun Hee to a nice meal in a restaurant. After Hyun Hee saw someone she knew working in that restaurant, she pretends she has a rough morning sickness so she can leave before anyone sees her here. Unfortunately her mother (who's working as a waitress in this restaurant) has already seen her. She's very happy to see her daughter visiting her at work, that she tells everyone that her daughter is here.
Hoon Dong's mother is very disappointed that Hyun Hee is ashamed of her own parents. Her son doesn't have any other choice but to leave with his mother.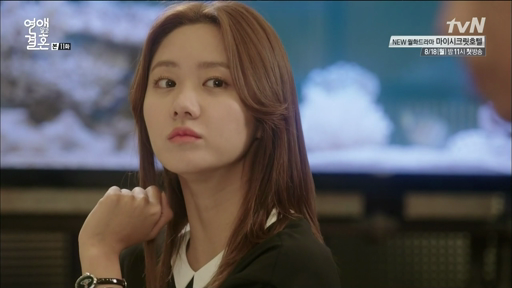 Though they've planned to end their "fake" relationship, Jang Mi followed Ki Tae to his place pretending she's here waiting for Yeo Reum.
Because Yeo Reum wants to say something to Ki Tae when he's feeling good (and not hungry), he plans to cook pasta (with ramen) at Ki Tae's house. He proposes a cooking competition when jealous Ki Tae said that he can also cook delicious pasta ramen. The loser will grant the winner's wish! Jang Mi will be the judge. CALL!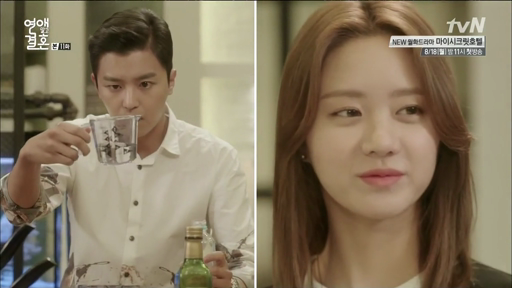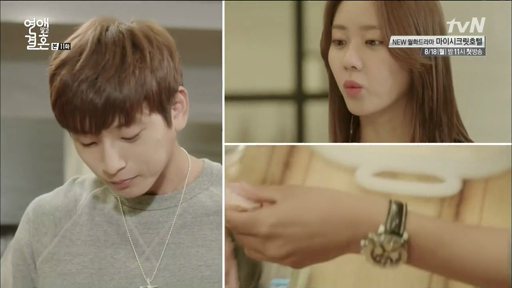 Their cooking techniques are very different! Ki Tae meticulously follows the recipe and finishes cooking a minute before the allocated time. He needs Jang Mi to help him cutting the onion though. While Yeo Reum finishes his dish right on time.
First round winner: Yeo Reum!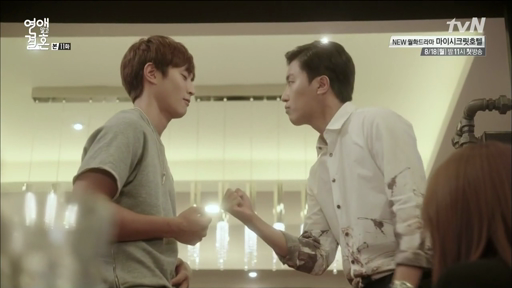 Ki Tae proposes another round because he doesn't want to accept the fact that he lost to Yeo Reum. Second round: mukjibba game. Everytime they lose, they have to drink the combo alcohol drink that Jang Mi prepared.
Second round winner: Yeo Reum.
So, Ki Tae proposes another round. Karaoke competition!
Yeo Reum sings ballad song (Kim Dong Ryul – Should I say I love again?). Knowing he'll lose again, cheating Ki Tae stops the song.
He grabs the mic to sing a cheerful song which coincidentally is Jang Mi's favorite song. The trio end up singing together & he got "0" point. LOL.
So Yeo Reum is the winner! His wish: he wants to move out so both Jang Mi and him can be free. He asks Ki Tae to lend him $5000.
Ki Tae tells confused Hoon Dong to face his situation like a man, don't take an easy way out like he did with Jang Mi.
When Yeo Reum joins them, asking Ki Tae to once again lend him the money, Hoon Dong mistakenly thought they like each other. So he shouts out loud to everyone who gasp in disbelief.
Yeo Reum explains that Jang Mi will not come to Ki Tae's house again when he moves out. So… Hoon Dong finally finds out that Ki Tae actually likes Jang Mi!
Random inspection check at Jang Mi's workplace. She and Hyun Hee politely greets & serves the customer, but… one unexpected customer is here. She's Ki Tae's dad mistress. To make things unbearable for Jang Mi, Bong Hyang is also here. She tries her best so these two women don't meet face-to-face, but too bad, she saw her.
This woman insults Bong Hyang and her clueless materialistic daughter-in-law. She talks about the pink diamond ring that Bong Hyang wanted back and the reason why she kept avoiding her. Jang Mi defends Bong Hyang, confessing to everyone that she's that daughter-in-law. She blames this woman for tearing this family apart.
This woman slaps Jang Mi after she boldly talks back to her! Bong Hyang is furious this woman dares to slap her future daughter-in-law. She grabs her head, pulls her hair. Epic catfight in the middle of the department store. Awesome!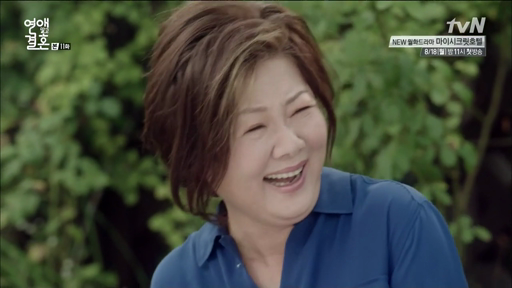 Bong Hyang laugh her heart out. Finally, no more fake smile, no more fake laughter. Jang Mi confuses for a second, but they then laugh together.
Bong Hyang confesses that she didn't like Jang Mi, but she's willing to give her another chance. She'll cancel all their wedding plan, so let's start over from the beginning. Jang Mi is touched that Ki Tae's mother finally expressed her sincere feeling to her.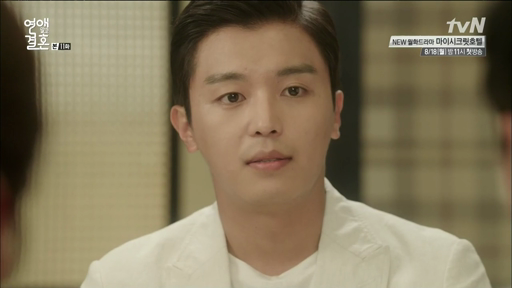 Meanwhile, Ki Tae assures Jang Mi's parents that the wedding will go ahead, but they don't have to worry about the expensive wedding gifts, etc. So they don't have to lose their store and their home.
They're very happy to hear this, in return, they treat him with endless alcohol & delicious food. Jang Mi is shocked to see drunk Ki Tae at her house – wondering what did he say which made her parents are looking incredibly happy today.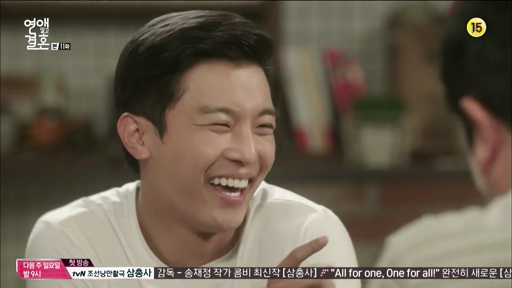 Jang Mi reminds Ki Tae that he can't drink more alcohol because he has to perform surgeries tomorrow. So he stops, but he accepts her parents' invitation to stay overnight like this house is his own home. Dad lends him a comfortable clothes for him.
Because of lost of trust, Hoon Dong's mom is wondering if the baby is not his baby. Hoon Dong believes Hyun Hee, but he can't ignore his family. Hyun Hee is jealous with Hoon Dong who can't throw away his family for her. She invites him to come to the hospital with her.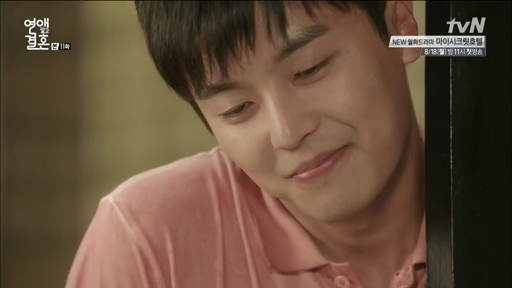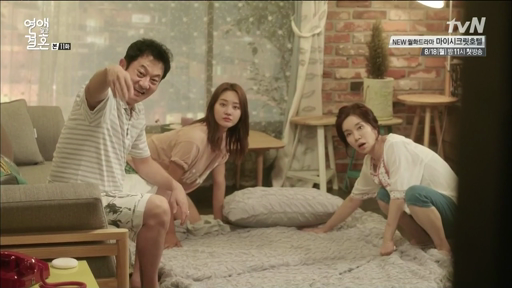 Jang Mi's parents sweetly prepares a comfortable sleeping place for Ki Tae in the living room. He sheepishly wears his future father-in-law's clothes which Jang Mi's mom cutely says it's sexy on him. Dad tells mom to give kids some "space". For the first time in so many years, they're sleeping together tonight.
Jang Mi mentions cockroaches roam around at night because it's an old house. Ki Tae jumps to the couch, awww he's scared of crawling creatures!
She cannot sleep, so does Ki Tae who keeps tossing and turning in until he sees a crawling insect on his foot! Jang Mi is contemplating to see Ki Tae, once she opens the door, Ki Tae rushes inside. Trembling because of the cockroaches.
Perfectionist Ki Tae starts inspecting her room, complaining about everything. He's wondering why she was hovering on the door (was she thinking about him?). [love the BGM, I Believe – Shin Seung Hoon)
She explains she's so used of sleeping alone and her parents are very busy that every time she opens her eyes in the morning, she's always alone. This is the first time (in so many years) for her to feel her family are all sleeping in the same house. She thanks Ki Tae for this.
He pulls his arm to hold her, but she tells him to leave now! So he tells her he'll leave after he listens one more song.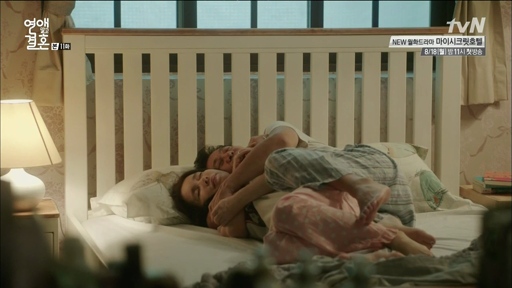 In other bedroom, Jang Mi's parents are snuggling up, cute.
Meanwhile, Bong Hyang is starting afresh. She got a new haircut (Baek Mi Nyeo!)
Sleepy Ki Tae put his head on Jang Mi's shoulder before collapsing on her bed. She asks him to sleep in the living room, but he pulls her closer to hug her. Awww… Though he's sleeping, she can't help but to tell him that her heart fluttered when his mother called her "daughter-in-law" at the department store today. He hugs her again as she caresses his hair, she admits she likes him. Awww…
Meanwhile, Yeo Reum is alone at Ki Tae's home.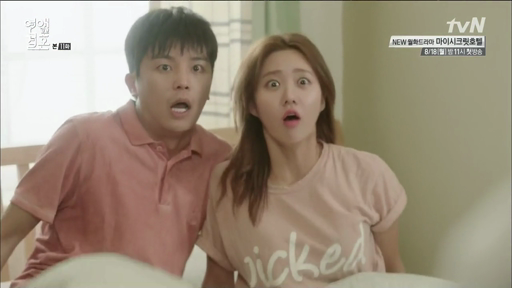 The next morning, Jang Mi's dad is surprised to see her daughter is sleeping with Ki Tae. When they finally wake up, mom advises her husband to leave them alone because when they're pulled together by fate & destiny like magnets. Ki Tae assures his father-in-law that nothing happened. Haha.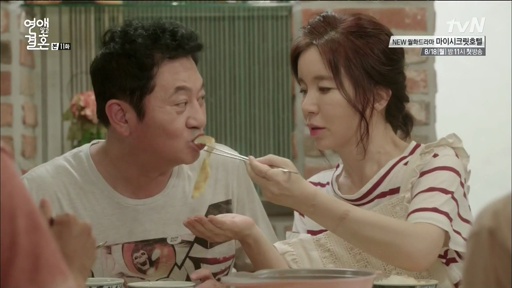 The whole family is eating breakfast together, so adorable. But Jang Mi ruins the sweet moment, wondering why they are eating breakfast together. Why are they doing things they haven't done before?
Jang Mi's mom think her daughter is still hesitating about her marriage, so she gives an idea for Ki Tae to arrange a surprise proposal.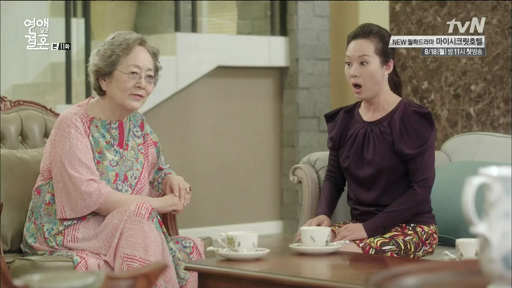 Ki Tae's dad nervously confirms if his wife really grabbed his woman's hair at the store. The whole family is shocked to hear this. They knew Jang Mi had something to do with this.
Dad wants to separate ticking bomb Jang Mi away from his son, but his wife tells him she has accepted Jang Mi because of her sincere heart.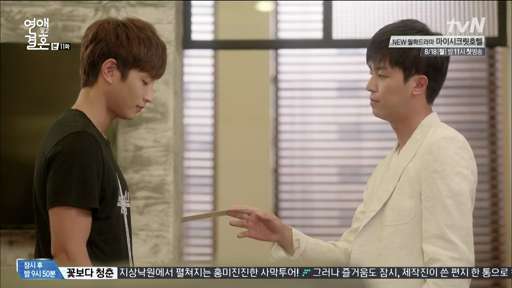 Because Yeo Reum won their epic competition, Ki Tae gave him $5000. He tells him to accept it after Yeo Reum promises to pay it back within a year.
Yeo Reum warns him that he's going to pursue Jang Mi more seriously from now on, he advises him to find out if his feeling has turned real or stayed the same.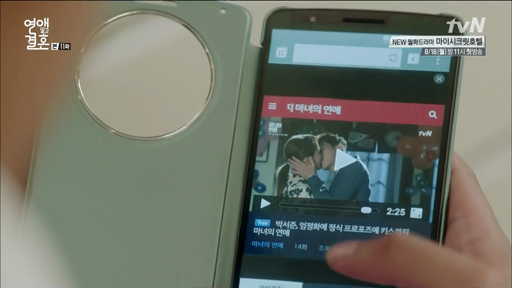 Jang Mi's mom checks if Ki Tae is making any progress to make her daughter feel like KDrama female protagonist. She wants him to send him the pictures (after his awesome proposal). Ha.
He watches Witch Romance to find out how the hero proposes to the heroine. But he think it's childish. LOL. He doesn't realize his patient has been waiting for him patiently. She tells him love is usually childish and he has to take action ASAP before it's too late.
Jang Mi is wondering what'll happen if their feelings turn out into real feeling.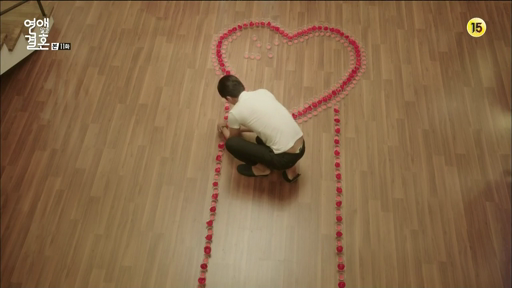 Meanwhile, Ki Tae is blowing balloons preparing for the surprise proposal. (I wish someone would tell him about balloon air pump inflator 😀). He remembers Jang Mi's surprise proposal to Hoon Dong which he ruined, he smiles 😀
He arranges the candles in the middle of the living room to build a gorgeous love pathway & heart shape. He practices his proposal speech, until he finally finds the perfect sentence. "Can we do this marriage for real?"
Se Ah is going to ruin everything. She tells Bong Hyang about Ki Tae & Jang Mi's contract feeling. Mom has a gut feeling about this, but after watching their relationship, she thought they're not fake. So Se Ah breaks the news about Jang Mi's other man.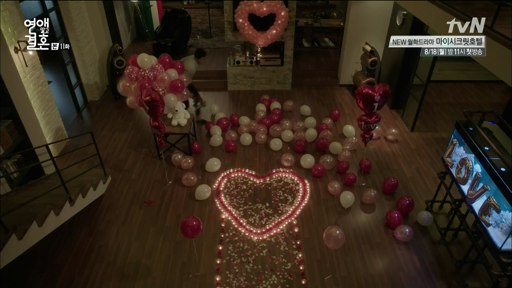 Someone rings the bell, Ki Tae asks her to come inside. He hurriedly lights up the candles & turns off the light. He holds the flowers, waiting patiently for Jang Mi to come.
But she's not Jang Mi!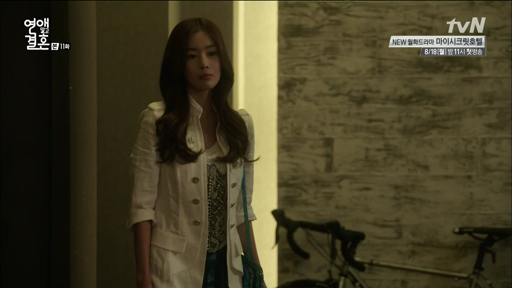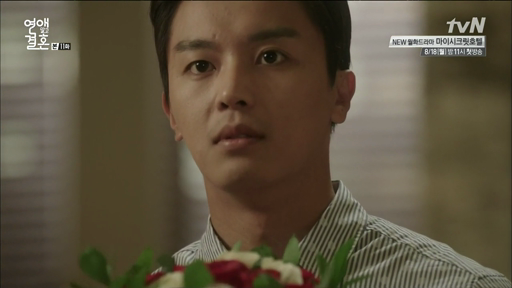 She's Se Ah >.< She confesses everything she told Ki Tae's mother. That's the only method she could do to stop Ki Tae.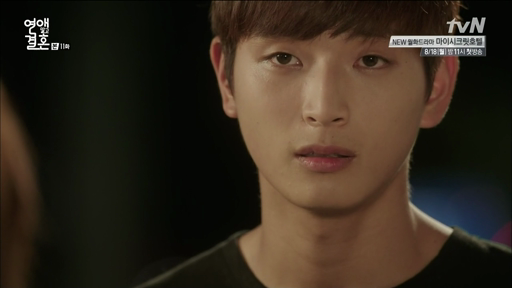 Meanwhile, Jang Mi admits to Yeo Reum that she can no longer put a show in front of everyone. She confesses her feeling to Ki Tae has turned real now. Without realizing, she keeps wanting to stay by Ki Tae's side. She wishes the marriage is real. She thought it'd be better for Yeo Reum to know it first before Ki Tae.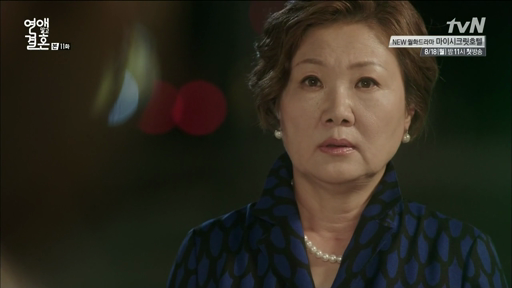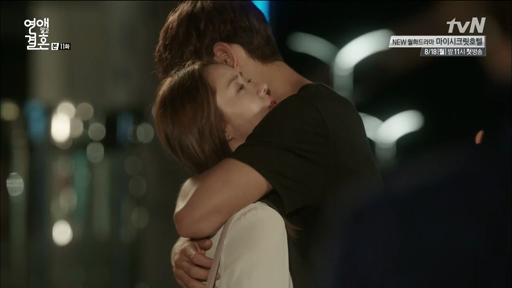 Just then, Yeo Reum saw Ki Tae's mom walking towards them. Not wanting to lose another chance, he hugs Jang Mi in front of her future mother-in-law. Confirming what Se Ah said earlier that Jang Mi's heart belong to another man.
Se Ah proposes to Ki Tae!