Marriage, Not Dating Episode 12 Mini Recap
After the secret is out, Ki Tae and Jang Mi are now dealing with the consequences of their own actions. No more contract marriage, the only thing left is their sincere heart. Will they keep pretending that the feeling isn't real, will they allow the other person to mess up with their relationship or will they face this turbulent time to confess their real feeling?
Prologue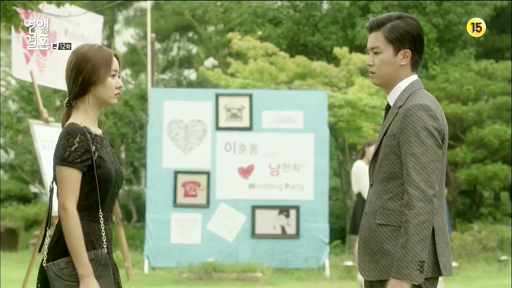 Ki Tae follows Jang Mi as she's leaving from the wedding party. She turns back, looks at him sadly. Both of them are saying the same things at the same time. Gentleman Ki Tae let Jang Mi to speak first.
Episode 12 Mini Recap – can sincerity be understood?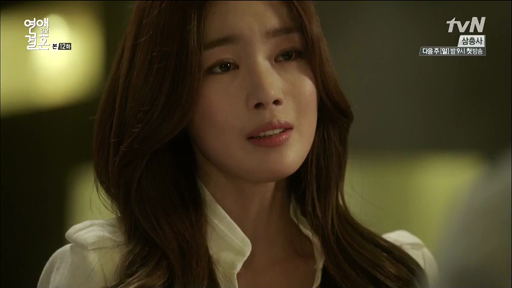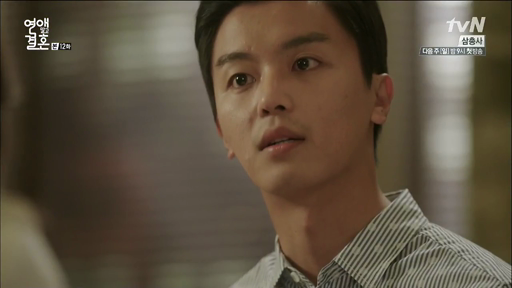 Se Ah breaks the harsh reality that his contract marriage is over now. She wants them to go back from the beginning, blaming him that he didn't share his pain about his family and marriage to her. Ki Tae reminds her that three years ago she refused to get married because she'd prefer to be alone.
She confesses him she loves him, her feeling is sincere. But Ki Tae is wondering why she let her sincerity to hurt other people. Se Ah explains she didn't have any other way but to tell the truth to his mother because Ki Tae only sees Jang Mi.
Ki Tae asks her for not showing up in front of him again.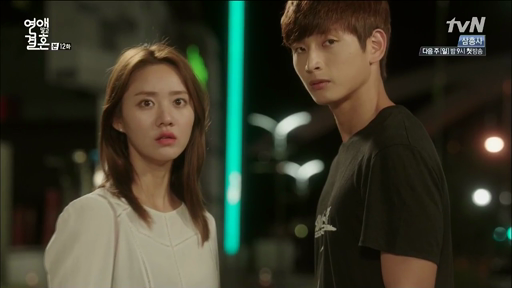 Jang Mi pushes Yeo Reum away. She then realizes Ki Tae's mom has been watching them. Surprised, shocked and embarrassed, she asks Yeo Reum why he hugged her on purpose. He confesses it's because she likes her.
She tells Ki Tae that she ruined everything in front of his mother.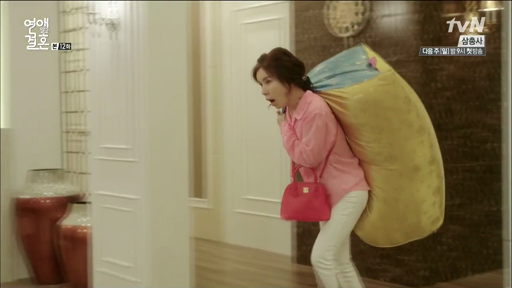 Jang Mi's mom is carrying the couple's bedding set to Ki Tae's house. Ki Tae arrives at Jang Mi's parents' store, he missed Jang Mi who just left to see her mom at his house. Her father asks why he's not coming together with Jang Mi, are they fighting? He advises them they need to stop fighting as their wedding day is approaching. Ki Tae hurriedly leaves after he found out his future mother-in-law brought their wedding gift to his house.
Bong Hyang tells Jang Mi's mom to stop dreaming. Jang Mi's mom insists to know the reason why Ki Tae's mom suddenly cancelled the wedding. She finally tells the truth about their children's contract marriage.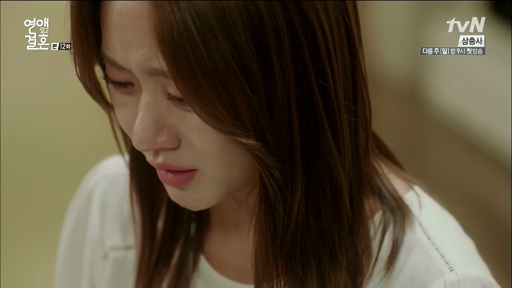 Jang Mi kneels down, cries – sincerely apologizes to her mom in front of Ki Tae's family. Grandma defends her, although they might be acting in the beginning, but they've come a long way with good intention. Bong Hyang is furious that Grandma knew all along didn't tell her & supported Jang Mi.
Grandma knew Jang Mi is sincere. But Bong Hyang refuses to accept a woman who hugged another man in front of her to be her future daughter-in-law. Jang Mi can't say anything except repeatably apologizing.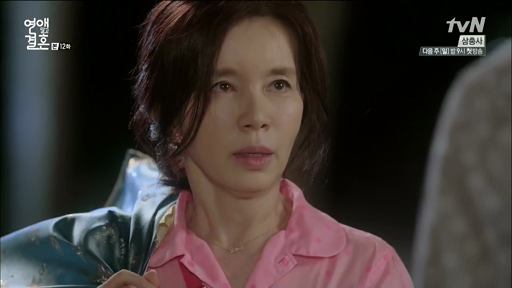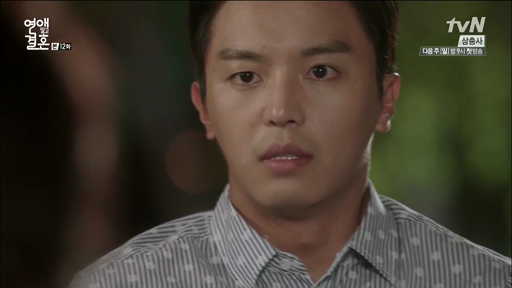 Bong Hyang asks them to take the wedding gift back. Mom insists to carry it herself. On the way home, they meet Ki Tae. She throws the wedding gift to Ki Tae, warns him that she doesn't want to see him and she forbids him to stick around her daughter ever again.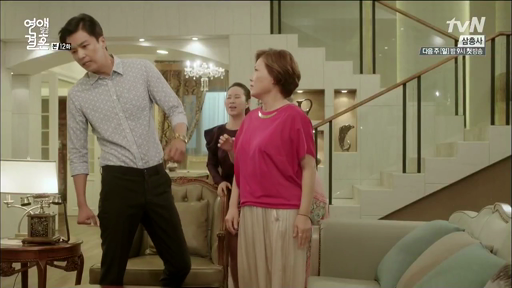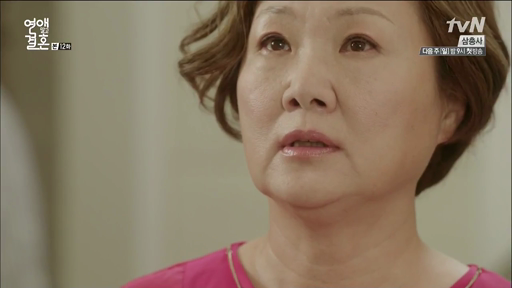 Grandma suggests Ki Tae to get down on his knees & apologizes to his mother. He can't provoke his mother who's very angry & upset.
But he brings up Jang Mi again, confessing he sincerely likes Jang Mi. But mom mentions she has another man. So Ki Tae brings up his dad who openly has two women! Mom slaps him telling him he can live alone as he wishes. Stay single all his life if he wanted to.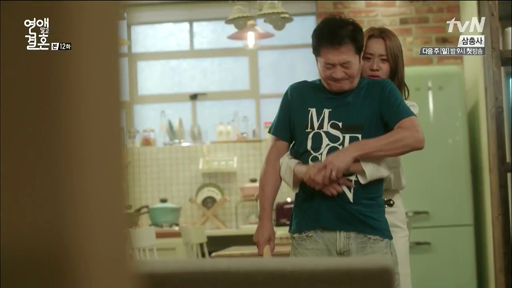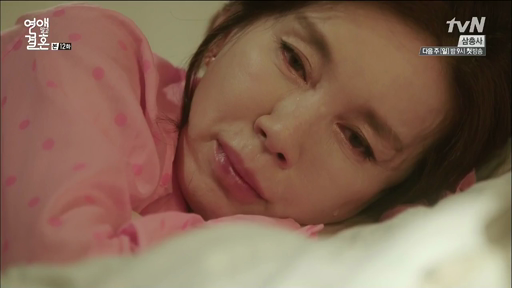 Jang Mi's dad is furious, Ki Tae who he treated earnestly as his future son-in-law deceived them! But she tells her dad that it's not Ki Tae's fault. She asked him to continue playing this dangerous game because her parents sincerely liked him, she couldn't tell the truth. She's so happy to see her parents who barely talked with each other started talking again. She wanted to prolong this happiness. Her mom who's listening to their conversation from the bedroom starts crying.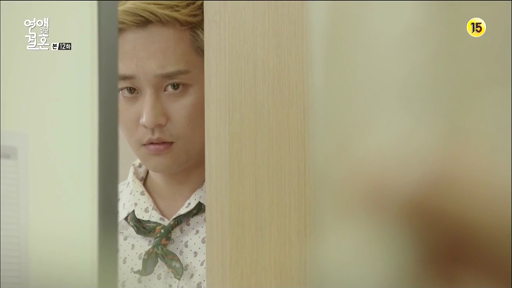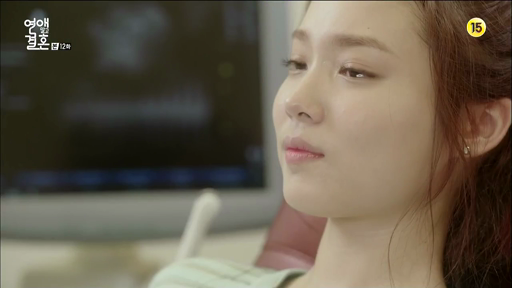 Although they're already in the hospital, Hoon Dong refuses to go with her. The doctor checks her baby and let her to hear her baby's heartbeat before this young parents-to-be decide their next step. Curious Hoon Dong listens to the heartbeat from outside, he wavers and finally opens the door as Hyung Hee apologizes to her baby.
He reminds her of what she said at the temple, that this baby is a gift and she wants to cherish her. So how can she give her baby up?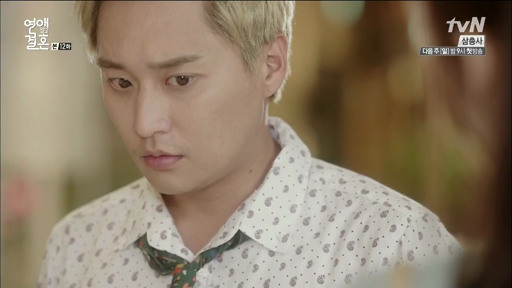 She admits she didn't plan to abort her baby, she purposely took him to hear his baby's heartbeat to change his mind. She uses her brain to manipulate people & make up lies, so it's up for him to decide if she's the right girl for him. For her personally, she would make the same choice even if they had to go back from the beginning. She would chose him.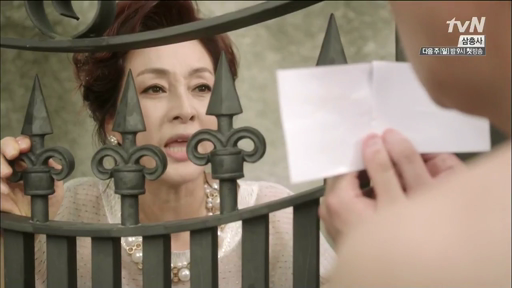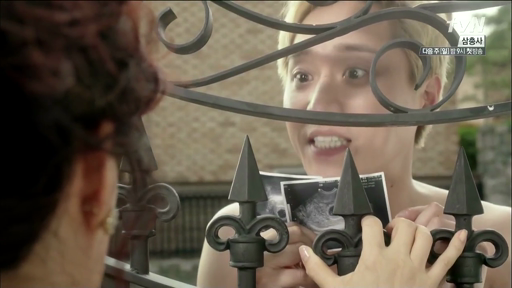 Hoon Dong shows the ultrasound's pictures to his mom who kicks him out only wearing boxer (again). Mom wants him to do DNA test. This time, he's well prepared. Hyun Hee is already waiting outside with his clothes.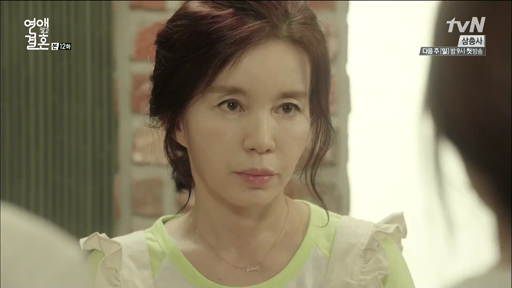 Jang Mi's mom prepares a hearty breakfast for her family. The puzzled look on Jang Mi and her dad's faces are priceless.
Mom realizes that it's her fault for letting her young daughter to witness her parents' unending fight & arguments that it left a scar on her heart. It's her parents' fault for not raising her up well. So the best thing to do now is… to break up! She signs the divorce petition again. Dad is not bothered with his wife's unending threats.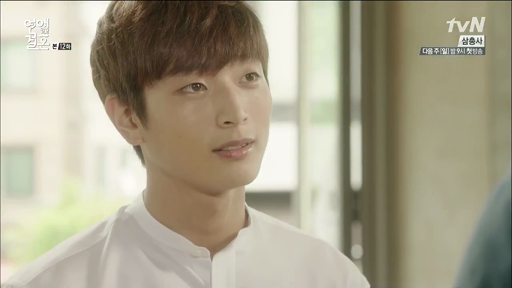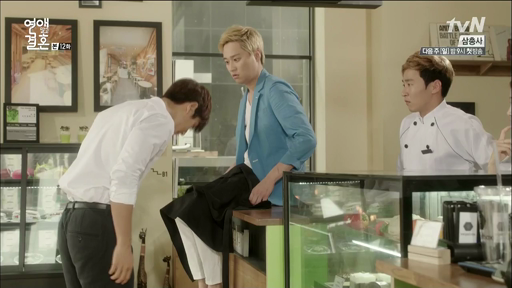 Yeo Reum resigns because he wants to earn more money and it's unbearable for him to work near the person who he doesn't want to meet. (2AM – Can't Let You Go Even If I Die). Hoon Dong is willing to raise his salary (if it's about money), reminding him that he always treats Yeo Reum like a family. He begs him to stay until he finds his replacement. But Yeo Reum stands by his decision.
Before he can deal with Yeo Reum's sudden resignation, another bad news for Hoon Dong. His mom fires him from the restaurant because he insists to marry Hyun Hee.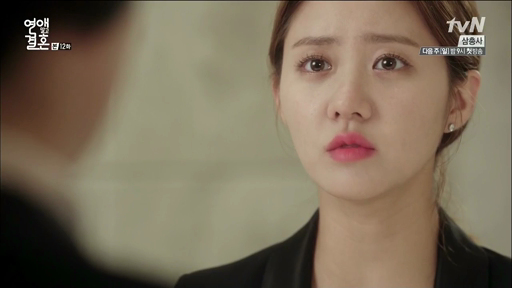 At the department store, Jang Mi is also fired because of what she did to Ki Tae's dad's woman the other day. To make things worst, she skipped work for personal times for so many times that her manager couldn't do anything more to save her job.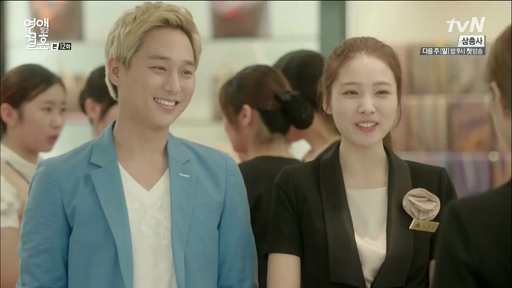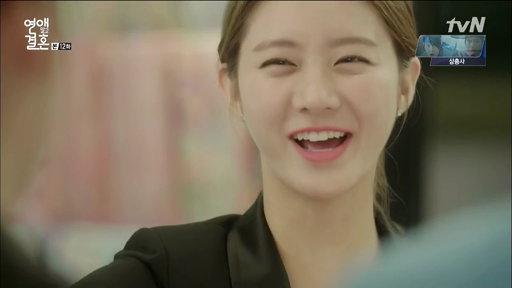 Hyun Hee hands in her resignation today. She introduces Hoon Dong to her work colleagues as she bids her farewell. Jang Mi tries to put a brave face, trying to be happy for her best friend.
Hoon Dong knows something's wrong so he followed Jang Mi. He's wondering why Jang Mi is sad, she still has Yeo Reum by her side. He accidentally tells her that Ki Tae is probably crying now because he likes her. Jang Mi is shocked to hear the truth.
She blames Hoon Dong for telling the truth, it makes things even harder for her now. Hoon Dong finally realizes Jang Mi sincerely likes Ki Tae too. But it's too late now 🙁 She can't let Ki Tae to go against his mother, so she asks Hoon Dong to keep this a secret.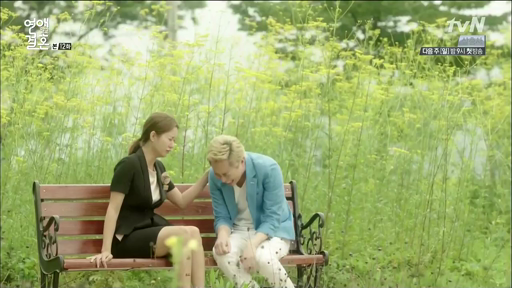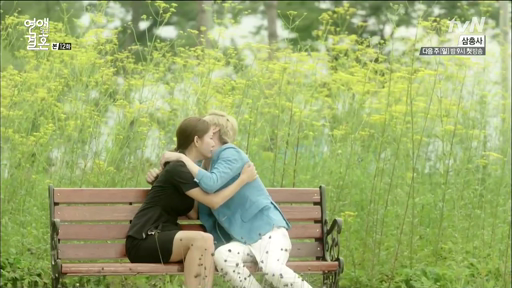 Hoon Dong tells her Yeo Reum resigned, his mom cut him off from his family & fired him. He's worried about Ki Tae, Yeo Reum and now Jang Mi. Even if he's not happy, he hopes Jang Mi is living well. These two broken people realize their lives are messed up now. They cry together… Then they hug each other. Suddenly it begins to rain so they hold hand running to find a shelter.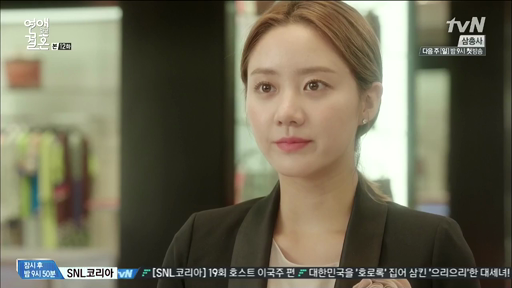 Jang Mi still doesn't want to pick up Ki Tae's call. On her last day at work, she recalls the many times she touched and watched all the products displayed on the store. She says goodbye to these products which she never owns. She's determined to find her real place now.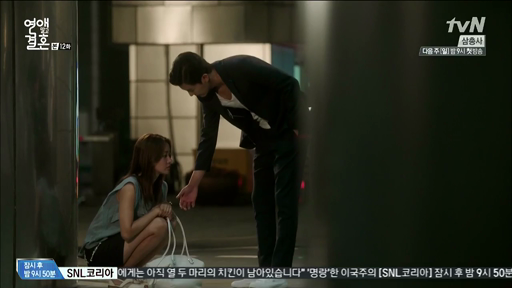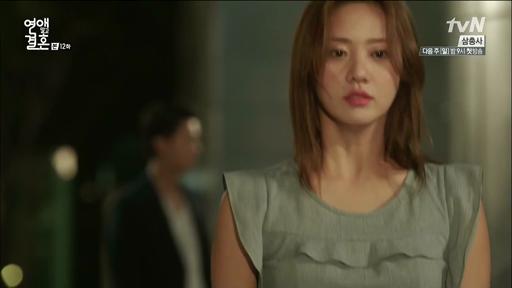 She waits outside Ki Tae's apartment building. He's so happy to see her there, but pretends to be upset with her push-and-pull game she's playing. She declines his invitation to go to his place, telling him that she is regretting everything. If she could go back from the beginning, she would return everything. This contract marriage left a huge scar to her parents.
Ki Tae is going to tell his real feeling but Jang Mi brings up his mother's heartache of seeing another woman in her husband's life. Jang Mi gives another scar to her after her future mother-in-law saw her hugging another man. It was his wish to be alone, now he can be alone.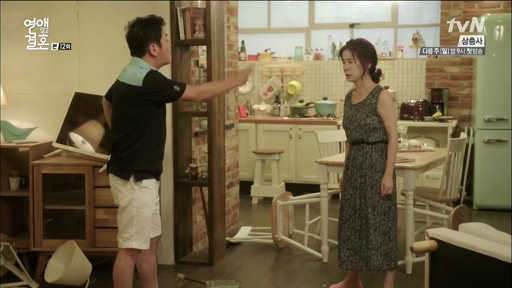 Jang Mi arrives at home to find her parents are arguing & fighting. Mom wants dad to move out, but he reminds her that this is his house. The house, the store, even mom's handbag was bought using his money. Fed up, mom takes her packed bag & leaves. Dad decides to stay at the shop leaving Jang Mi alone again at home.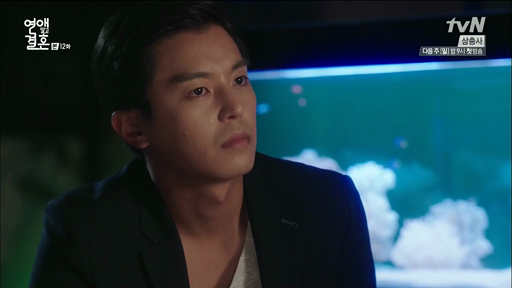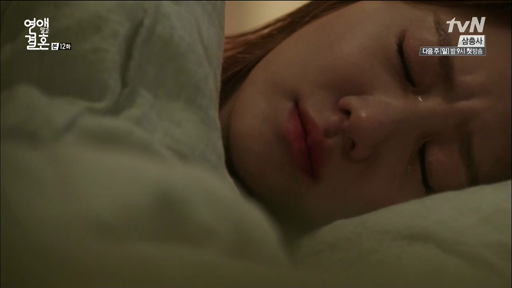 She remembers the horrific traumatic experience she had when her parents left her alone at home but she's telling herself that she's no longer the little 5 years old. She can face this now. She can and she will. She goes to sleep crying her heart out. Ki Tae can't sleep, he's alone in his huge apartment.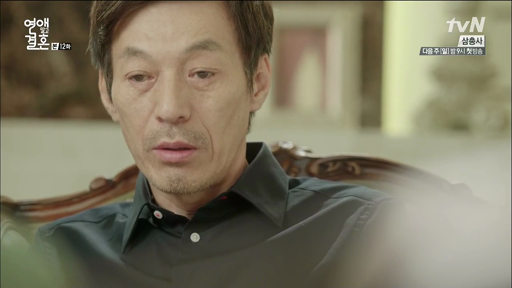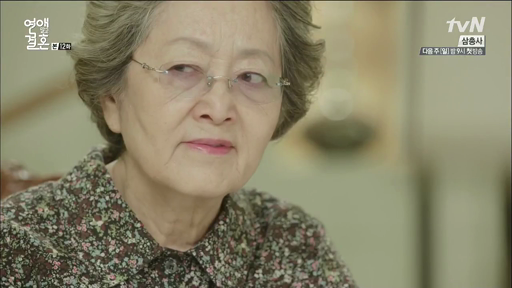 Ki Tae's grandma & aunt are worried if Ki Tae is living well. Mom is pleased that everything returns to normal now. Dad suddenly asks if there's any rumor circulating about (his other woman) after the incident at the department store. His wife suggests he shouldn't go to her house until things quiet down.
Ki Tae returns home after another exhausting day at work. Like a zombie, he comes to an empty house again. Suddenly, someone presses the bell. He's excited to see her! But nobody is here.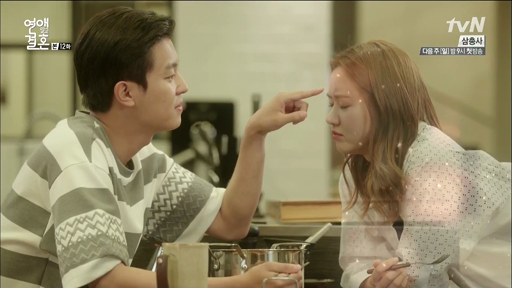 He does his daily routines, he's so happy that Jang Mi is here with him. But when he touches her, he realizes it's just his wild imagination. She's not here.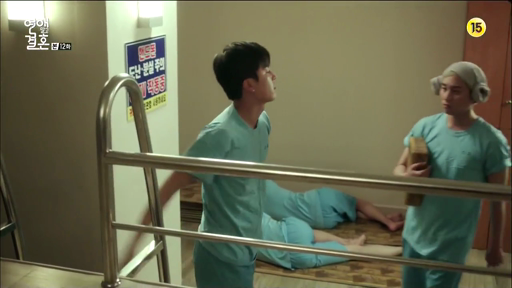 Because he's getting crazy at home alone, he goes to the sauna where he bumps into Hoon Dong. He tells him that he already bought a newlywed house using his slush money and he'll move in with her after their wedding. But his account balance is minus now. He declines Ki Tae's job offer to clean his hospital. Instead, he's asking Ki Tae to give him congratulatory money. He's inviting Ki Tae to his wedding, he curiously asks if Jang Mi is coming.
The happy couple met because of Jang Mi, so of course she's invited. Ki Tae feels it'll be awkward for him to be there, but he promises he'll be there. When asked if he still can't forget Jang Mi, he pretends it's because they may be entangled again uselessly.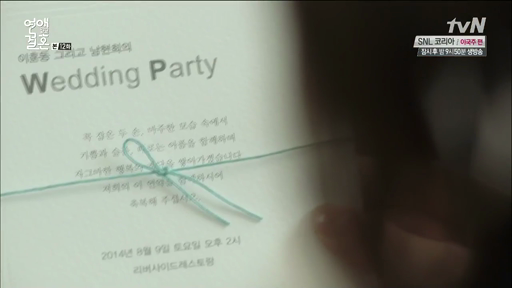 Hyun Hee is also inviting Jang Mi to her wedding. Although Hoon Dong's mom insists she won't come to the wedding, but Hyun Hee believes that mother-son relationship will not end just because of what she said. Everything will be okay.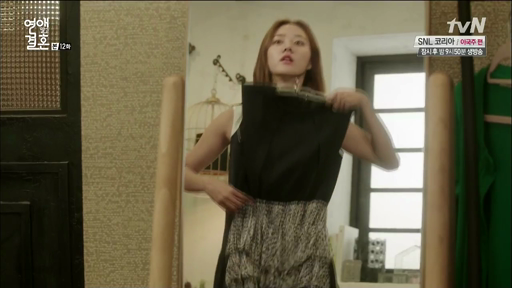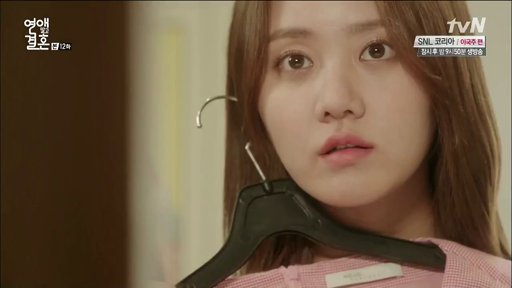 After she found out Ki Tae will come, she panics! She chooses the best outfit, but then she's wondering why she's putting so much effort.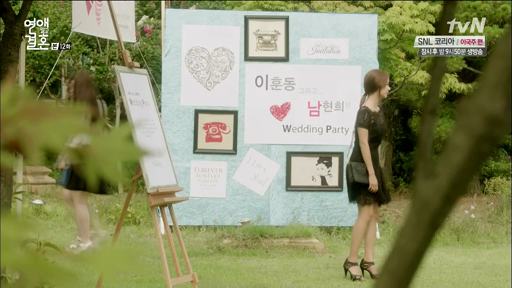 Wedding day. Ki Tae is looking around, wondering why Jang Mi is not here. Meanwhile, Jang Mi doesn't have any courage to see Ki Tae. She's contemplating to come inside, but her heart says otherwise. Hyun Hee's mom saw her when she planned to leave. She grabs her hand & drags her inside.
Ki Tae is surprised to see Se Ah here, he ignores her. He then sees Jang Mi's standing there. After she saw Ki Tae walking towards her, Jang Mi turns back. She doesn't want to see him face-to-face. But she knows and silently expects him to come to her.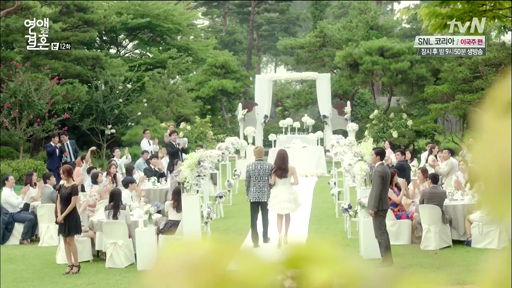 Their awkward meeting is blocked by the happy bride & groom who're walking down the aisle.
Hoon Dong shyly kisses Hyun Hee's forehead, but bold Hyun Hee pulls him closer to passionately kiss him.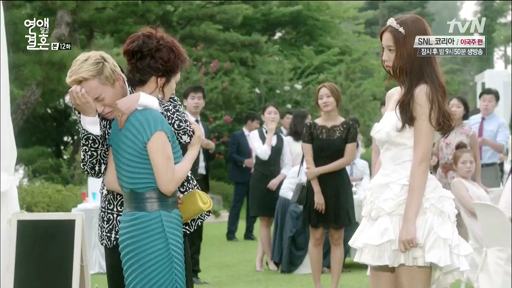 They're going to skip the parents' part, but Jang Mi saw his mother! He runs to hug his mother, his wife sincerely thanks her for coming.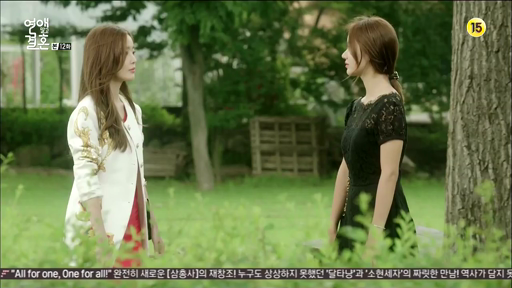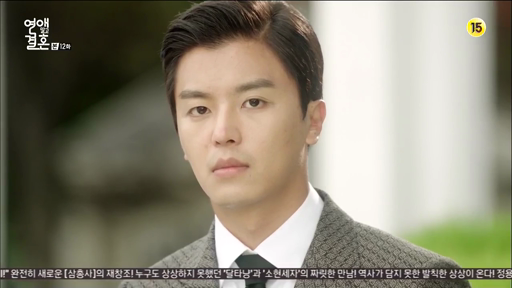 Se Ah explains that she's watched Ki Tae for over 20 years, she's part of many Ki Tae's memories in the past. But she was too kind, she followed everything he told her because she knew she couldn't trap him. She confesses she wanted to a baby like him so she was trying to be considerate. She never begged for someone's heart, but she knows she cannot gain that person's heart no matter how hard she tries, why her sincerity is so hard to be understood?
Jang Mi understands how hurt it is for that nobody understand their sincerity. There's nobody in this world who is not sincere, because everyone wants to be happy & receives love in return. That's the reason why this kind of sincerity is very hard.
Jang Mi and Ki Tae finally face each other, but they're at a loss for words. Both of them are trying to confess their feeling, but unable to utter any words. Jang Mi is wondering if she should tell him that she missed him & she really wanted to see him. Ki Tae is thinking what he should tell Jang Mi and if she'll believe him.
Ki Tae let Jang Mi to talk first. She decides to tell him to be nice to Se Ah. Because she still likes him and is having a hard time because of him. But Ki Tae reveals that he can't give his heart so he'll cut his ties with her cleanly.
Jang Mi wants him to take responsibility of Se Ah's feeling in the past, she's taking the responsibility of her own mess now. When asked if he should really go back to Se Ah, Jang Mi boldly tells him "yes".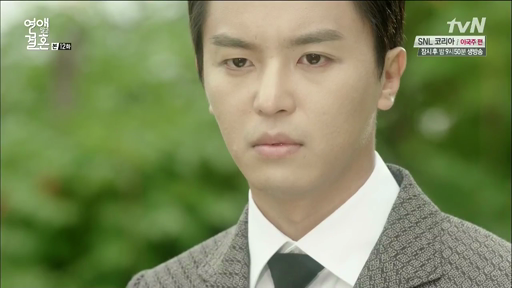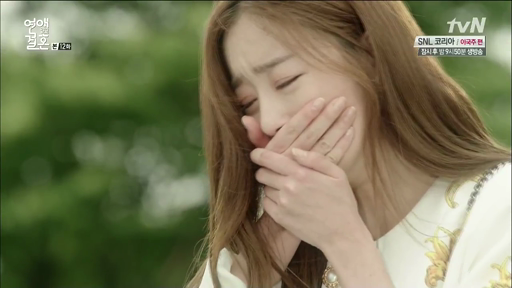 Even though Ki Tae is not facing Se Ah, she knows he sincerely loves Jang Mi. She let him go!
Jang Mi is going to cut the ties with Ki Tae cleanly. She starts by throwing her mobile phone as her final farewell to him. But as she throws it away to the river, it rings! Ki Tae who's running to find her, is calling her.
But Jang Mi realizes she can't let him go, she wants to hold him closer to her!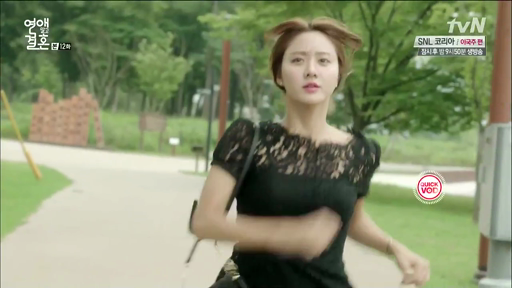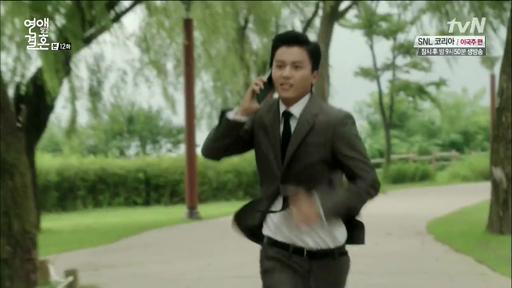 She runs to find Ki Tae!  But it looks like they're running in the opposite directions.