Marriage, Not Dating Episode 5 Mini Recap
Jang Mi's unexpected "typhoon" eruption helps Bong Hyang to realize how painful, hurt & embarrassed she's been trying to hold the huge "typhoon" which can ruin everything once it's out unexpectedly.
Prologue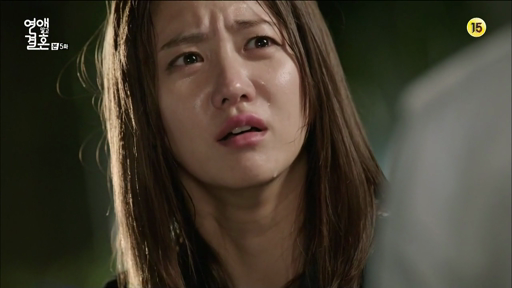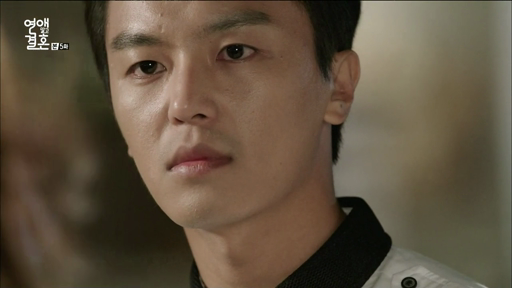 Jang Mi tearfully begs Ki Tae to leave… It happened because of him…
Episode 5 Mini Recap – These are the only words I could say to you
Hoon Dong is overjoyed to see Jang Mi sleeping soundly on the couch when he arrives at the cafe. Thinking she stayed overnight for him, he hugs her not wanting to let her go again.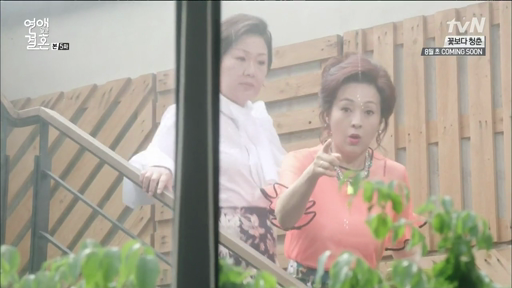 But… his mother & Ki Tae's mother have just arrived! Another misunderstanding is happening, his mother brings up Jang Mi's recent stalker case so her spoiled son decides it's time for mom to know the truth. He loves Jang Mi, he will never forget her feelings and the scar he gave to her.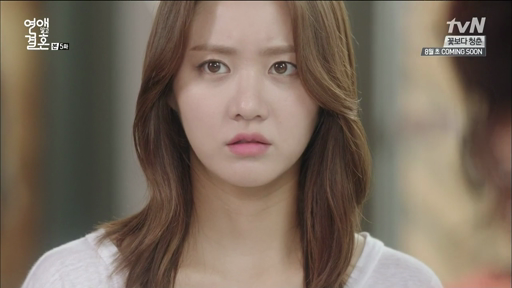 Mom is embarrassed to hear her son's confession in front of Bong Hyang who sarcastically advises that what's most embarrassing is lying, but there's nothing to be embarrassed about love. Jang Mi knows she's talking about her, so she shyly apologizes.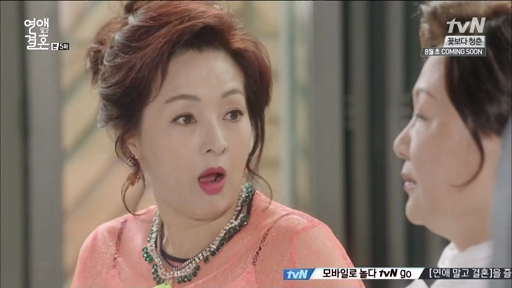 Her savior Ki Tae cut off her apology, blaming himself for making things harder for his best friend because he also loves Jang Mi and he's getting married to her. Now it's Bong Hyang's turn to get embarrassed… Ki Tae repeats what his mom said earlier, but she abruptly leaves.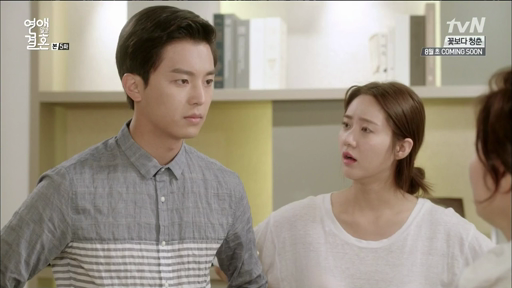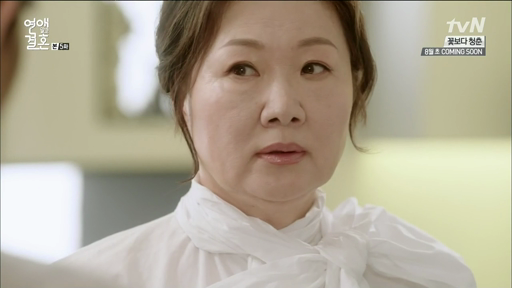 Bong Hyang figures out the game that Ki Tae & Jang Mi are playing – "use" her as his fake girlfriend so his mom wouldn't pressure him to get married. But the game has to stop now.
When she brings up the stalker case, Ki Tae stands up to protect Jang Mi. He also confidently tells mom that he will not get married unless the woman is Jang Mi. He even surprised himself with his decision, perhaps this is what love really means.
Jang Mi is shocked to hear his confession, so does mom who disagrees her son chooses his friend's stalker to be his future wife. Didn't he forget what she did during his grandfather's memorial? She caused ruckus! Ki Tae boldly declares that he'll stay single forever if mom doesn't accept Jang Mi.
Bong Hyang gives her final ultimatum: if she finds out everything he said is a lie, he'll have no other choice but to marry the woman she picks.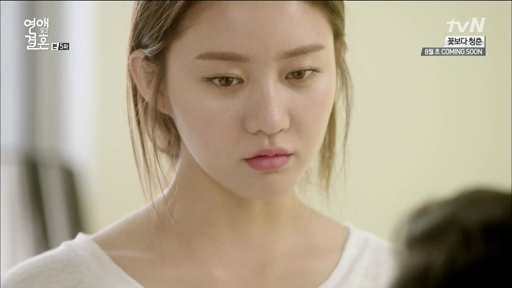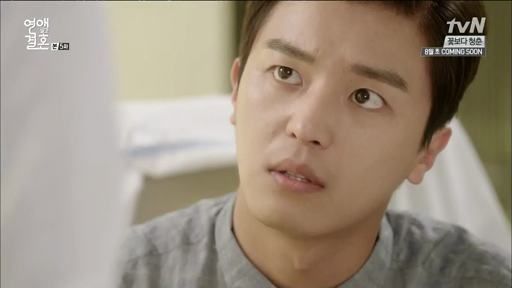 As soon as mom leaves, furious Jang Mi asks until when will they keep playing this dangerous game. They've already decided to end it last night! Ki Tae: until he receives permission to live by himself for the rest of his life.
When asked why she stayed overnight at Hoon Dong's cafe last night still wearing the clothes she wore yesterday, she's speechless.
He knows she was with Yeo Reum, so he asks if she told him about their game. She was drunk so she didn't know what really happened.
Ki Tae gives her a new phone so she can tell him wherever she goes and he can track her 24/7. She begs him to apologize for breaking her phone, which he doesn't bother to say. Instead, he asks if she can be okay without a phone as she won't be able to contact Yeo Reum.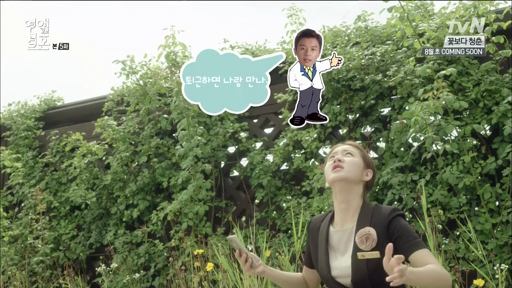 Jang Mi writes a message for Yeo Reum apologizing for what happened and to ask him to meet up after work. Suddenly, Ki Tae pops up… she must meet him after work, begging her to cooperate with his plan.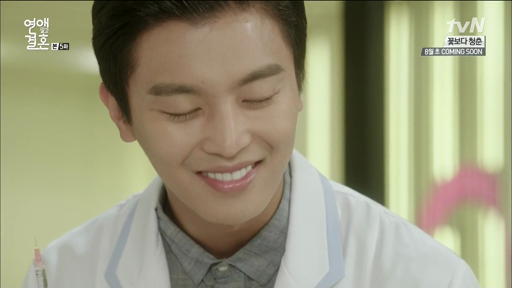 His backup plan is… to "smooth" his future mother-in-law's wrinkly face 'caused by her husband's continuous nagging.
Ki Tae & Jang Mi are enjoying a nice day out "pretending" to be couple in love. Cute moments.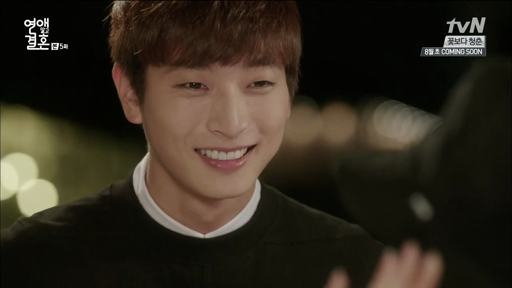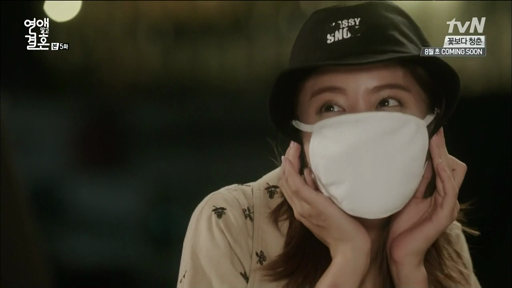 After their date, Jang Mi decides to meet Yeo Reum who's waiting for her at the cafe. She wears a mask & hat to ensure nobody knows she's here, but of course Ki Tae knows her whereabouts thanks to the tracking device on her phone. She hangs up when he calls her telling her to leave now.
Yeo Reum asks why she likes Ki Tae because earlier she confessed it's not because of money. She doesn't want to answer his question, instead she asks about him who's very mysterious. He explains that mysterious is his concept.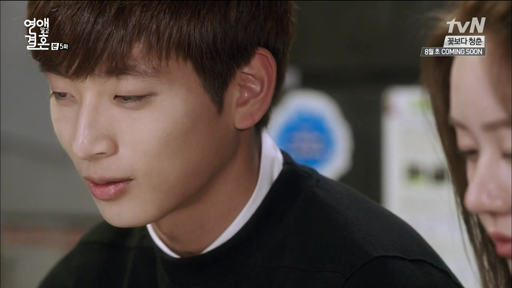 He almost throws the food he cooked because he only made it for fun and the ingredients are expired soon, but Jang Mi who doesn't like to throw things away eat his delicious dish. She understands his feeling now. Because he think he'll be abandoned, so he abandoned it first. She confesses she hates being abandon, so she doesn't like to abandon things.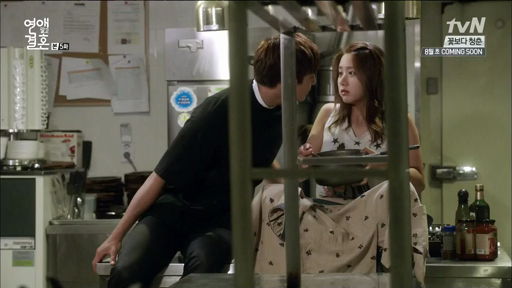 After she tells him the food is delicious, he asks if he can also has a taste by… kissing her… Aww…
Ki Tae is looking for Jang Mi as if he's trying to catch his cheating wife. Heavy rain prevents him to catch Jang Mi & Yeo Reum.
20 hours before the typhoon is coming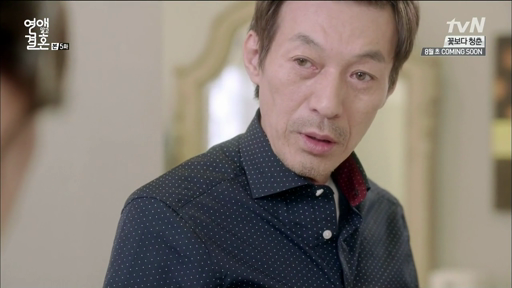 Ki Tae's dad is wondering how did Jang Mi knew about his "affair" as he's been super duper careful. Bong Hyang is quiet, doesn't say anything.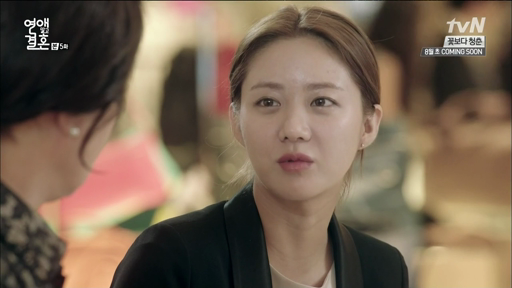 She decides it's best to ask Jang Mi herself. Starving to death, Jang Mi has to answer her insulting question why she decides to collaborate with Ki Tae. Is it about money? Jang Mi confesses the whole thing is tiring her both emotionally & physically
Bong Hyang wants Jang Mi to admit everything is a lie and she'll give whatever she asks. She turns on the player to record her confession.
Jang Mi explains when she first met Ki Tae's family, she got jealous because he has a peaceful family where she only saw in dramas. But after getting to know them better, she realizes their family is like a makjang drama, things could get resolved only if they communicate better.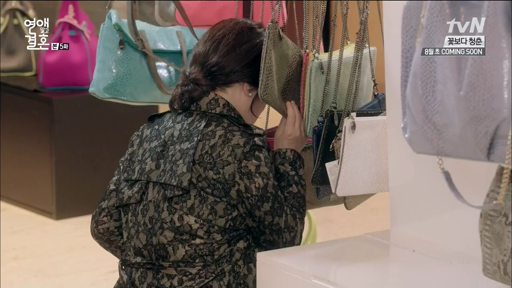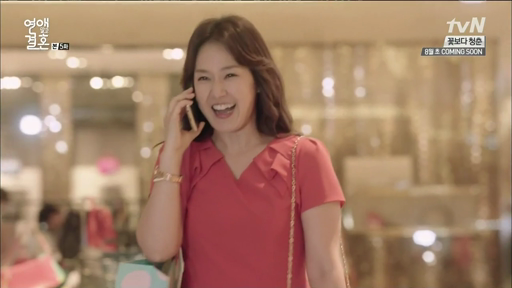 Just then, they see a familiar face – Ki Tae's dad mistress. Bong Hyang hurriedly hides. After the mistress leaves, Jang Mi tells her that the one who should hide is not her but the other woman.
11 Hours before the typhoon invasion
Bong Hyang is trying to protect the gossip from spreading out because of her husband's upcoming presidential election. She wants to know how did Jang Mi find out about it, did Ki Tae tell her? He didn't, he encourages mom to share this painful reality to someone she can trust & comfortable with. Of course her pride doesn't let her to do this.
Mom promises she'll bring concrete evidence soon that Jang Mi and Ki Tae are fake couple.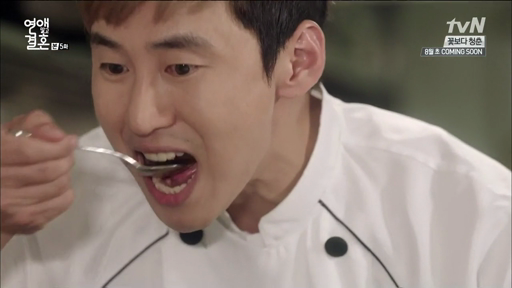 Yeo Reum asks the head chef to taste the food he made who sarcastically tells him it tastes so-so. But after he leaves, he tastes it again & praises his skill.
Se Ah coincidentally meets Bong Hyang & Hoon Dong's mom at the hair salon. Hoon Dong's mom is putting extra effort to set-up Hoon Dong with her by inviting her to a wine party at his restaurant.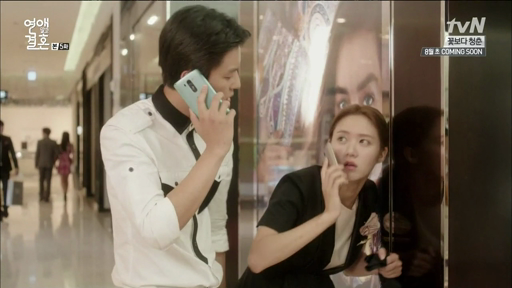 Ki Tae think it'll be good to introduce Jang Mi to his mom's friends at the wine party. So he drags Jang Mi who's unwell with stomachache to the cafe. He really wants someone to say that it's better for him to live by himself.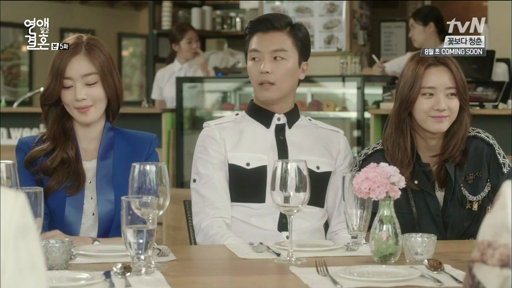 When Se Ah arrives, Hoon Dong's mom sarcastically announces that Ki Tae is sitting beside his current & ex-girlfriend. Not forgetting to tell the whole group that Jang Mi was Hoon Dong's ex-girlfriend.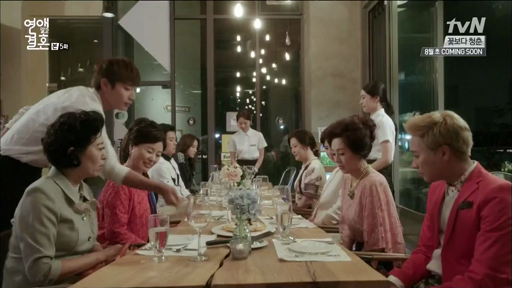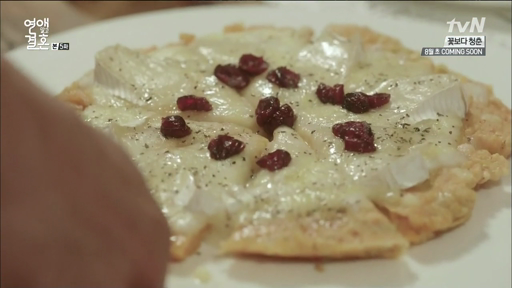 The head chef is also sick with stomachache after eating the food Yeo Reum made. So he's forced to cook something delicious for the group. He whips up a a delicious cheese kimchi Korean pancake using the kimchi Jang Mi gave him. They're very skeptical with his fusion dish so he ends up throwing the kimchi.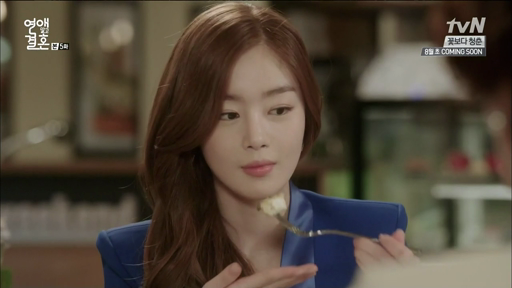 The wife's CEO bravely tastes it first & complements the kimchi & four cheeses pancake which goes well together with the wine. Se Ah also praises it.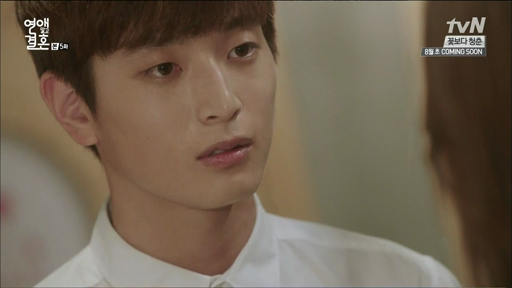 Poor Jang Mi can't even go to the bathroom!
Now she has to face Yeo Reum who wants to know what's going on. They kissed last night and now she's innocently acting as Ki Tae's fiancee.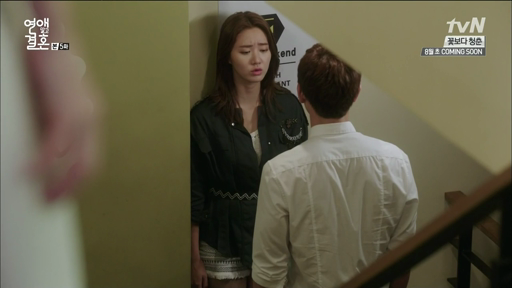 Stuck in the corner, she finally tells the truth. She can't explain the reason why she decided to do it, but realizes that because she took part on it, she'll also bear the responsibility. She confesses she likes Yeo Reum, but please wait a bit longer for her to tell him everyting. Se Ah eardrops her confession and happily returns to the restaurant.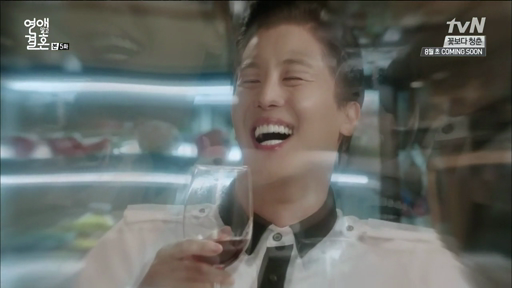 Jang Mi can't even leave the wine party to avoid any misunderstanding. Her vision becomes blurred as her stomach pain gets worse. While they're taking their time to decant & enjoy the wine, Jang Mi wishes everything will be over very soon as she clutches her tummy.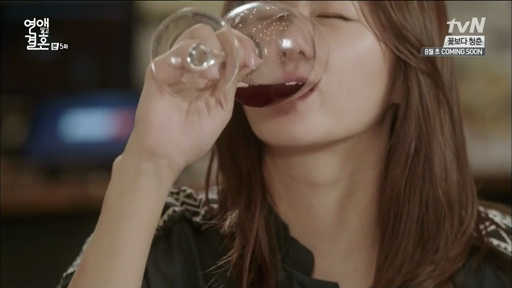 She drinks the wine in one gulp so she can escape from this meeting ASAP. But Ki Tae mistakenly think she's still hungry. So she's forced herself to eat the cheese Kimchi pancake which Bong Hyang doesn't like.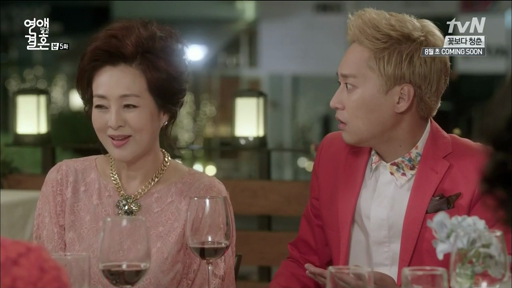 They're talking about personal taste so Hoon Dong's mom takes this good opportunity to tell everyone that Bong Hyang accepts a future daughter-in-law who has a criminal record!
Jang Mi who's unable to hold her tummy discomfort finally stands up. She confesses she's a stalker who received $50 fine. As she finishes introducing herself & drinking, she abruptly leaves. Hoon Dong wants to chase her, but his mom tells him to sit down.
The typhoon eruption
Jang Mi is trying her best to find a restroom, but the typhoon erupts when she's least expected it. She hurriedly covers her pant with her bag when Ki Tae comes to apologize. She begs him to leave, don't get closer to her. Leave now, Ki Tae yaa.
When he realizes what happened, he's speechless.
Still dumbfounded, his mom arrives. She gently put a jacket over Jang Mi and takes her to the office to clean up.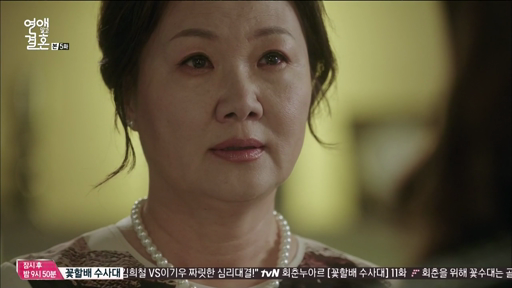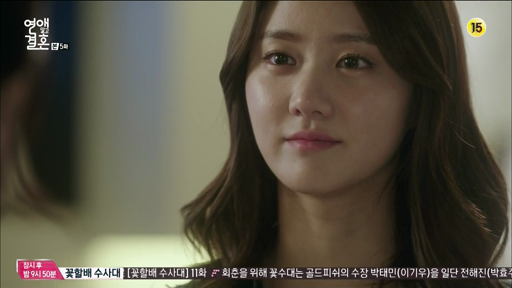 As they know each other's secrets now, Bong Hyang asks Jang Mi to stop spreading the rumor about Ki Tae's dad. Jang Mi tells her it's like the "typhoon" that exploded without her will, people would get ashamed, scared & hurt that they couldn't say anything. People tend to avoid watching this painful reality. Jang Mi promises she won't tell her secret to anyone.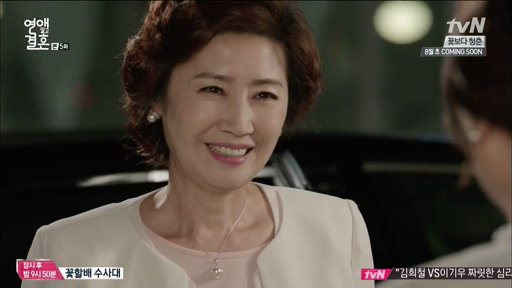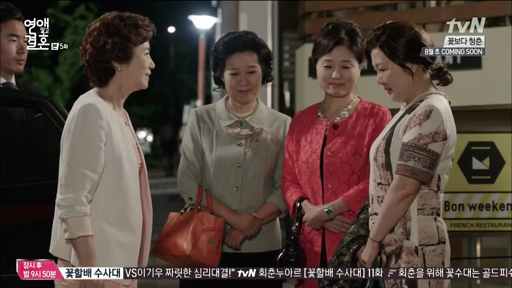 The CEO's wife praises Bong Hyang that she picks the right future daughter-in-law. Despite her past, Bong Hyang was able to forgive and understand Jang Mi, she saw Bong Hyang differently now.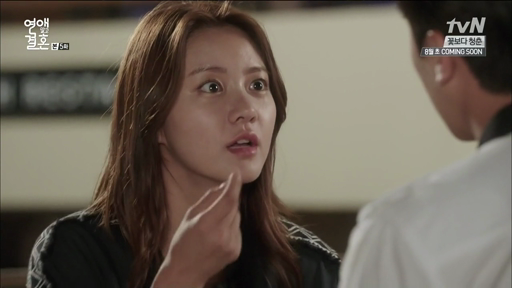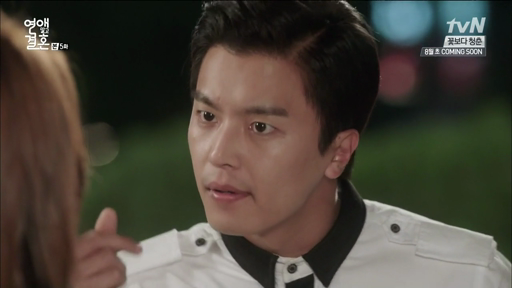 Jang Mi tells Ki Tae to stop this game now, she's confessed her feeling to Yeo Reum. She can no longer sacrifice her love life to help Ki Tae. So Ki Tae is going to use her "typhoon" secret to break them up!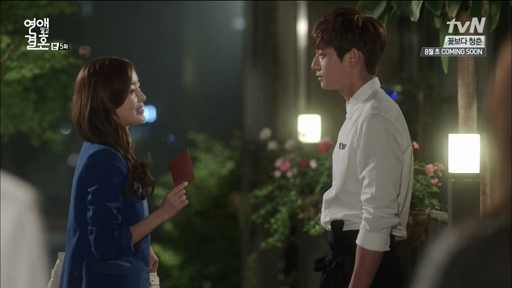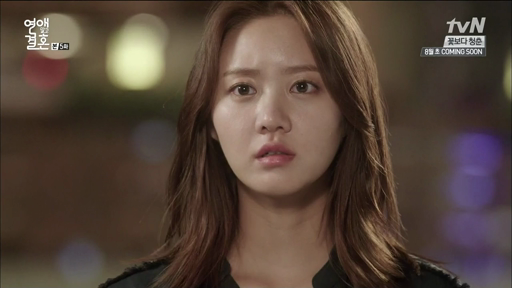 But as he's going to tell Yeo Reum about that, they see Se Ah giving money to Yeo Reum thanking him for "helping" her to get Ki Tae back.
Brief Comments
Oh no… After Jang Mi finally confessed her feelings to Yeon Reum and is ready to quit the game, she has to face an ugly truth about the man she really loves. Is he toying with her feeling? Yeo Reum is a very mysterious man which has a painful past of being abandoned. From what we've seen so far, there's no indication that he loves her – he only in it for the money Se Ah gives him. The kiss only symbolized his appreciation for Jang Mi who enjoyed the dish he made.
It's painful to watch Jang Mi's suffering, she couldn't even have any chance to release her pain. But the simple metaphor between the real "typhoon" that Jang Mi suffered & Bong Hyang's typhoon makes a good storyline. Both of them held the pain (unable to tell anyone) to avoid any embarrassment but sooner or later, the typhoon will erupt whether they're ready or not. It'll be painful & hurt when it's out, but they will be relieved and they will be able to breathe again.
Ki Tae is a selfish man who doesn't realize he's playing a very dangerous game here. I don't like him keep playing with Jang Mi's heart by only thinking about himself, but from his jealousy, it's clear that he has fallen in love with her. As the ugly secret is out and Se Ah finally finds out the truth, what will happen next will depend on Jang Mi & Ki Tae's commitment to keep playing this game or to stop it altogether to avoid getting hurt.