Marriage, Not Dating Episode 6 Mini Recap
Ki Tae and Jang Mi have similar trauma about marriage (both come from broken family) but they respond to it differently. Ki Tae who has a controlling & dominating mother & ex-girlfriend (Se Ah) found out that it's better to be alone rather than being controlled by a woman. On the contrary, Jang Mi who experienced a painful childhood trauma doesn't want others to experience a painful loneliness. It turns her into a woman who's ready to help others who're alone & need her help. Confused with her own feeling for Yeo Reum & Ki Tae, what will Jang Mi do when her "fake relationship" is put to the test?
Prologue
What's going on here? 😀 Jang Mi undresses Ki Tae, then they cuddle up under the blanket!
Episode 6 Mini Recap – Am I Single Or Am I Not?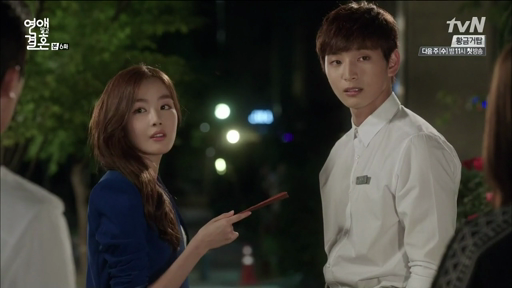 Yeo Reum plans to return the money back to Se Ah when Jang Mi & Ki Tae arrive. Jang Mi is upset that Yeo Reum is backstabbing her.
Ki Tae advises that Jang Mi should learn from her past experiences, she shouldn't confess her feeling to a man first. Moreover, she shouldn't easily give in to people's request, she must learn to receive things she should receive & throw things that should be thrown away.
She agrees with him. She should throw away Ki Tae before it's too late. She sincerely helps him to play this dangerous game, but she's getting hurt over and over again. So, it's much better for them to stop it now. She's tired… she wants to be alone now.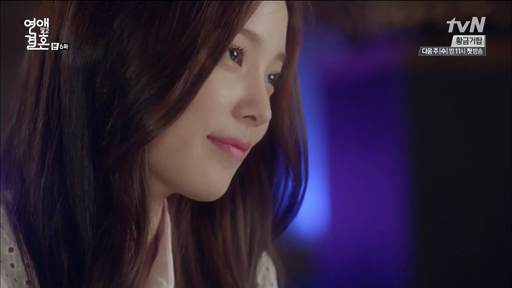 Hoon Dong whinges that he's single now. Jang Mi doesn't understand his feeling, neither does his mom. To make things worst, his best friend stole his girl. Hyun Hee sweetly tells him that she's here. Is it okay if she's not Jang Mi? Drunk, he tells her it's okay, she's nice. But what about if she's not nice? He tells her it's okay because he likes bad girl.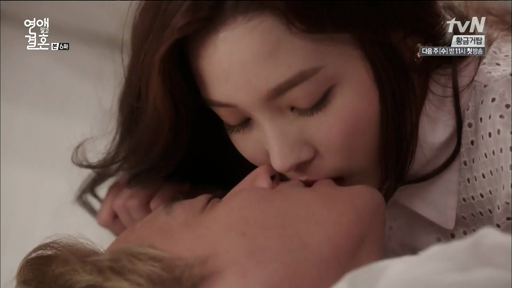 Hyun Hee makes a bold move to kiss him. He kisses her back.
The next morning, Ki Tae receives a text message from Se Ah letting him know she coincidentally met his mother at the hair salon. She threatens to reveal his secret if he doesn't want to co-operate with her.
Jang Mi is determined to stay single & will marry her job. Ha. The manager is surprised to see two very contrast employees this morning: a very enthusiastic Jang Mi & sleepy Hyun Hee who had too much fun last night.
Hyun Hee tells her she's too greedy, dating with doctor & Yeo Reum. Jang Mi announces she's done with both men!
Yeo Reum arrives to take her for lunch, because she said she likes him. Ki Tae missed them in a split second. Hyun Hee shakes her head, it's clear Jang Mi hasn't ended her relationship with these two men.
Jang Mi wants Yeo Reum to explain since when did he lie about this? He explains that it's hard to explain everything, but if he's seriously like her, she'd let him go anyway.
Se Ah & Bong Hyang who're shopping in that department store are surprised to see Jang Mi with Yeo Reum (Bong Hyang realizes he's a part timer who works at Hoon Dong's restaurant). She overheard their conversion, now demands to know the reason why Jang Mi told him to tell Se Ah that she doesn't have to worry about her anymore.
Se Ah confesses she asked Yeo Reum to find out about Ki Tae & Jang Mi relationship as she wanted to give the best wedding gift for them.
Jang Mi is speechless to find out how messed up his family & Se Ah are. She boldly tells him that everything between them is over. When Yeo Reum joins them, she tells him that he's also out.
Hyun Hee confesses her feeling for Hoon Dong. She's wondering why Jang Mi still hasn't let him go although she no longer likes him. For her, Hoon Dong is not a bad guy, she's more than happy to recycle him & dust him off.
After realizing what (could) happened last night, Hoon Dong is at a loss for words.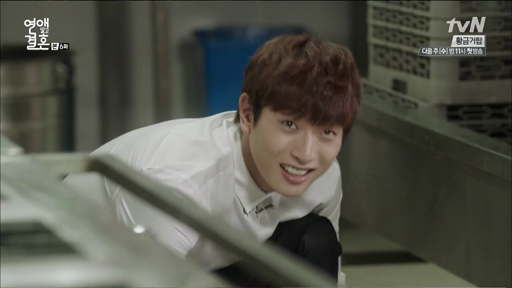 Hoon Dong asks the head chef to add the fusion kimchi cheese pancake to the menu. He's confused as he didn't make it. Yeo Reum overhears their conversation & accidentally drops the plate.
Jang Mi arrives at Hoon Dong's restaurant to find out what really happened last night and if he's playing with Hyun Hee's heart.
She directly asks if he slept with Hyun Hee. He's speechless because it's clear he didn't know. She grabs his head like a crazy woman, punch him repeatedly. She wants him to promise he won't hurt Hyun Hee.
She asks if they can have a peaceful ending. So he confesses he "used" Hyun Hee because Jang Mi didn't accept him. He still has feeling for her, it's not over for him.
Yeo Reum is in a big trouble with the head chef who scolds him for making the fusion dish without his permission. He punch Yeo Reum in front of a very shocked Jang Mi.
Bong Hyang wants to know the truth. Se Ah explains that she still wants to be with Ki Tae (and she still think of him as her man) hence she's upset that he's going to marry another woman. It's not easy for her to congratulate him, so she believes giving him a wedding present will be an easier way to congratulate his marriage.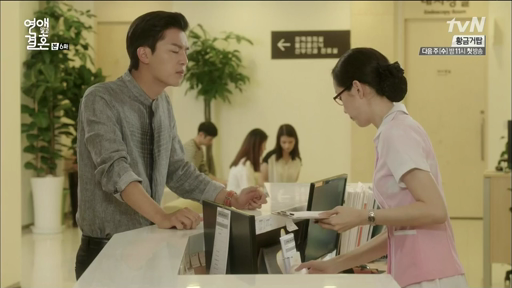 Se Ah visits Ki Tae at his practice, begging him to be her life partner. It's okay if he doesn't marry her, she just wants to have a baby. She doesn't want to get married either. She's forced him to go to her father's hospital to get examined (to find out if his genes are good), but after struggling with himself, he knows he can't do this.
Se Ah gives him two difficult choices: to take the examination or to sleep together. She believes she can give anything her baby needs, she will hide the father's identity.
Jang Mi's dad is putting extra effort to get to know his future son-in-law. For him, Jang Mi is and will always be his precious only daughter, he begs Ki Tae to look after her well. Ki Tae slickly tells him that Jang Mi dumped him so he asks him a favor to help him to get Jang Mi back.
Dad notices his daughter is afraid of marriage because of her parents' broken relationship. When she was 5 years old, her parents had a big fight. Mom left – told her to live with her dad. Dad told a shocked & confused little Jang Mi to live with her mom.
Starving & alone after her parents locked her inside the house for 3 days, her feet began to bleed after she accidentally stepped on broken glasses, trying to reach the fridge. She almost died that day, hence she's always worried when people are alone. Dad realizes his mistakes for not treating his daughter better.
Dad begs Ki Tae to change her mind about marriage.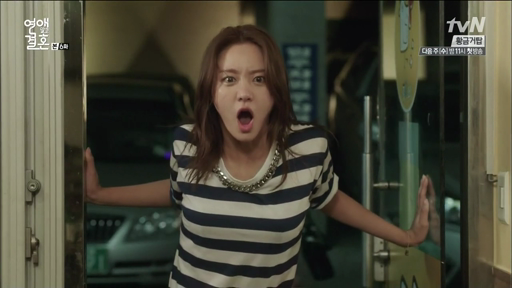 Jang Mi arrives at the restaurant & find 2 drunken men. Ki Tae keeps bringing up her "typhoon". It's Jang Mi's responsibility now to take Ki Tae home.
Poor Jang Mi who has to keep carrying Ki Tae on her back. >.<
Ki Tae unknowingly confesses he feels very sorry for dragging their "fake couple" game longer than he expected. He will never marry Se Ah who resembles his mother.
He screams out please leave me alone, Jang Mi. But she stays behind because he's very drunk and can't go to his bedroom safely. In the bedroom, he starts to undress in front of a shocked Jang Mi. In the end, she helps undressing him while he keeps whinging for her to leave him alone.
She leaves him alone after he peacefully sleeps in his bedroom. But before she leaves, she cooks a soup for him.
The next morning, Ki Tae is surprised to see a very messy kitchen 😀 And a cute sticky note in the coffee machine telling him to eat hangover soup she cooked instead of coffee. She also left another pink sticky note in the rice cooker to let him know she cooked rice, unfortunately, he doesn't eat rice in the morning.
But because he's starving, he ends up eating the soup & rice.
She left another note in the fridge, urging him to meet with his parents together to tell the truth.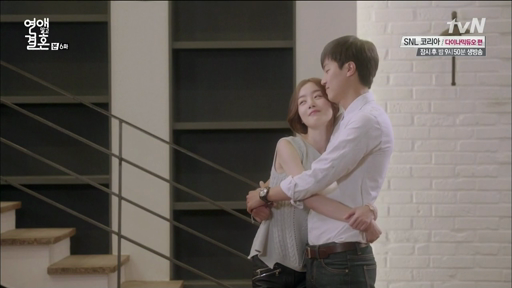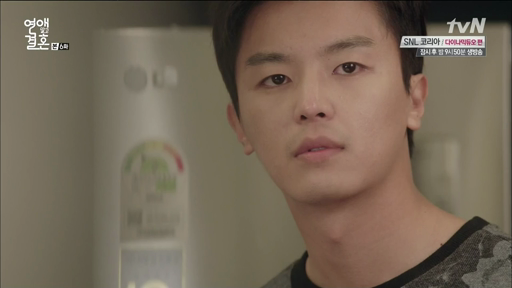 Flashback to 3 years ago. Ki Tae brought Se Ah to this special house which held lots of happy memories for him. He feels peaceful everytime he's in this house alone. He invited her to live together with him here for a long long time as their newlywed home. How time flies.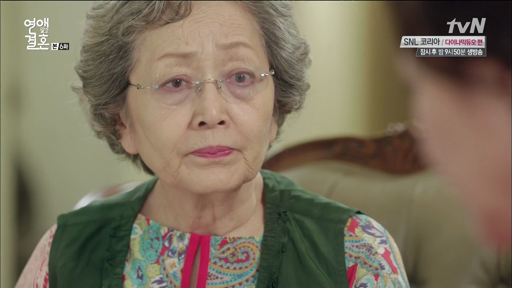 Bong Hyang tells the family that Se Ah still loves Ki Tae. Grandma advises her son & daughter-in-law to make up, otherwise, Ki Tae won't ever marry. Bong Hyang believes he will, Se Ah will make him to marry him.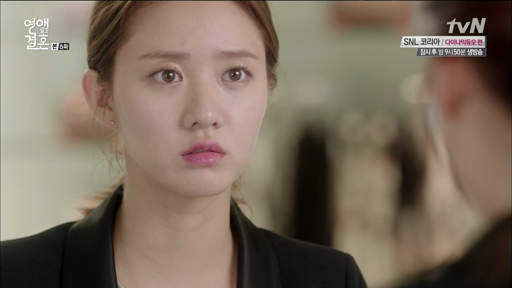 Hyun Hee is envious of Jang Mi who receives Hoon Dong's sincere love. She thought the feeling could be real, he could love her back, but everything is messed up now because Jang Mi intervened.
Jang Mi wants to beg, kneel, asks for his parents' forgiveness for lying to them. He still has patients so she waits for him in front of the restaurant.
But before Ki Tae finishes, she already left with Yeo Reum to talk about what really happened between them & Se Ah. Aunt is spying on them as usual.
Thanks to the tracking device, Ki Tae finds out where Jang Mi is. He hurriedly drives to see her.
Jang Mi asks for Yeo Reum's responsibility for wasting her time as she spent time & developed her feeling for him. She doesn't care about the money he received from Se Ah. She wants to end this before it's too late.
Yeo Reum explains the head chef hit him because of the kimchi pancake, it's Jang Mi's mistake because he made it from the kimchi she gave him. Jang Mi is touched he remembers she loves cheese & kimchi. She think he got the inspiration from her.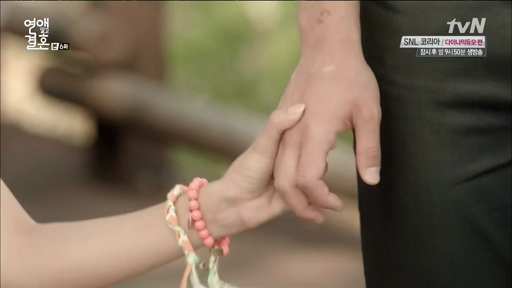 But he denies. He got the inspiration from the woman who made a very delicious kimchi pancake even as she abandoned him. She's his mother.
Jang Mi thanks him for sharing his burden, his deepest painful trauma. That makes her to know him better. She's faltered with his confession =)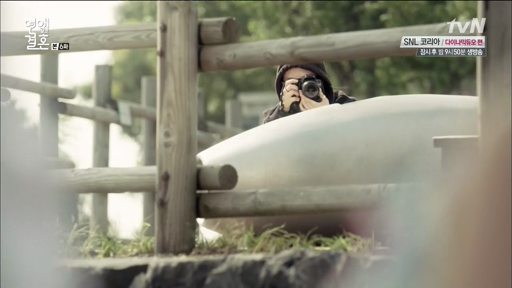 Yeo Reum spots a stalker who secretly took their pictures. They chase her but lose her. That stalker bumps into Ki Tae who think it's his aunt. Se Ah sent the stalker to spy on Jang Mi to catch & find a very concrete evidence to uncover their lie.
Ki Tae pushed Se Ah away three years ago after she selfishly controlled his life & almost wrecked the house he really loves. She still hasn't given up, she's still controlling his life!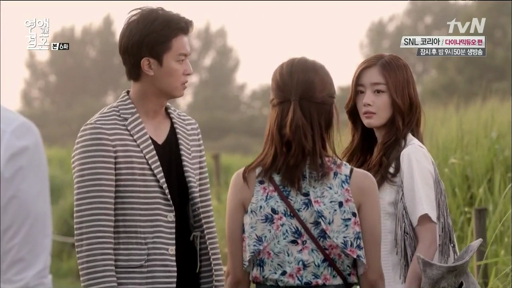 Jang Mi spots Aunt who's hiding behind the rock. Now she realizes why Ki Tae doesn't want to get married & prefer to be left alone.
Ki Tae almost gives up, feel free to uncover the truth to Bong Hyang, Se Ah! Feel free to call mom, Se Ah! She calls his mom, but before that… Jang Mi stands up.
She can't leave Se Ah alone for keep holding on to Ki Tae to suffocate him and sucking up to his mother.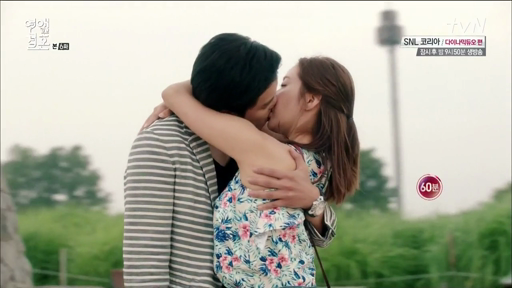 She boldly confesses Ki Tae is her man, much to his surprise. She tells him she's crazy before reaching out to kiss him! Aunt is shocked, so does Yeo Reum & Se Ah. Awwww… He passionately kisses her back!