Marriage, Not Dating Episode 7 Mini Recap
Prologue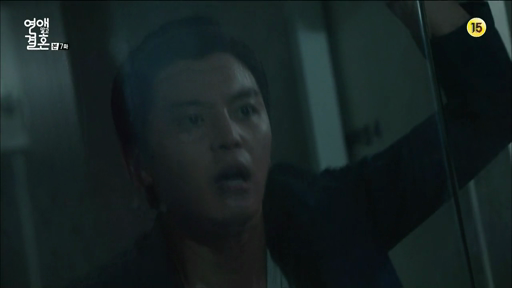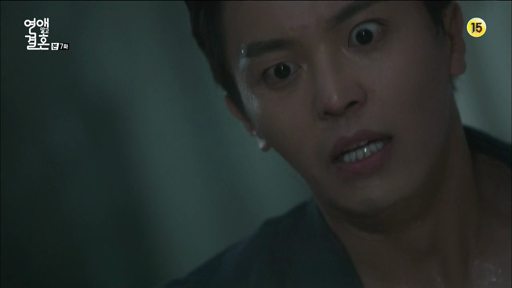 Ki Tae rushes out from his surgery & accelerates his car as he narrates: I was okay, I usually didn't waver nor afraid of anything. There was no door in this world I could not open with my own strength… until I met that girl.
He arrives in a dark building, panicky opens the door. He screams out Joo Jang Mi! OMG!
Episode 7 Mini Recap – It is ok although it's not ok
Contented Aunt shows the recording of Ki Tae & Jang Mi's kiss to grandma and Bong Hyang. Grandma is overjoyed while Bong Hyang suddenly gets a headache.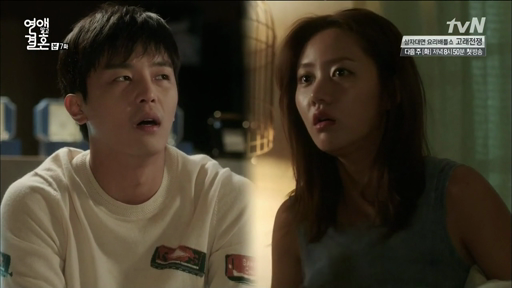 Ki Tae recalls what Jang Mi whispered to him after the kiss – his aunt was watching and she did it because he did not look okay. Awww. Both of them can't sleep complaining that it's very hot tonight. As Jang Mi drinks her beer, she tells herself it's crazy.
Two people who witnessed their kiss are drowning their sorrows differently: Yeo Reum is busy scrubbing the kitchen while Se Ah is drinking alone at a bar.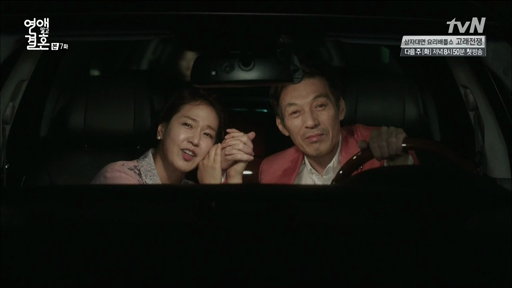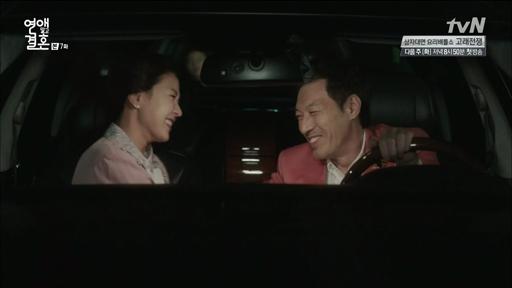 Dad and his mistress are enjoying a drive-in movie. She's wondering why Ki Tae's mom is still forcing her son to marry as she believes that marriage is only one of many different ways to love.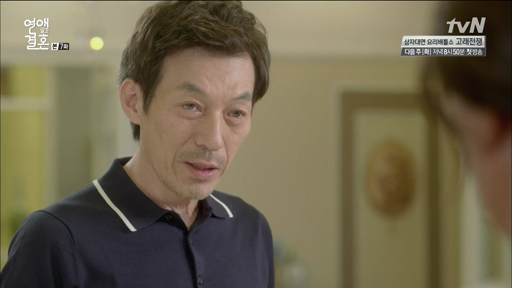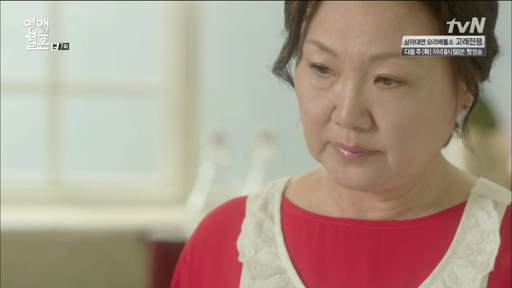 The next morning, Dad casually asks Mom if she think Ki Tae & Se Ah have another chance to get back together. Mom knows her (cheating) husband prefer Jang Mi.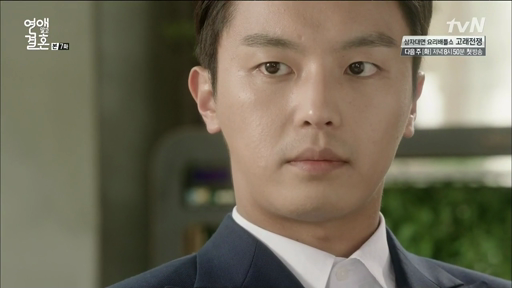 Ki Tae keeps staring at Jang Mi's lip until Jang Mi casually starts the conversation to clear up what really happened yesterday and if the kiss was real (or not). He explains that he chose her to be his fake girlfriend because he never thought they'd develop any feelings towards each other. He nervously gulps & stutters as he can't take his eyes off her lip.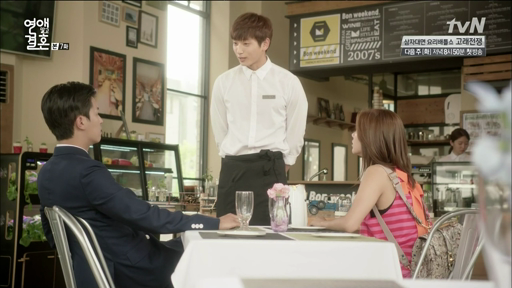 She complains that she "tainted" her precious lip to kiss him in front of the guy she likes.
Yeo Reum arrives, he points out that Jang Mi is like a fool woman who kisses a man who doesn't mean anything to her. Yeo Reum confesses he likes fool-like Jang Mi! After explaining about truffles festival, he leaves them alone.
Jang Mi is delighted with Yeo Reum's sudden confession, but jealous Ki Tae shuts her down as he never heard a confession from a man calling his future girlfriend "a fool". 😀 Yeo Reum sends a text message to meet tonight.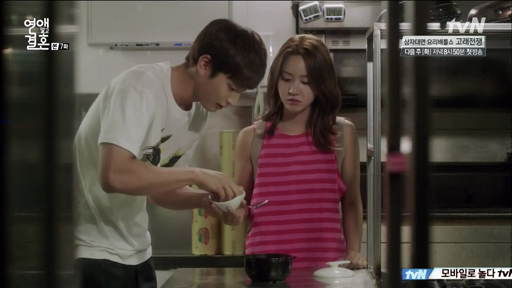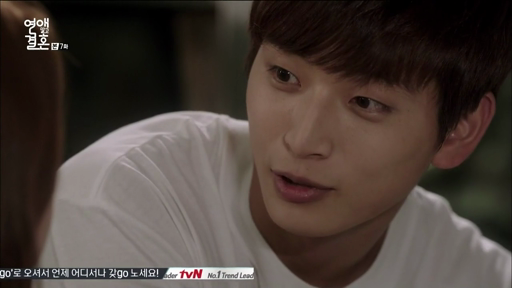 She sneaks in to the restaurant after it closes. Yeo Reum cooks a delicious egg custard, he adds a tiny bit of truffle he "stole" from the head chef. She mentions although the smell is weird, but it tastes delicious. He shows her the best quality truffles, just as the head chef returns to the restaurant.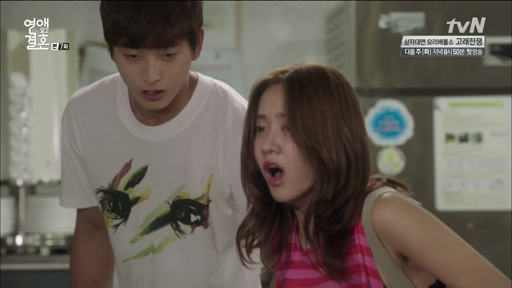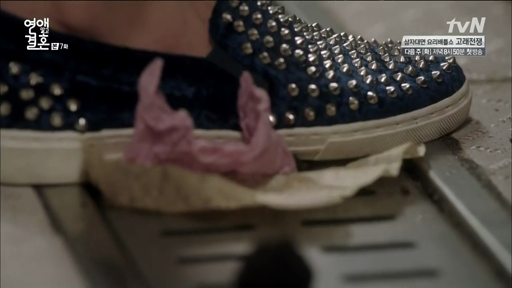 Jang Mi & Ki Tae rush to hide, but she accidentally drops & steps on the truffles! The head chef is horrified to see his precious truffles crushed on the kitchen floor. Who did it?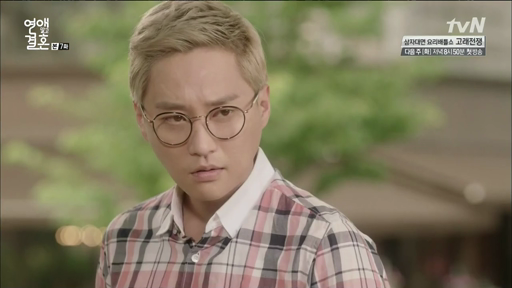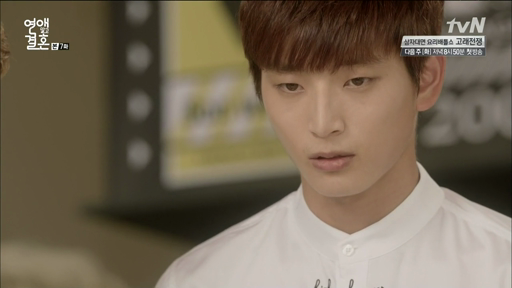 The next morning, Hoon Dong confronts Yeo Reum who can't say anything except apologizing for squashing $5000 truffles. When Hoon Dong accuses him of stealing the ingredients, Yeo Reum admits he secretly cook at night but he only used left-over ingredients. He didn't touch anything else except the truffle last night because he was curious.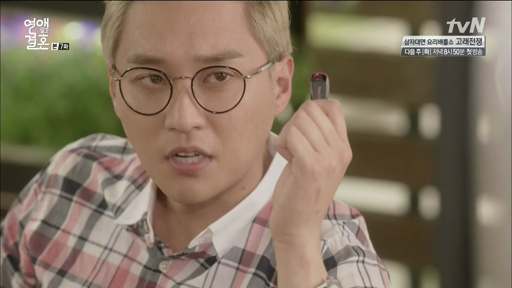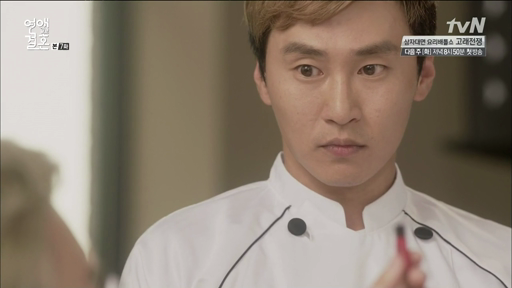 The head chef gets nervous after Hoon Dong tells them he'll uncover the truth through the CCTV recording. Something's fishy here.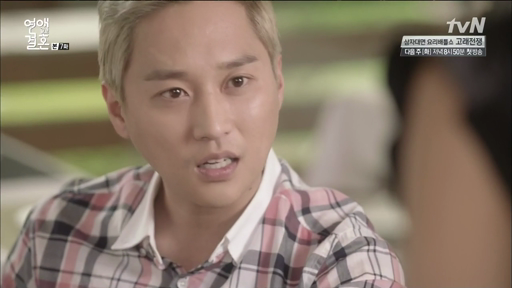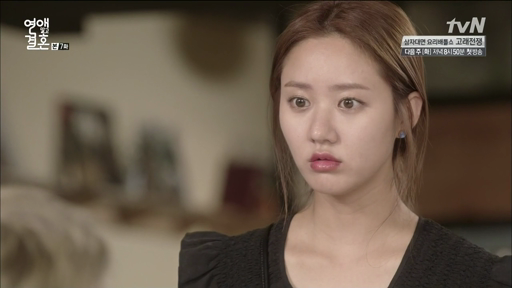 Hoon Dong finds out Jang Mi and Yeo Reum were together last night at his restaurant. Just then, Jang Mi arrives. She begs him to meet Hyun Hee who's dying to see him. Although she prefer Hyun Hee to fall in love with another man, but after she saw how distraught her friend is over Hoon Dong, she decides to help her. She tells Hoon Dong to treat her friend sincerely and don't hurt her like he hurt her.
He shows the cctv recording of Jang Mi & Yeo Reum at his restaurant last night, points out her game of hanging out with two different men (his best friend & his employee).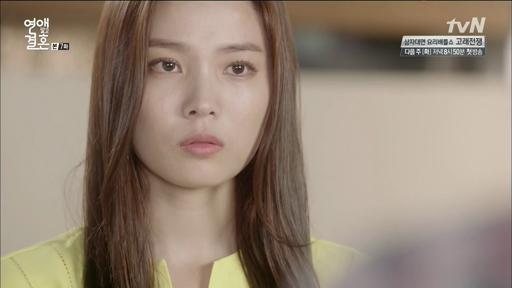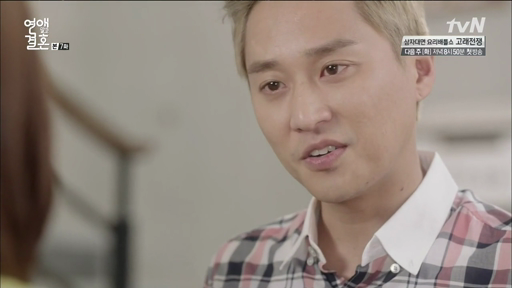 He confronts Hyun Hee, explaining that he's a trash for having two women in one heart. He knows this is a terrible thing & he shouldn't do it. Moreover, he's not comfortable two-timing Jang Mi & her friend.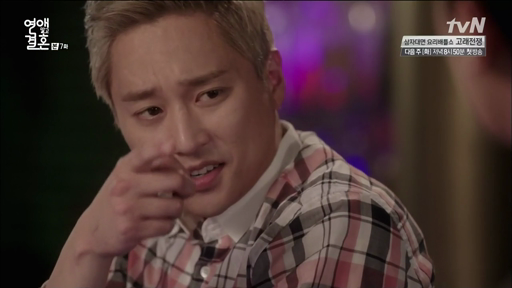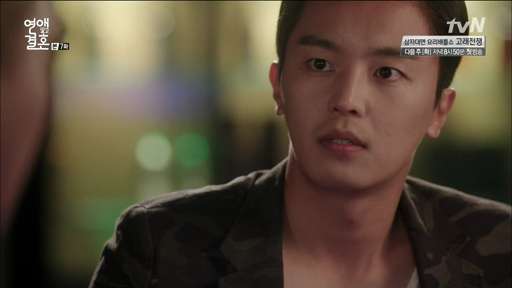 Ki Tae believes that marriage and dating are two very different things, he doesn't care. But based on his expression & his fussiness over Yeo Reum, Hoon Dong realizes that his friend really likes Jang Mi.
Thankfully Yeo Reum didn't get fired, but he had to move out from his house because he used the deposit money to pay the truffles. Jang Mi feels apologetic, he asks if she allows him to sleep at her place.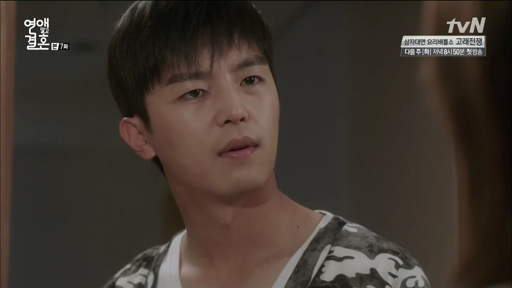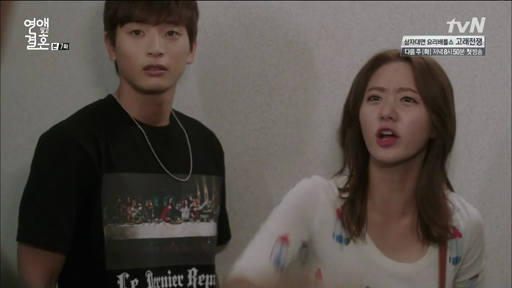 Ki Tae is playing video games at home, but he keeps thinking about the kiss and Hoon Dong's question if he really likes her. He didn't realize his doorbell ring so Jang Mi & Yeo Reum let themselves in. She asks his favor to let him to stay at his place. Less than a minute later, he throws Yeo Reum bags out & tosses these two people out of his apartment. Yeo Reum plans to stay in the sauna for a while, assuring her that everything is okay.
Se Ah and Ki Tae's mom are on the way to drop off kimchi for Ki Tae, Mom is happy hearing that his son is alone (not with Jang Mi).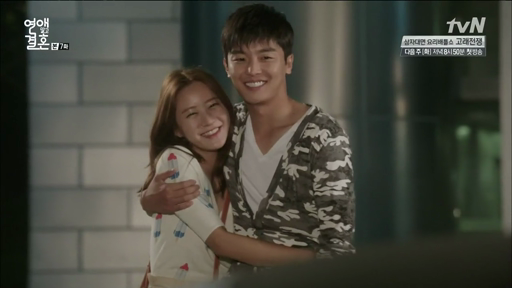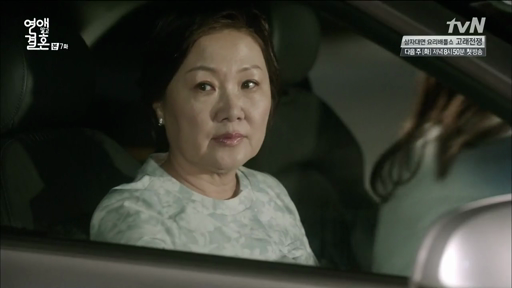 Afraid that his mom will see Jang Mi & Yeo Reum outside his apartment, he rushes out.  Ki Tae quickly hides Yeo Reum stuffs & pushes him to hide. They quickly turns on their 'couple' mode just in time before Mom & Se Ah arrives.
Jang Mi promises she'll eat the kimchi she made after Ki Tae rejected her kimchi. She boldly asks why she brought Se Ah with her, asking if she's against her. Speechless, Bong Hyang can't say anything. Jang Mi continues to threaten her that if she keeps this up, Ki Tae will never marry. Bong Hyang states that she doesn't hate her, it's just a misconception. Hence, Jang Mi asks if they can go shopping together one day since they're okay now.
After they leave, Jang Mi once again asks Ki Tae to let Yeo Reum sleeps at his place because what'll happen if his mom or his aunt see her with Yeo Reum together? Yeo Reum sweetly throws his arm around Jang Mi's shoulder, jealous Ki Tae knows he doesn't have any other choice now.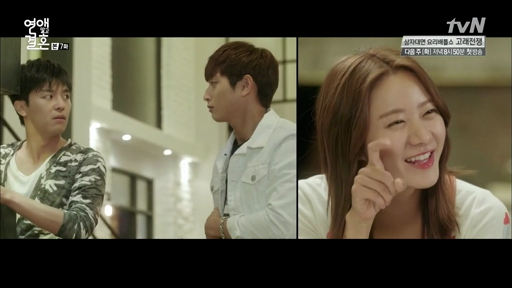 Yeo Reum keeps touching everything like Jang Mi did when she first came to Ki Tae's house. Ki Tae explains Yeo Reum is only allowed to sit / sleep at the couch from 11PM to 7AM every night. No cooking, no touching, no food delivery, no searching, no eating, no playing guitar. Basically, he can only sleep at his place.
Mom apologizes Se Ah had to see their argument, Se Ah assures her it's okay as she's used to it.  She's seen him dating other girls in the past and his ex-girlfriends were always jealous of her. She tells her that her father still likes Ki Tae and wants to recruit him to his hospital. He really wants to see Ki Tae again, but realizes Jang Mi will misunderstand and Ki Tae will refuse. Mom promises she'll help to convince her son.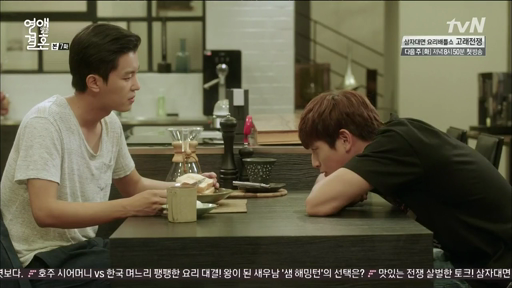 The next morning, Ki Tae is shocked to see Yeo Reum peacefully sleeping next to him – on his bed! He mentions it's really cold sleeping on the couch.
Because of "no eating" strict rule, Yeo Reum can only stares at Ki Tae as he's enjoying his breakfast.
Yeo Reum tells him he has nowhere else to go. All his friends are girls, he never knew his dad and his mom abandoned him. Ki Tae almost buys his sad story, but pretends to be unaffected. Yeo Reum chuckles that it only worked on Jang Mi.
Ki Tae decides to take the afternoon off due to his cold (not forgetting to blame Yeo Reum for taking his blanket). His secretary advises about the electrical maintenance work from 8PM until tomorrow morning. All the doors will be locked, all electrical and electricity will be cut off.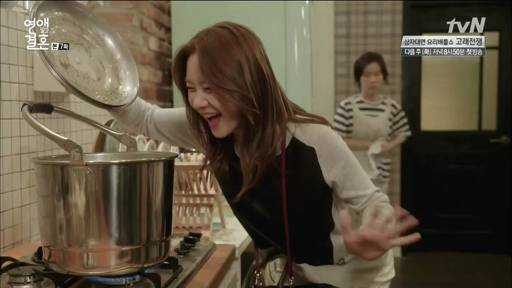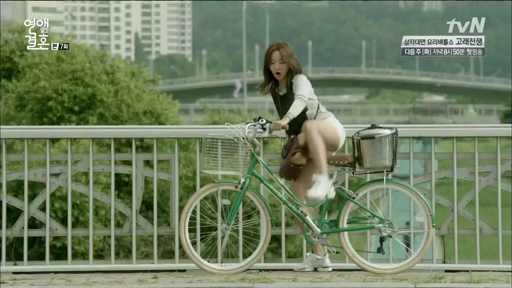 Jang Mi's mom calls Ki Tae's practice. After she finds out Ki Tae is unwell, she asks her husband to buy the freshest chicken so she can cook chicken & ginseng soup for the future son-in-law. Jang Mi arrives home to the smell of this soup, she forbids her daughter to eat it & sends her to deliver the big pot of soup to Ki Tae.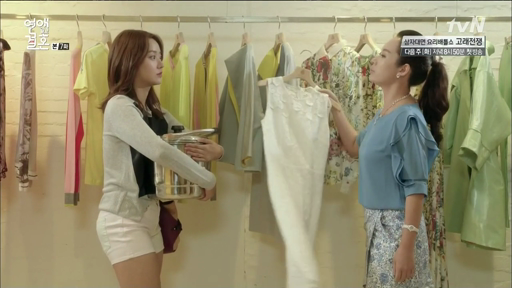 On the way, Bong Hyang calls to take her for a "date" (as Jang Mi asked last night). She insists to do it now. So she carries the big pot to Aunt's store where she picks a nice outfit for her "date".
Mom calls Ki Tae to meet tonight at a French restaurant with Jang Mi who's suspicious with his mom's sudden change of attitude. Ki Tae advises her to accept anything they offer her, buy anything she wants.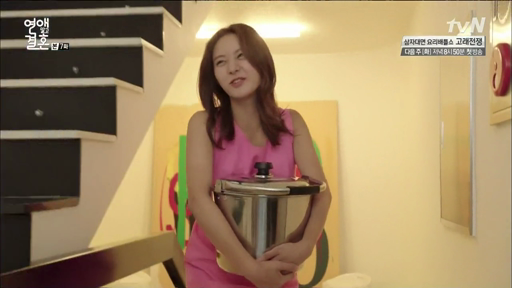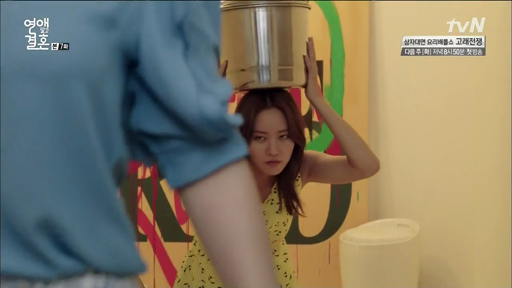 Aunt asks her to try almost every outfit in the store, while she keeps carrying the big pot of soup walking down & up the stairs. Until Aunt finally approves one outfit.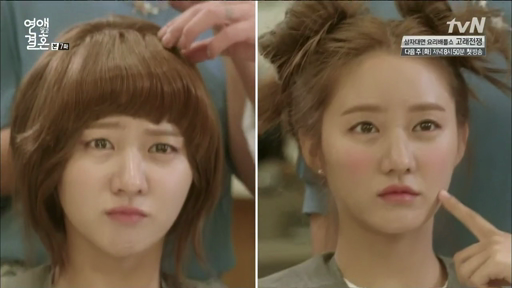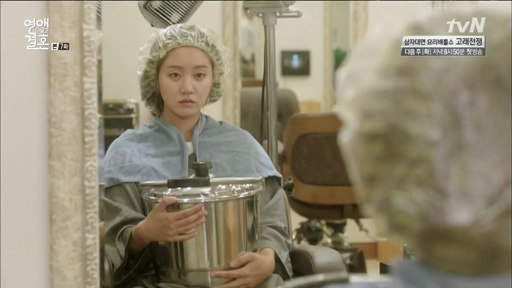 The torture continues in the hair salon. Aunt wants her to be transformed completely. Jang Mi ends up holding the big pot soup because it's not safe to leave it on the floor.
Once everything is done, Aunt screams out to change her style to chic style! Jang Mi begs Aunt to stop the torture. She asks them to wait for Ki Tae & his mom to pick them up.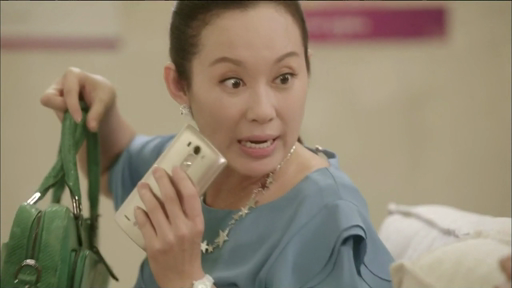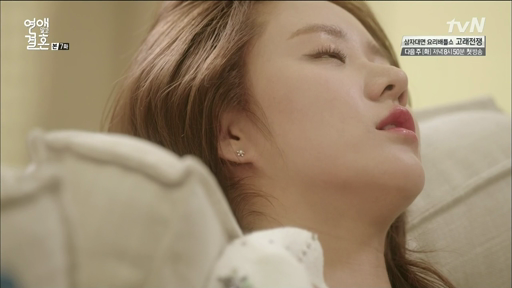 When Jang Mi wants to call Ki Tae, Aunt advises that girls should have a self-constraint and wait for the man to call her. They are tired of waiting… When Aunt sees Jang Mi is in a deep sleep, she steals her cell phone & leaves her alone at Ki Tae's practice.
Their plan is successful. Mom is nervous Ki Tae will find out, but is relieved after Aunt gives her Jang Mi's phone.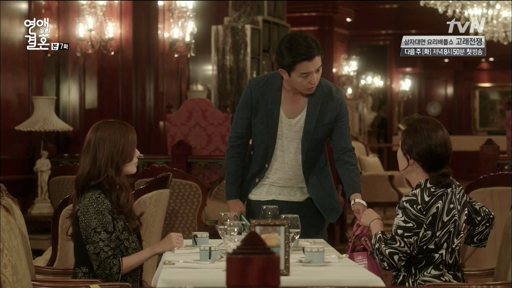 Ki Tae arrives at the French restaurant to find Se Ah is already waiting for him there. She explains that her father and his mother are on the way. To keep him by her side for tonight, she promises to give him the memory card she received from the woman she hired to follow Yeo Reum & Jang Mi. If he refuses to stay, she'll spill out his secret.
She quickly hides the memory card & the hotel key she was going to give to Ki Tae as a present when Ki Tae's mom arrives. Ki Tae now realizes what his mom and aunt did to Jang Mi. He wants mom to let him know where Jang Mi is, after he finds out his mom has Jang Mi's phone on her purse.
Jang Mi finally wakes up, wondering where Aunt went and where is her phone.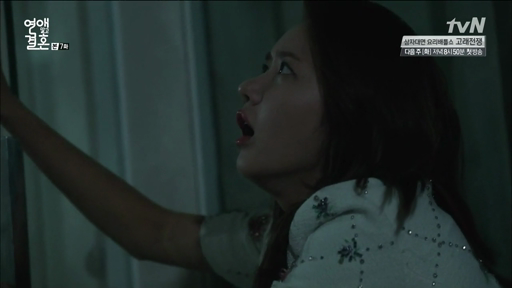 Suddenly, the light goes off. It's 8PM, the electrical maintenance work begins. She starts to panic as she's locked inside a dark building alone, she cries out for help but nobody is here. She scrambles around the dark trying to find her phone but she accidentally spills the chicken & ginseng soup all over her body.
After finding out that his Mom "kidnapped" Jang Mi in his clinic, he's outraged to his mom. Se Ah defends mom as she apologizes & she feels sorry for Jang Mi.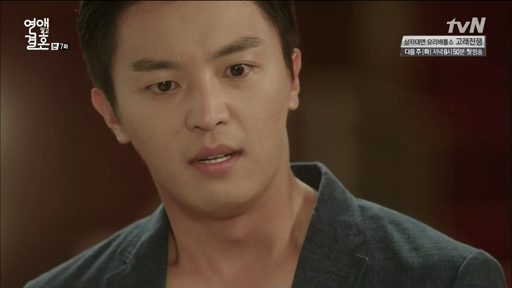 Ki Tae scream out that it is not okay, they can't leave her alone, especially in the dark. It's now past eight, the electricity in his clinic has been turned off due to maintenance. Does Mom realize what she's done here?
He rushes to his clinic, he recalls Jang Mi's childhood traumatic experience that she almost died when she trapped at her home alone when she's 5 years old.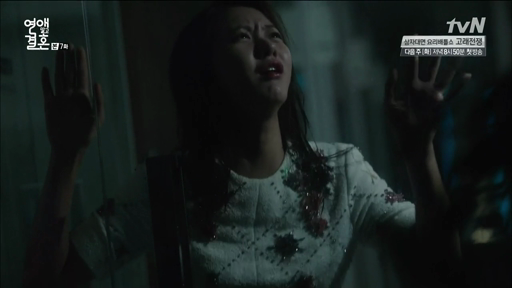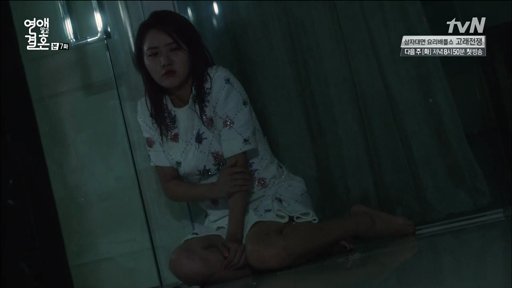 Jang Mi keeps knocking on the door, hoping someone will come to her rescue. After a while, she realizes nobody is here.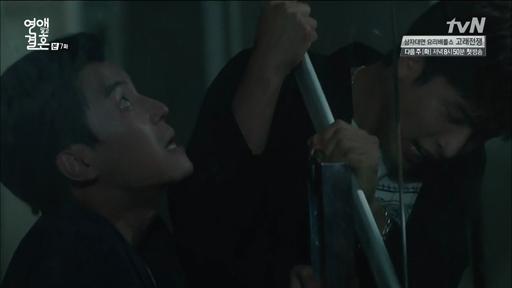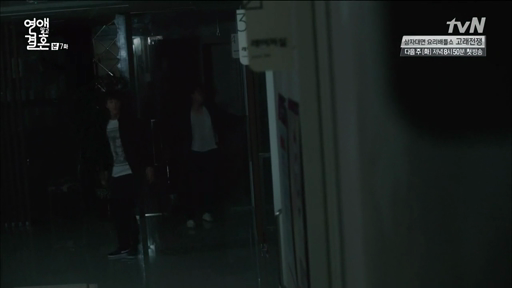 Ki Tae meets Yeo Reum in front of the building, he tells Yeo Reum that Jang Mi is locked inside. Together, they try to forcefully open the door.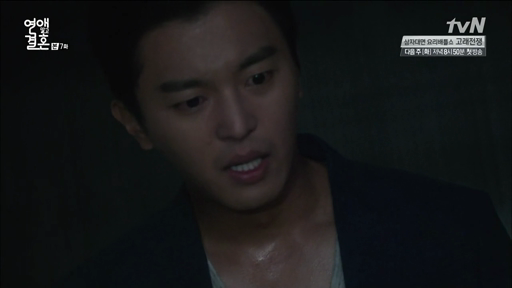 After it's unlocked, they split up to find Jang Mi. Ki Tae finally finds her under his office desk. He angrily asks her why she let his aunt to trick her.
Jang Mi cries as she explains it's all because of him, she did it because of him T_T Just then, Yeo Reum hugs her, telling her everything is okay now.
The chicken and ginseng soup is ruined now. While Jang Mi washes up, Ki Tae let Yeo Reum to use his kitchen to cook pasta for them. Clever Yeo Reum uses chicken from the soup to make delicious pasta.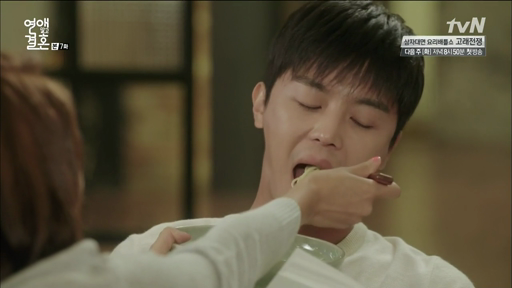 He gets jealous when Jang Mi praises that it's delicious, telling Ki Tae to try it. He refuses, so she spoon-feeds him. 😀 He feels sorry for her parents for treating him really well, Jang Mi tells him it's okay because he helps them to dream to have a doctor future-son-in-law.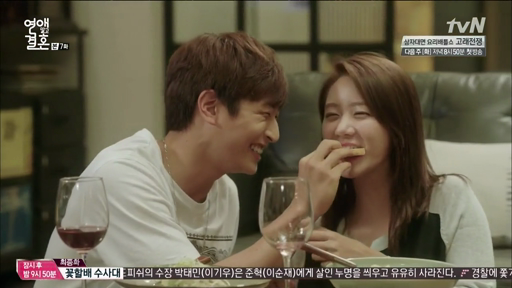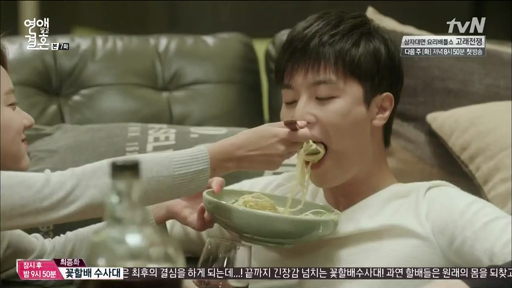 They sit down to enjoy the meal together, jealous Ki Tae and Yeo Reum try their best to maintain their poker face everytime Jang Mi feeds Ki Tae / Yeo Reum feeds Jang Mi.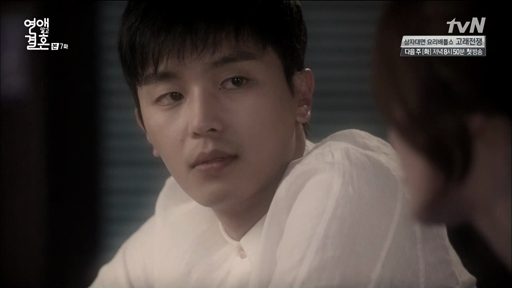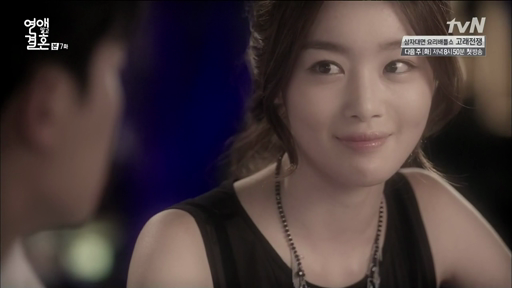 Se Ah is wondering why Ki Tae couldn't leave Jang Mi alone. She recalls what he said when he broke up with her three years ago that being alone suits her and he prefer to be alone. At that time, she pretended she's okay with he called it off first because she's very distressed preparing their wedding.
Back to the present time, Se Ah ponders: What should I do now, Ki Tae? Because I am not okay.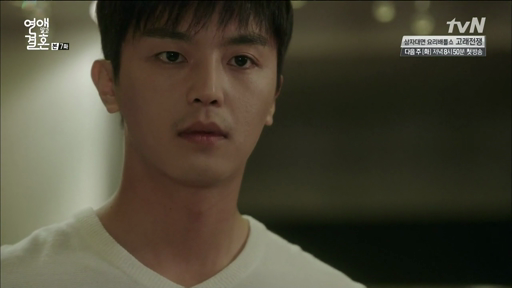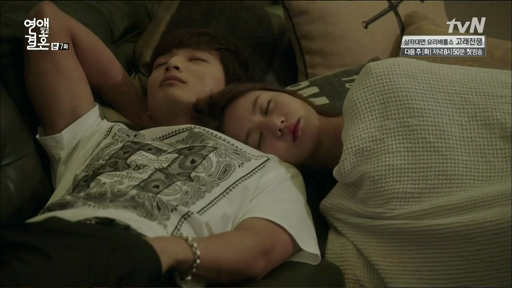 Ki Tae grabs a water from the fridge in the middle of the night because of his cough, angry to see his very messy kitchen. He starts to clean it up, but he then sees Jang Mi's laying at the couch with Yeo Reum, snuggling comfortably.
Suddenly, his heart starts beating faster… so fast that he's unable to pretend that he's okay anymore. He finally admits: No, I am not okay!
Brief Comments
A very solid episode exploring a very important question: Am I okay or am I not okay?  Ki Tae starts to ponder himself if it's okay for him to see Jang Mi with another man (Yeo Reum) and if he has to finally be honest with his feeling. For his mom, it's the question that's been lingering forever on her mind; is it okay for her to pretend everything is going well while her husband is having an affair with another woman who thinks that marriage is not the only way to love. For Se Ah, she finally realizes that she still likes Ki Tae although she pretended to be okay for 3 long years after they broke up.
They handle their pride issues differently. Mom and Se Ah are so similar in so many ways, that we know by now the reason why Ki Tae doesn't want to marry her. Jang Mi helped to break Ki Tae's shell with her compassion and love, it turns him into a better person who's willing to sacrifice his pride for love.