Marriage, Not Dating Episode 9 Mini Recap
There's no better way to refresh their heart & mind than to go on a short vacation where they can finally sort out their real feelings to uncover the truth and to separate between the blurred lines of fantasy and reality. It's refreshing that this episode focuses on the main six characters not the possessive intimidating Bong Hyang who kept crushing Jang Mi and her son over and over again.
Prologue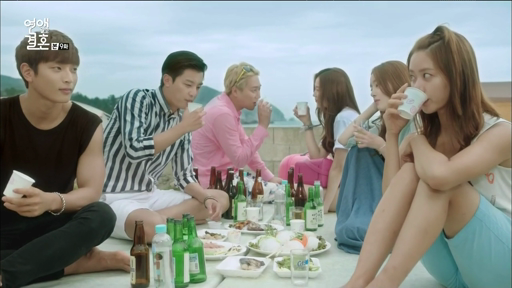 Summer trip – it's gonna be fun! They're spending a night in a faraway place and before the day ends, they all will kiss someone. While this kiss will confirm the love of some couples, but it'll also bring pain for the others.
Episode 9 Mini Recap – One night in a faraway place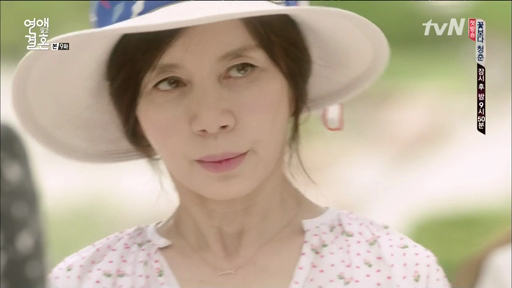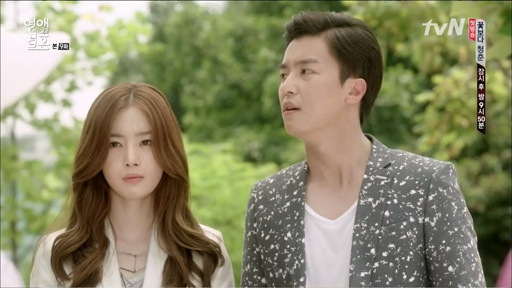 Jang Mi's mother finally knows the truth about Ki Tae's past and his relationship with Se Ah. She can accepts it because he's not divorced, though she's wondering why Bong Hyang planned to give the wedding dress she picked for Se Ah to Jang Mi and why Se Ah is hanging around Ki Tae's life. She now understand why she ran away still wearing her wedding dress and wants to reconsider her daughter's marriage.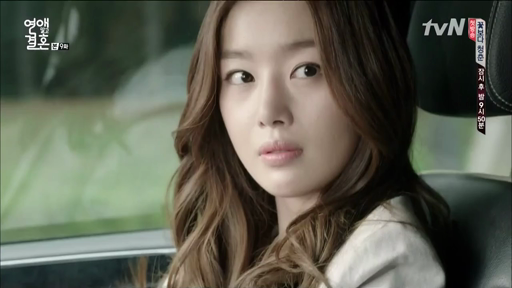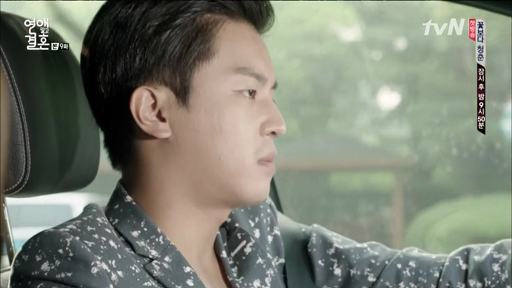 Se Ah is curious why Ki Tae takes this seriously as this is just a fake relationship. It's not that he planned to marry Jang Mi, right?
Hoon Dong explains that Yeo Reum took his car to the car wash when Ki Tae asked about Jang Mi. Now he realizes what's going on here! His love rival is taking his bride-to-be to the beach.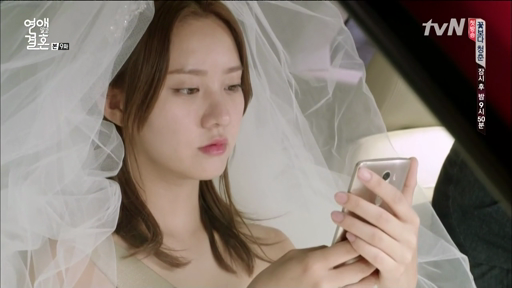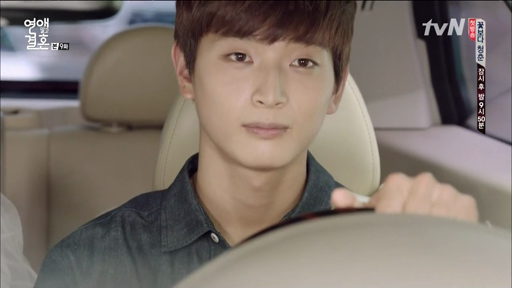 To clear her mind, Jang Mi specifically tells Ki Tae to stop looking for her. She wants to know her real feeling before she keeps doing things (outside) her control because of his mother & him.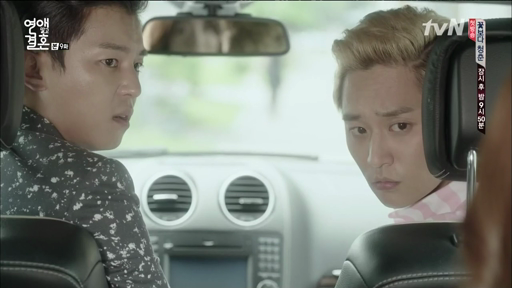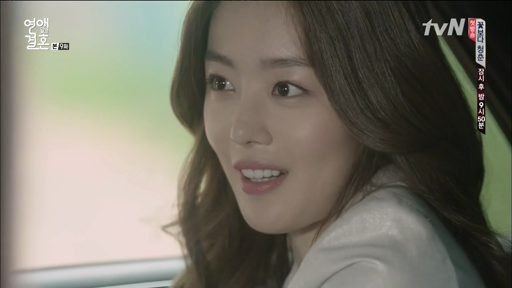 Because Hoon Dong wants to get his car back from Yeo Reum, he makes himself comfortable in Ki Tae's car. So does Se Ah who wants to go the beach. So off they go!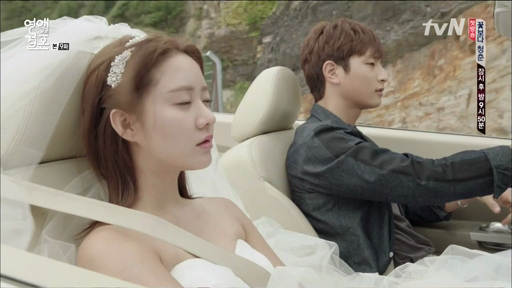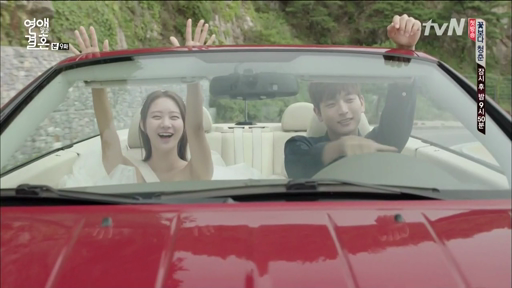 Jang Mi's veil flies off in the wind which beautifully signifies the heavy burden on her shoulder has now been lifted up. She starts smiling, enjoying her (short) freedom.
As they sit on the beach, (Jang Mi's still wearing her wedding dress). She jokes she looks a ran-away bride who escaped from the altar because of love. The one thing that really upsetting was to see her self-assertive mom kept nodding in front of her future-in-law and she doesn't want to watch her mom like that.
Yeo Reum reminds her that she keeps getting emotionally involved with this fake relationship, which reminds her that she should return the expensive dress & shoes. He smiles, telling her that Ki Tae will look after it 😀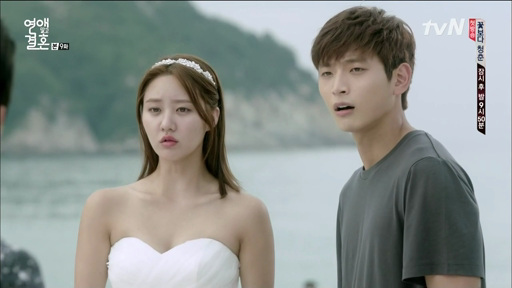 Just then, the most wanted man is here (thanks to the tracking device on her phone). Jang Mi is trying to get rid of her smartphone by throwing it to the ocean…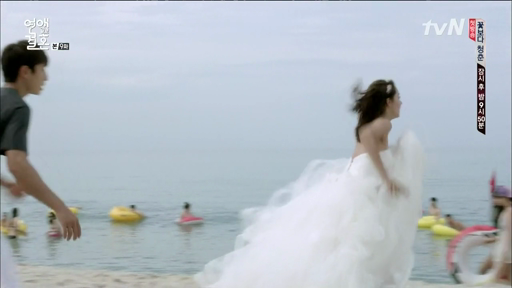 But as she runs towards the ocean, she trips in her wedding dress and falls. The three men in her life race to her side – fighting for their lives to save their precious woman.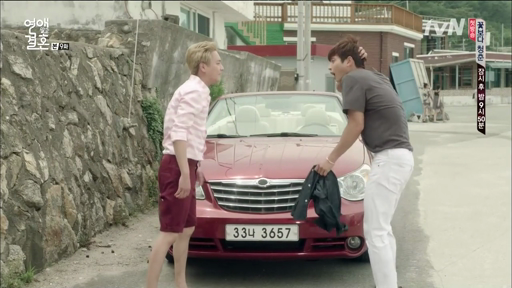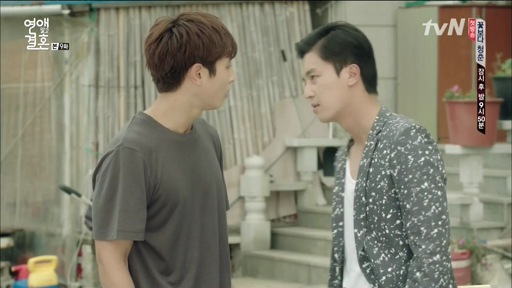 Yeo Reum must've thought Hoon Dong is furious  because he stole his car. But no, he's more upset because Yeo Reum hurt his best friend's heart for "running" away with his fiance.
When Yeo Reum asking Ki Tae for help (to tell the truth about the fake r/s), he tells him he deserved to be smacked. LOL.
It looks like she could only find ahjumma pants, which is okay because she looks cute wearing it. She blames Ki Tae for not rescuing her from his and her mom at the wedding boutique. He realizes his mistake, it's the reason why he chase her here – to apologize that he wasn't there with her. She's almost touched with his sweet intention until Se Ah breaks the mood!
She tells her that Jang Mi's mom found out about their engagement 3 years ago and their fake marriage is in trouble now. This is the reason why Ki Tae went all the way here.
Jang Mi is ready to leave now, but because she didn't have a car nor money, she reluctantly agrees to enjoy this short trip together.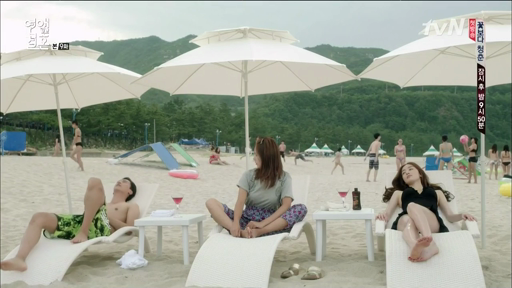 Se Ah assures Jang Mi that she's on Ki Tae & Jang Mi's side, she only wants one small gift from Ki Tae.
Suddenly Ki Tae bravely takes off his shirt and lays down on the chair beside Jang Mi's. She tells him to give that gift that Se Ah really wanted.
Out of nowhere, Yeo Reum joins them. The weather is nice & hot so he also takes off his shirt. Because he can no longer compete with Yeo Reum's abs, Ki Tae pretends to be cold and put on his shirt back.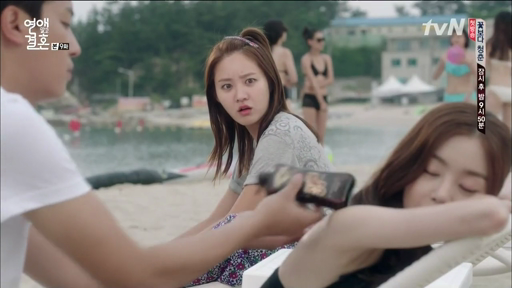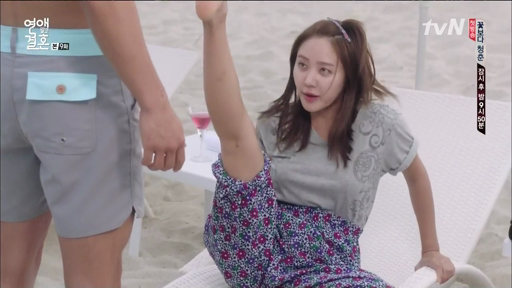 Jang Mi gets really jealous with Ki Tae who puts tanning oil on Se Ah's back. She asks Yeo Reum to do the same to her leg, but he reminds her that couple is trying to set up their mood now. So let's give them a private time and let's have a private time themselves.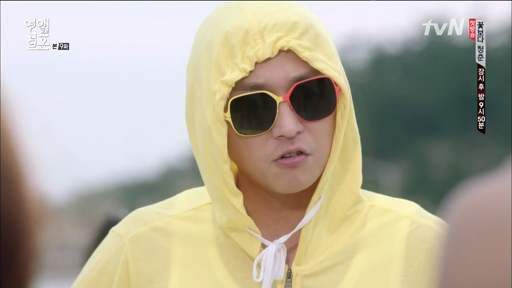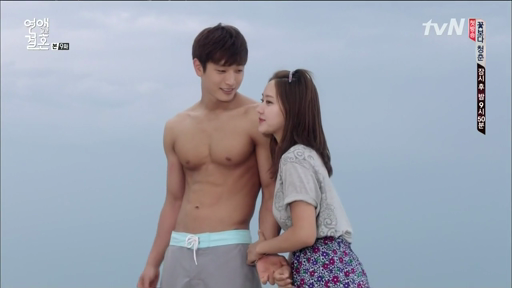 Another man tries to separate the happy couple – so Yeo Reum carries Jang Mi away from Hoon Dong and tosses her to the ocean.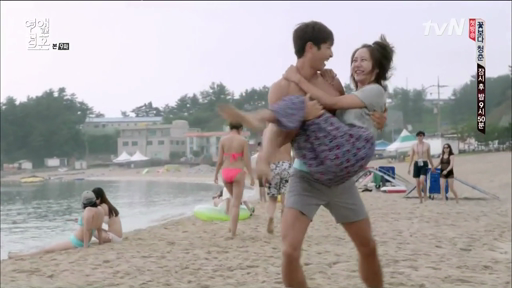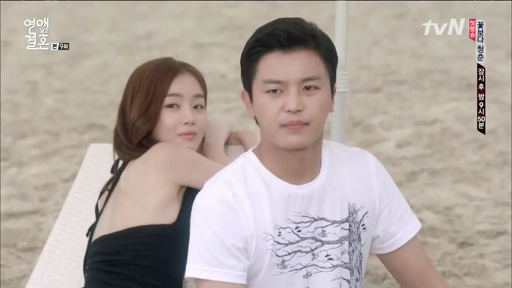 Jealous Ki Tae joins them and Yeo Reum insists Se Ah to join them as well.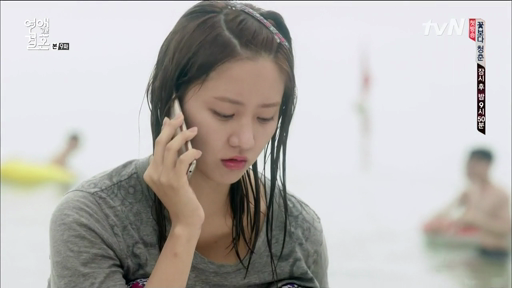 Hyun Hee bought something in a drug store. She looks depressed and needs her best friend right now. Jang Mi tells her to come to the seaside.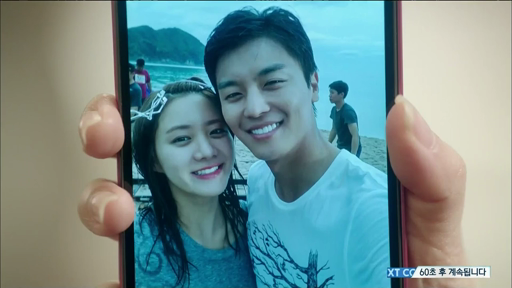 Ki Tae's grandma is obviously furious that her grandson's engagement has been called off, she doesn't believe Bong Hyang who explains Jang Mi's family has a problem with a man who already engaged to Se Ah. She sarcastically mentions that her husband must be happy because he wanted Se Ah's father connection for own career. Grandma scolds her son who calculating his only son's happiness for his own sake.
Trying her best to convince the family that Jang Mi is no good for Ki Tae, she tells them that Jang Mi ran off with another man. Just then, Auntie shows pictures of Ki Tae & Jang mi enjoying their time at the beach. Bong Hyang is defeated again.
Worried Jang Mi's parents also see these pictures. They're relieved their daughter is having a great time with Ki Tae.
Their summer trip is not complete without Truth or Drink game. Ki Tae chooses to drink instead of answering question how far did he go when he was dating Se Ah. But he doesn't to hesitate answering Yeo Reum's question if he really likes Jang Mi.
Jang Mi's heart starting pounding after he answered "Yes", she tells him to stop lying. Unable to keep the truth anymore, Jang Mi points the bottle to herself to spill the truth about her fake relationship.
Yeo Reum is relieved that the truth is now out, he can sit beside Jang Mi again without hurting anyone's feeling. Hoon Dong is speechless but also relieved that his best friend didn't steal his girlfriend. He's surprised that everyone except him knew.
But no… Hyun Hee also doesn't know. She's shocked that her best friend lied to her.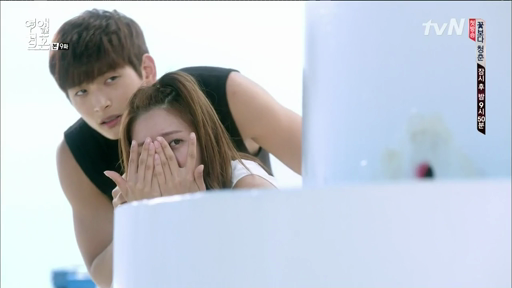 Jang Mi and Yeo Reum are enjoying their private time together, but they hide as soon as they hear Ki Tae's voice. As they hide, they accidentally eavesdrops Ki Tae and Se Ah conversation. She has already reserved a room for tonight, she'll stop torturing him if only he gives him the gift she really wanted: a child.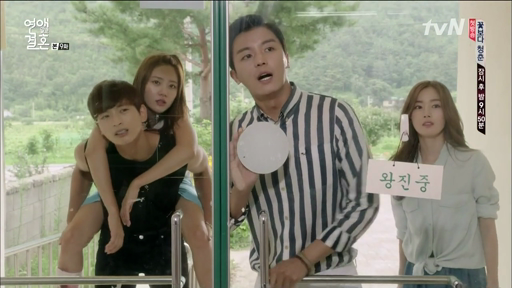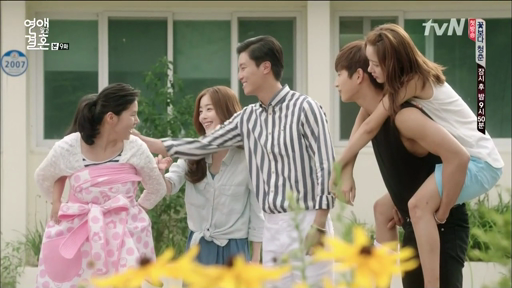 Flustered Jang Mi is trying to run after witnessing their kiss, but trips and falls – her leg is bleeding. Ki Tae rushes to her side to check her wound which needs stitches. Yeo Reum offers to piggyback her while they're going to the nearby clinic where Ki Tae & Se Ah worked before.
The clinic is closed, but they meet with a gorgeous little girl & her mother outside the clinic. She's very grateful to them who changes her daughter's fate through a facial surgery they did 3 years ago.
She's wondering if they have any children yet, because as far as she knows, they were planning to get married 3 years ago. Instead of answering her question, Ki Tae gently tells her to visit his hospital so his daughter can get another surgery for her nose & the scar on her lips when she's a bit older.
Yeo Reum is surprised that Ki Tae has a soft heart although he looks cold & egoist from the outside.
Se Ah explains to Jang Mi that people start to become selfish after they marry. She doesn't want to have a child under this restriction and selfishness, she wants to raise her children in an open world. Most people may not understand her opinion, but she hopes one day one man (Ki Tae) will understand it.
Because Se Ah understands that Yeo Reum and Jang Mi want to be alone, she offers to help them.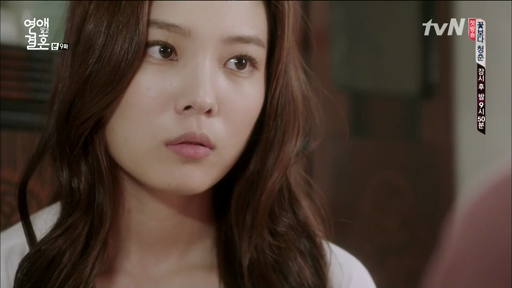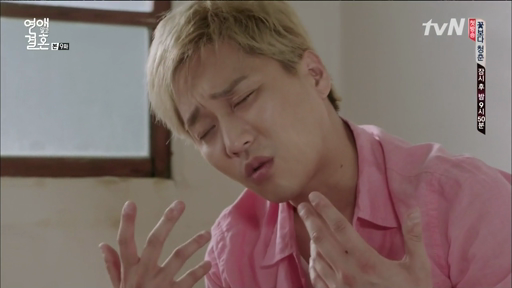 Drunk Hoon Dong is tired of Hyun Hee's same questions about their relationship. She really needs to talk, but he's too tired to talk.
While Ki Tae got his car, Se Ah arranges a room for Yeo Reum and Jang Mi. She begs Ki Tae to leave them alone, she has Yeo Reum by her side. Thanks to the tracking device, he's able to track her whereabouts. But nobody's there & she accidentally left her cell phone in the room.
Just then, Se Ah comes & locks the door!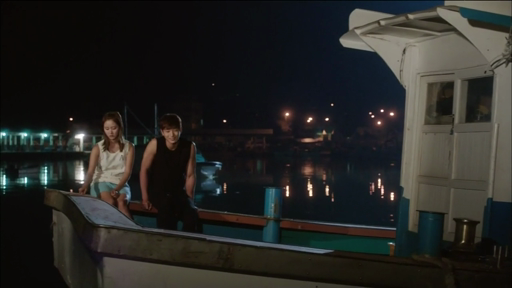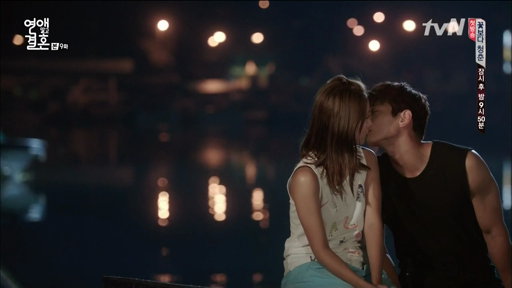 Jang Mi and Yeo Reum are outside in the boat, wondering if she did the right thing. Based on her observation, Ki Tae who is with Se Ah is not Ki Tae who she knows. So which one is the real Ki Tae?
When Yeo Reum asks what's real for her, she shyly answers… you. That's the answer he really wanted to hear from her, so he gathers up his courage to kiss her.
Suddenly she jumps when he's trying to draw her closer to him. She makes up a reason that she's worried leaving Hyun Hee and Hoon Dong alone at night. So he lets her go to see her best friend.
Se Ah explains her plan – one night stand during a trip, it's a small accident that anyone can experience. He can live as if nothing happened afterwards. Ki Tae doesn't understand why Se Ah insists to have his baby.
Just as Se Ah is setting the right mood to kiss him, Jang Mi's phone starts ringing. It's Hyun Hee who really needs to talk to her best friend.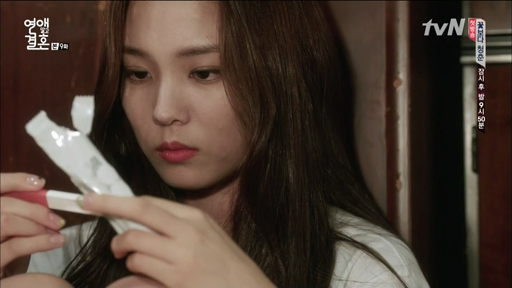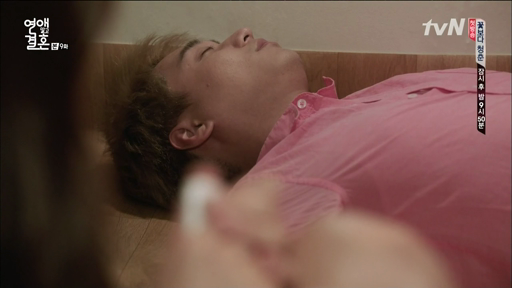 She takes the pregnancy test from her handbag while Hoon Dong is already sleeping peacefully.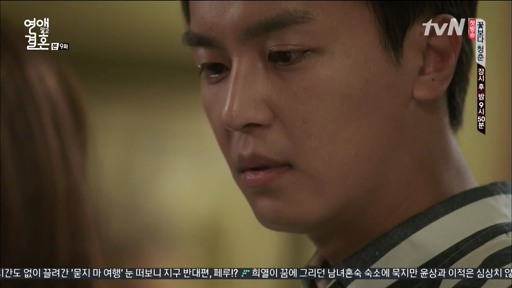 Se Ah slowly unbuttons her buttons until Ki Tae stops her. Trembles, sh asks… is it because of Jang Mi? He doesn't answer, but as he leaves her alone carrying Jang Mi's phone, she knows she has lost to Jang Mi.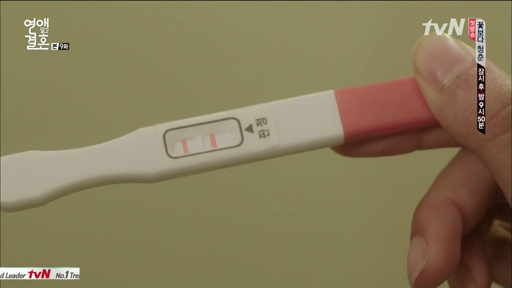 Jang Mi only finds Hoon Dong sleeping in the room. But she found a positive pregnancy test in the bathroom! Now she realizes the reason why Hyun Hee was looking for her.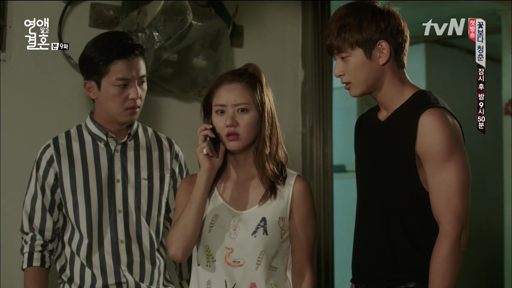 Still holding the test, she rushes outside where Ki Tae and Yeo Reum were waiting for her. Ki Tae returns her phone, Jang Mi is speechless reading Hyun Hee's message. She apologized, told her that they don't have to look for her.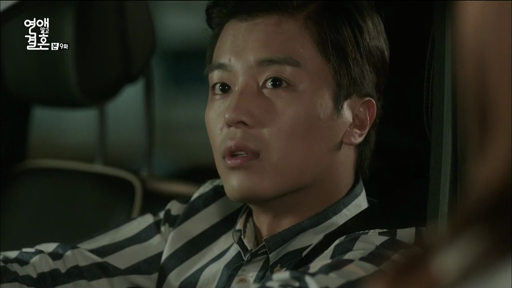 Worried that something happened to Hyun Hee, Yeo Reum & Jang Mi are frantically looking for her. Ki Tae uses his brain by searching Hyun Hee's cell phone which she left in the yard. Her last few phone call was a call to a temple nearby, so off they go to find her there.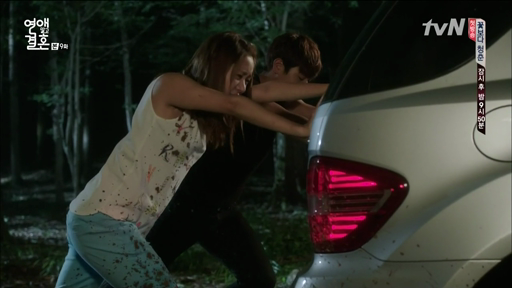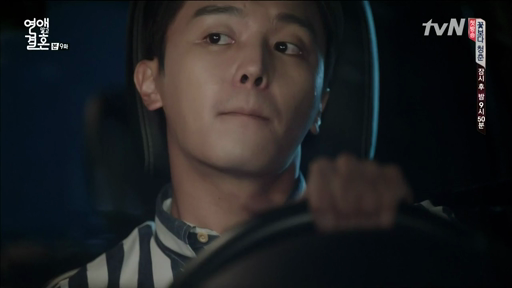 But his brain freezes soon afterwards because he can't even navigate through dark mountain roads in deep forests. They got lost and to make things worst, his car got stuck in a mud.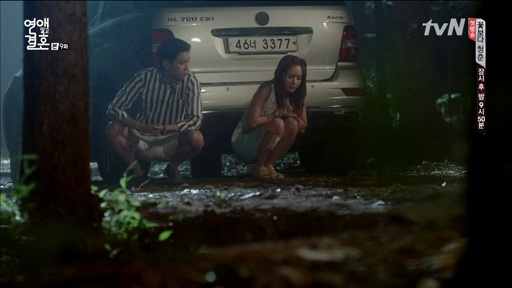 Jang Mi and Yeo Reum are pushing the car, but it doesn't work. So Ki Tae decides to call the tow truck while Jang Mi really wants to find Hyun Hee ASAP.
Jealous Ki Tae sends Yeo Reum back to the guesthouse for Hoon Dong. So this leaves Jang Mi and Ki Tae together, waiting for the tow truck to arrive.
She blames herself for selfishly thinking about herself and left her best friend alone. If something bad happened to Hyun Hee, she will never be able to forgive herself.
She realizes that once we spend too much time in virtual reality, we'll lack reality. That's what happened with her, she's too overwhelmed with this confusing reality. She thought of Ki Tae when she was with Yeo Reum, she also thought about him when she was looking for her best friend. She lost all the real things (her best friend, man she [think] she loves) because of him.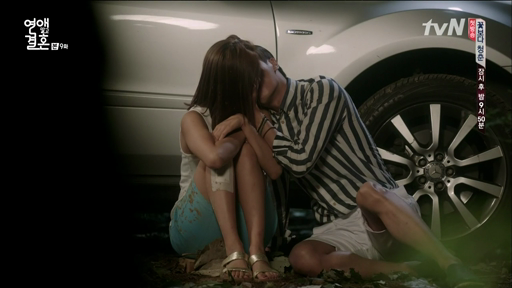 Unable to hide his feeling anymore, he kisses her! In front of Yeo Reum who speechlessly sees from afar.
Jang Mi narrates: did we come too far? And if she goes back, will everything return to how they were before as if nothing happened? Can I go back?
Brief Comments
Oh yeah! Glad the truth is finally out. It's been dragging long enough and it's tiring to watch Bong Hyang took over Jang Mi's life and confidence which left her as hopeless as most of Kdrama heroines. Where is Jang Mi that we knew before?
Fortunately, she's back this episode. Though she's still a bit confused over her heart which kept pounding everytime she saw Ki Tae with Se Ah, or her mind which kept thinking about Ki Tae though she's with Yeo Reum; but she realizes one important thing: her feeling for Ki Tae is no longer a virtual reality, it's now real. Ki Tae who made a bold confession that he likes her has already figured out his real feeling, very excited to see how they will approach the next step in their relationship.
Hyun Hee is the most pitiful character who was betrayed by her best friend who couldn't be there when she really needed someone to talk. She wanted Hoon Dong to love her but she used the wrong way which now put her in a very difficult situation. Even though she's now pregnant with Hoon Dong's baby, she knows she never owns his heart. For Se Ah who doesn't want to get trapped in a marriage, she's a selfish woman who doesn't think about her future child who deserves to be raised in a loving family (dad & mom). Se Ah really needs to go on a long vacation to reflect before she's hurting herself.