Mrs Cop Episode 13 Brief Recap
September 16, 2015
|
Recap
Kang Tae Yoo's weakness is his children. Despite committing crimes that can no longer be covered up, spoiled Kang Jae Won is still cocooned like an innocent baby. Until Kang Tae Yoo has no choice but to send him away, to protect this immature son who couldn't give his father a break. Tae Yoo is a criminal himself but (for him) it's not a crime to protect his criminal son because… he's a father.
Episode 13 Brief Recap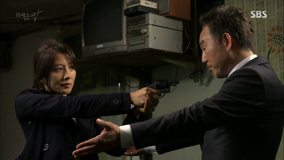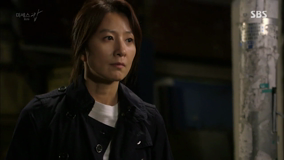 The man who's never been on his knees his whole life has just threatened police officer and ordered her to shoot him. Choi Young Jin knew killing him won't bring her father back and it's an easy way out for this crazy man so she let him go (for now). Good on you Young Jin, don't repeat the same mistake you did on episode 2.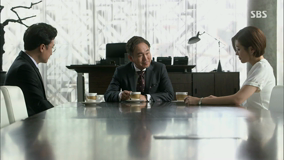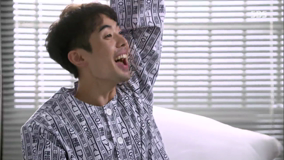 Tae Yoo is relieved his minions took care Dong Il's death and Shanghai investment. With Prosecutor Ko on their side, there's nothing he should be worried about. His son is currently resting at the hospital, thanks to Lawyer Kim. Jae Won will be regularly getting treatment at the hospital and is advised to stay here quietly. When Dad isn't looking, he asks Lawyer Kim to bring him alcohol.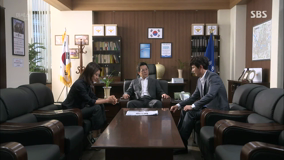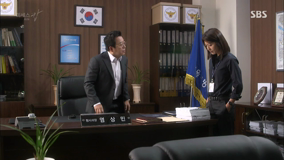 On the other hand, Chairman Yeom is worried his subordinates are currently investigating Kang Tae Yoo. He makes excuses that this man is a big corporation's businessman so people may accuse police of bribing big corporations. After Jong Ho leaves the room, Young Jin tells Chief Yeom she met Chairman Kang and figures out the reasons why Park Dong Il tried to get revenge to Chairman Kang who killed her father & betrayed him. Chief Yeom points out the statue of limitations has passed so they can't do anything. He sympathizes with Young Jin, he advises her to control her emotion & does not act rashly because she's a cop. She understands it well.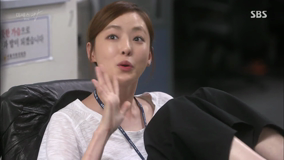 Using a simple knot to prove that it's possible to catch more than 2 criminals with only a pair of handcuffs, Jin Woo then asks Do Young if this scenario is possible. She coolly answers they can just cuff on one arm each if there're two criminals and use their belt to tie the third criminal behind the two handcuffed criminals. If there're four criminals, use their shoes laces. Easy peasy! She wins this four criminal capture quiz so Jin Woo treats the team for lunch today. Every rookie should know the answer of this quiz though, so Do Young now feels bad for Jin Woo, she should pretend she didn't know the answer.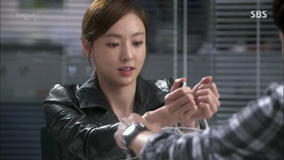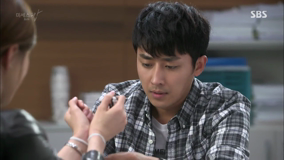 Jin Woo then gives her the knot showing her the method that he uses to tie her hands. No matter what happens, it won't come loose. Poor Do Young, nobody is willing to help her. Young Jin advises to ask her partner Jin Woo to untie it for her.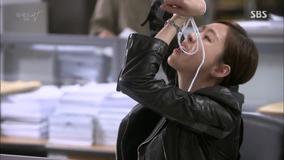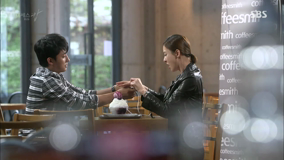 This rookie hazing trick is supposed to be done when they first partnered up but because Jin Woo didn't like her in the beginning, he only did it now. He admits it's because she's a female and has higher ranking but from now on he promises to protect his partner as if she's his own body and trust & be honest with her. In return, she promises to work very hard.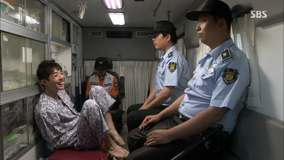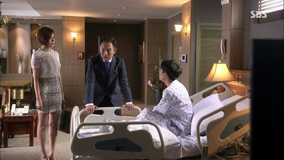 Lawyer Kim was able to transfer Jae Won to another hospital, the same VIP room where Tae Yoo was hospitalized earlier. His test result will be delayed so he can stay for few days here. Jae Won lies that he's really sick after being confined in the same room for months, no doctor can heal this illness. Tae Yoo advises him to be patient and think he was just unlucky.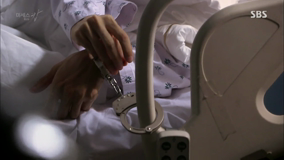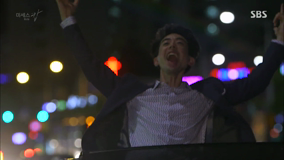 But he's too impatient. When the police guarding his room is sleeping, he unhand-cuffs himself and sneaks out to the basement where his friend's already waiting for him.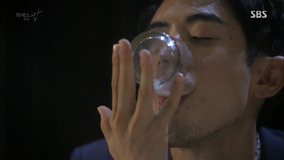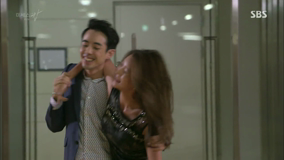 He goes to the nightclub, drinks alcohol & drug before leaving with a woman on his arm. Both are drunk.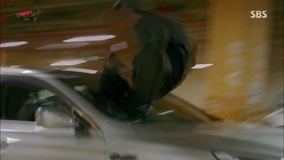 The narcotics team who're on stakeout spot him, order him to get out of the car but he's not listening. He crazily speeds up and hit officer Jin Soo! OMG.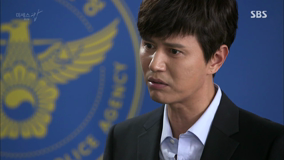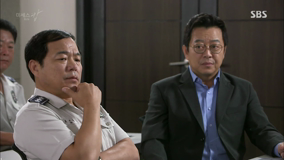 The news that Kang Jae Won escaped from custody and ran over an officer is already spreading. His whereabouts is also been found but he's not there. Both Chief Yeom and Kang Tae Yoo are furious! Chief Yeom tries his best to keep this under wraps, refuses to post public notice to catch him, pointing out that someone else may become a scapegoat to protect him. Police and prosecutors will be blamed for losing a criminal. Young Jin believes the sooner they catch him, the better because his father Chairman Kang is definitely protecting him. Fortunately the Superintendent isn't rotten like Chief Yeom, he agrees with Park Jong Ho to get the media involved and get the warrant & public notice out. He even promises to take full responsibility and blame!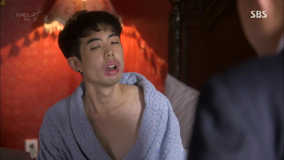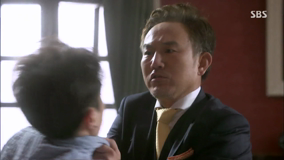 Jae Won isn't aware of the troubles he caused. He's sleeping with the woman he met yesterday, Secretary Yoon gives her money to keep it quiet. As soon as Jae Won wakes up, Tae Yoo slaps him! You bad bad boy, Jae Won! Not only you escaped from custody, you ran over an officer who's now paralyzed from his waist down and ran away! Dad can no longer help him now. He throws his son to other country.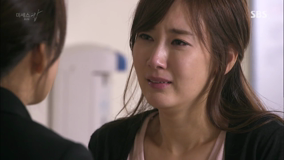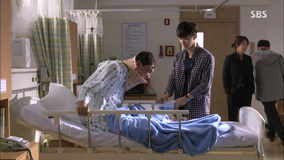 It's heartbreaking to see Ji Soo's wife unable to tell her husband that he can't walk again 🙁 Young Jin assures her he will be able to stand again because he's a strong man but the odds are against them. Se Won and Jae Deok have to break the news to him. To see him screaming in anger & frustration, in anguish is breaking everyone's heart.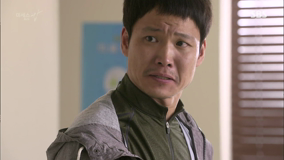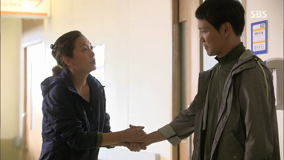 Jae Deok can't bear seeing his colleague like this, he's going crazy. His wife is tearfully grateful it's not her husband. Her husband only cares about his job, has he ever though about his wife & children? She doesn't mind to be an awful person but please don't do whatever he thought. Revenge won't solve any problem, Jae Deok!
Because of national warrant and air travel blacklist, Jae Won can't live in Korea and fly out. The only option is to leave the country illegally by boat – it's obvious Kang Tae Yoo is hiding his son so they change their focus from finding Jae Won to trail Kang Tae Yoo who'll definitely meet his son before he leaves the country. Like most fathers, his biggest weakness is his son.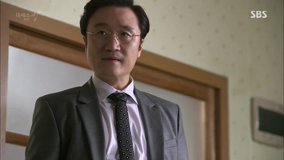 She's right. They hide him in a tiny room but this spoiled boy still doesn't understand the huge scale of his crimes and the impact he caused for his father's entire company. Secretary Yoon hands him a gun to protect himself when he's in the Philippines. He's leaving by boat tonight!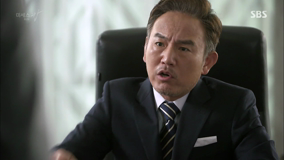 Police have surrounded the entire KL building, they're also watching Kang Tae Yoo. Despite his secretary and lawyer's advice, he will still see his son before he sends him away tonight. It'll be their job to get rid the cops.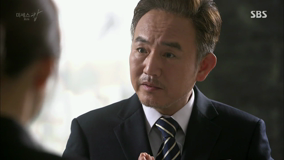 Well, they're here to see him so he orders his staffs to conduct their business as usual to avoid suspicion. When Do Young tells Jae Won to go on his knees to apologize to a man who now has to spend the rest of his life on a wheelchair, he casually apologizes on behalf of his son. Of course he refuses to tell about his son's whereabouts and if he talked to him, calling these cops lacking respect and manners. Young Jin corrects him, it's his crazy son who doesn't have any respect nor manner, he most likely learns it from his own father. The best thing a father can do to his son is to tell Jae Won to surrender himself. He pretends he hasn't seen Jae Won, telling them to contact him when they find him.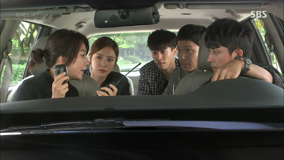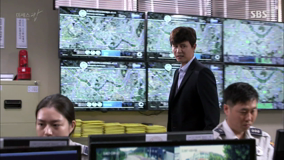 Smart Young Jin is aware they'll be tapped so she uses two radios. They've dispatched people to surround the building including the rooftop (and helicopter pad). The superintendent instructs people to start helping them to find Jae Won through social media, he immediately shuts Chief Yeom up who tries to intervene. Park Jong Ho threatens nobody can leave until Kang Jae Won is caught!
Despite his lawyer's objection, Tae Yoo still leaves to see his son. Everyone's ready to follow him, including Jae Deok who'll catch Jae Won no matter what.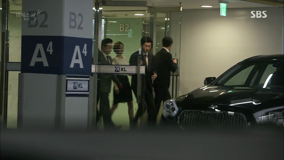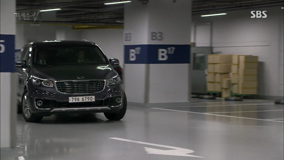 Tae Yoo's minions smartly prepares his doppelganger to trick police. Real Kang Tae Yoo slips to B3 parking basement while his minions accompany his doppelganger (who wears his suit) to the awaiting car on B2 where police is currently on stand-by. Fortunately Jin Woo and Do Young know about this backhole and are waiting at B3.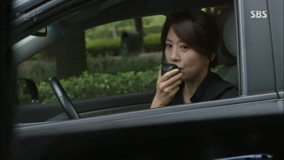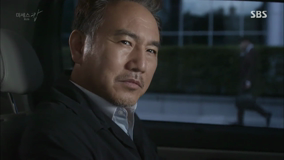 Tae Yoo smirks at Young Jin when his car passes her car, not knowing cops have already discovered he switched his vehicle. Young Jin starts using her phone from now on and ditches the radio because the target has been found.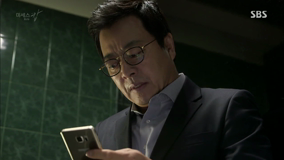 Chief Yeom points out Captain Park should take care the things at the station but the superintendent let him go to catch this dangerous criminal. Worried Chief Yeom sends a text to Secretary Yoon updating the situation and that he can no longer help them.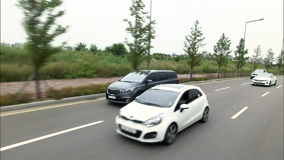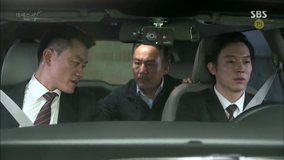 Secretary Yoon who's with the doppelganger orders the guard in Tae Yoo's car to turn back because he's being tailed. But with only 2 hours left before his son leaves the country, he orders his driver to speed up hoping police will lose him. After a crazy chase, he's able to escape but not for long because Jin Woo & Do Young are tailing them and Young Jin & Park Jong Ho are almost there. Jong Ho is wondering how could this rat know he's been tailed? The culprit Chief Yeom is currently very anxiously waiting to hear back from them.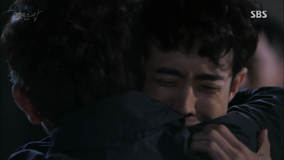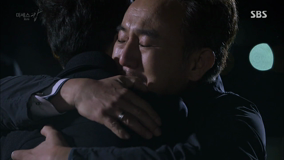 Jae Won apologizes for making things so hard for his dad who tearfully advises him to live well in the Philippines & don't get himself in trouble. He promises to visit him as often as he can.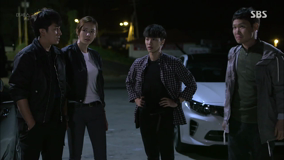 Jin Woo, Do Young, Jae Deok and Seo Won are all here. Young Jin let them to catch him while the backup team is still on the way there. Se Won warns Jae Deok for not letting his emotion to rule him when he takes out his gun. He promises only to shoot when Jae Won acts up.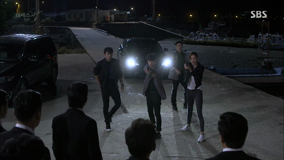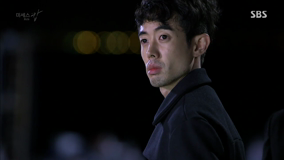 As soon as Jae Won says goodbye to his father, these four cops arrive to arrest him.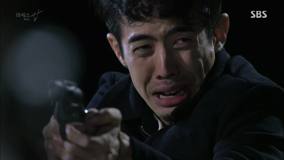 After successfully beating some of the bodyguards, Do Young and Se Won warn the rest with their loaded gun. Jae Deok walks up to Jae Won, orders him to get down on his knees! Do Young warns if he doesn't drop his gun on 3 warnings, she'll shoot him!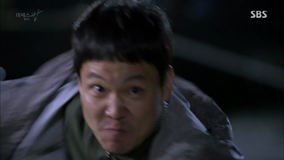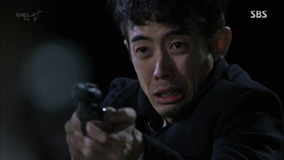 Tae Yoo begs, please don't shoot! Just then, Jae Deok grabs his gun! Jae Won, Jae Deok and Do Young fire their guns!