Mrs Cop Episode 15 Brief Recap
September 23, 2015
|
Recap
Choi Young Jin's false bribery accusation leads Park Jong Ho to find out Chief Yeom's secret and his personal relationship with the man who has it all, Chairman Kang Tae Yoo. A familiar criminal returns to help Violent Crimes team to expose Chairman Kang's crimes while the Superintendent receives a tip that someone in the police department is working closely with Kang Tae Yoo. Time is ticking!
Episode 15 Brief Recap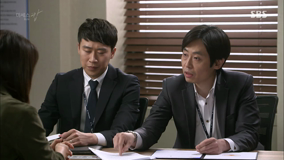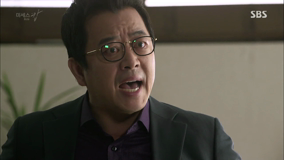 Choi Young Jin is dragged to the internal affairs department with the accusation she received a bribe from the owner of Ilsan night club Ma Tae Soo (aka Mabbaki) in exchange of his freedom. Suddenly Captain Yeom barges in, defending his "family member" Young Jin & threatening them for believing in a "tip" than their own work colleague. Chief Yeom privately advises Young Jin to stop digging Chairman Kang and keep her personal feelings in check because the entire police will lose their dignity if it's found she's investigating someone for her own personal agenda. It's a conflict of interest. Young Jin vows to reveal Chairman Kang's dirty crimes, with or without involving her personal feelings.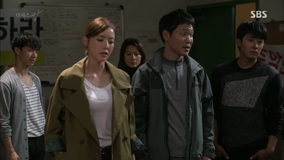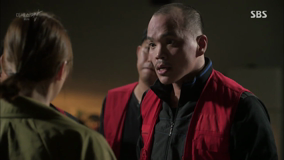 After Young Jin is released from the internal affairs, Violent Crimes team moves fast to find Kwon Sung Chul, the leader of KL Union who oppresses the actual KL workers. However nobody knows where is he.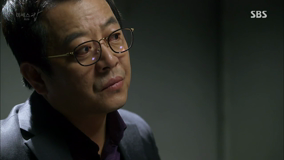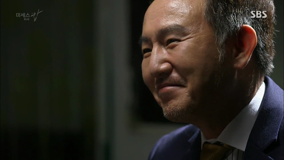 Meanwhile, Kang Tae Yoo praises Chief Yeom who thought outside the box by pretending to be on Young Jin's side then leaking the false bribery accusation to the press, which will pressure her to resign. Chief Yeom is prepared to accept the disciplinary action due to his action, making Tae Yoo complements his sacrifice & promises to reward him nicely. He then requests Tae Yoo to leave Young Jin alone after she resigns however Tae Yoo refuses. Advising Chief Yeom to wash his hands off Young Jin because she's no longer his family. And he never promised to leave Young Jin alone, he only threatened he'll tell Young Jin about Chief Yeom's involvement.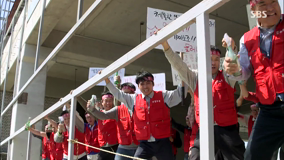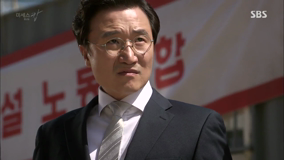 KL workers are demonstrating about the exploitation of union workers' wages and gangsters who created fake KL union. Secretary Yoon is raging because the construction work is halted and costs KL Construction a lot of money. He refuses to listen to their demands because they'll continue to pester the company. The only way to shut them up is to crush them.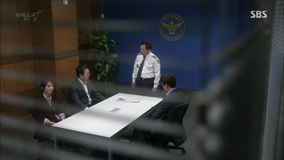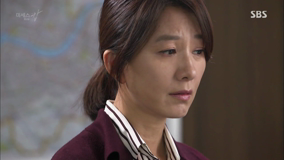 Chief Yeom has already leaked Young Jin's false accusation to the press and the news spread in LTE speed. The head of internal affairs is furious Young Jin was released without following the department's laws and regulations. If the police can't even follow the rules, public will not trust them again.
Chief Yeom slyly pressures Young Jin to quit by pretending he's the one who has to take the responsibility & blame. The issue here is because police were defending & standing up for Young Jin so Violent Crime team can't help her through a petition. What should they do now?
After searching Ma Tae Soo's phone, Jin Woo and Do Young find out he knows Secretary Yoo. Why does everyone know Chairman Kang and his secretary?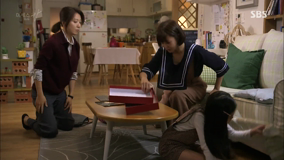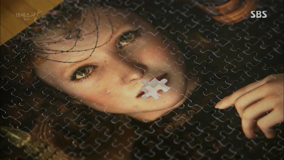 The package that Nam Jin received was actually a puzzle with one missing piece. It may only be one missing piece but perfectionist Ha Eun won't be able to sleep if she can't find it. Young Jin is wondering who sent it because she didn't order it. Nam Jin has heard about the accusation hence she advises her sister to move back to the sub-station. She doesn't want to butt in with her sister's problem but Young Jin assures her it's okay as she's her only sister.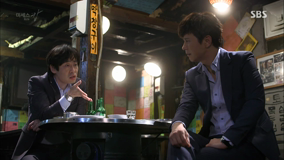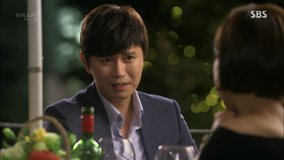 Jong Ho finds out from the internal affair cop that the person who asked them to investigate Young Jin (because he received a tip) was Chief Yeom. But because he's drunk, Jong Ho initially doesn't believe him until he gets another clue from Madam Park. According to her, Chief Yeom, Congressman Kim & Prosecutor Ko are backing Chairman Kang.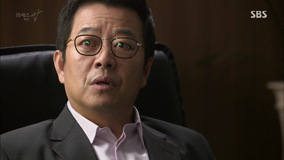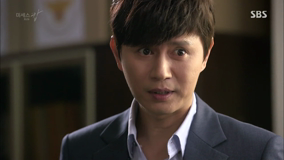 The next day, he brings up illegal gold bars & tax evasion case, wanting to re-open these two cases (which involve Chairman Kang) but Chief Yeom flatly refuses because he doesn't want to go against the mighty prosecutors. He's currently focusing on Choi Young Jin's accusation but Jong Ho points out she will not leave.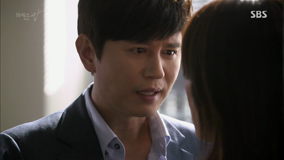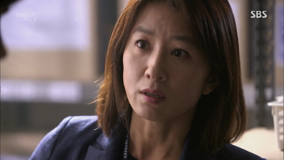 He reveals the secret to Young Jin then to the Superintendent (without naming anyone), putting his own career on the line. Choi Young Jin's position is safe (for now) until Jong Ho can expose Chairman Kang's crimes and his (cop, prosecutor) minions.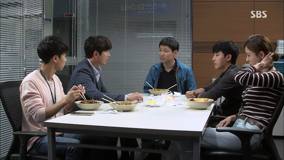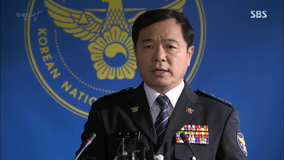 He orders Violent Crimes team to secretly compile Chairman Kang's documents & re-open the investigation. About Young Jin? Don't worry, she's not leaving. And remember, this is a top secret case. The superintendent formally apologizes for failing to investigate Young Jin with the right process & rules, promises it won't happen again. For disciplinary actions, Chief Yeom will have one month suspension without pay while Young Jin three months.
Chief Yeom's plan backfired so he wants to stop now. Kang Tae Yoo reminds him of his goal to be the superintendent which isn't too far off but he no longer has the desire to live a difficult life and to climb higher. Tae Yoo generously promises to make him Senior Superintendent General.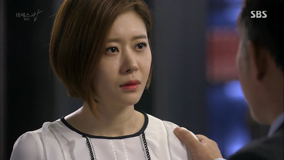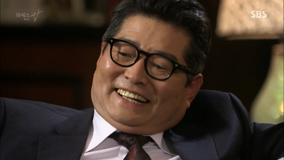 Kang Tae Yoo's Future City construction is in chaos, so he promises senile Congressman to change the construction director. He sends his Lawyer to explain his plan to this pervert looking Congressman who's overjoyed with his idea. Lawyer Kim Min Young anxiously declines because she can convince him without going too far. But Tae Yoo knows his Lawyer is a smart woman so do everything she can to win his heart.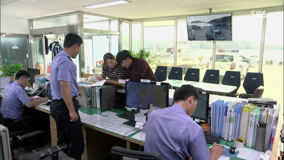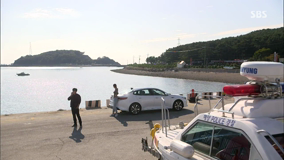 Young Jin is convinced Kwon Sung Chul is hiding in the place he knows well, maybe his hometown? Do Young put her hands up to check his hometown in Seocheon, Jin Woo lectures her for making a decision without asking her partner. They look around Kwon Sung Chul's father fisherman Kwon Seung Il's house and is told by his neighbor that his son came and they went very early in the morning. They're out in the sea and will be back tomorrow morning so Do Young & Jin Woo rent a place to sleep tonight after she complained they'd sleep in the car again.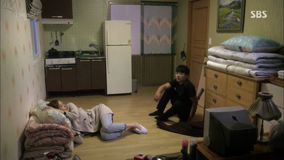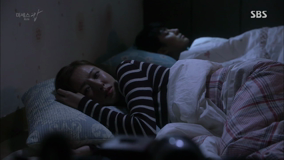 Because they're pretending to be a couple, they're sleeping together tonight. He teases she's smelly and has been wearing the same clothes for three days, so a very tired Do Young gets up to wash up. He cutely smiles. Then he asks if she's sleeping but concludes she's not because she's not snoring. He feels bad making her uncomfortable because she usually falls asleep in the car within 5 minutes. After a banter explaining why the two of them can't fall asleep, finally they're sleeping.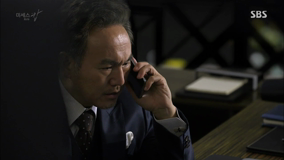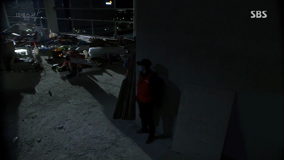 Kang Tae Yoo orders his minion to resolve his workers' protest quietly, make it look like an accident and it doesn't matter if they live or dead. Later that night, an arsonist climbs the construction site to go to the floor where the workers are fast asleep. He knocks down a guy who's patrolling the area then pours gasoline to make it looks like a fire accident.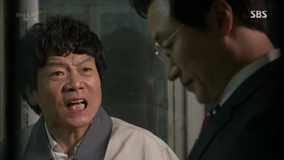 Everyone wakes up in panicked. Their phones don't have any signal so one of them calls out to the guard who's sleeping. He wakes up hearing the intercom, shocked to find the site is on fire. But as he picks up the phone to call fire truck & ambulances, Secretary Yoon orders him not to as he'll take care everything. Unfortunately the workers can't escape because they locked themselves with iron gate door so nobody can enter / leave. A devastating incident 🙁 29 labor union protesters whom KL Construction owed 1.5 billion won of back wages were on the site. 4 passed away while 15 people are currently in critical condition. Kang Tae Yoo releases a statement about this incident, looking really sad to gain sympathy.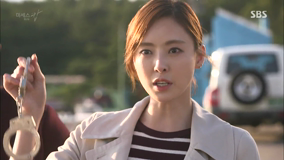 As soon as Kwon Sung Chul arrives, Do Young pulls out her handcuff to arrest him for attempted murder. He threatens them with a knife (fish knife) but Jin Woo is too strong for him. Do Young is still traumatized to use her gun, she even stood back. When she handcuffs Sung Chul, Jin Woo points out a cop should never show the criminals that she's scared because it'll put her in danger.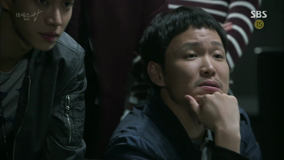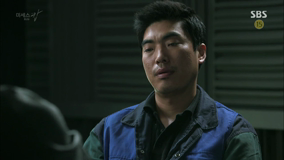 Kwong Sung Chul refuses to talk although Young Jin shows his organization chart & the guys working for him. He insists them to get him a lawyer knowing he'll lose if he confesses his crime for organizing gang activities and attempted murder. Now they need to find the other members' whereabouts.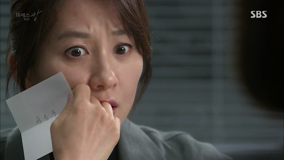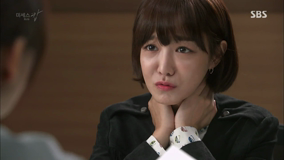 Nam Jin and Ha Eun couldn't find the missing puzzle piece so Nam Jin contracted the sender who advised someone told them to send it. It's the crazy game developer serial killer Seo Seung Woo, he told the puzzle company to send one puzzle piece to him and send the rest of the puzzle to Young Jin. Goosebumps.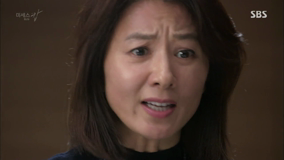 He's currently serving his sentence so Young Jin who remembers he left Chairman Kang's picture with a big red X on his mouth because he knows Chairman Kang would never talk. And the missing puzzle piece is the mouth! But how did he know Chairman Kang would never open his mouth? Se Won and Jae Deok think Seung Woo must know something about Chairman Kang, a secret he can use against this powerful man.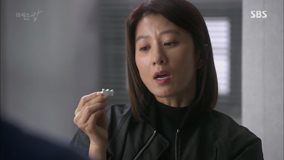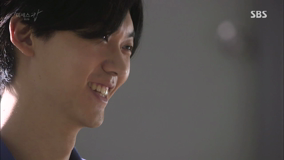 Seung Woo has been waiting for Young Jin to return the puzzle piece and to tell her some secret which he thought she'd already figured it out before he sent the puzzle. He's curiously wondering why she wants to kill Chairman Kang! Young Jin points out this guy is confident Chairman Kang would never talk although he saw him that night. He smiles, nodding his head.