Mrs Cop Episode 18 Brief Recap
The finale! The final battle between Choi Young Jin and Kang Tae Yoo who's clearly still alive because his pride would never let him to apologize and take the easy way out. Moreover he would never leave his betrayers alone, he'd make them pay. This crazy man should be punished for all his crimes! Will Choi Young Jin keep her promise to kill him or will she let him rot for the rest of his life in prison?
Mrs Cop Final Episode Brief Recap
Secretary Yoon yells it's over now, Chairman Kang is dead! The car explodes. Crazy. He left behind a suicide note, confessing his wrongdoings and apologizing to the innocent victims.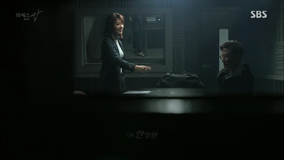 Young Jin who found Tae Yoo's fake passport on Secretary Yoon's bag believes he's still alive. There's no way a man who wanted to escape committed a suicide. Secretary Yoon doesn't believe it either, neither does Do Young. But Jin Woo think it's possible he didn't want to spend the rest of his life in prison and would rather be with his son, feeling sorry because he's a human.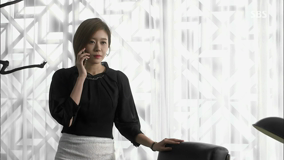 The news about his death has reached his betrayer who hastily submits document declaring his bankruptcy. Because he doesn't have any successor, his assets will be taken by the government. But is it true he's burned to death? The body was badly burned & damaged hence it'll be a long wait for the autopsy result. Young Jin recalls Tae Yoo's remarks that he would never forgive a person who killed his son, that she should've killed him instead. In his office, she sees his pictures with Congressman Kim.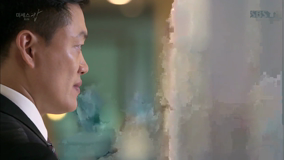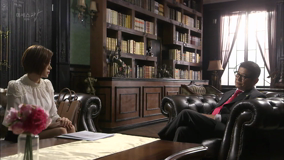 Someone is keeping a close eye on Lawyer Kim. She advises Congressman Kim to be extra cautious since police has KL group slush fund file. This corrupt official doesn't want the government to seize Tae Yoo's wealth, ordering Lawyer Kim to convince the shareholders to sell KL Group while he's looking for potential buyer(s).
There's nothing suspicious on Tae Yoo's suicide note, seems like he chose death to repay his sin.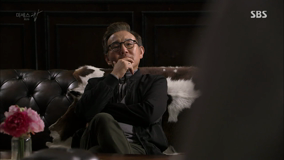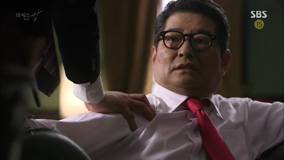 But look who's here! Kang Tae Yoo! He is alive. And he's here to repay his betrayer Congressman Kim. Don't worry, he won't kill him because he needs his help to make him die (make the autopsy result proves that the burned body is Kang Tae Yoo) because things will get very complicated (for both of them) if people know he's alive. Using Congressman Kim's connection, the autopsy result proves the corpse is Kang Tae Yoo's body.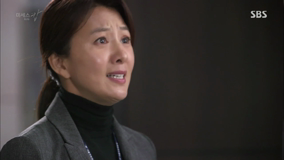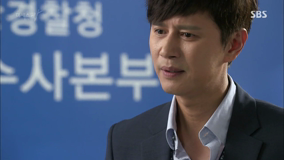 Young Jin can't believe it, Chairman Kang would never committed a suicide! Jong Ho advises her to be calm, to let go & accept things she may not be able to accept.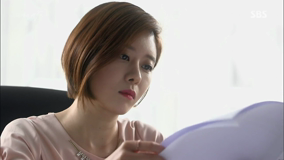 Betrayer Lawyer Kim moves Kang Tae Yoo's money to Congressman Kim and she's currently selling KL Group. Tae Yoo plans to use the fake passport to hide in the Philippines, he sends his minion (who followed Lawyer Kim) to go first.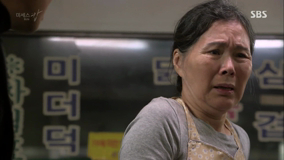 Young Jin interrogates small restaurant ajumma who receives monthly salary from Chairman Kang, wondering why this lady helped him. This small restaurant has no customer so how come it's still open? Seems like this place is Chairman Kang's secret place when he conducted his secret business. She brings up President Kim of Taejin who's still missing and was last seen in her neighborhood. The lady trembles, ordering Young Jin to leave but she won't leave until she gets evidence of her relationship with Chairman Kang. Finally the ajumma opens her mouth, confessing she safely guards his secret safety box (disguised) in the fridge. However she didn't know they killed President Kim.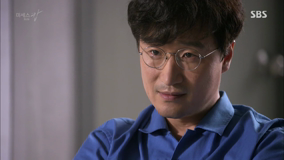 Now where is the money Tae Yoo took on the day he ran away? It's impossible he burnt the money with him yet she doesn't think Secretary Yoon took the money either because he's financially well off (thanks to generous Chairman Kang). He advises her to move on, Chairman Kang is dead.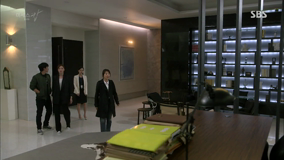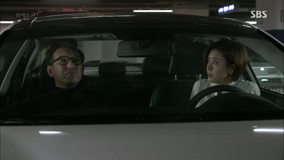 Young Jin is convinced he's still alive and took the money that's now missing. Let's ask Lawyer Kim, she should know his whereabouts. Team 1 isn't the only one who wants to meet Lawyer Kim. As they're heading upstairs to see her, she's heading down to the parking lot where she gets a shock of her life, Chairman Kang coolly gets in her car and sits in the passenger seat! He regrets sending his smart lawyer to Congressman Kim.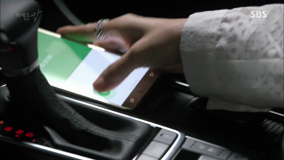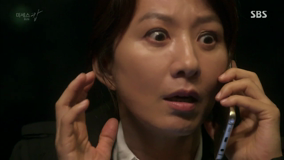 Lawyer Kim stutters after her boss threatened to kill her, she reveals he's dead now hence need a new identity to start anew and she'll help him as she tries to open her car door to escape. But before she can gets out the car, Chairman Kang grabs her & strangles her neck.

Just then, Lawyer Kim's phone rings. Despite struggling, she swipes her finger to pick it up hence Young Jin can hear Chairman Kang's threat as he chokes her until she's fainted. I hope she's still alive! He hastily escapes just as Team 1 arrives at the basement.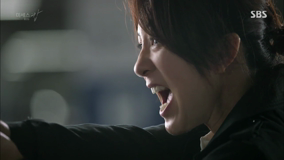 Young Jin instructs Do Young and Jin Woo to call the ambulance & check the fire exits while she's guarding this place with her gun. Suddenly Tae Yoo appears behind her with his gun, confessing that shooting her (who caused his downfall) is his dream which will surely come true today. To make things fair, let's shoot together!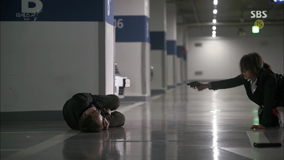 If that's your wish, then let's do it! Both of them shoot at the same time. Young Jin then shoots him again and again, not giving him any chance to grab his gun. This relentless lady has vowed to kill the man who killed her father and many innocent lives.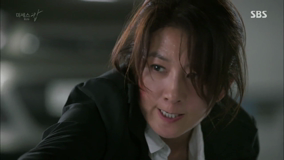 She shoots him to death shortly after he pulled out his knife.
Before she faints, with a very weak voice she brags she's a woman with no fear! Oh yeah!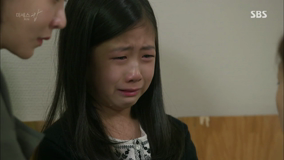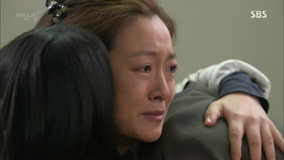 But please don't make your family worried, Young Jin ah. Chief Squad Hong comforts Ha Eun and Nam Jin that their persistent & strong mom / sister will be okay, she'll come back to life and won't die.
Jong Ho throws Congressman Kim's arrest warrant to his face after he burst into his office & punches him. All Chairman Kang's minions are arrested. What about Young Jin?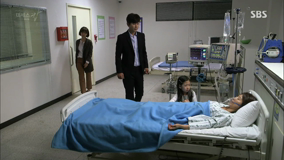 Doctors did their best, now they need to wait for her to regain consciousness. Park Jong Ho begs the doctor to save her, praying she'll wake up. Please don't die, Young Jin ya. Awww he really loves her. :'(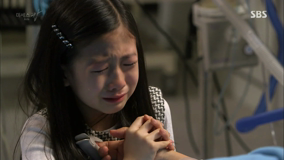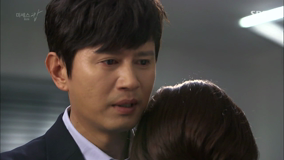 Ha Eun tearfully begs & pray mom to wake up soon too. All throughout her life she lives thinking about her mom like her mom does. Young Jin's fingers move as her family is worried sick & praying for her recovery.
Two Months Later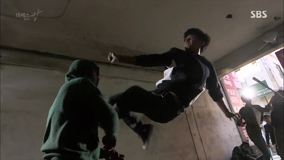 Jin Woo and Do Young are facing more than 5 criminals. Can they fight them all? Do Young reminds him that he fights well and they should never show their fear in front of criminals so let's fight! They fiercefully kick and punch these bad guys. Awesome team work, guys! He even threatens to kill them if they hurt Do Young.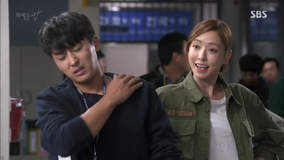 They drag these criminals back to the station, much to their team mates' admiration. These guys are on the roll even without their captain. But please take it easy!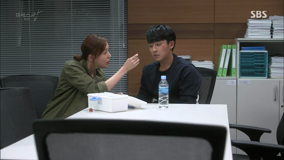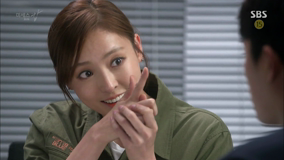 It's adorable to see Do Young and Jin Woo's bickering. She doesn't want to see him getting hurt hence she lectures him whenever he gets hit but he doesn't like seeing her in pain as well. So don't put yourself in danger, don't do dangerous stuffs. He knows she'll be transferred to another department soon as part of her assignment rotation. Of course she wants to stay but she can't. Don't worry, she'll be back after she finishes her assignment rotations because she really likes Violent Crimes team.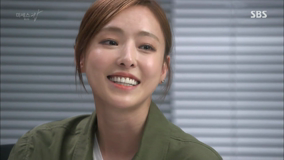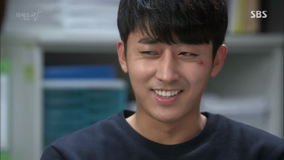 He's wondering who'll end up with her as her style isn't what most guys like. He praises she's pretty, fun and brave. Aww you just told her charm and the reason you likes her. Their smiles say it all. Sweet couple.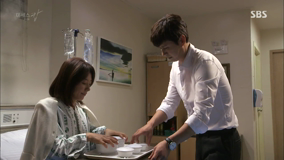 Another couple is bickering too. 😀 Jong Ho continues criticizing his patient Young Jin who murmurs that he doesn't know woman's feeling hence he's still not married. If a woman says she's not well then he should use this opportunity to seduce her! lol. But she tells him that it means the woman wants to be treated well. Of course he heard her earlier remark, innocently teases if she wants to get seduced.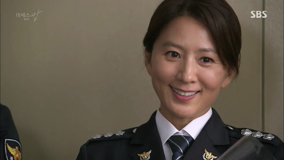 Park Jong Ho watches Choi Young Jin receiving her award & promotion proudly. Time for celebration!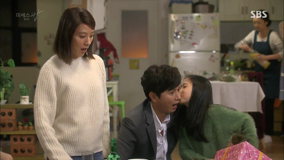 Congratulations everyone on their promotions! Jong Ho is now Chief Park, awesome!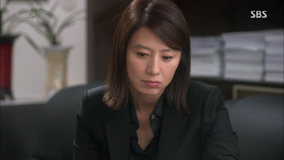 Despite her promotion, Young Jin prefer to be a team leader and catches criminals on the street. What about her team then? The new team leader will choose the team members. Jong Ho tells her to give her team leader position to give someone else a chance to lead the team. He'll take care her team members. So don't worry and please keep your schedule empty tonight to have intense drinking time with Jong Ho. Awww…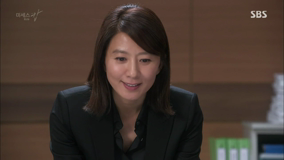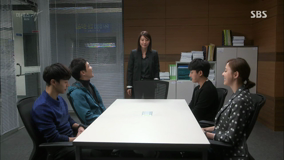 Fortunately the new team leader decided to keep the team (except Do Young who's been transferred to local patrol station). She may no longer their team leader but she's not going anywhere. Jin Woo thanks her for turning him into a real person and everyone congratulates her promotion. She's touched, it's not easy to part with amazing team members who supported her 100%.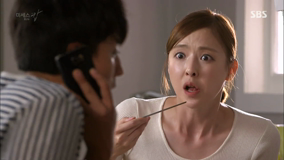 Living his own in the past 10 years, Jin Woo can cook anything except kimchi, a great husband material. This week is Do Young's last week in Violent Crimes team 🙁 Just as they start eating, he receives a call that organ trafficker Kim Byung Chul appears. Do Young doesn't want to waste delicious food he cooked so she quickly eats before dashing out to catch this criminal.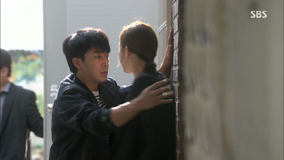 They spy on, trying to locate Kim Byung Chul but where is he? Suddenly, the door is opened. Jin Woo quickly protects Do Young, push her up against the wall then…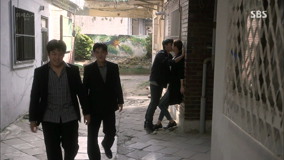 kisses her until the guys pass them without realizing they're police. Do Young figures out he's not acting, wondering if they can do it whilst on duty. Well police is also a human, right?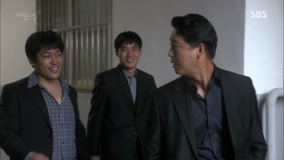 When the guys return with Kim Byung Chul, she kisses him back whispering the criminal's name. (BGM: Thinking Out Loud [Ed Sheeran]) Wow kissing whilst on duty, awesome team work 😀 He then asks, can we continue after Kim Byung Chul is arrested? She nods.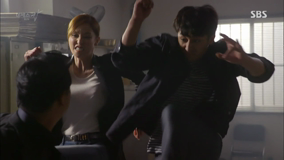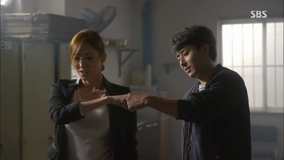 Let's catch him and his minions then! They beat them up as if we're watching husband and wife in an action and romantic movie beating the criminals.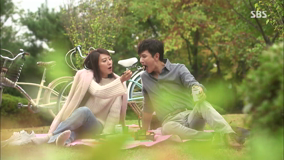 Young Jin is spending time with her family and Park Jong Ho who mentions that he wants to live freely like this everyday. She reminds him it was his dream to be police commissioner, pledging his loyalty to his country and the citizens. But living a miserable live alone as commissioner without someone by his side who he can share his life with, is not what he wants. Is he confessing his feeling to Young Jin? 🙂 Young Jin refuses to give him another can of beer because he has to drive them home, in which he cheekily replies they can send Nam Jin and Ha Eun back first (as Ha Eun has to go to school tomorrow) while they stay here for another night. Innocent Young Jin asks, what will they do then? Hmmm can't you guess what two adults do when they stay the night together? 😀

Suddenly, Jong Ho receives a call about a hostage & a murder and as expected, Young Jin's detective instinct sprang up. Jong Ho blurts out to disappointed Ha Eun that her Dad will oh he means ahjussi will take her somewhere nicer next time. Both Young Jin and Jong Ho give their daughter a love shot before they leave together to catch the criminal.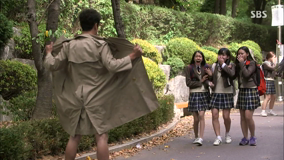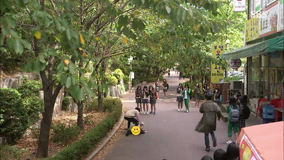 What about the rest of Team 1? Jae Deok and Se Won are disguising as snack store sellers with girls screaming for Se Won. Just then, a naked guy aka the criminal causes a disturbance. Se Won quickly arrests this crazy guy while Jae Deok who wears the similar coat has to assure the panicked girls that he's not naked. What is this craziness lol.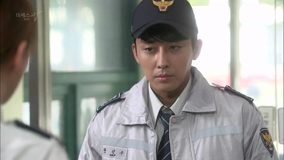 Do Young is now working at local patrol station and is scolding police officer… Han Jin Woo who came late! He got himself in trouble again, as expected he uses his fist first instead of dragging the criminals to the station, thinking he's still working at the Violent Crimes team. Wow he moved to local patrol station, cool!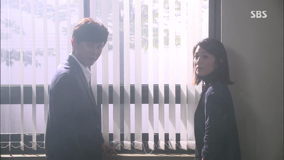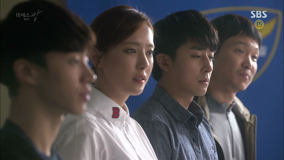 Park Jong Ho and Choi Young Jin call Team 1 back for a special secret case – arresting contract killers. Young Jin agrees to take this dangerous investigation after negotiating with the higher ups that she will bring her own team and she chose them. Awesome. They can leave if they don't want to work with her but nobody is leaving! So let's go. Let's do this!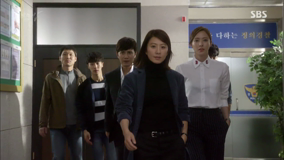 Welcome back, Team 1!
Comment
I'd love to see Tae Yoo rot in jail but it's satisfying still satisfying to see Choi Young Jin killed him with her own hands. It ends her revenge and the tragedy of her life so she can move on from her past trauma. She kept her promise to Seung Woo who gave him KL Group's secret slush funds which helped her to catch Chairman Kang's minions. The writer did a great job tying the loose ends, a satisfying ending all around. Loving the glimpse of the characters' lives at the end of this episode.

They're all dedicated detectives who put their lives on the line to protect the nation and citizens but they're still humans who deserve to love and be loved in return. Park Jong Ho is clearly in love with Choi Young Jin who friendzoned him. Maybe she never realized it because he's always around and is a big part of her life & her family, so it's sweet they're finally together at the end. A great man who loves her and her family is a keeper.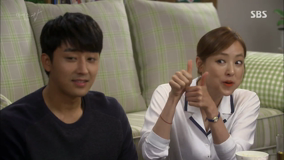 My favorite couple is the kick-ass maknaes, Jin Woo and Do Young. At first they're like oil and water, unlikely couple but as time goes on, their personalities match well. Their bickering stays true to their fierce and free-spirited characters. They don't show their love in a romantic way yet it's obvious they care and love each other. The kisses though, wow I'm shocked! 😀 I don't think kisses aren't allowed but many times physical affection can affect their job and investigation hence it's not allowed. But they stayed focus so it's okay 🙂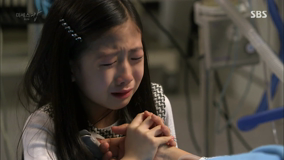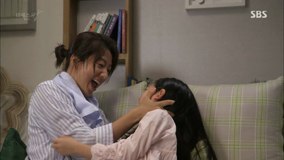 Unfortunately this drama neglected Young Jin and Ha Eun's mother&daughter relationship. I started Mrs Cop to watch Young Jin grows into a mother who can find a balance her work and her daughter because many working moms are experiencing similar struggle. We know she's a great & loving mom, but I wish this drama spends more time developing her relationship with considerate Ha Eun.
Overall, I enjoyed Mrs Cop. The suspenseful period cases and Kang Tae Yoo's evil mindgames put me on the edges of my seat and the casts' acting are solid across the board. It's a pity they somehow forgot Park Jong Ho (Kim Min Jong) exists, fortunately they made it up at the end.
You all worked hard, Team 1 and Captain (now Chief) Park! Thank you. Can we Season 2 with the same casts please?