Mrs Cop Episode 2 Brief Recap
After making a tough decision to choose her daughter over her job, Young Jin is challenged with her own calling as a cop and fighter for justice. But her action will put someone and herself in danger again. Will she ever learn from her mistakes and listen to people's advises?
Mrs Cop Episode 2 Brief Recap

After receiving a call about Sang Hyuk's new crime, Young Jin rushes to examine the crime scene which has the culprit's fingerprints all over the place. It's clear he needs money because the victim is rich and she wore expensive jewelries on her latest picture. Park Jong Ho praises Young Jin's ability to identify this crucial information, before reminding that she's just resigned.

She walks away from the crime scene but she's unable to leave. Holding the siren on her hand, she's contemplating to go back or to turn away. In the end, she throws the siren.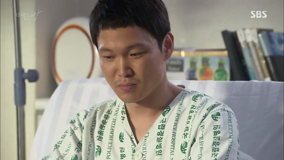 Jae Bok is baffled after working for 14 years, Young Jin barely has enough retirement fund. Now she resigned to open a children's block room (childcare?). But has she ever thought about Jae Deok at all? Don't worry, he will resign too! He was stabbed, almost died then got investigated. Young Jin reminds that his goal is to become a squad chief hence his wife works incredibly hard at her restaurant hoping she'll return to his hometown with her squad chief husband. He can't quit.

Kang Jae Won is released from prison amid media frenzy yearning to find the truth. He settled with the victim but denies knowing the victim is a minor. Before he carelessly says anything else, Secretary Yoon drags him away.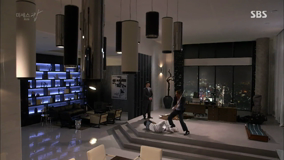 His dad advises him that if his only son lives like a dog then he will become a dog too. So please be extra careful. Tae Yoo tells Jae Won to look him in the eye as he points out a man should never hit a woman, instead, he should throw her away or kill her! What?? Dad then kicks him out to the Philippines to take over the resort construction. When Jae Won refuses to go, begging to spare him because he's the only son, Tae Yoo replies by repeatedly hit him with his golf stick! OMG. According to Tae Yoo, he gave him a chance to live because he's his only son.

Young Jin is busy making breakfast in the morning. But she doesn't know her daughter doesn't eat carrot nor rice in the morning. She's a bread girl who eats one bread everyday. Princess Ha Eun overheard her mom & aunt conversation so instead of bread, she's asking for rice & carrot! She's a sweetheart!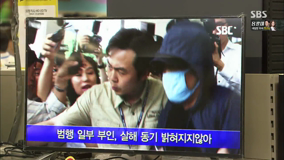 The sisters go shopping for their Jejudo trip where Young Jin sees on the news that Heo Jeong Nam will be transferred to the Prosecutor's Office. She drops her sister off before driving to see Jeong Nam in the prison's hospital who's frustrated to gain new title rapist murderer.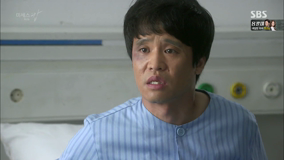 She came to apologize because she knows he's not the serial killer. He's currently being used as a scapegoat by police to avoid media backslash because they lost the culprit. Jeong Nam replies I can be useful to the police too. He is aware of his crime hence she shouldn't apologize because he's a thief. However, he asks her a big favor: to visit his 7yo son who might not eat anything for days. Young Jin yells why did you steal if you're really worried about your son?

Park Jong Ho requests Chief Yeom for bring Young Jin back because losing her is a huge loss for the team. Chief Yeom doesn't want to take any responsibility over her resignation and is furious Jong Ho focuses on Young Jin instead of catching the criminal! He promises to capture the serial killer, in return, Chief Yeom must pretend he never receives Young Jin's resignation.

Young Jin visits Jeong Nam's son Yoon Su who's very scared of meeting people because he's been labeled as a murderer's son.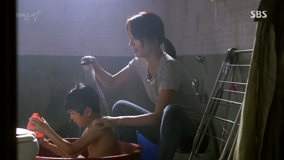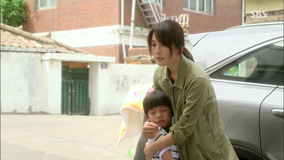 They got close really quickly maybe because he's around Ha Eun's age. After giving him a bath, she takes him outside for a nice meal. He bravely confronts the neighborhood kids that his dad isn't a murderer because Young Jin told him. She repeats what Yoon Su said, threatening them for not picking on him again.

He can't stop crying after Young Jin bought him a pizza because it's the last thing his mom bought him, before she left & never came back. Young Jin hugs him, promises to tell his mom that he really misses her as she encourages him to eat. Suddenly, someone sends Sang Hyuk's picture captured in hotel's CCTV camera.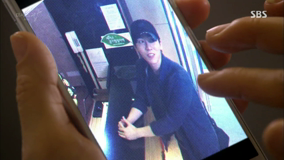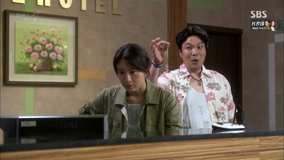 She leaves Yoon Sun in her car while she interviews the hotel staff who had a gut feeling something's off when Sang Hyuk paid his room with an expensive necklace. He checked the wanted posters and contacted the police after realizing he's a sought criminal. The hotel staff makes a deal with Young Jin to wipe clean his charges in exchange of this vital information & the room he's staying. She agrees.

But because she has resigned, she asks Park Jung Ho to send a backup. As she's waiting for the team to arrive, Sang Hyuk walks pass. He threatens her with a knife before running outside and holding Yoon Sun as his hostage. The poor young boy is stabbed and despite her cries for help, no ambulance nor police came. She carries critically injured Yoon Sun to the nearest hospital where she's waiting in agony as he's fighting for his life. The team is dispatched to find Sang Hyuk who's currently boarding the train.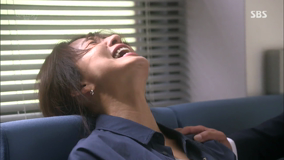 Young Jin yells in frustration that she's the one who will catch Sang Hyuk! She quickly goes to her office but is escorted out by people from prosecutor's office due to bribery charge. As they're interrogating her, she receives a phone call from Park Jong Ho that little Yoon Su passed away. She steals Wae Son's gun & crazily drives to Sang Hyuk's last known location.

After tirelessly looking for Sang Hyuk in places he frequently visits, she returns to the hotel he stayed to find any clue. She doesn't find anything in the room he stayed then she searches the reception area after the hotel staff asks for a lighter. It jogs her memory, Sang Hyuk used a lighter the other day. She finds it but before she can do anything about this evidence, she's thrown to the jail. She had gun on her possession, she recklessly did investigation yet couldn't show her police ID.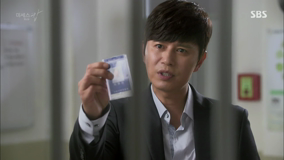 Park Jong Ho is relieved she's safe because without her police ID, she's a troublemaker without any concrete plan. Many people choose to ignore injustice so they can live comfortably. But Young Jin always fights for the injustice. If she continues, she'll be thrown to jail everytime she causes trouble. Please remember you've resigned, Young Jin. Even if she's not, she's just a cop. Without her police ID, she can beat him to death but she will never be able to catch him. With her police badge, she can catch him. If she wants, she can get her police ID back from Chief Yeom. The choice is hers. She'll be locked here until she makes up her mind. Unable to go anywhere, she requests Jong Ho to check Sang Hyuk's lighter and an arcade.

Young Jin finally makes up her mind, one phone call to get her job back. Chief Yeom advises her to stop apologizing if she doesn't mean it yet she still apologizes for failing to catch the serial killer. After getting her ID back, she is standing against the police station's wall and it feels like the picture just laugh at her. She can only laugh back.

Young Jin eats at Hong Ban Jang's restaurant as she promises to kill the man who stabbed her husband. Nam Jin arrives with a bag of clothes for her sister, she knew the Jejudo trip was too good to be true. She advises her sister to think about her daughter & don't overwork herself.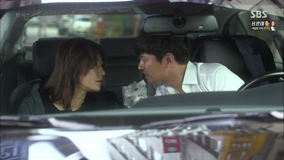 Jong Ho and Young Jin haven't been home for two days so the fatigue creeping in. They bicker like an old couple until she spots Sang Hyuk.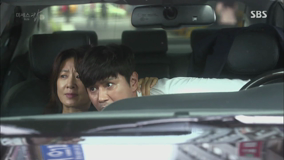 He instructs the team to keep their guard up and orders Young Jin to wait. As frustrated as she is, he is right. Inside the arcade, Sang Hyuk skillfully fights with the group of detectives who went undercover. As he opens the door to escape, he locks eyes with… Young Jin!

He flees through window! The team chases him but he's nowhere to be seen. After a very cool show-motion, Young Jin spots blood on the nearby wall so she quietly surveys the narrow alley until she reaches an apartment building. She walks to the rooftop and here he is. He can't jump because the building is too high and the area is surrounded by police.

So he decides to turn himself in! Please don't trust him, Young Jin. He used the same method to trick Jae Deok. She lists the innocent victims he killed, including the 7 yo boy! He replies: that's why I told you to quickly take him to hospital. He successfully provokes Young Jin who warns him once.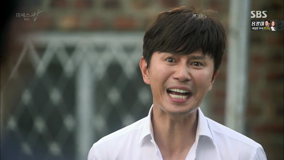 After hearing the gunshot, Park Jong Ho rushes to find Captain Choi and the culprit at the rooftop. He instructs to put her gun down so she won't do crazy thing she'll regret later but she replies he should know she's crazy! Sang Hyuk keeps provoking them to put a handcuff on his hands so Jong Ho yells at him to shut up!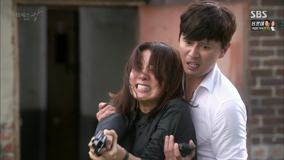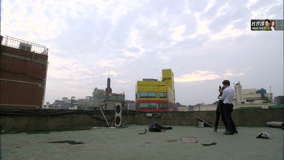 He wickedly taunts that he should do it (rape) with the lady cop before he got caught. His insulting remark drives Young Jin crazier, she pulls the trigger! He collapses.

As expected, Chief Yeom is furious Young Jin shot him (in the leg). Thank God he's still alive. Chief Yeom is worried the serial murderer will sue the police. Young Jin promises to take responsibility but the responsibility lies on Chief Yeom who yells that it'd better to shoot him dead. Well Young Jin also wanted to shoot him dead but she couldn't because she's a cop.

Her boss Park Jong Ho received a disciplinary action and she'll be investigated. Her job is on the line here. He advises her to point out her action wasn't intentional, it was accidental firing. She was scared, confused hence accidentally pulled the trigger. Young Jin is aware she can't lie during the investigation. He advises many people in this world are willing to get fooled although they are aware it's a lie so please follow his advice. Media, police, people don't want her to get fired. They will understand if she says the right thing. But if she doesn't, she will definitely get fired.

She wears her police uniform but suddenly she hears Ha Eun crying. Sweet girl is worried her mom quits her job because she stole a toy. Nam Jin advises her sister to tell the right thing too because she didn't do anything wrong. Many people believe that too. And Ha Eun too.

She drew her mom wearing police uniform because she thinks mom looks the best wearing those clothes. Young Jin is touched that despite she's a failing mom but her daughter still drew her as someone really cool and won award for her painting. Nam Jin urges her to stop being stubborn and to think about her daughter's future. If she's fired, she'll lose her retirement fund.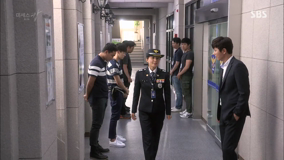 Young Jin is ready to face the interrogation. Her team members welcome her & wish her well. Jong Ha reminds her about her smile of happiness although she's stuck on the wall of the police station. If she can say the right thing, she'll continue smiling.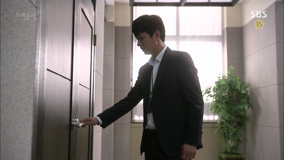 Although the investigators understand her position, they want to ensure about two things:
1) Did Sang Hyuk jump off on his own accord 2
2) was it an deliberate firing
Young Jin answers yes to the first question but she's pondering about the answer for question 2.
Comment
The drama's title is Mrs Cop so we know Young Jin would return to her job no matter what. It's nice to see her trying to be a great mom for Ha Eun, cooking her breakfast although she barely knows anything about her daughter. She's blessed with a considerate & understanding daughter who is willing to do anything to spend time with her mom.
Like many other K-police drama, the police officers / detectives are painted as group of clueless, unfit and sloppy people. It's mind-blowing they can't catch one criminal. Maybe because they let Mrs Cop to catch him. Sigh. It's also baffling stubborn Mrs Cop didn't ask for any backup when she spotted Sang Hyuk's trace despite knowing he's a dangerous criminal. After two days stakeout, maybe she's too tired to think about any risk or maybe because she's too overwhelmed with her mission to catch the person who killed innocent boy and stabbed her team member.
As a cop and a mom, she should know that taking an innocent kid to the investigation scene is very dangerous. Time is running out to find Sang Hyuk but the child's safety is her first priority. She's not as bright as everyone thought she'd be. The little boy didn't deserve to die, I don't understand why the writer had to kill him >.< His dad is in prison being unfairly charged as a murderer, he had to live as a murderer's son and he couldn't even see his dad again. What a cruel world we live in.