Mrs Cop Episode 3 Brief Recap
Morally upright Choi Young Jin may loses her calm and throws a fit whenever she faces injustice because she understands a cop is not just a job. It's a respected profession which comes with hefty responsibilities. Unfortunately it's rare to find a cop like her who doesn't hesitate to put her job on the line to protect the weak. Many other cops are too swayed & scared to go against their corrupt boss so Choi Young Jin has to work extra harder (alone) to prove that we should never ignore our gut feelings.
Episode 3 Brief Recap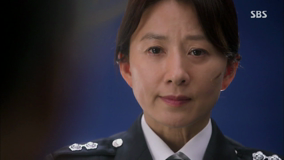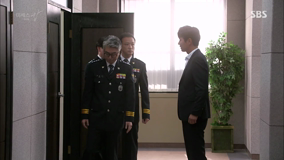 In front of the investigators, upright Young Jin decides to tell the truth. Yes… she deliberately shot Nam Sang Hyuk. Actually she can tell them it's her self-defense because Sang Hyuk provoked her first but she knew as a cop she did the wrong thing. Park Jong Ho is frustrated she didn't follow his advice.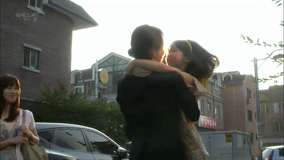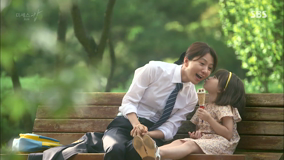 It's bittersweet for Young Jin too but it's amazing she still showed her exemplary attitude despite she might lose her job. She thanks her cutie daughter for giving her the courage to tell the truth.
Two years later
Director Kang Jae Won boldly takes over a huge mission to win the bid of a prospectus block of land.

But this crazy dog doesn't know anything about winning the bid so he forcefully delegates this almost impossible mission to Manager Jung by threatening he'll spill his beans about his addiction to young women, alcohol & gambling if he can't come up with the bid (how much he should bid). In return, he'll give him young women.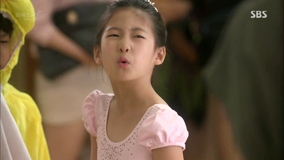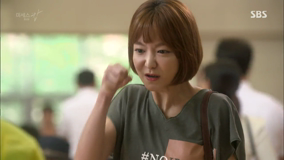 Ha Eun (Park Min Ha) believes mom will come before she performs so don't worry too much, Aunt Nam Jin. Her personality has become tougher like her mom. But where is Young Jin?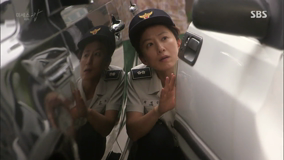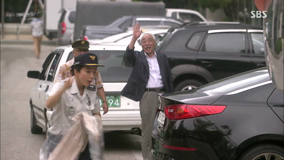 She's now working at police sub-station after being demoted for deliberately shooting a criminal. But she's still a brilliant detective. After successfully resolving a case with two older men who fought because one of them blamed the other for scratching his car, she rushes to change her clothes to go to her daughter's performance.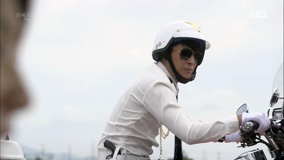 Unfortunately today isn't her car. Police officer Han Jin Woo (Son Ho Jun) who saw her speeding, isn't letting her off the hook. When he's busy writing her details to give her a speeding ticket, she drives off leaving her ID with him! So he follows her.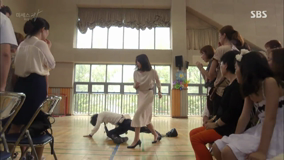 Young Jin arrives in the nick of time to encourage & calm her very nervous daughter. Ha Eun is ready to start her performance but… Young Jin gives an awesome performance after a stranger grabbed her wrist. She twists, punches then throws him to the ground! Everyone gasps in horror.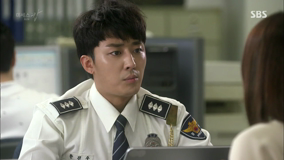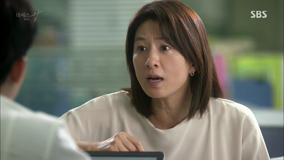 She's dragged to the local police station due to speeding, fleeing & assaulting police officer. She's more than ok to pay for the traffic violation fine because she sped however she begs him to let the others go because of extenuating circumstances. Moreover, both of them are police officers. But he doesn't care, she'll be sent to the internal affairs because of her charges (fleeing & assaulting). Stubborn Young Jin isn't giving up either.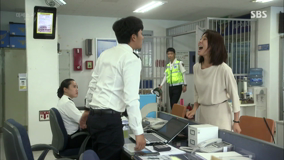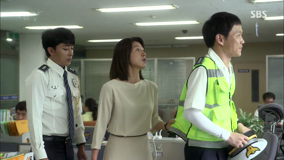 Suddenly someone calls her name sweetly Chief Choi… and drags her away from Han Jin Woo who never let anyone go after he sets his sight on them. He's demoted from Violent Crime Division at another branch, an officer famous for his excessive force. Whether they're old, young, man, women, senior or junior, he doesn't care. Jae Deok knows he can't argue so he turns his back when Jin Woo transfers her to the internal affairs.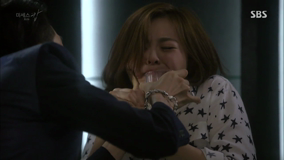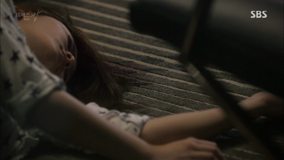 Kang Jae Won promises to Mi Kyung that if she does well tonight, he'll help her to pass the audition she failed. She trembles, refuses. Heartless crazy dog who spiked her drink forces her to drink it. She tries to run. While she's defending herself, she punches him several times until she fells backwards & collapses on the ground. Her head hit the metal coffee table when Jae Won pushed her away to defend himself. President Han is shocked to find she's dead! It's his responsibility too because he manages this place.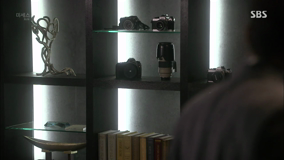 After he spotted a camera recording their every move, he threatens Jae Won to handle all his investment troubles by tomorrow to cover this incident. Jae Won promises to take all responsibility. So they remove her body, delete today's CCTV recording & unplug the CCTV camera to avoid suspicion. Unfortunately they can't cover it up from Jae Won's father because his secretary is here!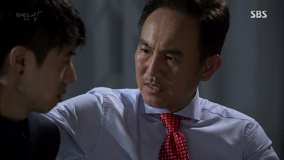 Tae Yoo advises his son to keep his head up right & don't apologize carelessly. Even though he's doing something's worth dying for, he shall never lower his head until he's dying. And sorry should only be said when he really want to live or has a weakness. As long as he wins the bid, it's all that matters because hey, accidents do happen when they're working. Tae Yoo orders his secretary to arrange a meeting with Chief Yeom & to contact President Han to make the incident looks like a suicide. Secretary Yoon is one step ahead, he's already arranged everything.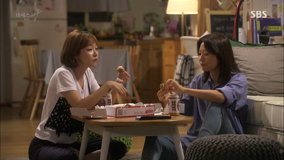 Because Young Jin has network in the internal affairs, she's safely home munching fried chicken with her sister. They're gossiping about Han Jin Woo when she receives an urgent call about a woman who jumped to her death. It's Lee Mi Kyung! OMG they threw her body 🙁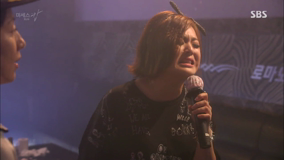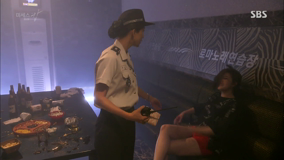 Young Jin recalls the time she was called to the karaoke room where depressed Mi Kyung refused to leave although she smashed glass bottles & hurt her arm. She refused to get any treatment that day & left because as a minor she had to leave by 10PM.

She helplessly hears Mi Kyung's mom devastated cries. :'( Young Jin blames herself but Jae Deok advises that nobody would know if she'd die like this. They're cops, not fortune tellers. Young Jin needs to stop overthinking & feels sorry because it makes her life harder. Just mind your own business, Young Jin.
Chief Yeom has a bad feeling about the new incident that Tae Yoo orders him to cover up.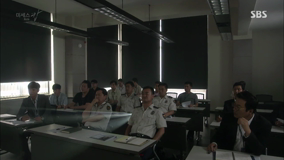 The detectives start to investigate her suicide. She was only 18 years old, had a dream to become a singer but recently failed her audition, used to hang around MED Productions (because she was their trainee) where the incident occurred and there's (what could be) a suicide note on her blog. Based on their findings, so far they conclude she committed a suicide. However, there's no CCTV recording that day. Lee Se Won states they often turned it off because they have lots of celebrities visiting the agency. So far they haven't found any eye witness and her family has no clue because she ran away from home. Because she's a celebrity hopeful, her case is kept low profile.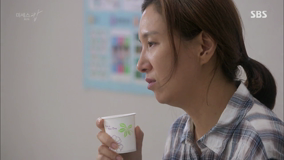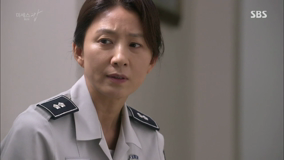 Even MED Productions is trying to cover it up too by giving funeral money to Mi Kyung's mother so she can hold the funeral ASAP. But she's still looking for a clear answer because she doesn't understand why her daughter's dead. The detectives could only give sympathetic answers, the only person who's curious is police sub-station's chief aka Choi Young Jin but she's not a detective.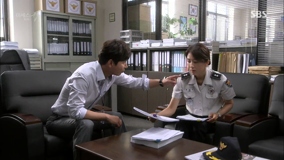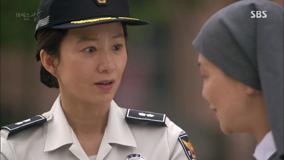 After hearing the mother's heartfelt plea, Young Jin starts to investigate this case. Unfortunately she doesn't have valid reason to request an autopsy so she can only ask a favor from her lonely friend Park Jong Ho who hands Mi Kyung's documents. She's working tirelessly day and night, trying to find any smallest clue. Until she finds Mi Kyung's pendant NINO (her baptism's name).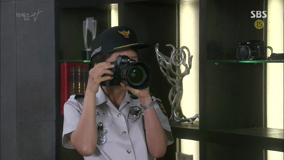 It leads her to a Catholic church and the place she stayed where she finds many crucial evidence. Young Jin also re-examines the crime scenes, finds President Han's place & the camera! Mi Kyung was a devout Catholic & planned to watch idol's concert the day after she died.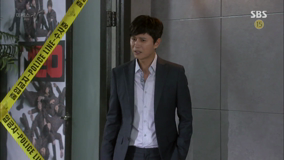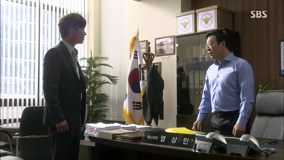 She asked Park Jong Ho to come to the crime site then she discusses about her findings which proves that Mi Kyung didn't commit suicide. He's swayed with her preliminary conclusion hence he brings it up to Chief Yeom so they can start re-investigating the case. Of course he declines! Jong Ho then calls him by his name but Chief Yeom orders him to clean up the crap because he should never think about himself in an organization like police force. There're times they have to bury the crap and let it go because it's a crap. They can't let the victim's family to experience another hardship for nothing hence it's best to send her off quietly.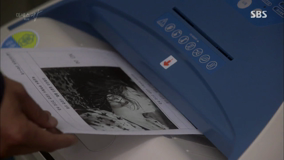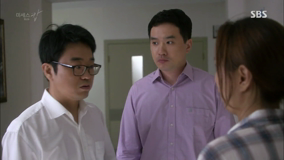 Jong Ho is furious! But what can he do now? He helplessly destroys the case files. Young Jin is dealing with people who were sent to proceed with Mi Kyung's funeral despite the objection from her mom. Enraged Young Jin orders them for not touching Mi Kyung's body without her permission then she runs to have words with Park Jong Ho after she saw his signature on investigation termination document.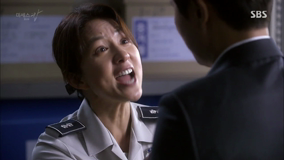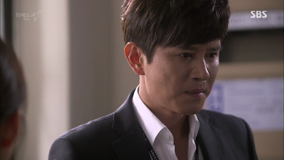 He explains it was very hard to make the final decision but there's no sufficient evidence to prove her points. Mi Kyung was treated for depression, she left a suicide note so it's safe to conclude she committed suicide. Young Jin, stop being so stubborn. You should consider other cops too. Don't look down on them and don't throw a fit if things don't go her way. Young Jin states that it's their job to catch a killer, doesn't matter who he is. She wants him to open the re-investigation which he declines. So she asks about his personal opinion, does he think she committed suicide? He replies by combining opinions of Young Jin and the investigation team, it is! But he can't express his own opinion (because deep down he knows Young Jin is right).
Although the case is now closed but the crime scenes are still open so the reporters can see the cops are working hard. Park Jong Ho is trying to drag it out as long as he can but his reason is valid so Chief Yeom isn't suspicious at all.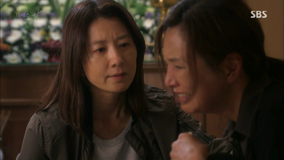 They proceeded with Mi Kyung's funeral but her devastated mom still doesn't believe her daughter committed suicide. They haven't seen each other in years, it must've been so hard on Mi Kyung to line alone 🙁 The only thing left is to send her daughter in peace. But Young Jin tells her to delay the funeral service & get Mi Kyung an autopsy because she can send her away with this injustice.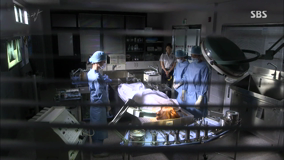 Jong Ho who's waiting outside Young Jin's place requests her to give actual evidence because her gut feeling isn't valid evidence. He hands famous forensic doctor's name card (who just quit and is now working at the hospital) and advises the crime scene is open until the day after tomorrow so do whatever she needs to do to bring him actual evidence. Without wasting any time, she sends Mi Kyung's body to Doctor Seo for an autopsy the next morning.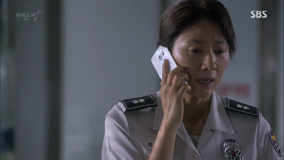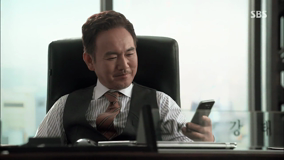 As she's waiting for the autopsy result, news emerged that the police is going to announce the investigation result today (it's supposed to be tomorrow). Tae Yoo is relieved. Young Jin rushes to the press conference's venue to stop Chief Yeom who's shocked Young Jin made Mi Kyung's mother to sign the autopsy request! The result will be out in two hours so they must delay the press conference. Chief Yeom asks if she'll take responsibility if it's proven she committed suicide because she ignored the investigation result and opened up Mi Kyung's body.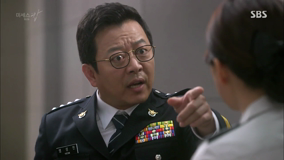 She promises to resign if there's no foul play proven. Because the reporters heard about their fight, they decide to delay the press conference to wait for the autopsy result. Two hours has passed, the result is here.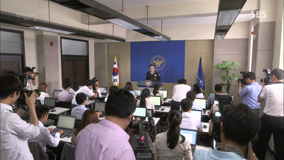 Young Jin's gut feeling is right! Chief Yeom announces the result to the waiting media, slightly exaggerating that the police sought the truth until the end. They will set up a special team to find the truth behind Mi Kyung's unjust death. The whole nation is in shock hearing the new development, so do Tae Yoo's side.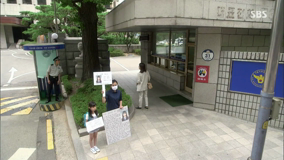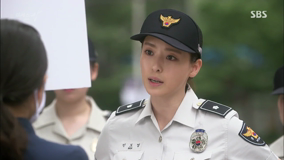 A mother and her young daughter are holding pickets in front of police station hoping it'll bring them closer to find her missing daughter / sister. Young Jin initially ignores them until police officer Min Do Young (Lee Da Hee) rudely snatches the pickets & tells them to leave because they don't have assembly permit. She turns back, showing her police ID then orders Do Young to give the pickets back.