My Spring Days Episode 1 & 2 Review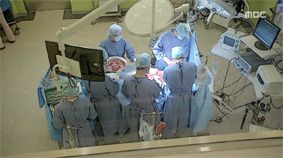 The poignant scene & opening narration about effort, prayer and miracle are beautifully done. Although Lee Bom Yi's (Choi Soo Young) father is a doctor and her mom is the hospital's chairman (who can give her daughter the best medical treatment), but without a miraculous heart transplant, their daughter would die. Bom Yi was hospitalized for more than 4 months, they prayed for a miracle until that day finally came. A helicopter brought a healthy heart for her. Happiness for Bom Yi and her family, sadness & guilt for Soo Jeong's family ~Kang Dong Ha (Kam Woo Sung) couldn't protect his wife who's badly injured in the ocean, his brother dr Kang Dong Wook (Lee Jun Hyuk) couldn't save his sister-in-law & his childhood friend (also his first love), Kang Poo Reum (Hyun Seung Min) & Kang Ba Da (Kil Jeong Woo) lost their mother. Their names (Poo Reum & Ba Da) mean Blue sea, their grandmother told them that "they" ate their  mother 🙁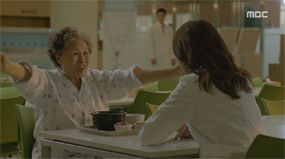 Fully aware that Bom Yi will never be able to pay it back, every day she wakes up with a grateful heart ~ living her life to the fullest. She appreciates every small thing because she knows she's not living her life for free. She owes it to the woman who gave her a second chance to live. Working as a clinic dietitian at her mother's hospital, she is a free-spirit and kind-hearted woman.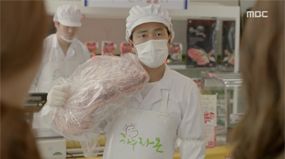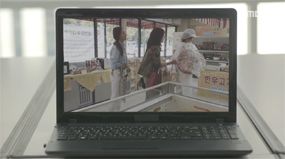 Five years after she received the heart transplant, she crossed path with her savior's husband Kang Dong Ha when she bought beef for her patient. Their first meeting didn't end up well, Lee Bom Yi ended up suing him.
They met again in Udo Island. Bom Yi went there to thank her savior while Dong Ha's family went to their hometown for So oJeong's death anniversary. Sshe didn't recognize him because when they first met, he wore his butcher's mask. Dong Ha dived down to save Bom Yi when she accidentally slipped into the water. Sinking deep into the ocean, Dong Ha's wife Soo Jeong, Bom Yi's guardian angel pushed her up so Dong Ha could grab her hand.
She reluctantly stayed at Dong Ha's place after she missed the ferry.  Poo Reum lent her mother's white dress for Bom Yi, the only Soo Jeong's clothes that Dong Ha didn't throw away after her death. When he saw Bom Yi wearing his wife's dress, he hallucinated that it's Soo Jeong in front of him. He still feels guilty he couldn't save & protect his wife, a promise he made before they got married. Every night he couldn't sleep ~ thinking about his wife. Moreover, because of cellular memory (commonly experienced by organ transplants), Bom Yi reminds him of Soo Jeong. Poo Reum also feels the same.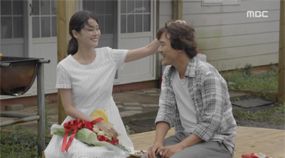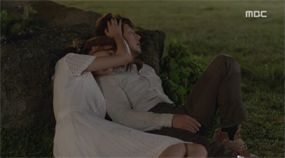 For the first time in five years, Dong Ha finally can sleep peacefully after Bom Yi caresses his hair (Soo Jeong used to do this in the past).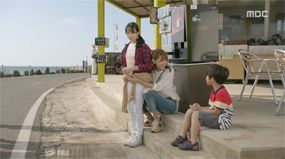 My favorite character (so far) is Dong Ha's daughter Kang Poo Reum. After losing her mother, she's forced to grow up ~ taking care the boys in her family. She's like a mother for her younger brother Kang Ba Da who really loves his sister and grateful for everything she does for him.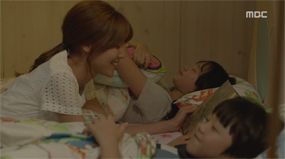 Poo Reum doesn't hesitate to "lecture" her father like a wife who understands what's best for him. Bom Yi's presence feels like a breath of fresh air for Poo Reum who's too busy to take care herself & miss her mother's warmth. But because Bom Yi reminds her so much about her mother, she's a bit reluctant to meet her again.
Bom Yi's mother Jo Myung Hee (Shim Hye Jin) is a very ambitious woman, her husband Lee Hyuk Soo (Kwon Hae Hyo) is under her wings. She only wants the best for Bom Yi and her precious hospital. Bae Ji Won (Jang Shin Young) is her loyal secretary who's also very ambitious. She broke up with Dong Wook because of her ambition, the decision she deeply regretted. Very curious to see her full agenda, and what she'll do once she finds out about Bom Yi's savior & Dong Ha's family. It's still unclear if she knows Dong Wook is Dong Ha's brother because it seems like he doesn't keep in touch with his family for years (most likely after Soo Jeong passed away).
Bom Yi doesn't know her savior's identity, Dong Ha & his family (except Kang Dong Wook) don't know about Bom Yi's heart transplant. For now, it's better to keep it as a secret. She doesn't want people to know her medical history because of people's prejudice over her health.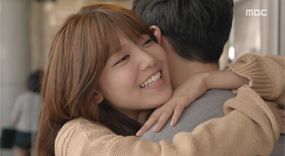 My Spring Days so far has ticked the right boxes. Strong acting across the board, so happy to have Kam Woo Sung & Lee Jun Hyuk back in the small screen. It's lighter than I expected, considering this is a melodrama. Although the angst will definitely come like a huge wave crashing into the rocks, but MSD introduces the characters quite well that I've already rooting for Dong Ha & Bom Yi and Dong Ha's awesome family. Moreover, I also want Dong Wook to find his happiness because his world will crumble if he'll have to painfully let go his woman for his hyung again.