New Journey to the West – First Impressions & Brief Recap
September 5, 2015
|
Recap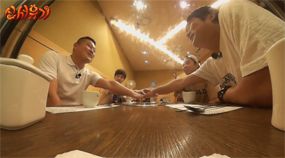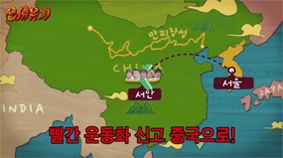 The gang is back! Kang Ho Dong, Lee Seung Gi, Eun Ji Won, Lee Soo Geun, Na Young Suk PD and old 1n2d crew are back on newest web variety show, New Journey to the West. When the news about this new variety show first surfaced, I knew they'd be fine because we have evil PD Na who can be a real choding and 4 awesome entertainers who aren't afraid to give their all for the sake of entertainment. Mashed it together with their bromance & friendship, it's a golden combination. They haven't worked together in the past 4 years but their bromance is still on fire! 🙂
5 clips from their Xi'an trip were uploaded simultaneously on Naver tvcast and QQ while 4 subbed episodes were out on V Live app at 10AM yesterday. The last clip was uploaded on V Live app several hours ago. Each clip is around 3 – 14 minutes long and it's best to watch it from episode 1 -> 5. I got too excited that I watched clip #3 first 😀 The beauty of this is… you can randomly pick any clip although it's best to watch it in order (clip 1 -> 5).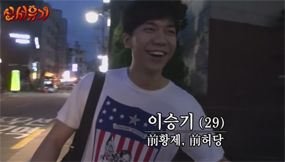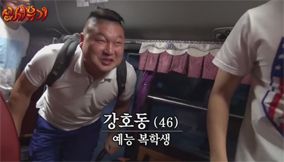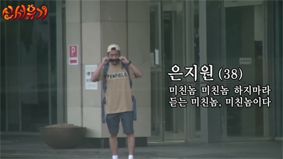 The first three clips were filmed in Seoul – on the day they flew to Xi'an. Their managers and cordi didn't accompany them, hopefully it's not because this variety show didn't have sponsor. Na Young Suk PD and the crew cheekily tease prospective sponsors through the captions and games. Ie. Korean Air, China Easter Airlines, Asiana fly to Xi'an or games about brands.
They pick up the members except Lee Soo Geun. Maknae Lee Seung Gi is picked up first at 5AM, everyone can see his excitement although his eyes are red because he dreamt he'd get lost in China. His first day of NoF trip probably still gives him nightmares. But don't worry, Lee Seung Gi is the type of person who learns from experience. He breezes through the first mission in Xi'an.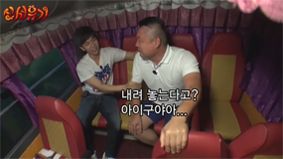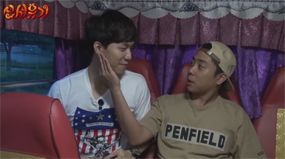 It's shocking when this maknae starts dissing his hyungs! He's brutally honest maybe because NJttW is a web variety show so there's no censorship. He gives nicknames to Sugeun hyung Sangam betting man and Eun Ji Won hyung Yeouido divorcee! OMG. Even Kang Ho Dong is speechless. Hodong, don't you remember what you said to your dongsaengs on 1n2d – "maintaining an honest image & being kind on a variety show is not fulfilling our duty as entertainers" (cr). Lee Seung Gi promised back then he'll become a match which will light someone's candle, making sacrifices for a program. From what I've seen so far, it's exactly what he's doing on NJttW, making sacrifices & turning into the bad guy.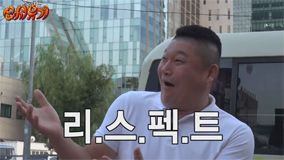 I think many of us know that Lee Seung Gi is on the chopping block because of his impending military service (although he still have time!). While talking about fortune teller, this witty boy shut them up by emphasizing he'll go next year. Don't worry, he knows his responsibility and the consequences. I feel like he's talking about Mong hyung. MC Mong celebrated his birthday yesterday and had his first concert in 6 years last night. If they chose to premiere NJttW on 4 September to secretly acknowledge MC Mong, I'm crying in happiness. Most likely it's just a coincidence, right?
Kang Ho Dong and Lee Soo Geun look worried & anxious. Ho Dong is wondering if they won't be criticized because it's only be aired on the net only to be told there's not much difference. It's sad these guys are probably scarred of negative comments 🙁 Hopefully this show will change their antis / haters' opinions.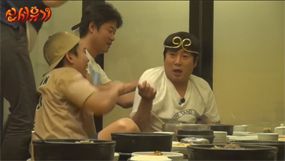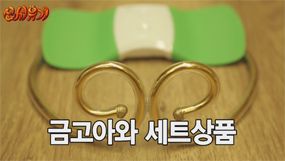 Kang Ho Dong briefly summarizes Journey to the West as people who committed crimes met and traveled to the west. PD Na explaines the (level of) crimes are different, perhaps trying to justify that these four guys' mistakes weren't the same. Because Sun Wukong committed the worst crime, they appoint Lee Soo Geun as Sun Wukong and he's not eligible to be Tripitaka. PD Na gives him special order-made gold crown and therapeutic device on his back which can be controlled by a remote control to electric shock him. Tripitaka is responsible to hold the remote control but of course Ji Won grabs it before they even decide who'll be Tripitaka. 😀 Once a choding, always a choding.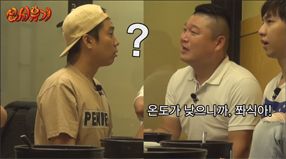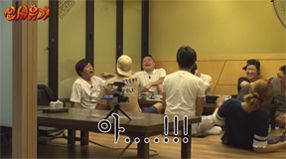 Kang Ho Dong and Eun Ji Won have a battle between the genius -v- the fool which reminds me of their old 1n2d episodes 😀 Everyone else is convinced with Eun Ji Won's opinion, I did too! 😀 Nobody can beat genius Eun Ji Won 🙂
After this non-sense debate, they move to the bus because they have to catch their plane. On the way to the airport, they're told of their destination & most importantly, the rules & missions (games)! Borrowing the idea from arcade game, they must complete one stage before they can move to the next stage. When they're successful, they receive a cool 1 star to 7 stars dragon ball. When they get 7 balls, one of their wish will be granted. Eun Ji Won's wish: erase all bad comments about him. Aww Jiwon ya. Genius 2 turned him into one of the most hated person. Sometimes people forget it's just a show. But his bad comments are pale in comparison with Lee Soo Geun. 🙁 Sad.
They'll work as the team and the chosen Leader Tripitaka will be given credit card and the power to electric shock Soo Geun. The leader will be decided on their first mission in Xi'an.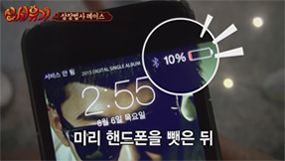 Tripitaka Race: find their guest house located 40km from the airport (around 50 minutes by car) with the allowance of 50 yuan ($7.85) / person. They're given the guest house's address in Chinese, smart boys record it on their phone. But, PD Na slyly drains their handphone's batteries to 10%! The first one who arrive at their guest house will be awarded Tripitika role while the last (third) person will receive a punishment: wear uniqlo heattech for the whole day under scorching hot 35-40 celcius!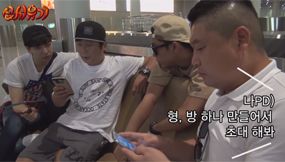 Kang Ho Dong who's not adept to technology is challenged to create Line group talk as soon as they arrive in Xi'an. Eun Ji Won brings his scooter because you know, China is big. 😀
They only have 50 yuan each so they end up teaming up. Scary party (Eun Ji Won & Lee Seung Gi) -v- Stupid party (Kang Ho Dong & Lee Soo Geun). Luck was on scary party's side because they receive help from Lee Seung Gi's fans who cutely expresses her love to him before helping writing down the address in Chinese. Choding Ji Won suggests catching a cab but with only 100 yuan, it's impossible. Then he randomly asks people if they have a car. 😀 As we saw in NoF, Lee Seung Gi loves asking people and because he knows English & Chinese, the scary party finds out the best way to reach their guest house much faster than the stupid party who barely know English nor Chinese. Fortunately both teams got into buses which will bring them closer to their destination and win the race.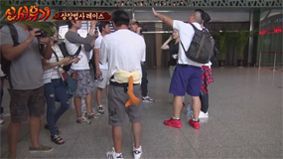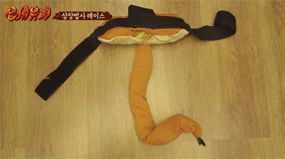 But there's another trouble. Their phone batteries are dying. Lee Soo Geun's monkey tail has a powerbank so stupid party could charge their phone batteries. What about the scary party?
Based on released stills, we know who won and who lost. 🙂 But this is just the beginning, their adventure in Xi'an… will begin next week!
New Journey to the West releases 5 new clips every Fridays 10AM KST.
Where to watch this variety show? 
– Naver TVcast [only accessible in Korea; accessible for overseas viewers via Naver Media Player]
– QQ [Chinese sub, only accessible in China]
– V Live [English sub | Android iPhone/iPad]