Scholar Who Walks the Night Episode 2 Brief Recap

Jo Yang Sun mistakenly went to Crown Prince Lee Yoon's room instead of Scholar Eum Seok Gol's room at the end of the hall but what she thought earlier was wrong. He's not playing with woman but he's drawing her. She's amazed at his drawing talent, as if he makes obscene picture alive and (according to her) his quality of drawing is better than Lustful Student. Lee Yoon introduces himself but before she can introduce herself, she's called to see the famous very busy scholar who orders her to find Crown Prince Junghyun's memorandum.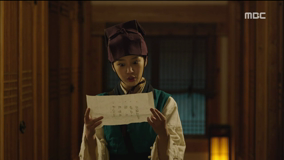 He's able to control his thirst for blood when he saw the blood on Yang Sun's finger. Soo Hyang then gives her a list of books and she should come back with these books in three days. She's never heard about Crown Prince Junghyun's memorandum, does this book even exist?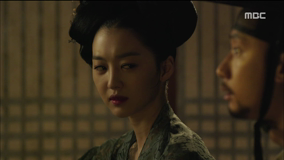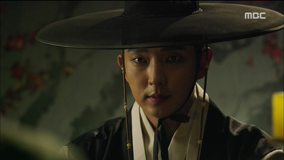 Sung Yeol's assistants are wondering if Gwi has destroyed this important book 120 years ago or knew about the secret plan written on this book. He saw every single book in the past 10 years over 8 different provinces but there's no trace of it. Maybe someone has it hence he has yet to find it.
But there's an interesting coincidence about Bu Ja Ui Ok book written by Lustful Student that was released few months ago. The pen name, cover phrase is the same with the other Lustful Student's book (aka Crown Prince Junghyun). But Crown Prince Junghyun was omitted from history so nobody else except the three of them who know about his existence. All his books written by him were all gone, only this book left. It may mean Teacher Eum Ran has this memorandum or know about him.

Skilled bookseller Yang Sun is selling Teacher Eum Ran's newest book to the villagers. She sells it very convincingly and when the officers find out she's been selling the book illegally, the villagers help her to run away. Meanwhile, Crown Prince Lee Yoon finds out her identity but unfortunately she's not the one he's been looking for. Yang Sun is 21 yo, has been travelling with his father to sell the books in 8 provinces.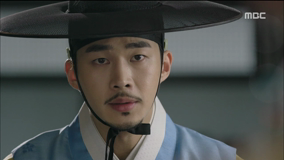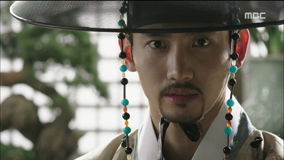 But he believes she has the clear voice of a girl, just like Jin. But it's been 10 years since he last saw him. His father was convicted of high treason, there's a warrant for his arrest, even if he's alive he can't easily reveal himself. Maybe Seo Jin doesn't want to show himself because he doesn't trust him but Lee Yoon believes he's still alive. He believes in his drawing and will patiently wait for him.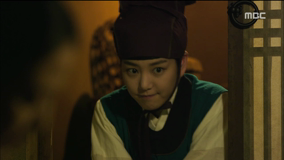 Although Yang Sun works her hardest as her family's bread-maker but her step-mother is very cold-hearted. She still doesn't accept her because she's born out of wedlock.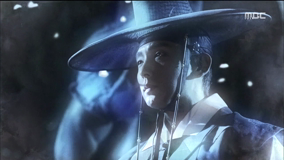 Just from one glance, Yang Sun knows Eum Seok Gol really loves books as she explains how beautiful his appearance is and how he reminds her about the night scholar stories – a kind vampire. There have been stories about night scholar who appeared to save the women who'd be sold as prostitutes. He's the idol of the weak, a hero of women – the night scholar!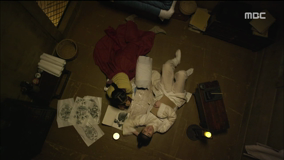 She wishes the night scholar may read her novel and find her because she believes he exists. Meanwhile, her illustrator half-sister will draw this night scholar according to scholar Eum Seok Gol's appearance. It'll do wonder for her novel, it'll become a very popular novel. Yang Sun promises to take her sister to Tamna (Jeju Island) to get treatment for her leg from a famous doctor there when she earns lots of money.

Sung Yeol realizes that he's become a beast that can eat a living man at any time hence when he smells a familiar scent, he can't help but to react. After he killed the innocent, he'd provide the family with overwhelming support so they still can continue living. He's the most amazing man Soo Hyang has even seen, she even promise to stay by his side forever if he grants her wish of eternal life. But once he falls in love with a woman, his vampire instinct will make him biting her without realizing. His heart is still a human but his body is craving for human blood, he needs it at least once a month to survive. He tries hard to resist but he killed so many people to survive. Why does she seduce him and want to become a vampire?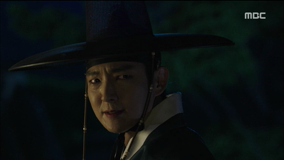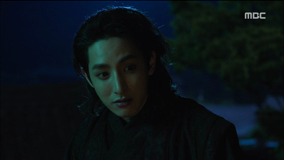 Hae Seo, the guardian vampire turned Sung Yeol into a vampire but for the last 120 years he hid himself well so Gwi couldn't find him although he knew he's been hiding & killing homeless vampires. Sung Yeol can see Gwi but Gwi can't (most likely because of he's wearing that powerful black robe). Gwi stabs his heart by reminding about his guilt of seeing his lover sacrificed her life for him. For Sung Yeol, he killed his own lover. It's painful & disgusting but he will endure. Gwi challenges him to come out, to challenge him but now isn't the right time yet.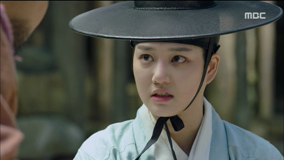 To make a living, saving her dying father and getting treatment for her sister, Yang Sun is struggling to make ends meet. She borrowed money from a loan shark who hijacked the interest, she believes she'll be able to pay it off at the end of the month because of her new customer who has the biggest bookstore here. But they only give her 3 days, if not, they'll sell her whole family.

Sung Yeol arrives at the empty secluded house where the Lustful Student wrote Bu Ja Ui Ok. The iron pot is still hot so it looks like they just missed the writer. He notices the Japanese paper, so it looks like this place is used to make these papers although not many people know how to make it in Joseon. Then they find bodies in the tank nearby, they've been killed by a sword so it's not Gwi's doing. It looks like he's not the only one who's been looking for Lustful Student.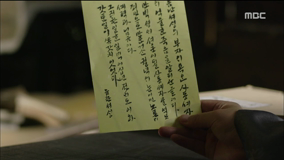 Someone is reporting to his boss that the workers were already dead when he arrived and he couldn't find the son's body. He's instructed to find him ASAP and they're going to spread this flyer tonight.

Yang Sun is selling the books at the gisaeng house, the most popular book is Lustful Student's novel. She then finds out Scholar Eum is also very popular here, everyone wants to be with him but it's rumored he lost his interest with women after losing his lover many years ago and he still can't forget her. It's also rumored that he's gay so Yang Sun must be extra careful when she's with him because gay men usually like her pretty face.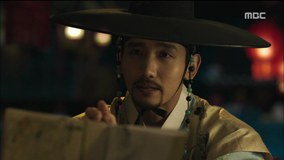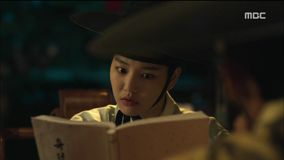 A cheeky man joins the fun. Yang Sun already forgot his name, so he introduces himself again… Lee Yoon. He shows his latest obscene drawing to her, it's very detailed because he experienced it himself. Then, he is at her very closely making Yang Sun slightly uncomfortable. Hence he explains she reminds him of his friend whom he hasn't seen for 10 years, the friend who abandoned him & ran away.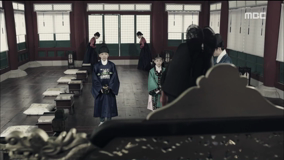 He gave his very precious belonging, a very rare brush case (only 2 in this world) that was given from the King to his friend because he think of him like his own brother. He hopes to find it soon.

Military guards are raiding the gisaeng house. Panicked Yang Sun is trying to find him everywhere to let him know there's a trouble outside. She enters his room but can't find him. Because the guards will raid this room soon, she panickly undresses, takes off her disguise. Little did she know Scholar Eum is watching her very closely. There's a scar on her shoulder, what could it be? After she finished changing her clothes, he surprises her by pointing out about her undergarment before changing the subject to find out if she's found Crown Prince Junghyun's memorandum. But it seems like this book doesn't exist!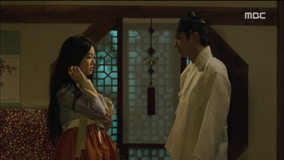 The guards are getting closer hence she begs him to help her. He refuses because he'll be mistakenly arrested as her accomplice of defying the laws, disguising as a man & helping her selling books illegally. She almost cries explaining she's the head of her family as she begs him to help her just for this time only. She promises she'll never forget his help. Fortunately, he's willing to help.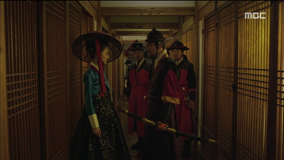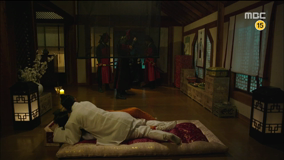 Soo Hyang gives them extra time before the guards raid the room. When they enter, they're shocked to see him laying on top of a woman! Meanwhile, Sung Yeol is very calmly asks if the person the King is looking… is him. If not, please leave because he wants to finish his business with his woman. They're actually looking for the Crown Prince who frequently visits this place but he hasn't visited in the past few days. Yang Sun is still very shocked over what just happened, Soo Hyang can't hide her jealousy.
The Crown Prince thankfully dodged the bullet but he's too stubborn and will still visit the Gisaeng because of two gisaengs and of course the bookseller who looks like his best friend.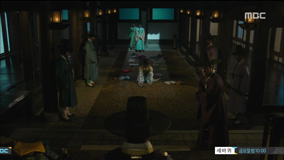 But now he must meet with his grandfather, King Seonjo (Lee Soon Jae), who's been furiously waiting for him. He throws the scroll to him furiously, Sungkyunkwan Scholars and ministers have requested to de-crown the absent Crown Prince.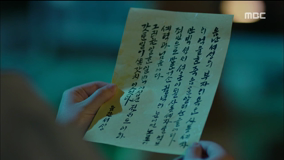 After escaping from the gisaeng house, Yang Sun is told the Lustful Student's book she's been selling is a story of dead Crown Prince Sadong. The note about this is spreading around and it seems like it's the reason the King was looking for Crown Prince Lee Yoon who believes the King, his grandfather framed Crown Prince Sadong for treason and drove him to his death. He explains the same things happened 120 years ago.

He still can't forget his father's desperate plea for help as he tried to climb out. Little Lee Yoon begged them to re-investigate because his father would never commit a treason. But his grandfather could only looked at their cries from afar.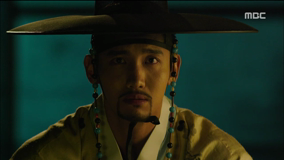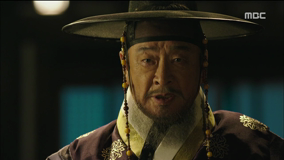 Back to the present time, Crown Prince Lee Yoon still can't forget the day when the King put a knife on his neck and told him Crown Prince Sadong is not his father. He then bravely tells his grandfather to de-crown him. He's aware every time there's a movement about Crown Prince Sadong, he's link to them & people have been discussing about de-crowning him. Everytime that happened, King Seonjo always tried to prove his innocence clarifying he's his only rightful bloodline. But the King didn't realize his grandson whom he always tried to make excuses to hide his incompetence, has been playing around in the Gisaeng house. If he's worried about his grandfather, he should just die because de-crowning his own grandson means admitting his mistake.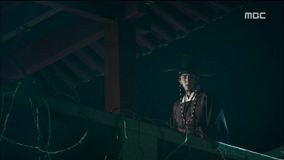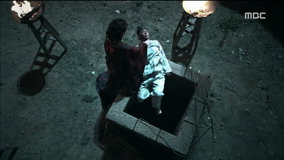 Meanwhile Sung Yeol read the same flyer, warning someone will reveal the truth about Crown Prince Sadong's death. But nobody knows who wrote it. He knows the two Crown Princes that wanted to kill Gwi both lost their lives to Gwi. Does the Lustful Student know Gwi and his identity? Sung Yeol needs to meet him before Gwi and find out if he has Crown Prince Junghyun's memorandum.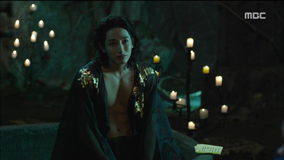 Of course Gwi has also read the flyer. He has a pretty young girl in front of him, scared to death as he talks about Crown Prince Junghyun and his secret plan to kill him so he killed him and got rid of the book. But there's another guy he killed… He's Crown Prince Sadong, his dead body is here! Because he had Crown Prince Junghyun's memorandum and tried to kill him with the secret plan, but there's no secret plan at all.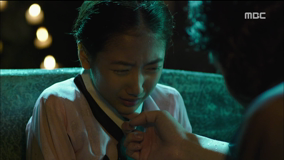 Gwi then carries the scared girl to the tub as he talks about Scholar Eum Rang who knows about this memorandum. Maybe he has the memorandum or wants to kill him, but regardless of his reason, Gwi must also kill this man. Then he bites this poor innocent girl. 🙁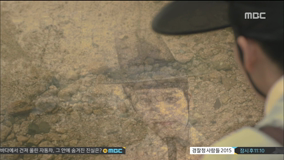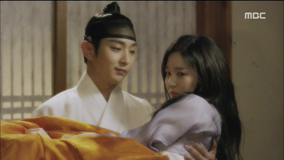 Gwi isn't the only one who's been looking for Scholar Eum Rang. Sung Yeol also asked Yang Sun to find him. But instead of looking for him, she can't forget about his help that night. He looks like a playboy! But she promised to do anything he asks, so off she goes to find Scholar Eum Rang. But someone is following her!
Sung Yeol receives some of the books he requested, one of them is a vampire story Crown Prince Junghyun wrote 120 years ago. He thought not one book survived when all were burned 120 years ago but this book miraculously survived.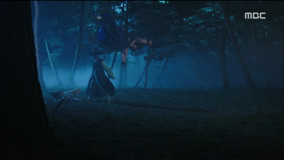 After walking for quite some time, Yang Sun is wondering if she's going on the right way. She asks a pale young girl who suddenly appears in front of her, she's the girl who was turned into a vampire by Gwi. Fortunately Sung Yeol saves her but it makes her wondering about his identity, is he a human or not? Meanwhile, Gwi is celebrating he finally found Sung Yeol!
Comment
So far I like how this drama is going. Kim Sung Yeol's struggles to live as a human and kind vampire while looking for a way to find the secret plan to kill Gwi is heartbreaking. He didn't want to be vampire in the first place, Hae Seo forced & made him like this so he can continue his mission to kill Gwi! He never wanted to kill any innocent people but he needs human blood once every month. Unlike Gwi who bites and turns human into vampires, Sung Yeol stabs and burns them to death so the number of vampires won't increase. He also closes his heart because he doesn't want to hurt any woman again like he unintentionally did 120 years ago. He will never overcome the guilt of helplessly seeing his lover killed herself for his sake in front of him. Will Yang Sun break his icy cold heart?
Didn't expect Sung Yeol would find out about Yang Sun's cross-dressing this early but it's better than dragging it out. Lee Jun Ki and Lee Yoo Bi's chemistry is pretty good, so excited to see how their relationship will develop. Curious if he'll tell her soon about his vampire identity because she's already wondering about it. But I guess to protect her, he won't say anything until the right time comes or they're in danger. Yang Sun is such a bubbly, cheerful and optimistic person, I adore her. She did break the laws by disguising as a man and selling books illegally, but in that era, she didn't have much choices to feed her family. Despite all the difficulties, she always gives her best. Even during her spare time she's teaching the kids how to read. An inspirational young woman. Hopefully she can find Crown Prince Junghyun's memorandum soon. Lee Yoo Bi's chemistry with Lee Jun Ki is palpable enough for me to cheer for them.
Gwi is a very interesting villain. Lee Soo Hyuk is doing a decent job portraying this character. Most villains have heartbreaking backstory so I'm curious about his backstory and the reason(s) why he wants to rule the world & humans. Was he betrayed by human or his lover? It's clear his teacher Hae Seo knows his weakness(es), the black robe is one of them. He couldn't see Sung Yeol when he wears this robe. This episode's cliffhanger is driving me crazy. Wednesday, please come sooner!