Sweet Savage Family Episode 1 Brief Recap
November 20, 2015
|
Recap
Yoon Tae Soo is a gangster leader in the entertainment business and a loving supportive husband, son & father. He has a gentle heart, a real softie who a lot of times can't win the argument with his nagging wife & mother and spoils his rebellious teenager. He can't take out his anger on his family either but fortunately he can get angry & throws his fist to the swindlers / criminals. His profession is perfect for him, his Chairman also favors him but..he'll soon find out that life isn't all sunshine and rainbow. Sweet Savage Family pilot episode is crazily fun & entertaining – it feels like a sitcom that the whole family can watch & laugh together without over-analyzing anything. Hopefully it stays good because I'm already falling in love with Yoon Tae Soo and his crazy antics family.
Episode 1 Brief Recap

Let's meet our hero. He's Yoon Tae Soo (Jung Joon Ho) whose loyalty to his Chairman Baek Man Bo (Kim Eung Soo) shouldn't be questioned, a loving husband to his nagging wife Kim Eun Ok (Moon Jeong Hee), a filial son to his equally nagging mother Lee Choon Boon (Oh Mi Yeon) and a supportive father to troublemaker daughter Yoon Soo Min (Kim Ji Min) & smart Yoon Sung Min (Lee Min Hyuk).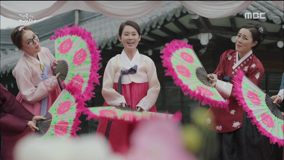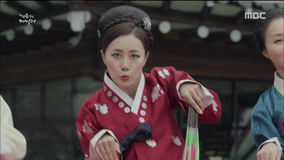 Today is Chairman Baek's 70th birthday celebration where he's joined by his partner Oh Mi Ran (Ji Soo Won), son Baek Ki Bum (Jung Woong In), his guests and One Heart group. Everyone is entertained watching One Heart's dance performance – no idea what to call this dance but it's hilarious to see leader Eun Ok's trying so hard to steal the spotlight while her supportive husband watches with pride.

But the party is cut short as they're urgently called to their daughter's school because she cyber-bullied her good friend Nam Mee Ae. Yoon Soo Min didn't tell her parents about today's School Anti-Violence committee's meeting so they came unprepared unlike Mee Ae's lawyer father who states it's a serious crime and she'll be dealt with severe punishment.

Tae Soo surprises his wife by apologizing that it's his responsibility as her parents. Soo Min then makes a shocking statement that Mee Ae harassed their friend first, a statement Mee Ae denies of course. Soo Min gets up, wanting to hit her friend leading to Mae Ae's father curses she'll cause serious problem later on. Eun Ok defends her daughter, vowing to lodge a complain to the committee that Mee Ae's harassing her friend. Of course Mee Ae's father erupts in anger! So does Eun Ok who criticizes and threatens him, she's even ready for him to sue her for an assault!
This fight is going nowhere so Tae Soo calmly… twists Mae Ae's father's fingers then calmly apologizes, promising to discipline Soo Min at home because everyone learns from their mistakes, right?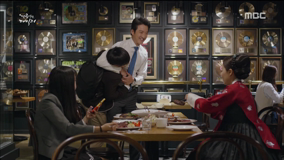 Instead of punishing her, Tae Soo spoils her to a steak as she wanted. Her brother Sung Min joins them and Tae Soo greets him like they're in gangsters dinner party instead of a family's dinner. But their dinner is cut short when Chairman Baek calls him to do urgent work. His family looks upset although this isn't the first time he has to abruptly leave. Frustrated Eun Ok takes out her anger to Soo Min then she takes a deep breath & let her husband go saving the country. Cutie Soo Min winks at her dad who winks back.

Tae Soo is chasing a gangster and he's not stopping until this swindler is caught and confesses his crime. After wrapping up his work, he messes up his hair at his house's front gate then he enters his house. After waking up his wife (who's asleep waiting for him in the living room) to sleep in the bedroom, he sweetly checks on his children. Then he stares at the picture of a praying girl.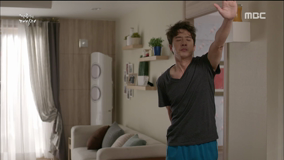 The house is woken up by teenager Soo Min's screams. She's upset the last egg tart she saved is gone. Who ate it? It's her dad who's been dancing weirdly because his tummy is aching but he couldn't bring himself to admit what he did last night. As he runs to the bathroom, he put his hands up & confesses.

Thanks to Tae Soo's support, Hong Jin Young (cameo by Hong Jin Young) finally got her big break but unfortunately she can no longer perform at clubs around the country because of her now hectic schedule. Tae Soo harasses her poor manager before threatening them to stick together because they've been together for so long.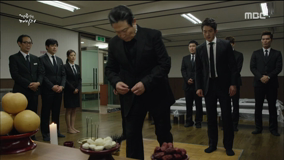 The gangsters join Chairman Baek at his friend Hwang So's funeral. He's upset belatedly finding out his friend hung himself because he had no money yet he had a lavish birthday party recently. Moreover, Hwang So took a really good care of his subordinates but nobody pays their respect. Looks like Tae Soo is oblivious of the news because he doesn't know one of Hwang So's underling went to prison after losing everything when his business failed. Chairman Baek advises it's okay to start a business but beware of prosecutors. He then suggests them to start a new business, his son Baek Ki Bum moves fast by making a deal at the casino with a Chinese investor.
They're having a fresh start but Kang Seong Gu (Choi Min Chul) is already complaining and criticizing Chairman Baek's idea. Tae Soo advises him to open his mind because people may come up with a great idea if they continue using their brain to think.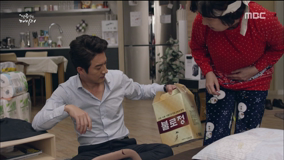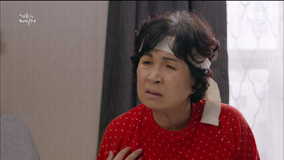 He rushes to see his sick mother Lee Choon Boon (Oh Mi Yeon) who stresses out she wants to die, telling him about her funeral plan. She's sick but still complaining about her daughter-in-law. But what's the reason she called her son? She wants… to give him health food which she bought for 2.8million won! Only with a toilet paper freebie. She bought it for the sake of her son because if she's healthy & happy, so does he.

Not wasting any time, Tae Soo and his underlings burst into the swindlers' place but they've already moved out. The new occupier is movie company Hanbat Pictures. Despite the pleas from the new occupiers that they're movie production people who make movies – not selling health food products, they ransack the place. Tae Soo finally realizes his mistake when he spots Hanbat Pictures brochure and the CEO & movie director's photo on it. He then video calls his mother to confirm if one of them is the seller – shockingly, Choon Boon asks to see CEO's ear… to read his fortune. She prophecies this man will be very successful.

To his mother, Tae Soo lies that he found swindler and got the money back. He withdraws 2.8million won from his bank account to give to mom and he also adds expensive red ginseng. Worried son begs mom to come back & live with them again, begging her to let things go and acknowledge her daughter-in-law. These two women are like oil-and-water.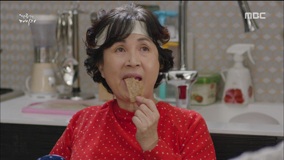 To Eun Ok who brought delicious side dishes, Choon Boon repeats her nagging of wanting to die. Eun Ok is upset to see expensive red ginseng on the fridge but she swallows her anger. She also asks her MIL to come back home as they left her room as it is but it's better this way isn't it? When Eun Ok shares about Soo Min's trouble at school, Choon Boon nags for her to stop favoring Sung Min because kids are all different.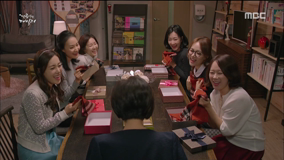 One Heart is discussing about how wives can help their husbands to succeed. The women are praising Sung Min who got first place again and can easily enter Seoul University. Albeit proud, Eun Ok knows her precious son can't let his guard down. The women soon suck up to Oh Mi Ran who brought expensive scarfs as gifts for their contribution at Chairman Baek's 70th birthday. She praises team leader Eun Ok then she lectures her of neglecting one of the group's motto – intelligence. One Heart's motto is loyal wives should be intelligent, have healthy bodies and are graceful. She then tells the group to read a book titled "Justice". After a moment of silence, everyone pretends to be intelligent 😀 Behind her back, One Heart is mocking her knock-off life as she's not legally married yet acting like a queen. Seems like her relationship with the Chairman is platonic because they don't even share the same bed.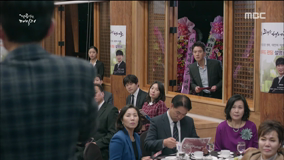 Tae Soo attends a promotional meeting conducted by Hanbat Picture out of curiosity. He arrives when the CEO is talking very passionately selling his idea about making a gangster movie based in Chungcheong-do. He talks like a motivational speaker, a savvy salesman who successfully convince the audience about the power of culture & movies, earning him lots of applauds.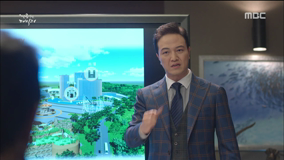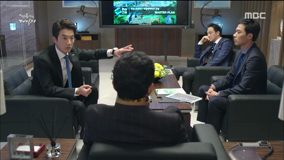 Baek Ki Bum introduces his ambitious project plan to build a hotel, shopping mall, amusement park and a casino in Daejon. He's already secured Chinese investor to make Yoo Sung Multi-Thematic Park a reality. What about the current buildings? He plans to bulldoze them all to rebuild this paradise on Earth, making a name for themselves to be a legitimate corporate group. Tae Soo believes Ki Bum's ideas are great but Chairman Baek wants to hear about his idea so he stutters suggesting a gangster movie based in Chungcheong-do. Kim Bum laughs at his… idea, suggesting to make a movie based on Tae Soo's life.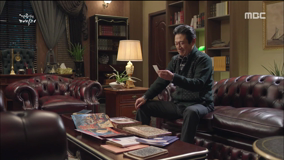 Later that day, Chairman Baek is looking at his past movie project, pondering about Tae Soo's idea but his son convinces his gangster father to think of a bigger picture – see the forest instead of a tree! Chairman Baek believes it's a risky business, they can't underestimate the Chinese.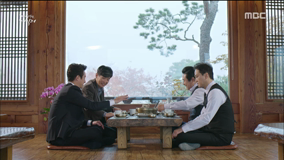 Well, Chairman Baek decides to… invest in this gangster movie! He invites Hanbat Picture CEO (who coincidentally comes from the same hometown) for a nice meal and they bring up his past work as a production manager at a movie production company owned by his friend. Jealous Ki Bum brings up a gangster movie in Chungcheong-do "The City of Violence" in which the CEO proudly brags that he inspired The City of Violence's PD Ryu Seung Wan to start making movies. Wow. He believes making a good movie about a city is promoting this city to the whole nation, making local people proud of their town. They bring up famous people from Chungcheong-do and how people are underestimating this town. Soon afterwards, they sign the deal. Chairman Baek quickly deposits 3 billion won to get the ball rolling. Seems like Chung Boon's fortune telling was accurate.
Tae Soo can't believe the coincidence that Hanbat Picture's CEO is his senior, the went to the same school. He quickly apologizes for accusing this guy a swindler and he almost broke his expensive equipment. Things are going well for them… but for Ki Bum, he is ready for revenge!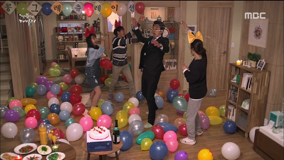 Tae Soo arrives home to a surprise party throws by his proud family. They already imagine investor Tae Soon accepting best picture movie award where he acknowledges movie production's hard work and gives the glory to his wife & his two puppies. Before he finishes his speech, he's brought back to reality by a pepper sauce! Hilarity ensues as this crazy sweet family knows how to parteeee!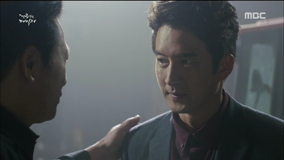 Chairman Baek never forgets people who owe him money, especially if they ran away with his money. He trusts Tae Soo whose life depends on this gangster movie. He must be successful! His underlings are excited too, hoping to get their names out there by participating in this movie as an extra.

But… when they arrive at Hanbat Picture, the place is eerily empty! Where is everyone? The CEO can't be reached, his phone is off. Infuriated Tae Soo orders his underlings to find these swindlers.
Comment
Either Yoon Tae Soo is too naive or he's too trusting for not suspecting the CEO who sold his idea like a savvy salesman. Perhaps because he's so used of using his fists first than his brain that he didn't think too far ahead. He should never trust any stranger easily, especially someone who's a big talker like this CEO because anyone (especially swindlers) can pretend to be his long-lost friend or school senior just by researching his background. But don't worry, everyone learns from their mistake so he will definitely learn from this incident and will become more cautious in the future.