Sweet Savage Family Episode 2 Brief Recap
November 26, 2015
|
Recap
Gangsters' daily life is exhausting – they should use their brain before running around in circles. Yoon Tae Soo continues using his muscle to find CEO Son while Baek Ki Bum wins the first race & has the upper hand by sheer luck. Without any mercy he terrorizes Tae Soo who put his whole life on the line here. Will Chairman Baek get his 3 billion won investment back or will Tae Soo find another production company to produce a gangster movie of his dream?
Episode 2 Brief Recap

Yoon Tae Soo checks Mr Son's house but there's no sight of him. When his housemate returns, he abruptly runs away so Tae Soo and his boys are chasing this poor guy.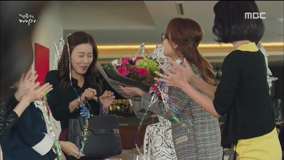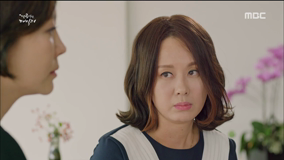 The news hasn't reached One Heart who throws a surprise party for Kim Eun Sok. Jealous Choi Kyung Mi sucks up to Madam Oh as usual before blurting out the words Madam Oh dislikes – they're wives of thugs! It's time for her to stitch up her mouth.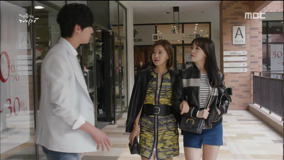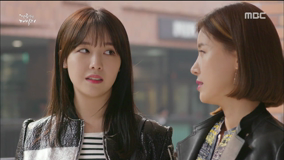 Lee Do Kyung (Yoo Sun) and her teenage daughter Baek Hyun Ji (Minah) are stopped by a handsome young man but they coolly ignore him. Mom argues the man was trying to hit her so does Hyun Ji, so let's find out! He's actually trying to sell something to them. LOL.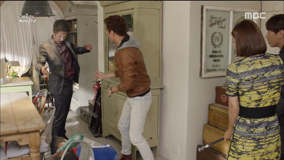 After bumping into Tae Soo outside a newly opened cafe, they make a mess there so the owner sprays both of them with flour! It's Lee Do Kyung! Tae Soo is clearly surprised to see her back in town. Somehow Baek Ki Bum receives a picture of Do Kyung and Tae Soo together at the restaurant Do Kyung opened last weekend. She's just recently moved back to Daejeon. Son's housemate doesn't know where he went so the exhausting chase was in vain.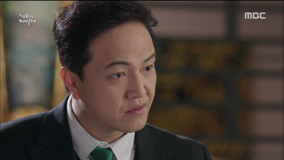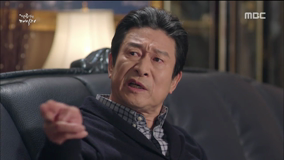 Chairman Baek admits he spent 3 billion won to give hard worker, loyal, reliable Tae Soo a chance to do something else than managing the clubs. He's never caused trouble either, unlike his own son Ki Bum who mocks Tae Soo can only use his muscle than brain. Chairman Baek argues Tae Soo has the heart, the person he needs the most. Jealous Ki Bum tells dad to make him his son instead. Tae Soo knows he'll be screwed very badly if he can't find the swindler knowing Chairman Baek put his full trust on him and he's not his father who can let go mistakes like he did to Ki Bum.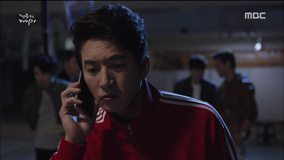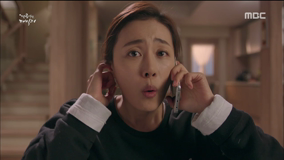 Fortunately they caught the two movie PDs but they're victims too. In the midst of interrogating them, Tae Soo gets a phone call from his nagging wife because he forgot to toss the rubbish after getting an urgent phone call from his underlings. Eun Ok who knows nothing giving him order to buy things at the convenience store on his way home.
Tae Soo finds out from his policeman friend that Son Se Yoon is a five star gambler! It'll be hard to catch him because he'd probably run abroad with the money.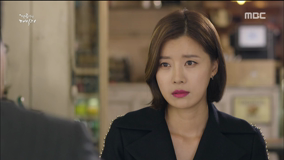 Do Kyung is utterly annoyed to see her first customer for the day is her ex-husband Ki Bum whom she divorced because she hated being a gangster's wife. Ki Bum reveals he has changed for her sake – not for their daughter's sake.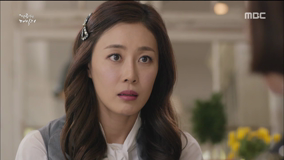 Choi Kyung Mi's husband reports to his wife who's in the middle of choir practice that Lee Do Kyung is back in town and she opens La Mer cafe. The practice session abruptly cut short and Lee Do Kyung invites One Heart ladies for morning tea. As they enjoy delicious snack baked by Do Kyung, Madam Oh recognize La Mer Seoul's flavor. Do Kyung lived in Seoul but Daejeon is her hometown. In fact, Eun Ok, Do Kyung and Kyung Mi were known as their school's Charlie Angel. Madam Oh laughs when Kyung Mi introduces herself as a slutty one while Do Kyung bluntly reveals it's Eun Ok because she married her unrequited love!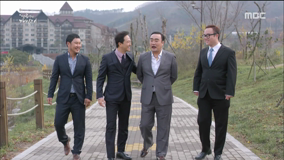 With his clever brain & persuasion, the Chinese investor is happy to invest on his thematic park project. By sheer luck he spots Mr Son looking nervous as he enters the building, then his insider reveals CEO Son frequently visits this casino's VIP although only foreigners are allowed. Apparently he uses Dominican Republic passport. He lost lots of money yesterday and loses heaps more today. Son Se Yoon's heart almost drops to the floor when Ki Bum mocks him – asking if Yoon Tae Soo knows about him losing so much money.
Of course Ki Bum ain't giving any hint to a stressed out Tae Soo. He even sarcastically tells him to make a good movie because he wants to see how big his dad's smile will be.

The two PDs are thrown into the water but they insist they're the victims. Bong Jin Wook whose nickname was Low Budget High Quality and Lee Jun Seok promise to make a low budget movie with only 1 billion won – to save their lives. Everyone dies but they don't want to die in vain like this. Well Tae Soo doesn't have any other choice but he doesn't have money either.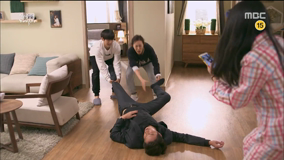 Eun Ok and Sung Min are shocked drunk Tae Soo faints on the front door. As they are dragging him to the bedroom, cheeky Soo Min records it with her phone as if she's filming a movie.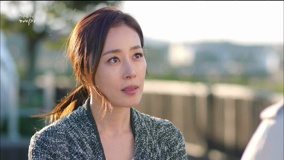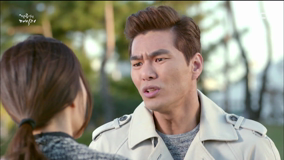 As a gangster's wife for almost 2 decades, Eun Ok senses something's up. Kang Seong Gu initially refuses to tell her but he owes his life to Tae Soo so he spills the beans.

She then persuades Tae Soo's mother to return home for the sake of Soo Min who never listens to her own mother. Lee Choon Boon agrees straight away, she'll do anything for her puppy granddaughter. Without wasting any time, Eun Ok sells Choon Boon's place and withdraws her own savings to help her husband. Eun Ok tries to be extra patient as Choon Boon nags non-stop about the small TV in her room but she's frustrated when her MIL says her son will buy anything, a big TV she wants. Don't you know your son is in a big trouble, Mom? Her nagging finally stops when her puppy arrives home.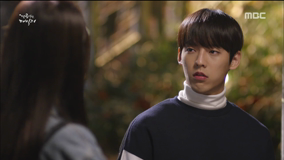 On her way home, Baek Hyun Ji overhears Yoon Sung Min's sweet voice so she stops for a bit and witnesses three jerks ordering him to pay them for playing guitar and singing there. But these guys abruptly run hearing a whistle sound thinking a police or a guard is coming but it's actually Hyun Ji. She tries to job Sung Min's memory but he doesn't remember her so she tells him to remember her the next time they meet. As she leaves she notices he's making her heart flutter.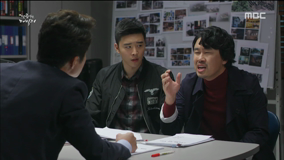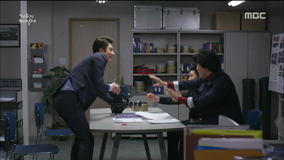 Tae Soo reads through PD Bong Jin Wook's proposed script written based on the script he received a high praise in Poland but even PD Lee Jun Seok admits it's not that good. He only cares about a gangster movie in Chungcheong-do while PD Bong insists to make artistic movies like famous Director Otar Iosseliani described. It's hard to watch the argument between a gangster and a very artistic movie director – they are going nowhere. Tae Soo doesn't even understand what a motive is, he think it's a TV!

Ki Bum makes a surprise visit & glances at the movie script cover. After noticing the title change, he advises a bad movie can be made with a good script but a bad script can't make a good movie. As Tae Soo erupts in anger, Ki Bum leisurely cheers the two PDs: fighting.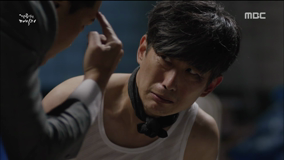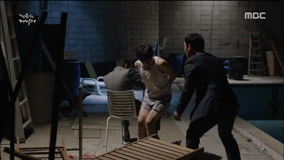 Well he has his hidden card, Jian Carlos Jackson aka Son Se Yoon who's lost all his money. Ki Bum tells him that he's different with Tae Soo who uses his fist but Se Yoon bravely knocks him with his head then he jumps around trying to escape. But his hands and feet are tied so he's trapped here.

Ki Bum proposes to hold a gosa ceremony for the success of the movie, explaining Tae Soo is working so hard and it's been a while since Chairman Baek saw CEO Son. Madam Oh urges him to do it so he agrees. Then Ki Bum sends a pig head to Tae Soo the next day. He's very very shocked to receive this present.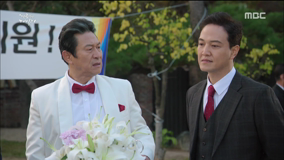 Finally today is the gosa ceremony – Chairman Baek promises to help Tae Soo to make the best movie as he can. When Ki Bum yells out for Mr Son to come out, Eun Ok and One Heart ladies save the day. Chairman Baek isn't buying Tae Soo's excuse that Mr Son is busy in Seoul so PD Bong makes up a bigger lie that he's meeting someone from Hollywood about this movie's remake because (in Poland) sometimes they make a deal if the movie concept is good. Ki Bum continues to drive Tae Soo insane until Chairman Baek shuts his son up.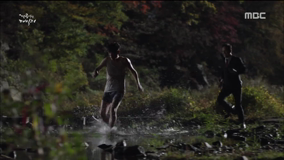 Left alone, Son Se Yoon cut the rope with a sharp rock and hides when Ki Bum comes back with rice cakes from gosa ceremony. He knocks down barrels when he tries to escape and Ki Bum chases him until he finally catches him.
Tae Soo wakes up from a nightmare! Before he's catching his breath, his wife is already nagging to go to the grocery store because his mom is here so he reluctantly drives her there. After their shopping is done, they open the car's trunk to put their stuffs. However…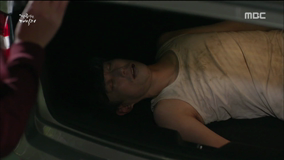 they find a dead body laying there! It's CEO Son Se Yoon. OMG.
Unfortunately Tae Soo turned off the car's black box at night to preserve the battery so they don't know who put the body there. It wasn't Tae Soo though.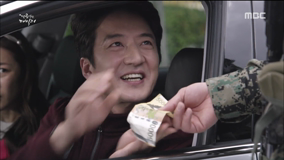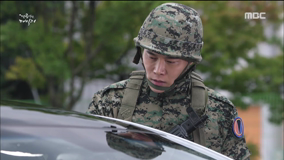 Their trouble continues as there's police inspection on their way home. Tae Soo tries to bribe to officer so his car trunk won't be inspected but the officer who refuses the bribe – yells out to the other armed officers!
Comment
Poor Tae Soo, he is only the victim here yet he's forced to be a criminal. This episode we can clearly distinguish the difference between gangster Yoon Tae Soo and gangster Baek Ki Bum. Tae Soo may use his fists first but he still has his heart intact while Baek Ki Bum's jealousy is clouding his heart. A scary temperament gangster who is dying for his father's acceptance & love. Perhaps because he's born with a silver spoon on his mouth he terrorizes people when things don't go according to his plan. The fact that Lee Do Kyung divorced him while Eun Ok continue staying by Tae Soo's side (without any strings attached) shows Tae Soo has a heart of gold. Yes he's a gangster, but he's a good gangster.