The Time We Were Not In Love Episode 16 Brief Recap
Finally it's the finale. We're reaching the end. For those of you who continued watching this drama, give yourself a pat on your back. 🙂 Are you ready for the finale?
I can watch the whole episode full of 1+1 lovey dovey scenes but there're loose ends still need to be tied. Let's hope this drama can give us a satisfying ending and everyone gets their own slice of happy ending.
Episode 16 [Final] Brief Recap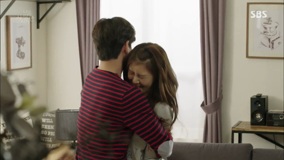 After working tirelessly finalizing Jumei proposal, workaholic Ha Na is too tired to walk on her own so she holds on tightly to Choi Won. They can't go upstairs (to his room) like this, they may get hurt. But Ha Na think it's good because they can lay in the hospital bed together.
He sweetly put his arm around her & they slow dances to lay down in the sofa. A shocked Mi Hyang who just returned from her flight decides it's best to leave glue 1+1 couple alone, too much shock isn't good for her unborn baby.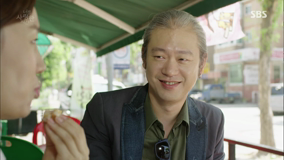 She meets Jong Hoon who promises to satisfy her craving even if he has to search around the country. She then brings up their plan to find a house, wanting to find it sooner because she's uncomfortable seeing lovebirds 1+1 couple. Jong Hoon proposes to move to his place, something she's already guessed because she has already reserved a moving van. She'll move in today. Awesome.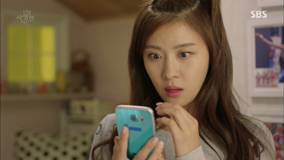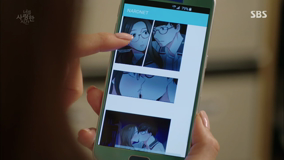 Oh Ha Na is shocked to find a recently released popular webtoon titled 1+1 couple is basically her story with Choi Won. Guess who wrote it? Who else? It's her brother who saw the script on his noona's desk.

Responses are great, people really like the main characters aka Choi Won and Oh Ha Na. But it's still rude for him to use his own sister's private life without her permission. He begs her to support him, just this once. He worked really hard on it, locked himself in his room for days although he didn't expect the result would be this overwhelmingly great.

Their parents are proud Dae Bok finally shows his talent. Although Ha Na was upset but she praises Dae Bok's drawing talent to her bff, so does Choi Won who reminds her about the dinner tomorrow. Workaholic Ha Na can't make any promise because her important project's result will be announced tomorrow and she may have appointment afterwards depending on the result. Choi Won is clearly not too happy she prioritizes her work than him, giving her a warning for being a workaholic. It's a disease, Oh Ha Na ya… She yells, hangs up.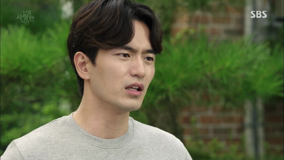 The next morning, she asks if working overtime & attending business dinner is a workaholic disease. Choi Won answers, of course! She whines she's too tired because she worked too hard and she barely spent time with Choi Won. Even if she tries to set her weekends free to spend time with him, she's too focused on her documents and her phone. But Choi Won needs to be more understanding, she's in charge of a very important project. If he can't stand seeing her working so hard like this, then she won't show her working side in front of him ever again.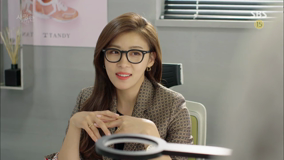 The results are in. Both Hong Eun Jung and Min Ji's proposals received green ticks. The company decided both proposals have bigger sales feasibility in terms of marketing strategy although Oh Ha Na's great idea made it to the final round. Although the winners are not the team leaders, but their team leaders' capabilities are also the reason they successfully won the contest. Oh Ha Na is trying to be cool in front of her hoobaes but can't deny her pride is hurting. Is she being pushed aside now? Na Young is aware she's in difficult situation but it's natural to be hurt facing this odd situation.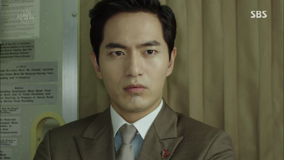 Choi Won is worried he and Ha Na will grow old arguing because they kept fighting about minor things. Min Kook advises him it's the war of nerves phase where couples fight for dominance. He shouldn't let her win too easily and to endure well.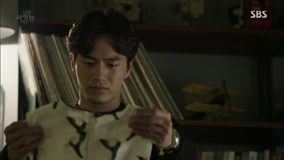 He returns home to a package sent by his mom, formal outfits for him and Ha Na. Thankfully his mom has regained her consciousness & is doing better now. Mi Hyang tells she's moving in with Jong Hoon. For people her age, she will live with him first before she changes her mind then marriage can come afterwards. I love her idealistic thinking.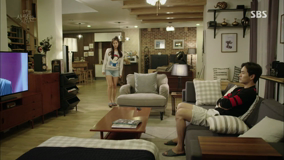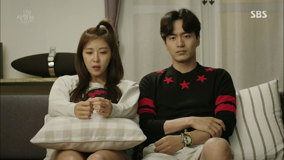 Ha Na realized she's been working non-stop lately but she's disappointed her hoobaes could think of better ideas well accepted by the company. She worked tirelessly because she also wanted to be recognized. Choi Won reminds there're things more important than work. She then remembers his promise to fully support and approve things she really wants to do. But realistically, it's hard when work takes a toll on their relationship.

It's been a while since they talk on the phone looking at each other from their room. Even though they're quite far & can only see each other from the window, they can clearly see each other's expressions. Remember their late nights' calls whenever they felt sad, upset or angry?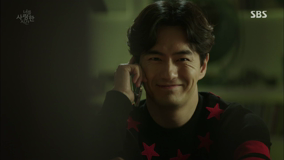 Ha Na decides to be a better person here & apologizes first. Pledging that her number one priority is Choi Won.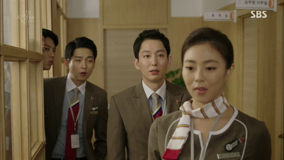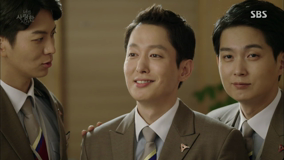 Song Min Kook invites So Eun for a movie date. His two co-workers are not wasting the chance to watch movie together with her either but she bluntly tells the three of them to watch it together without her. He's not giving up, telling to meet her at the cinema this Sunday. She then asks how long can he wait? There are people who waited over a decade. If he can at least wait for one year, then wait for her. She didn't flatly deny, right? So he's on cloud nine thinking she suggested him to wait for her.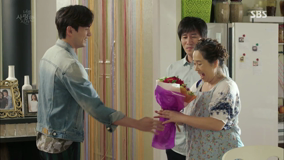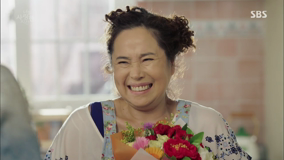 Choi Won arrives at Ha Na's house with a bouquet of flowers. For Ha Na? No. It's for her beautiful mom. He needs to win some brownie points too 😀 Ha Na's parents have read Dae Bok's webtoon and they both know it's about Choi Won's touching love story.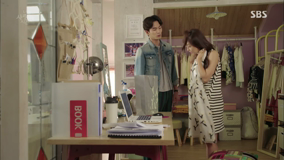 He then hands the dress his mom sent to Ha Na. Although it's not her style but she's so happy to wear classic dress from her mom-in-law. Although Dad only allows Choi Won one minute to be in Ha Na's room but of course he breaks his promise 😀 He wants to know if there's special thing in her room which reminds her of him. She lists the gifts he gave her, making him realize he hasn't given her any nice gift although he always said he liked her. He has no identity in her room. For Ha Na, staying by her side is more than enough. Just then, Dad calls Won because it's been more than one minute.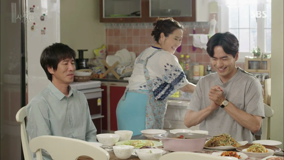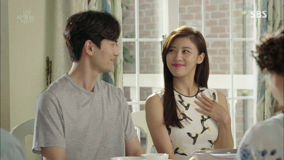 Mom opens the pot lid. Even though Choi Won hasn't tasted her food but he's clapping happily appreciating her effort. It makes Mom happy, actually, it's one reason why she really likes him. Dad is jealous of Won who keeps threatening his spot as her husband. 😀 Ha Na comes downstairs wearing the dress Won's mom gave her. Everyone's in shocked. Mom especially because that dress isn't her daughter's style. But she soon changes her opinion after Ha Na told her it's a gift from Won's mom.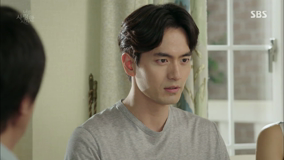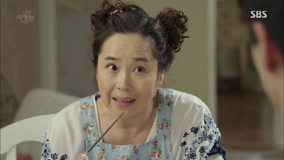 Before they start eating, Won suddenly addresses Ha Na's father in a very serious tone. Father, I want to live with you. What? 😀 Mother, I love you. Huahahaha. He then holds Ha Na's hand & still in serious tone he states he wants to live his life as their son & Ha Na's husband. Dad asks is he proposing to us (Ha Na's parents) or Ha Na? 😀  He confidently replies, both! Huahahaha.

Mom summarizes his proposal. So Choi Won wants to live with Ha Na's father, he loves Ha Na's mother but what about Ha Na? Choi Won: She's mine! Well he's not wrong because Ha Na agrees. But why he suddenly proposes like this? hahaha.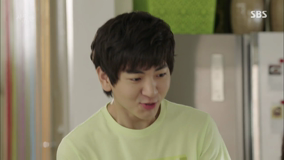 Starving dad is wondering when they'll start eating. 😀 Suddenly, Dae Bok arrives bringing a good news. If 1+1 agrees to do the interview, he can get a movie deal. Of course kind-hearted Choi Won agrees to help but Ha Na flatly refuses.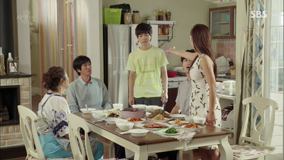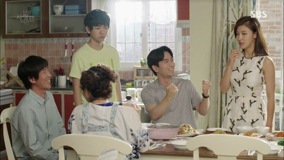 Dae Bok promises to give 80% when his sister gets married if he secures the movie deal. Ha Na stretches out her hand, telling him to give it to her because she's getting married! Everyone's shocked. She just blurted out she's getting married! Choi Won: yes!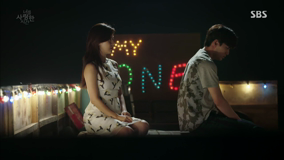 Ha Na admits she never thought they would get married because she's used to have him by her side but Choi Won confesses he did. She was like a match lighting up a candle during his darkest days after his mom abruptly left him.
She then tells him about her upcoming business trip, making him sad because he doesn't want to be apart from her. But he soon cheers up again when Ha Na says she really likes her. 🙂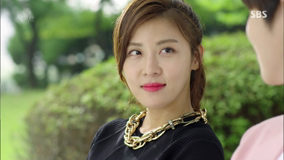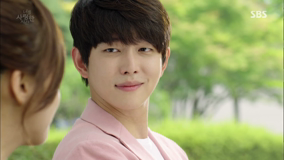 Let's now close the chapter with Seo Hoo who according to Ha Na has changed & has an aura of a famous musician. It's clear they don't belong together because his place is on the stage (in front of the piano). His fans would think of him as a passionate musician. Is Ha Na his fans? Of course she is. 🙂 They agree to meet again sometimes in the future, having coffee together as friends.

Ha Na is on her business trip. Suddenly, a flight attendant gives her a beautiful red roses. She turns back trying to find out who's the nice person who gave it to her, but didn't find anyone suspicious. Just then, another flight attendant put a beautiful ring box in the tray table, pointing out she dropped it when she entered the plane. But she didn't. She looks up and here is Choi Won who changed his schedule to escort her business trip.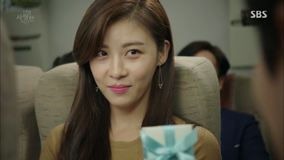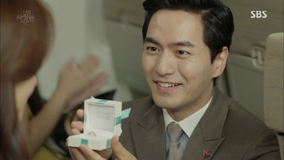 He kneels down, asking Ha Na will you play with me for the rest of our lives? Then he opens the ring box (Choi Won has a great taste, it's a beautiful ring). The other flight attendants and passengers are clapping, cheering the couple & Ha Na to accept his proposal.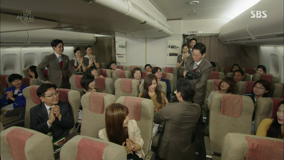 Ha Na's answer: Yes, I will play with you… forever
Perfect proposal!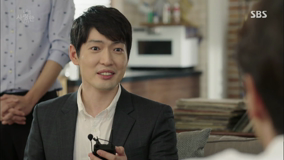 And it's even more perfect when Ha Na describes her wedding as living at a friend's house with the friend for the rest of her life.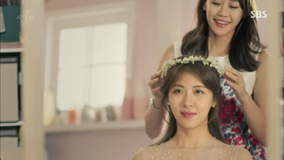 Finally today is the big day, 1+1 wedding day. Oh Ha Na is very beautiful wearing simple yet elegant wedding dress. Choi Won is Choi Won. 😀 It's adorable both of them wear comfortable shoes on their wedding day.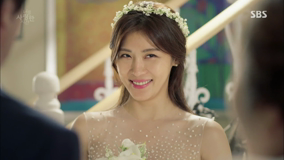 Dad wishes her to live well while Mom notices 1+1 couple are so different with many married couples who get sick of each other after spending time for a long time. Now they're getting married 😀 Maybe they should stop them. Dad advises that loving is easy but living together isn't and today is the beginning. Ha Na promises to live well. Mom originally upset her daughter's once-in-a-lifetime is very simple but she shines & glows.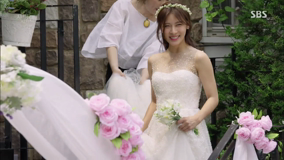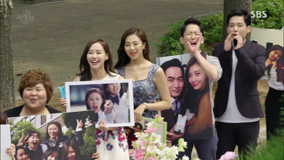 Ha Na steps outside the house to the cheers of her friends holding pictures of the couples, too sweet. What a great idea to hold the wedding in the street where they spent lots of time together.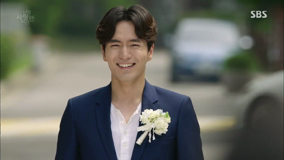 Choi Won is totally mesmerized with Ha Na's glowing beauty. She walks down the aisle with her very supportive & wise father. She realizes that this road witnessed all those times they hurt each other because they couldn't be honest with their feelings.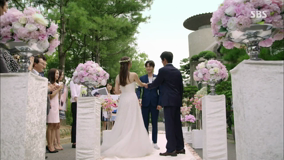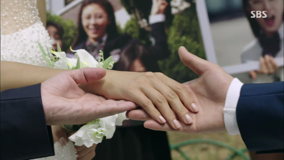 Dad gives his daughter to Won, letting him to take care of her from now.
Now it's time for the happy couple to start their new life together. Won escorts her to the place they'll live, his house.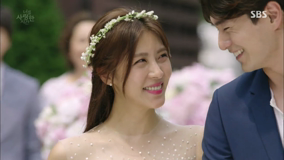 Everyone is touched with their very meaningful wedding. Teary Mi Hyang put her thumbs up when the couple pass her on the way to the new house as they walk in the street they traveled everyday. From Ha Na's house to Choi Won's house.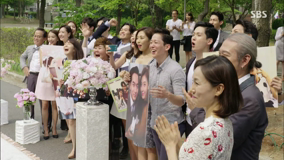 They arrive at Choi Won's house marking the end of their wedding ceremony. They promise to live happily from now on, kiss in front of loved ones who've been supporting them before they finally enter the nicely decorated house (Choi Won wanted to make sure there's a nice surprise for Ha Na who frequently comes to his house). He's incredibly happy to marry Oh Ha Na. She's his wife now! He dances around the house, shouting Manse!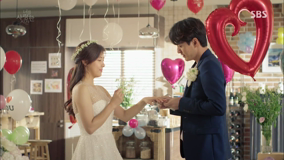 They promise whoever did wrong should try their best to make sure the other feels better. Ha Na adds present, sweet talk, gift certificate and personal time but Choi Won disagrees with gift certificate & personal time even though she explains it'll help to strengthen their love. At the moment, what's most important is… pledging their wedding vows & exchanging their wedding rings.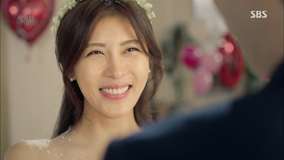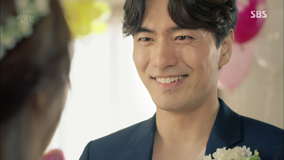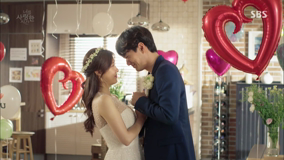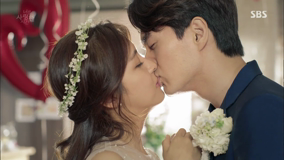 Their wedding vows are very sweet. They promise to love each other until death and even love each other again after they're reborn. Why are they so adorable together? 🙂 They seal the vows with a kiss. 🙂 Ha Na is aware they need to try hard in this familiar place to fill their lives with new moments of happiness.
Eight months later

How is our newlyweds doing? Energetic Choi Won is singing Taeyang's song Eyes, Nose, Lips while taking a shower then touching his wife's eyes, nose, lips to tease Ha Na who's frustrated because his loud singing woke her up. She's already told him before she needs her quiet personal time before going to work. But as a married couple, they need to make some sort of compromise especially when the husband loves to sing 😀 Choi Won whines his legs are cramped when he wakes up because she put her leg of top of his all night long. Is he starting a fight here? Ha Na throws a pillow, thankfully he's quick enough to catch it. He gives the pillow back to her, caresses her hair sweetly then starts singing again as he leaves the bedroom. 😀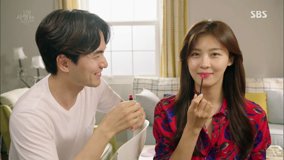 Choi Won teases Oh Ha Na again when she's doing her make-up. He suggests a nice lipstick for her. Then he rushes to the kitchen to prepare breakfast because of a promise he made with her mom.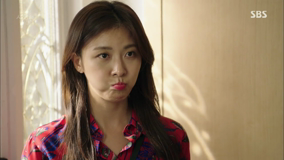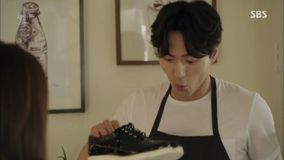 Because she's in a rush, he quickly gives a nice juice for her & prepares her shoes. Ha Na kisses her husband before she goes to work. I love their realistic married life.
Dae Bok and Eun Jung's relationship are still going strong. She asks if he'll write a webtoon based on their story, he starts by drawing her face.
Director Byeon praises Ha Na for making the project a success although it was her juniors' idea. He tells her to prepare for the second season and he'll recommend her for a promotion if it goes well.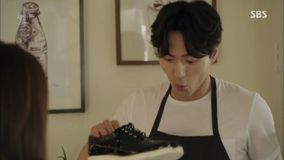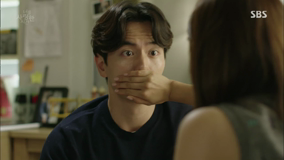 Because Ha Na was pre-occupied with the project, she didn't realize she's late. It's best for her to check it at the hospital.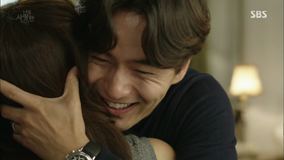 Choi Won straight away brings up pregnancy but Ha Na doesn't want anyone else to know about it. She's worried if she's pregnant but Won is overjoyed. They'll work it out so don't worry Ha Na.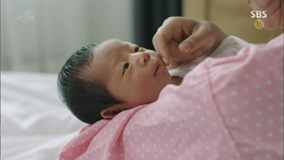 Another couple is overjoyed with the birth of their baby daughter. Congratulation Jong Hoon and Mi Hyang.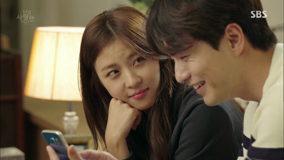 They share the pictures to 1+1 couple and it's clear Choi Won loves kids while workaholic Ha Na probably doesn't want it yet. But after seeing those baby pictures, Ha Na realizes she wants to have a family where she holds his hand, the baby will hold his other hand, another baby will lean against his back and another one will sit on his lap.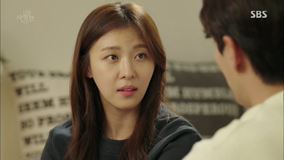 It's one of Ha Na's way to prove her love to her husband – having a baby who looks like both of them. She may go through many mood swings. Choi Won promises to be there for her & help her. It'll be okay, don't worry Ha Na. He is very grateful & thankful to his wife.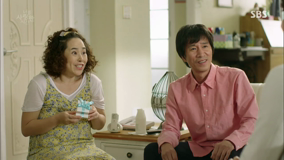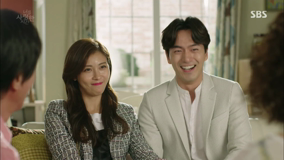 To show their appreciation, 1+1 couple bought wedding bands for Oh Ha Na's parents and sharing the happy news they'll be grandparents.

But the rings though, what should they do about it? Dad takes the initiative. He holds his wife's hand, put the ring on her finger, thanking her for marrying & living with him. That's what he's supposed to do, right? 🙂 Everyone laughs.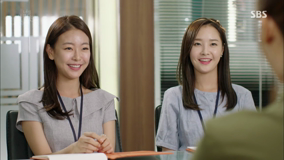 Ha Na also announces the happy news to Min Ji & Eun Jung after she hands over season 2 project to them. It's a wise decision too because they were the ones who came up with those great ideas. She's more than ready to embark her new journey, as a wife & mother.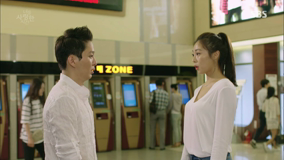 So Eun is currently dating with the man who's patiently waited for her aka Song Min Kook. She hasn't changed much and is very dominant in this relationship.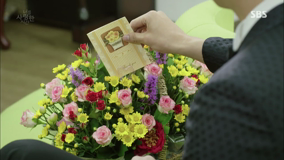 After receiving Seo Hoo's concert ticket, Ha Na sends a flower to him with a message that she's looking forward to his great performance. It's nice their relationship has turned into friends (and artist & fans). Her cheering message encourages him to give his very best today.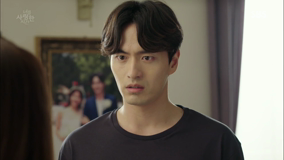 1+1 couple finally explodes. It might start because Ha Na forgot to tell him she couldn't make it to their planned dinner last night because of work and it escalates. Choi Won complains of the things Ha Na did which frustrated him, Ha Na argues back that he doesn't allow her to have her private time and lists the things he did which annoyed her. As time flies by, she realizes the more she doesn't know her own husband.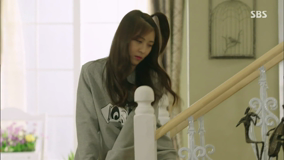 She's already packed her bag to move back home. Of course her parents are wondering what's going on here. Choi Won politely bows to the parents to take Ha Na back home.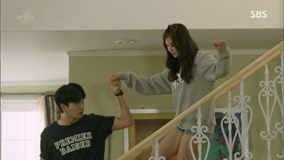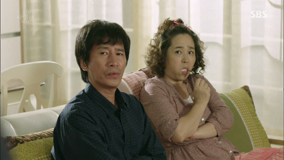 A short moments later, he sweetly holds her hand, helps her walking down the stairs, carries her luggage then politely waves goodbye to parents who're used to their fight. They sorted out their misunderstanding.
On the way home, the excited dad-to-be tells his wife about couple yoga he's booked and he's already planned to videotape the birth. He's planned everything. 🙂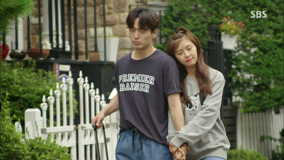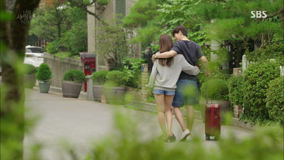 Ha Na narrates that they became a married couple after being friends for so long but they still fight & make up, repeatedly hate & love. She realized she need to return as much love as she received to maintain that love.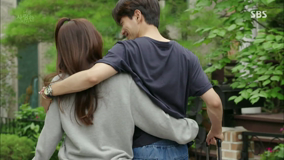 Just like her parents showed her.

Although she's busy with work but she still picks up Choi Won at the airport while holding a placard with a handwritten message that she misses him everyday and she's waiting for him. I love you, one to one!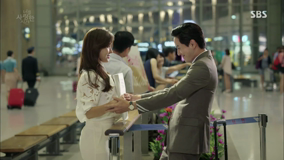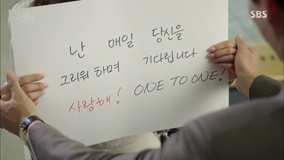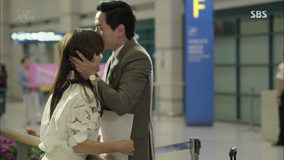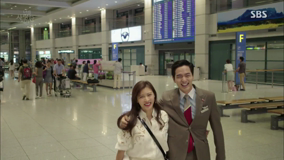 Ha Na: our everyday life is filled with magic thanks to someone because we are in love.
-The end-
Comment
It's a great happy ending for everyone. I went a bit crazy with the screencaps because this episode is full of sweet moments between Choi Won and Oh Ha Na. Perfect airplane proposal, beautiful simple wedding and crazy yet realistic marriage life.
It's sweet they held their wedding ceremony at the same street where they spent most of the time together. I thought they'd do it at the hideout place but I guess nobody else except them should know about that special place and it's really small 🙂 As Ha Na walked down the aisle with her father, all the sweet sad happy memories are flashing on her mind. This place witnessed all those memories and will witness many other amazing milestones & memories. This is the first Lee Jin Wook's drama I've watched and I realized he has the sweetest gaze & smile. 🙂
I love how Ha Na describes her marriage living at a friend's house with the friend for the rest of her life. It sounds cheesy but it matches 1+1 couple perfectly. Long-time best friends living together for the rest of their lives, making sacrifices & compromises, supporting & cheering for each other forever. It's realistic they're not the perfect married couple. They still fight & hurt each other, discover new things about each other but they know their everyday life is full of magic because they're in love.
What I appreciate most about this drama is the way they portray the difference between couples in their 20s (Dae Bok and Eun Jung), 30s (Choi Won & Oh Ha Na, Chung Soo & Jung Mi), 40s (Jong Hoon & Mi Hyang) and over 50 (Oh Ha Na's parents, Choi Won's Mom & her new lover). The youngest couple's love is innocent, in the beginning they thought love is more than enough but soon they realized it's not. Eun Jung encouraged Dae Bok to figure out what he really wanted to do in life. They're still happily dating now with Dae Bok becomes a successful webtoon writer & Eun Jung is in charge of a big project thanks to her fantastic idea. Choi Won & Oh Ha Na and their friends Chung Soo & Jung Mi's relationships had many rocky roads because they're best friends. But in the end, love prevails and they manage to be best friends & lovers. Mi Hyang & Jong Hoon are the weirdest couple (imho) because their personalities and interests are the total opposite but amazingly they clicked well. They're fated to be together. Oh Ha Na's parents are such a joy to watch. Laid-back dad and mom with her burst of energy & excitement. They argue, make-up, support each other, argue again, the cycle repeats. 😀 But it's clear they're in love with each other. Won's mother's love journey is sad to see but when she finally found the right man, she realized all the ideal type she dreamt of, doesn't really matter. What's matter most is to have someone by her side who loves her through bad and good times.
This drama may not be perfect but the ending is perfect for me.
*thanks everyone who read my brief recaps. It's been a fun ride =)