The Time We Were Not In Love Episode 2 Recap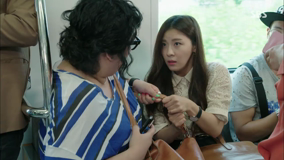 After the wedding's disaster which ruined her chance to maintain her dignity as a single woman in her 30s whose boyfriend dumped her for a younger woman, Oh Ha Na is having endless nightmares. Her work colleagues, Min Ji and Ho Jun drove her to the corner where she desperately hold on to her boss' tie as Min Ji ferociously held a scissor to cut it so Ha Na would fall down to the train's trackrail. She's woken up from her bad dream after a woman asks why she clutching on her bag as if her life depended on it. As usual, she is blaming Choi Won for making a huge fuss that day making her work colleagues even bet if she'll quit the job. She's also a victim here but why nobody (except Choi Won) is on her side? He advises her to pretend to be strong and don't get too emotional. Well, it's easier to said than done.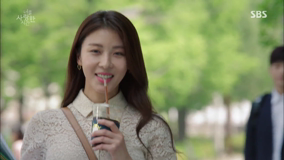 A young handsome boy overheard her phone conversation with Choi Won and rushed to give the documents Ha Na accidentally left in the coffee shop earlier. He asks "don't you remember me? I remember you"
Unfortunately Ha Na's memory is pretty rusty, she doesn't know him as she proudly think he's hitting on her 😀

Team leader Oh Ha Na promises to make the launch show successful despite their special promotion events gave them lackluster results and they still couldn't locate Yeon Jung. Hopefully it'll lessen her boss' stress level. He reminds her about the wedding incident, advising her to be careful and don't make others around her uncomfortable with her actions.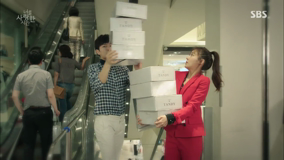 A new intern is joining the marketing team today, the cutie young boy whom Oh Ha Na saw earlier. As he introduces himself as Ki Sung Jae (L), Oh Ha Na has a puzzled look because she accidentally knocked her head when she was looking for her glasses under her desk but also because she's wondering where did she see him before. Then she realizes… he helped her carrying boxes of shoes when she was working in the mall. That's the first time they met, mystery is solved. She gratefully is thanking him when she meets him in the elevator, he's clearly pleased she remembered. Cheekily he confesses he did try to hit on her this morning because he thought she's around his age.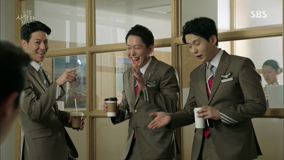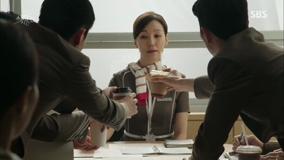 Choi Won's work colleagues are talking about three pretty ladies which unfortunately don't meet Woo Jin's standard or his mother's standard. Attentive So Eun arrives with coffees especially chosen to suit their tastes, earning her lavish praises. Woo Jin think he doesn't have any chance because she'll fit Choi Won best which brings a smile on her face. But the cynical rough man Choi Won put a stop to their teasing. Thankfully he's also saved by Mi Hyang who just arrives to start their meeting. When she asks for a coffee, the guys quickly offer their coffee to her.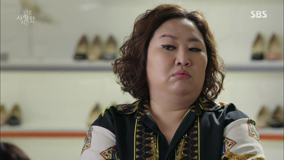 During her routine store visit, Ha Na finds out the reason the sales were below expectations. The store person is forced to display the best sellers shoes because they're also competing against the other shoes stores. Moreover, their ace quit. Before she can convince the store person to display "Yeon Jung's shoes", she meets with a dissatisfied customer who wanted a refund because the shoes she bought and already worn is too tight. Ha Na checks her feet to find out the customer has a high arch hence her toes hurt when she walks because more pressure is put on the arch. She promises to re-shape the shoes and if it's still too tight, the customer can ask for a refund. One problem solved. Now what about the store's display? Unfortunately she can't do anything hence she offers three hours store support.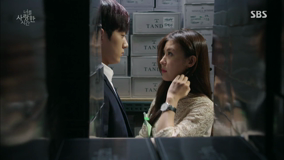 Ki Sung Jae complements Ha Na's ability to handle customer's complain as he tries to hit on her again 😀 He finds her more attractive and he might fall in love with her. They have a quick awkward moment when their eyes meet but gentleman Sung Jae let her go first. Later that day, he brought snacks & coffee for his boss who's working overtime, promising to stay until she leaves because it's dangerous for woman to be alone.
As usual, Ha Na discusses her experience with 26yo Sung Jae to Choi Won. He's still a kid yet he isn't uncomfortable with her. And on contrary, she didn't say any harsh words to him like she usually would. Choi Won advises her not to get her hopes up because the possibility of that kid think of her as a woman is very slim. But Ha Na think her bff is just jealous because he isn't popular with younger flight attendants as she is with her intern.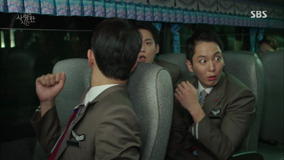 Just then, So Eun warmly greets her sunbae again before seated together in the bus. The other three guys are clearly shocked when he accepts her dinner invitation as her way to thank him for helping her during the flight few days ago. Little did they know Choi Won only wanted to prove that he's also popular with his hoobae.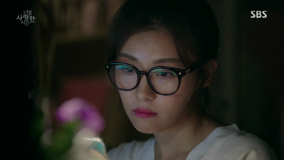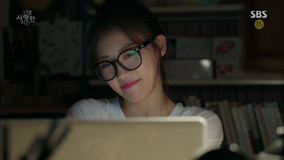 Ha Na is surprised to receive text messages from Sung Jae which look like messages sent from a boyfriend to his girlfriend. Does he like her? He doesn't, right?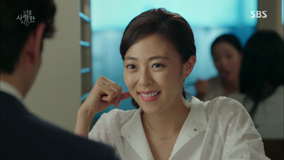 Her bff's dinner date is going well. They are gossiping about the scary senior flight attendant Mi Hyang aka MBLAQ's Mir fanatic fan. She's also Choi Won's older cousin so he calls her noona. As an only child, So Eun is also longing to call someone oppa. Hence she proposes to call her sunbae oppa. When Ha Na calls, she asks her oppa to order more drink. He explains she's just a hoobae then he tells curious So Eun that Ha Na is just his friend, not a girlfriend. Can a man and a woman be just friends? He insists yes. It makes her happy whether she's his girlfriend or not because if she isn't then he's single but if she is then he was aware about her when he was lying to his girlfriend. Meanwhile Ha Na is wondering when did her bff started dating the woman who called him oppa.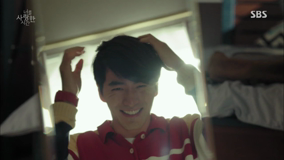 As he walks home, Choi Won recalls So Eun's question Can a man and a woman be just friends? Flashback to more than a decade ago when his friend from another school invited him to a group's blind date, promised he'd meet girls from another school. He practiced to introduce himself in a very cool way and changed his hairstyles until he's satisfied. Ha Na was invited by Na Young to the same event.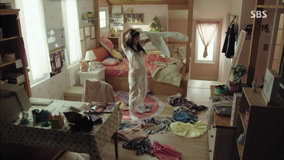 Initially she just grabbed a plaid shirt and light brown overall before changing to a denim skirt, pink tshirt and white jacket. She also practiced introducing herself as she danced & sang her favorite group Fin K.L.'s song Eternal Love.
Both Ha Na and Choi Won lied to each other when they met otw to the blind date. Ha Na: I'm going to the church with Na Young. Choi Won: I'm going to the library.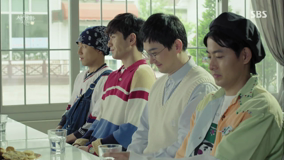 They ended up in the same room together with 3 other girls from Ha Na's school and 3 other boys. The friend who invited Choi Won advised him to think twice before reserving a space in his heart & love may be closer than he think when he complained these girls were all from his school.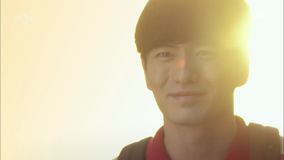 Before the main event began, Ha Na told her bff for not choosing polka dots hair band because it's hers. When he's faced with two very similar hair bands, he ended up choosing Ha Na's and they had great blind date – playing arcade game, ride bicycles in the park where I think strengthened his feeling for her. The way he saw her was so sweet. It's an expression of a man who's deeply in love with a woman. Back in the present time, Choi Won opens his treasure box where he keeps his old pictures with Ha Na and Love of the Single Eyed Fish poem.

Min Ji is back from her honeymoon. Although Ha Na tries to be strong, but she still can't face her directly. She has other important thing to resolve: Yeon Jung is back but she refuses to do the show. It'll be Ha Na's responsibility to convince her before her shoes line disappear. She and Sung Jae wait outside her house for hours but she's nowhere to be seen. Sung Jae admits he'd also hide if he's in Yeon Jung's position because he hid when his girlfriend betrayed him. He felt like the world was coming to an end. He continues… I think the whole experience was a good lesson to help him find a better person. This makes the atmosphere suddenly becomes awkward. Ha Na tries to sing and opens the car window to get a fresh air, stirring away from relationship topic.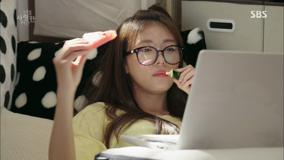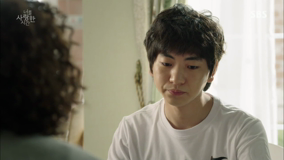 Today is Ha Na's day off and her room is a mess as she's watching movie on her laptop enjoying her time off. Mom is urging her to go outside but she prefer to stay home eating watermelon mom brought her. She doesn't even move an inch from her comfortable position so mom slides the plate of watermelon with her foot.
Her father is questioning her inability to find a good man. So mom proposes to set her daughter up with Choi Won. He's still single, right? With a depressed look, Dae Bok who feel bad for Choi Won for putting up with his sister only because he's Choi Won, doesn't want to trap him in this lifetime torture. But when his father asks him to pay for the watermelon he just ate, he quickly run to get Choi Won.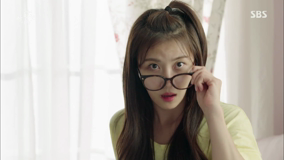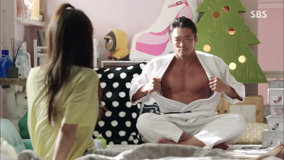 Ha Na is wondering if there's a man around her who she can date. Bam… Choo Sung Hoon suddenly appears in front of her, a manly and kind athlete but he likes model so he's out!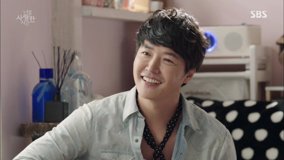 Second man is the sentimental romantic song-writer Yoo Sang Hyun who serenades her with his sweet voice. But too many girls like him and he's married so he's also out. *this reminds me of Gil Ra Im and her "oppaaaa" Oska 😀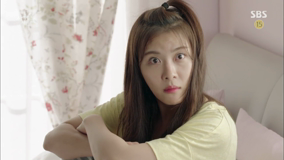 Then Ohn Joo Wan who shows off his unique poses. He's out too.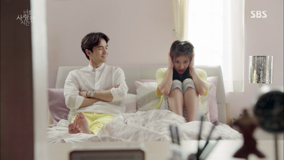 What about Sung Jae? He's too young for her! In conclusion, she doesn't know any suitable man. Choi Won? She screams out really, really, really I cannot.

Mom calls her for lunch so she drags herself out of her room but surprise surprise… Choi Won is here! The parents and the brother leave the couple alone and Ha Na is surprised to see heart shaped fried rice. 😀 Mom really went all her way to set them up. They decide to eat the fried rice from the same big bowl because they're so comfortable with each other as they discuss the hoobae who calls Choi Won oppa and the intern kid who still calls her Team Leader Oh. Ha Na set things straight because male and female relationship will be decided by how they call each other. She won't let the kiddo call her noona. Junior should call her sunbae sunbae.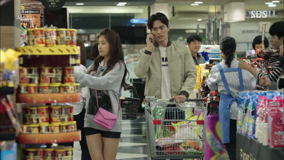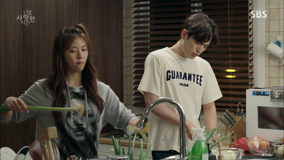 Mir's noona fan asked them to do grocery shopping for her. Although Choi Won is her cousin, he still doesn't remember her favorite wine. Thankfully Ha Na who believes she put up with his sensitive behavior for the last 17 years picks the right one for Mi Hyang who praises her cousin. After doing grocery shopping, Mi Hyang then asks them to help her cooking delicious food for Mir because he likes her food. He teases his cousin that his manager was the one who ate her food because younger people wouldn't like the kind of food she cooked. She is upset so Ha Na tries to cheer her up by complementing her super delicious food and she'd marry her if she's Mir.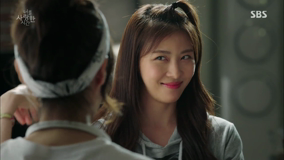 Mi Hyang is embarrassed yet so happy until Choi Won almost ruins the atmosphere again by reminding she's way too old for Mir. But she's only twenty years older and age doesn't matter, right? We only live once. Ha Na cheers her up again by asking will she date Mir if he asks her out.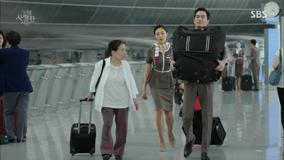 When So Eun saw a grandma struggling with her bag, she offers her help but she's also struggling carrying this heavy bag herself. Thankfully Choi Won saw her so he offers to help. Meanwhile, Sung Jae also lends his help to Ha Na but the way he looks and touches her hand makes Ha Na's heart beat much faster.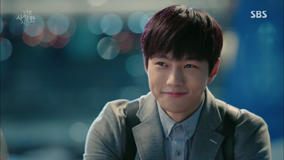 After Sung Jae saw Ha Na's feet are hurting after standing and working long hours at the store, he borrowed sandals from the store's manager and give it to Ha Na. His attentiveness put a huge smile on her face although it's been an exhausting day. As he walks her home, Ha Na suggests him to move to the production team if he wants to learn more about shoes because working in the store won't give him as much shoes experience as he'd expected. But he insists he's happy now, he's learning a lot thanks to noona. Ha Na is surprised to hear him calling her noona but he explains because they're off work, he's not an intern and she's not Team Leader Oh either. They arrive at her house as Choi Won is looking curiously before greeting them. So Ha Na introduces Sung Jae whom she talked about before, she stops him before he starts blubbering about that kid. He thanks Sung Jae for helping her but he sweetly replies he's learning a lot more than helping.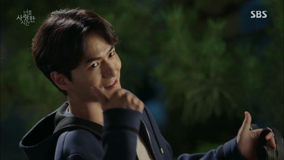 Choi Won then invites his bff to eat in the rooftop where she repeats what Sung Jae said about why he calls her noona off work. She finds him funny making Choi Won suspicious that kiddo has just opened her heart. She's confused herself. Well maybe she saw him as a man when he called her by name. He seriously asks if her heart opened after she said he's handsome, hard-worker and good to her but she's too old to fall for his tricks. He reminds her about her perspective of setting things right and won't allow anyone to call her by name or noona.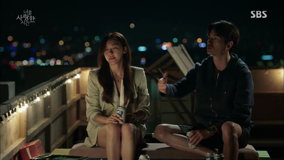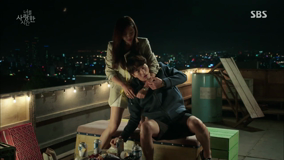 Well, all the best, Ha Na ya. If things going well, set a date by this year, get married next year then have a twin the year after. In the meantime, he needs to prepare 5 million won. Can he pay in monthly installment? His teasing  makes Ha Na upset & angry so she grab him by his neck until he gives up.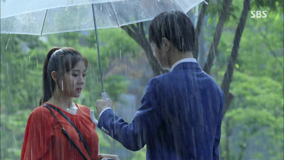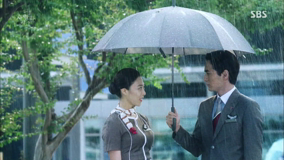 Choi Won who has a day off today because his schedule got cancelled, invites Ha Na for a spicy hot wings, perfect snack for a rainy day. While Ha Na is helplessly waiting for the rain to stop, she's jealous of Min Ji who was picked up by her husband (aka her ex-boyfriend). She decides to use her handbag as her umbrella to catch a taxi but someone is here offering his umbrella. He's Sung Jae. In the meantime, Choi Won who's on his way to pick up Ha Na gets another surprise, So Eun!
Epilogue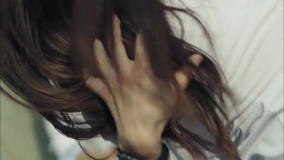 Flashback to OTP's school days. Choi Won patiently waited for Ha Na outside his house before he ran to greet her as if he was running late and let her won the bet. During the leap horse game he held Ha Na's back so she wouldn't fall down and let her team won.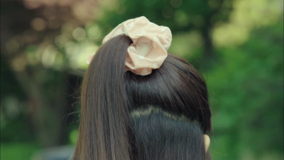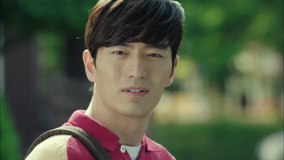 Then he actually memorized Ha Na's polka dot hair band before they went to the group blind date so he purposely chose her to be his blind date that day.
Comment
Episode 2 seals my love for this show. Choi Won, how come you're so adorable and awesome? His one-sided love is beyond sweet & romantic, he sacrificed himself for Ha Na's sake over and over again but he wouldn't miss a chance to spend time together because he is aware how precious Ha Na is to him. Ha Na clearly knows it too but because he kept denying his feeling so as a woman who doesn't want to get hurt, she chose not to love him.
The flashback scenes remind me of the awesomeness of Reply 1997, it's nicely done. I initially wanted teenagers Oh Ha Na and Choi Won to be played by younger actors but Ha Ji Won and Lee Jin Wook are doing great job so far although it's obvious they don't look 17yo high-schoolers. But to make it up, they give us more Ha Ji Won & Lee Jin Wook's scenes so I'm not complaining here, in fact, I love it 😀
Sung Jae and So Eun have started to enter the OTP's lives which are needed to help them realizing their true feelings to each other. I was annoyed with Maggie in In Time With You, surprisingly I can accept So Eun (so far) because although she's quite demanding and a bit clingy but she's not as annoying as Maggie (so far). Sung Jae is just too cute for words, any man who offers me flat shoes, sandals or slippers after I wore high heels for long hours deserve a gold medal. His attentiveness surely has touched Ha Na's heart but has he opened her heart? From the way she acted and her denial, I think he has opened it a bit. Age is just a number, right?
I adore Min Hyang's fangirling over MBLAQ's Mir. It reminds me of Reply 1997 again, the only difference is she's way older than her bias so she can cook him delicious food 😀