The Time We Were Not In Love Episode 5 Brief Recap
This episode's writing is inconsistent most likely due to writers shuffle. I'm cheering extra harder for the casts because they're doing superb job despite all those dramas behind this drama. Fighting!
Episode 5 Brief Recap
Oh Ha Na was over the moon. After she told Cha Seo Hoo she missed him, he took a 12 hour flight back to surprise her. So of course she didn't mind picking him up at the airport despite her busy schedule and everyone already gathered to congratulate her promotion. She turned to her bff to help explaining her absence.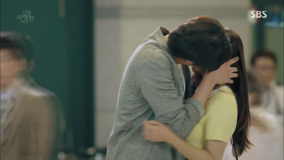 As soon as Ha Na saw him, she ran to his embrace & he kissed her. Choi Won could only watched his madly-in-love bff from afar.

Back to the present time. After he realized Seo Hoo is back & looking for Ha Na, Choi Won leads Ha Na to go to different place instead of going to their usual place so she won't see Seo Hoo.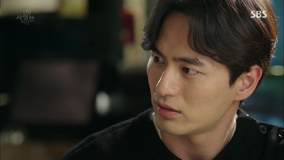 They talk about Jung Mi and Chang Soo's separation outlining their different perspectives about marriage & divorce. For Choi Won, getting a divorce means everything is over because marriage is not a joke. And if they separated only for a simple matter, it means they were rushing their marriage. But for Ha Na, by taking example of the ground which gets firmer after the rain, hardship can strengthen the marriage. Moreover, they've been together for 17 years so no way they could just end it like that & they definitely were not rushing it.
Choi Won then asks a very difficult question: will you be able to start over again with a man you broke up with?
Ha Na think it depends on how deep the relationship was instead of why it didn't work out. Choi Won suddenly gets nervous, Ha Na hints the possibility of her getting back together with her ex. And because Seo Hoo is back, he can't let her meet him. He ignores So Eun's date invitation because he asks Ha Na to go on a bike ride with him.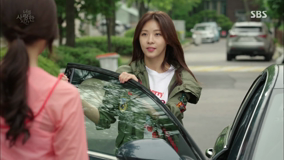 When So Eun asks Choi Won about this weekend's plan, he explains he already has an appointment – bike ride with Ha Na. Although Choi Won hints she's just a junior for him, So Eun who wants to seriously date him will do whatever her heart tells her. He tells her to consider the other person's feeling but clearly she doesn't care. So she comes to their houses, coolly asks if she can tag along. Since she's here, neither Ha Na nor Choi Won can say no. Ha Na usually sits in the front seat but she realizes it's no longer her place now so she let So Eun to sit there. Choi Won is definitely not happy.

So Eun who never rides a bike (except a tricycle when she was a kid) rides a tandem bike with Choi Won. Why did she come if she can't ride a bike? They then enjoy the delicious kimbap So Eun prepared. Ha Na notices there's herbal burdock on the kimbap and laughs to tease her bff who doesn't like it as she tells him to eat it because So Eun made the kimbap with love. They start arguing like siblings making So Eun feels comfortable and believes a man & a woman can really be just friends. But she can't be just friend with him because her heart flutters when she's with him.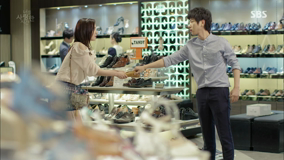 Ungrateful Dae Bok exchanged the shoes his sister bought him but as he grabs a cooler shoe, a girl takes it from him begging to let her have it because it's the last pair. He gives in, jealous of her boyfriend who'll get the shoes and to have a girlfriend with a good fashion sense.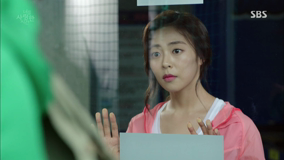 Choi Won impresses the girls with his baseball skills so he challenges athletic Ha Na to try because he knows her weakness in baseball. He even teases a miracle might happen again (aka she might hit the ball). Ha Na will definitely make it happen… or not… 😀

She can't even hit the ball so Choi Won helps showing the right postures and how to swing the bat to hit the ball. So Eun can't hide her jealousy, she wants Choi Won to repeat what he did to Ha Na earlier. But instead of holding her hand, he gives her money to start the game and explains how to hit the ball with words. Surprisingly, she's good!
They call it a day because Won's mom called.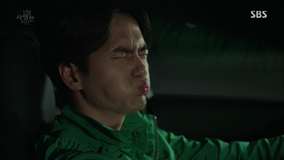 After dropping So Eun off home, Choi Won winks at his bff through his car's rear view mirror and gives cute expressions making Ha Na who sits in the back reminisces the time when she found out what his different expressions mean.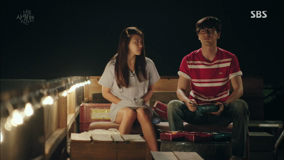 Flashback to 100 days before her 20th birthday. The day when Choi Won's mom left him a short note: Son, you understand mom, right? I love you. He tossed the note in his drawer. Then Ha Na who couldn't find his mom to give food from her mom, went to his room. He didn't say anything except giving cute expressions. They ate the food in the rooftop when suddenly he said Julia Roberts is very pretty when he saw her in movie Stepmom, a movie about a woman raising someone else's kid. Ha Na's instinct realized something's up about his mom.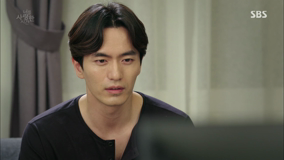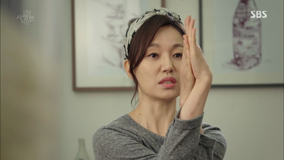 Mi Hyang is annoyed selfish Won's mother always calls her son whenever she's in trouble although she abandoned him for her love. Choi Won realizes all humans are selfish but she's still her mother who according to Mi Hyang, the reason why he's so passive in relationship. He lectures her back about her obsession with idols. Well for her, loving idols means she can freely give her love without the possibility of getting hurt because they appreciate the love given to them. She doesn't want to play the push-pull game in relationship especially because of her age. Choi Won is like his father, staying by his wife's side despite what she did.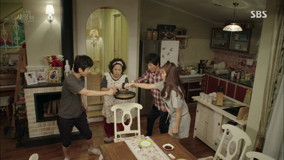 Next door, Oh family is hungrily waiting for mom to finish making the pancake. But before they can eat it, mom wants Won to join them because he always enjoys her food deliciously. Ha Na who knew his mom called, asks to give him a space before lecturing her lazy brother.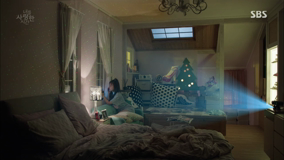 Won then hears a music playing and beautiful lights shining through his room. Ha Na surprises him by calling asking who is prettier, Julia Roberts or her. She's upset when he teases her it's Julia Roberts telling him she's going to bed now. So he proposes an endurance game: whoever sleep the latest will win this game. who won???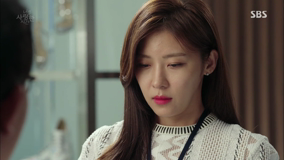 A new crisis at work. Eun Jung ordered a wrong size shoes so the model can't wear it although she's filming the CF today. The crisis has reached Byun Woo Shik who blames it to Team Leader Oh Ha Na for not checking the order and didn't realize about this mix-up. Eun Jung can't stop her tears but Ha Na knows tears mean incapability & words are excuses. She needs to hang in there as she keeps apologizing and bowing her head down.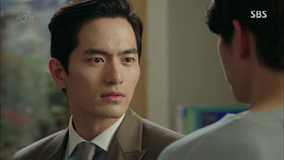 Cha Seo Hoo abruptly visits Choi Won at work to find out if he's still friends with Ha Na. He doesn't answer making Seo Hoo realizes what happens here. Even if Won specifically tells him not to play around with Ha Na again, he'll still stir her emotions. Let's wait & see if she'll respond to him.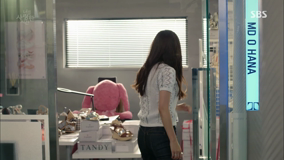 He's already on his way to win her heart back by sending a cute pink bunny plush toys to Ha Na at work. It helps to put a smile back on her face after being harshly lectured by her boss. Choi Won helps her to carry it home, suggests she shouldn't accept it because she doesn't know who sent it. Maybe someone put explosives inside but Ha Na who received big plush toys for the first time is happy. He promises to buy one for Ha Na but she think he made up many excuses because he doesn't want to carry it but in the end, he still carries it home.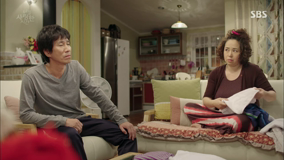 Mom is worried, her 34 yo daughter is carrying a huge plush toys home making it looks like she's trying really hard to look young because there's no way someone gave it to her. She really wants her daughter to enjoy her youth more after experiencing painful break-ups in the past but her husband loves the fact she's living her life to the fullest. If she stays unmarried, she can live with him forever. <3
So Eun wants to win Choi Won's heart so she asks Mi Hyang's opinions but everything he likes is all about Ha Na. Most importantly, he likes a girl he can protect and will never leave him.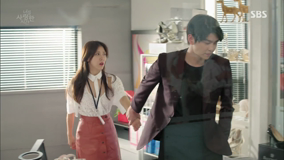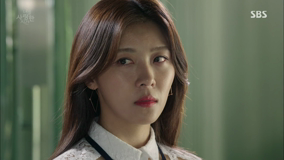 Seo Hoo barged into Ha Na's office. Without giving her a chance to say anything, he grabs her wrist, forces to accompany him buying new clothes & shoes and comments that she's prettier & lost weight. She refuses to go with him but he doesn't listen. He hasn't changed at all, he just says whatever he wants to say without considering her feeling. Ha Na is shocked when he confesses the stuffed bunny was from him as he presses her to think of the reason why he sent it.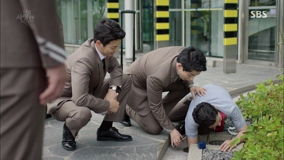 Woo Jin is frantically looking for a ring that he accidentally dropped in the sewer, it's supposed to be a 100 days celebration ring for his girlfriend who believes that love without expression of giving gifts is not love. Choi Won then asks why would a man give a stuffed animal instead of jewelry or clothing? Woo Jin interprets it as I really want to start our love relationship on a good note and I can't put a price tag on my love. It could mean that man is dumb or a player. Fortunately Woo Jin finds his expensive customized ring.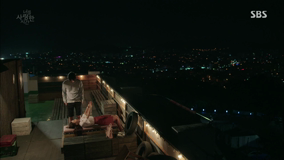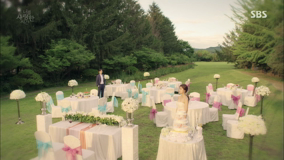 Ha Na complains about inconsiderate, selfish, arrogant Seo Hoo who barged into her office without considering her situation, he still hasn't changed. Did she forget what she said to Choi Won after this jerk torn and threw her away 3 years ago on what could be one of her happiest day? He doesn't even care Seo Hoo sent the bunny, forget him and let's enjoy good food her mom cooked.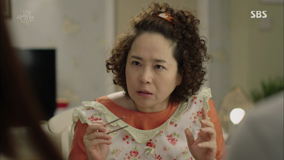 Mom brings up someone who went through hardship making him giving his affection to rocks instead of to other people. She's worried Ha Na will do the same thing, giving her affection to the bunny she brought home! Ha Na is speechless! Back in her room, she vows she will never remember why Seo Hoo sent the bunny.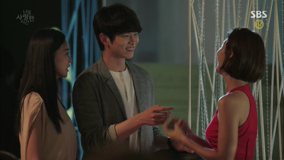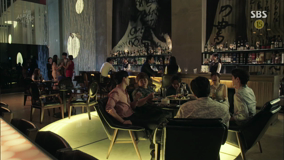 Flashback. Choi Won knew about playboy Seo Hoo for ages. He lied to Ha Na saying he had important meeting while in fact he's chatting with two women in the same place where Choi Won and his friends were gathering together. Surprisingly, Ha Na was on the way (she's mostly MIA ever since she's dating Seo Hoo) but she could finally see them tonight. Looked like she didn't know Seo Hoo was there too.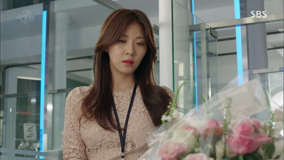 Back in the present time. Ha Na receives another surprise from Seo Hoo, a bouquet of beautiful flower this time with a message he'll pick her up tonight. But she refuses to accept it as she asks Eun Jung to throw it away.
Choi Won bought So Eun vitamins after he saw her looking sick, she then asks if he can keep caring for her then in returns she'll keep taking care of him. But he replies it's a responsibility of a senior to take care his junior.

Ha Na is torn between Seo Hoo and Choi Won's movie date. Plus her company's dinner. Which one should she choose? Seo Hoo didn't say what time he'll pick her up so she chooses Choi Won. But then, Seo Hoo sends a text saying he'll be a bit late.
Flashback to the wedding day when Ha Na patiently waited for him to arrive but he never came. He was the most beautiful love of her life yet the most painful. She hasn't forgotten about that place.
Just like that day, she's also waiting for Seo Hoo but he doesn't come. Choi Won ends up watching the movie alone.
Fed up waiting, Ha Na leaves. Choi Won also leaves the cinema although the  movie isn't finished yet. He runs to her office building and is surprised to see her standing there waiting for Seo Hoo. Did she forget what happened?
She knows he's a bad person but she feels he wanted to explain something. Moreover, she wants to hear his apologies or at least excuses for leaving her without words that day. And why he sent the bunny.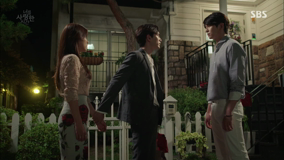 Outside her house, she's surprised to see Seo Hoo standing there, apologizing that he's late.
Still holding Ha Na's hand, Choi Won tells her jerk ex-boyfriend to get lost!
Comment
Platonic friendship between a man and a woman is almost impossible because there's going to be romantic feeling involved. It's amazing Choi Won and Ha Na can maintain their platonic friendship for 17 years while their other friends become couple although sadly it didn't work out in the end. So Eun realizes it's possible their friendship will go deeper and develop romantically so she feels jealous whenever she sees Choi Won and Ha Na together, despite their persistence they're just friends and have no feelings whatsoever. Choi Won is a dream man for many women, he's kind, handsome, attentive, considerate, caring & protective. Can't blame her for being too stubborn trying to win his heart although he firmly told her he doesn't have any feeling for her. Although it's better she stops chasing him now before it's too late.
Oh Ha Na makes me nervous because she said it's possible to get back together with her ex depending on how deep their relationship was. Ha Na really loved Seo Hoo, she chose to be with him instead of their friends and only joined them whenever Seo Hoo had important events (although he lied, he's a jerk!). Considering they almost got married, their relationship was very serious & deep but they still have unfinished business. I understand her perspective wanting to know why he stood her up at their wedding but hopefully she can firmly says no to this selfish guy who doesn't care about her feelings before this perfectionist succeeds with his plan to stir her emotions to sway her back to him. Fortunately Ha Na has Choi Won who'll keep her away from him.
Choi Won's inability to confess his feeling to Ha Na is most likely due to his mother. He's afraid she'll leave him like his mother did so by staying friends with her, he won't have to go through another heartbreak of losing the woman he loves & wants to protect forever but it's painful to see his agony whenever Ha Na is dating another man who doesn't love her as much as he does. He keeps pretending he will never love her so he never finds out if Ha Na has feeling for him. Can he stop being pessimistic, confront his trauma and confess his love to her before it's too late? Hopefully because of Seo Hoo, he'll be brave enough to confess.