Upcoming February 2015 K-Dramas
Time flies like an arrow. January is over and now we're already on the second month of 2015. 6 new dramas are scheduled to premiere this month. Thankfully none of them are multiple personalities drama (don't get me wrong, I love Kill Me Heal Me & still enjoy Hyde Jekyll Me), but too much similar theme drama is too much for me.
MONDAY & TUESDAY DRAMAS
Hogu's Love [호구의 사랑] (tvN)
Premiere Date: 9 February 2015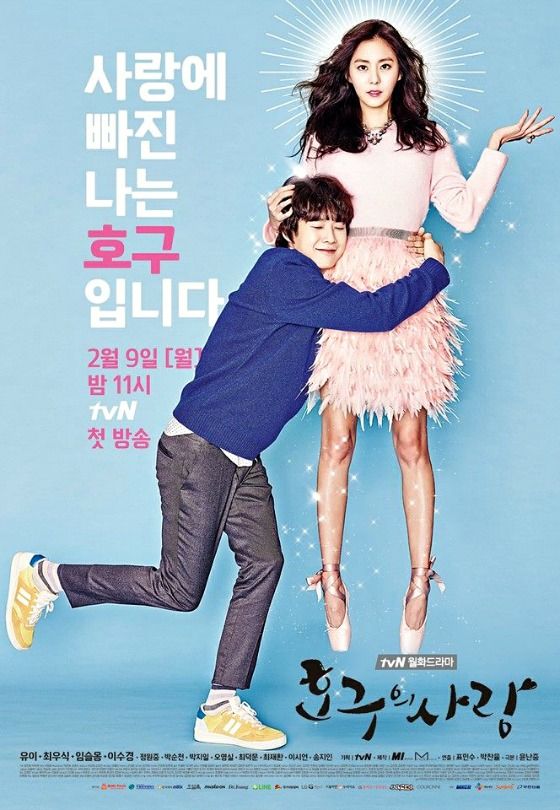 Adapted from a webtoon, Ho Gu's love is a romantic light-hearted Kdrama about a completely clueless inexperienced man Ho Gu (Choi Woo Shik) who crossed path again with his crush, his first love, his dream girl swimming goddess Do Hee (UEE). I got a feeling this is a perfect rom-com drama which will make our heart flutter on this month of love.
Coming from the writer of one of my favorite tvN drama Flower Boy Ramyun Shop, HoGu's Love will premiere next Monday 9 February '15.
Blood [블러드] (KBS2)
Premiere Date: 16 February 2015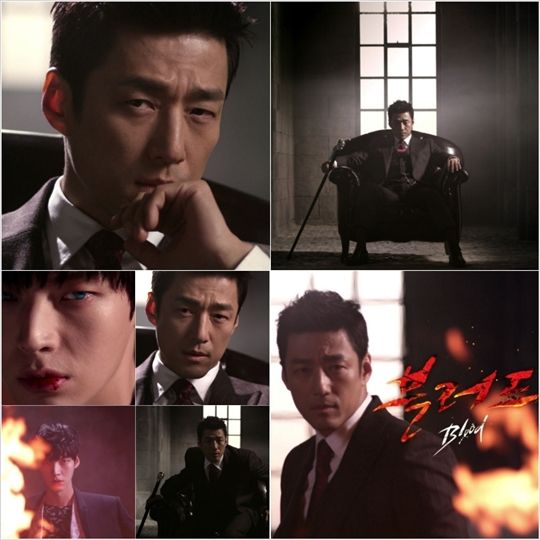 A medical drama (especially anything related to blood) is not my forte. I haven't seen writer Park Jae Bum's previous projects (four seasons of God's Quiz & Good Doctor) which received rave reviews. But I'll check out this drama because of Ji Jin Hee who's reunited with his Take Care of Us Captain co-star Ku Hye Sun. It'd be interesting if he's the bad vampire, but no, he's the antagonist who will make things hard for Ku Hye Sun's character. Kwon Hyun Sang plays the bad vampire (perhaps a continuation of his creepy vampire character from Vampire Prosecutor 2 :D)
Model turned actor Ahn Jae Hyun (last seen in movie Fashion King) headlines this drama as a vampire (!) doctor who falls in love with a physician at the cancer research hospital. Based on acting experience, lead actor Ahn Jae Hyun is the weakest actor here, but hopefully he can prove us wrong with his acting. Blood will premiere 2 days after Valentine's Day, it'll follow Healer (sobs sobs… I'm gonna miss Healer so much)
Heard It As A Rumor / Heard It Through the Grapevine [풍문으로 들었소] (SBS)
Premiere Date: 23 February 2015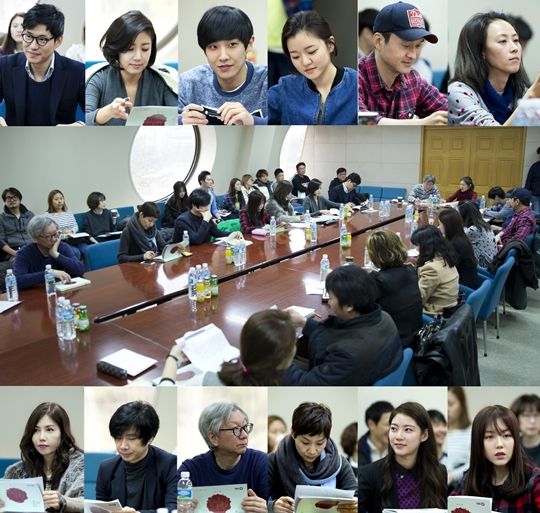 Coming from Secret Love Affair PD Ahn Pan Seok & Scriptwriter Jung Sung Joo, this drama went through a drastic script change and title change (from War of Brilliant Minds to Heard It As A Rumor). Actor Lee Joon who bid farewell to his kpop world & group MBLAQ last year, challenges himself with his first lead role as a teenager from a wealthy family who gets his girlfriend pregnant. Rumor starts spreading everywhere, making his family trying their best to cover up this rumor as it'll destroy the family's reputation. Actress Go Ah Sung plays as his on-screen girlfriend who falls in love with him without knowing he comes from a prestigious family, making her return to the small screen after focusing her acting career for the last 5 years in the movie industry. I feel acting is his forte so I'm very excited to see his transformation as a rebellious high-schooler and his bromance with Yoo Joon Sang who plays as his on-screen dad. I also love it that the heroine loves the hero not because of his wealth and status. Hopefully they can overcome his family, the rumor and their relationship together as a mature couple.
This drama will compete with KBS2 Blood which'll premiere a week early.
WEDNESDAY & THURSDAY DRAMA
Unkind Women [착하지 않은 여자들] (KBS2)
I think Unkind Women's plot is more fitting for a weekend drama. It's about three generations of women who live in the same house. They are temperamental & basically "unkind" but they have their own reasons (ie. hardships of life, love, relationship, etc). It can be a heartwarming drama about women & sisterhood or a makjang-fest drama though I hope it'll be a heartwarming one.
While some of you are so excited to see Song Jae Rim, on the other hand I'm highly anticipating these badass "unkind" women. 😀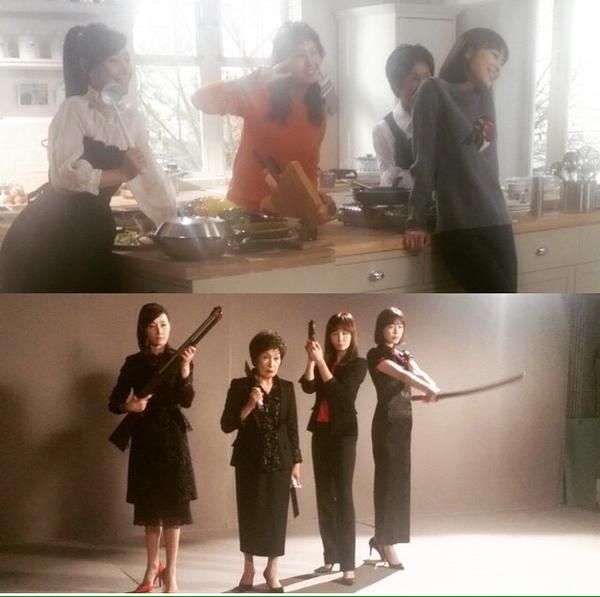 This drama will premiere after The King's Face wraps up and will go head-to-head with Kill Me Heal Me & Hyde Jekyll Me.
SATURDAY & SUNDAY DRAMAS
Jing Bi Rok [징비록] (KBS1)
Premiere Date: 14 February 2014
Jing Bi Rok is my #1 anticipated drama this month. It's a historical drama based on real life Joseon scholar Ryu Seong Ryong's memoir Jing Bi Rok about the crisis which happened during Imjin War and Japan invasion to Korea. Charismatic fantastic actor Kim Sang Joong plays brilliant scholar Ryu Seong Ryong while Kim Tae Woo acts as King Seonjo.
This drama will premiere on Valentine's Day on KBS1.
Bluebird Nest [파랑새의 집] (KBS2)
Premiere Date: 21 February 2015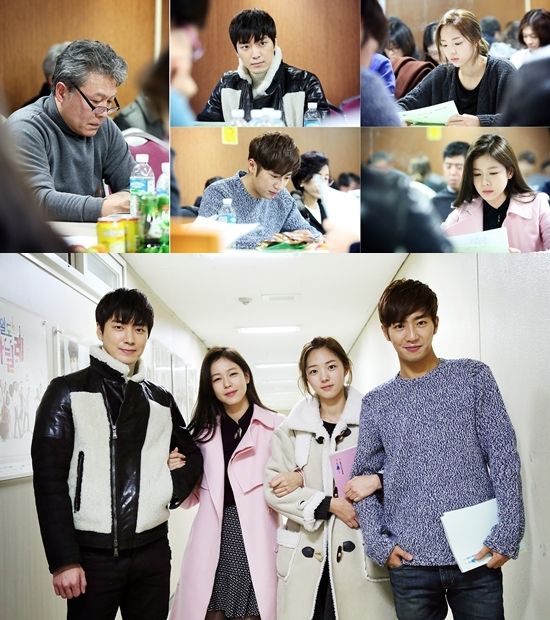 The plot of this upcoming KBS2 weekend drama is about "Sampo Generation" ("give up three") which has been rising sharply in Korea nowadays. This generation usually comprises of young professionals, trainees, young people who give up three central things in life (ie. relationship, marriage and having children) due to the pressure in current societal situations. Very realistic plot because whether we want to admit it or not, it happens everywhere. So many people dedicate their lives to their jobs for financial stability & job security, they don't have time to establish a romantic relationship.
To be honest, the reason why I've been anticipating this drama is not only because of the plot… But… it's because of Lee Joon Hyuk and Lee Sang Yeob 😀
February 2015 is looking great so far. Hopefully all these six dramas deliver warm messages to the viewers.