We're Not Dreaming, 1N2D Gang is Back!
Original 1n2d casts, PD Na Young Seok and Writer Lee Woo Jung are reunited in a new experimental variety show New Journey to the West (NJttW). Had to pinch my cheek to ensure this is real because they've been very secretive about this new project. When the news about their reunion started surfacing mid last month, it seemed too good to be true. Only Kang Ho Dong and Lee Seung Gi confirmed their appearances while Eun Ji Won and Lee Soo Geun never made any confirmation until they arrived at the airport yesterday morning.
The gang is back! Unfortunately without Kim C, MC Mong and Kim Jong Min but 4 is better than no reunion at all.
They filmed the opening in Seoul then went to Incheon airport together. Politely bowed in front of fans & reporters.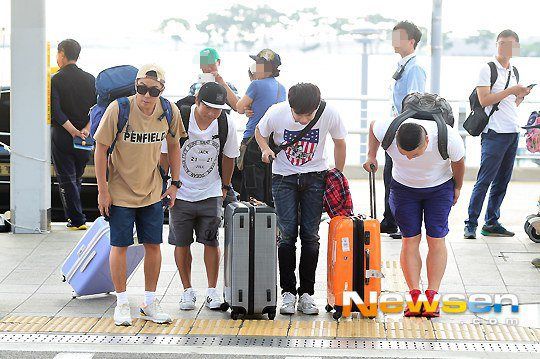 They're ready to start their journey to the west.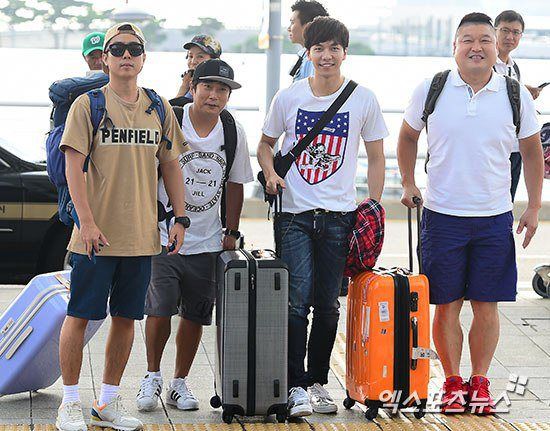 The show's format hasn't been revealed yet but according to press releases, it uses the metaphor of famous classic Chinese novel Journey to the West. If they're following the novel, it seems like they're sent to the west as an atonement for their sins. Lee Seung Gi is not applicable in this case because he had no scandal (except noisy comments about his military service (and we can't count dating as a scandal, right?)) so maybe he's the dragon prince? Have no idea what scandal Eun Ji Won had (well, I don't think a divorce is a scandal). Kang Ho Dong had tax scandal & returned to the entertainment world but unfortunately he's experiencing slump nowadays. Lee Soo Geun has just resumed his entertainment career after taking temporary leave due to gambling scandal and many netizens voiced out that he still needs more time to reflect.
PD Na on the other hand, continues his midas touch with the ever so popular Over Flowers series & Three Meals a Day installment. He's the first PD who received Daesang at Baeksang Award. Writer Lee is currently busy with her third Reply series, Reply 1988 but she's still taking this project & coming to China.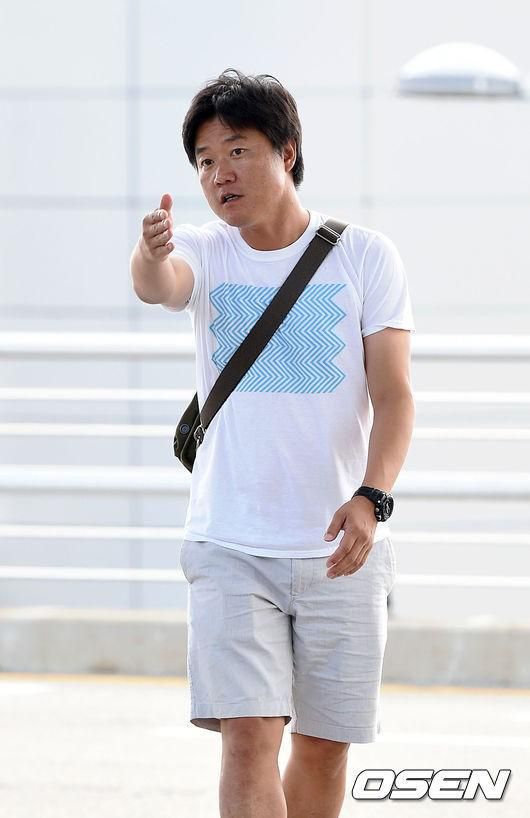 This new show can be a hit or miss but for 1n2d fans who've been patiently waiting for this day to come, for sure we're treasuring this precious moment because we don't know if they'll reunite again in the future. For their sake, I hope this show can become Hodong & Soo Geun's stepping stone to revive their careers and make people believe in their talents again.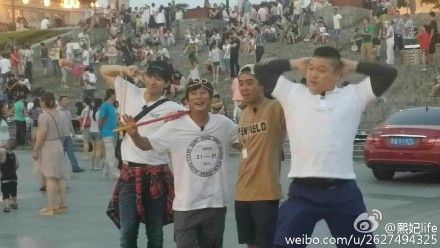 New Journey to the West is scheduled to premiere as online variety show at the end of this month or early next month. As of now, they have no plan of airing it on TV.
Welcome back 1n2d gang! "The only thing a person can ever really do is keep moving forward. Take that big leap forward without hesitation, without once looking back. Simply forget the past & forge toward the future" (Alyson Noel – The Immortals #1-3)
Pictures credit as labeled