You're All Surrounded Episode 1 & 2 – First Impression
One of my most anticipating drama this Spring, You're All Surrounded premiered last Wednesday. I got a "History of the Salaryman" vibe from the first 2 episodes, with slapstick comedy and unexpected heartbreaking melo scene in the middle of episode 1.
With all the revenge-melo-thriller-mystery dramas dominated the three major broadcasting stations, the existence of YAAS is a breath of fresh air. PD Yoo In Sik (who also directed HotS) is doing a great job in balancing the comedic and dark scenes, acting is good across the board and I love My Chemical Romance "The Black Parade" BGM.
Hello bromance! 😀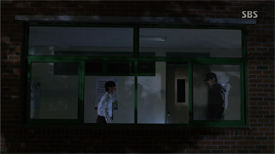 YAAS does have its own mystery case to be solved: murder case of Kim Ji Yong / Eun Dae Gu's mother. The cutie sweet kind-hearted boy who wanted to grow up quickly so he could protect his single mother, witnessed his own mother got killed in front of him. She protected his only son who hid under the bed, so the killer wouldn't see him. He's blessed with a photographic memory which also becomes a curse because this horrific tragedy is cemented deeply in his mind.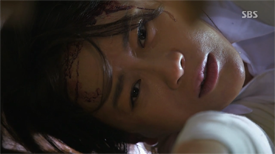 Ji Yong blamed Detective Seo Pan Seok (Cha Seung Won) because he "forced" his mother to become a witness but he failed to protect her as he promised he'd be. I was wondering why Pan Seok didn't put Ji Yong's mother and Ji Yong in witness protection program as soon as she told him she'd testify. She told him the bad guy threatened her & her son.
It's obvious Pan Seok was just a rookie detective who's very enthusiastic in solving the cases assigned to him. To solve one serial murder case, he didn't mind to collect cigarette stubs from 11 apartment building which are all more than 10 stories high just so he could get the killer's DNA sample. He clearly didn't think that it's very costly to check hundreds stubs, and there'd be much better way to find the killer's DNA. As a rookie detective, Pan Seok made mistakes, but he learnt from his mistakes. 11 years later, he's known as legendary Detective Seo Pan Seok, the team leader of crime investigation unit in Gangnam Police Station.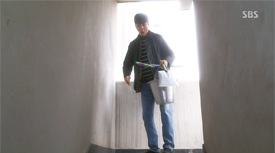 Pan Seok's ex-wife Kim Sa Kyung (Oh Yoon Ah) joins Gangnam Police station as the leader of missing persons unit. She slapped him, twice, most likely because she believed he didn't show any remorse of the things he did in the past. She hates him so much that she prayed he'd die. There must be a reason why she joined missing persons unit, perhaps to find her missing child?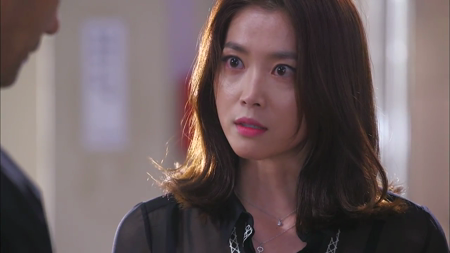 Chief Kang Suk Soon (Seo Yi Sook – lady Soh from Empress Ki 😀) wanted to eliminate the corruption, so she let go 70% detectives and chose to recruit rookie & young detectives. Her minion Detective Captain "toad" Cha Tae Ho (Im Won Hee) is a bit suspicious, I think he helps Dae Gu or he bears grudges against Pan Seok. His adoration with his plant made me laughed. When Pan Seok was still a rookie detective, he got really mad with the serial killer who broke his team leader's plant pot. I believe Cha Tae Ho was his team leader, so I'm wondering what caused their relationship to get iffy.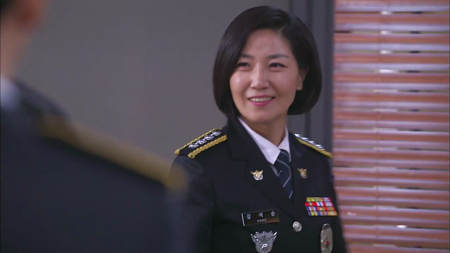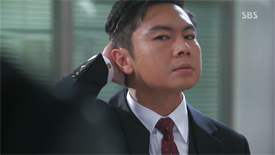 Pan Seok declared that Gangnam Police Station is now a disaster zone, he's the luckiest team leader because his team (Powerful 3 Team) comprised of not just one or two, but four rookie detectives plus Detective Lee Eung Do (Sung Ji Roo)!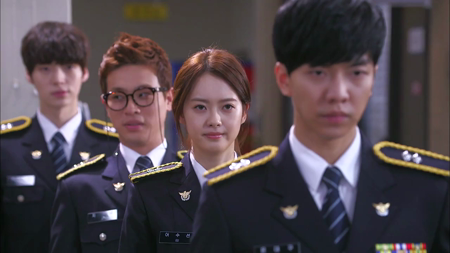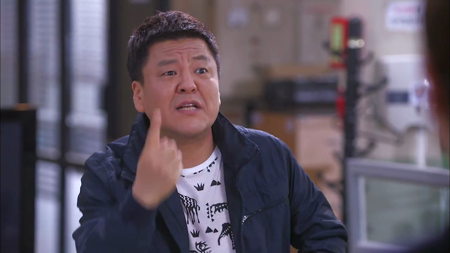 One thing P4 had in common: they entered Crime Investigation Unit not because they wanted to, but because of various other reasons. Eun Dae Gu's (Lee Seung Gi) reason is unclear, but from his phone conversation with a mysterious person "S", he entered this unit to keep an eye of his team leader, Pan Seok. He blames Pan Seok for his mother's death, perhaps because 1) he was the only one who knew his mother was going to testify 2) he only told Pan Seok about the pendant which the culprit accidentally dropped in front of his house and later on he found out the killer had this pendant although Ji Yong put it in his jacket 3) the killer knew he hid at school, he only told his hiding place to Pan Seok.
He installed a camera in Pan Seok's apartment and duplicated his mobile phone. Hopefully by keeping an eye of Pan Seok, Dae Gu will be getting closer to find any hint about his mother's killer. After his mother's death, Dae Gu has lost himself as he buries himself on his revenge plan to avenge for his mother's unjust death. He has even lost his one million dollar smile T_T
We don't know how and why Kim Ji Yong changed his name to Eun Dae Gu and who helped to raise up this orphan boy who walked desperately in the street alone after his mother's killer tried to kill him when he hid at school. I think someone who has power helped him on his journey to find the culprit of his mother's death. At the moment, nobody knows Ji Yong's whereabouts, he's still listed as a missing person.
Dae Gu is cold & stoic, which makes me really miss young Dae Gu (Ahn Do Gyu – young Wang Yoo in Empress Ki :D) . I love it when he confessed his feeling to his noona "crush" Shim Hye Ji. =) For once, I'm glad that our hero and heroine were not teenage sweethearts who got separated by a painful family tragedy.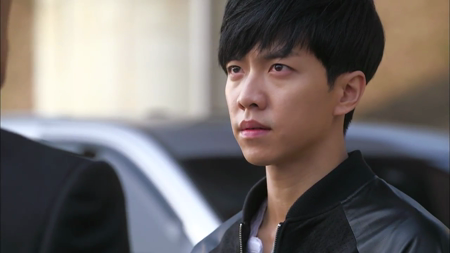 Eo Soo Sun (Go Ara), the only female detective in Powerful 3 Team. Young Soo Sun (Ji Woo) dreamt to be a celebrity, so there must be a hidden secret of why she decided to join the police force. As of now, the only thing we know is she entered this unit because of the high pay, but there must be something else which drove her to take the police force test.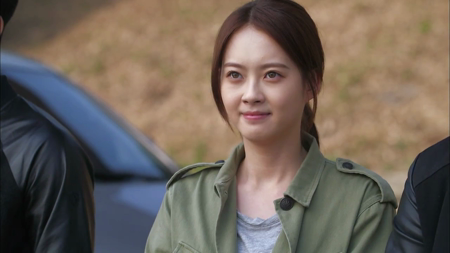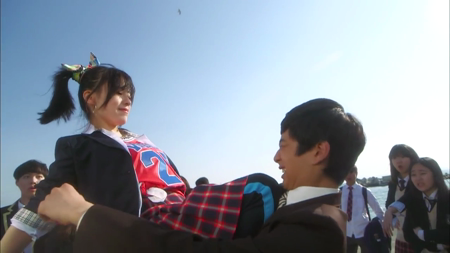 Young Soo Sun and young Dae Gu both lived in Masan. Soo Sun will definitely be a great help for Dae Gu to solve his mother's case because she saw the killer at school. I think she also saw the scar under his ear.
Park Tae Il (Ahn Jae Hyun) entered the crime investigation unit because he thought it would be fun. He's a fashionista, it's clear that he comes from a wealthy family. But I'm very interested with the man in the picture below. Who is he and why does Tae Il has this picture on his dorm? Perhaps he's the reason why he joined the investigation unit.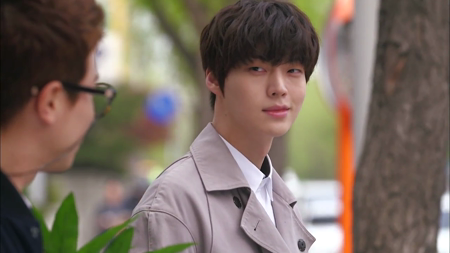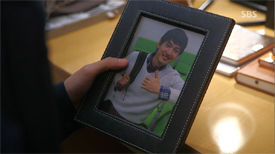 Ji Gook (Park Jung Min) wants to live in Gangnam, unfortunately (or fortunately), this is the only unit who had vacancy for him. So he ended up here. We still don't know if there's any other hidden agenda behind his motive, but I think we'll get to find out about it soon. He provides a great comic relief with his talkativeness, and his cute adoration to maknae Dae Gu by calling him "Dae Gu Dae Gu" 😀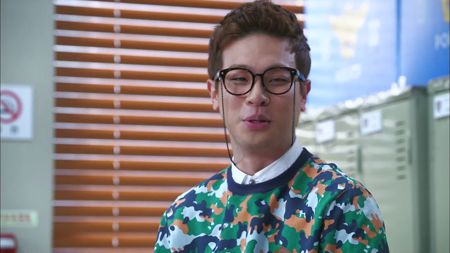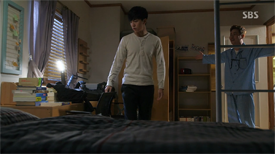 He also a reliable team member and I think he'll become a loyal friend for Dae Gu. Love it that Dae Gu, Tae Il and Ji Gook live in the same dorm, bring it on bromance! =)
YAAS episode 1 and 2 have hit all the right notes for me, it's light & humorous that makes it the perfect drama that I can watch after a tough long day. They briefly introduced the characters that I keep wanting to know more about them and the reasons why they joined the police force. I love it that there's no love triangle (so far), but I don't think they'll have one since I didn't see Go Ara took any couple picture with Ahn Jae Hyun / Park Jung Min during the drama's press conference. (although I may be wrong here).
SBS hasn't released any relationship chart for YAAS, so we can't predict anything. But Lee Seung Gi once said there'll be lots of romance in YAAS, so I'm fully expectant with this. Young Dae Gu was a romantic boy, hopefully once Soo Sun is able to capture Dae Gu's heart, he'll spoil her with lots of cheesy romantic dates 😀
But beside the romance, I hope they'll explore the bromance and friendship between the P4 because so far the writer has done a great job in making me care for P4 individually & together. I'm also curious to see how Pan Seok and his ex-wife relationship went astray. And what's the reason she became the team leader of missing persons unit? Maybe Pan Seok invested his time to find young Ji Yong that he neglected his own family. Or maybe his own child went missing. I think Kim Sa Kyung will be one of the first people who finds out that Dae Gu is Kim Ji Yong.
Currently, Powerful 3 Team are not solving any tough criminal cases, which is good enough as the rookies are not the real detectives yet. They're learning the rope, so it's better for them to learn solving minor cases first before moving on to the tough ones. Otherwise, someone may get hurt (or worse, killed by their incompetence). By the end of episode 2, we've seen the growth of P4 – they stepped up to the given task and although they ruined police drug's investigation, but Pan Seok finally realized that his rookie team members are not as clueless as he thought they'd be.