You're All Surrounded Episode 17 Review
You're All Surrounded continues with their investigation of Dae Gu's mom (Kim Hwa Young)'s murder case. Dae Gu finally finds out that his mom's death was not about her witness statement nor the company president who wanted to cover up the young girl's murder case. It's caused by pure jealousy of a crazy spoiled rich woman Yoo Ae Yeon who has nowhere to hide now because the uncomfortable truth has slowly been revealed.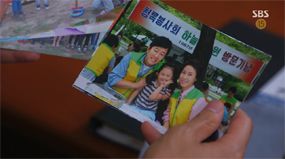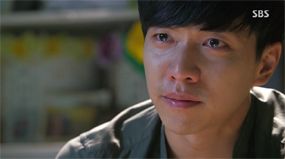 Before Yoo Ae Yeon and her husband Sin Ji Il got married, Sin Ji Il & Hwa Young loved each other after they regularly served at the community center. Hwa Young resigned from her job in Seoul & moved to Masan. She promised Yoo Ae Yeon that she wouldn't meet with Ji Il again, but they coincidentally met again in a hotel after 15 years. Yoo Ae Yeon saw their very short meeting, so she visited Hwa Young & got really upset that she gave birth & raised up Ji Young who she believed is her husband's son. Hwa Young insisted Ji Young is not his son, he's her son. Ji Il told Dae Gu that he never dated his mom. He looked surprised when Dae Gu told him they found Yoo Ae Yeon's pendant on the day of the incident at his house.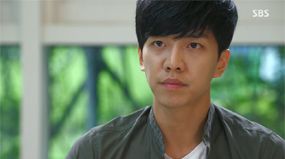 I'm still not convinced that Dae Gu is Sin Ji Il's son albeit the hints are pointing out to that direction. Like Toadie who tried to cleanse Team 3 from makjang curse, I also want to take him away from the dreading birth secret route. Poor Dae Gu who has to carry unbelievable weights on his shoulder, from witnessing his mother's death to finding out the painful truth that his dad could still be alive. He couldn't share this to anyone yet, perhaps because he still traumatizes with his mother's death 11 years ago. Pan Seok decided to keep Chief Kang's secrets from Dae Gu, afraid it'll hurt him more than he can handle. Chief Kang took him under her wings, sponsored & supported him like a mother; Dae Gu will be very disappointed & enraged to find out what Chief Kang did to his mother.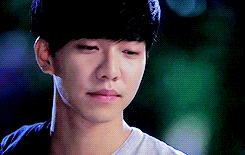 "Hold my hand just like it's the only thing that keeping you alive"
Soo Sun keeps giving the comfort & support Dae Gu really needs by gently holding his hand, let him to sleep on her lap and shield him from the light (just like what Dae Gu did to her in the past). Her small gestures give me butterflies on my tummy, it's touchingly sweet & beautiful. YAAS teaches us that romantic relationship doesn't always about kisses, but the small moments like fingers caressing, hand holding also flourish their relationship & intimacy.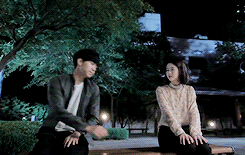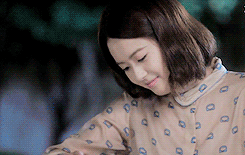 She's happy when he's happy, she's sad when he's sad but she doesn't force Dae Gu to share his painful feeling until he's ready to tell her. She's a very understanding & supportive woman who becomes Dae Gu's source of strength & love. Sometimes, silence is golden.
"I am a strong person, but every now and then, I also need someone to take my hand and say everything will be okay."
She gives him all the reason to live now. Before he entered the room to interrogate Yoo Ae Yeon, he gently touched her hand – to give him all the strength to face the mastermind behind his mom's death. She reciprocates by squeezing his hand. It's beautiful!
Thankfully Tae Il is fine but like a real detective, he cares so much about the pendant that he wanted to jump & find the minions who took it from him. His team members forced him to stay in bed at the hospital where his dad works. They finally finds out Tae Il's painful past and the secret behind the guy in the picture.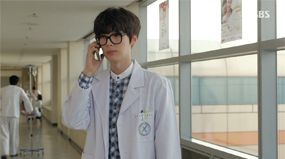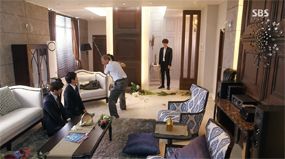 He's his older brother Tae Soo who "disappointed" his parents when he asked their permission to marry his boyfriend. Unable to face with the shame & embarrassment (sadly, gays are still not widely accepted in Korea), dad almost killed his son.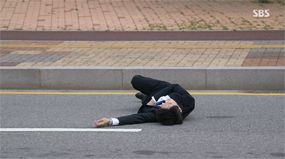 Disappointed Tae Il ran outside, but the next minute he's shocked to see his brother lying on the road. He died because a car hit him. Tae Il who's forced to be a doctor, decided to follow his brother's dream to be a detective. Dad is still very upset with his decision, he think he no longer has a son now.
There could be two reasons why he doesn't want his sons to be detectives. One: because he wanted his sons to follow his footsteps and chose respectable medical profession. Or he wants to protect his sons because as a doctor, he knows that detectives are very dangerous jobs – they can get severely injured (like Tae Il now) or [worst case scenario] killed while doing their job. I hope it's because of the second reason, dad.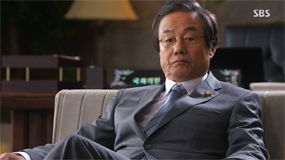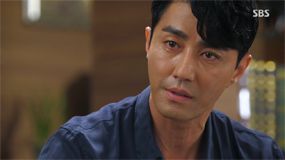 Chief Kang finally gives up, she no longer wants to cover up Assemblyman Yoo and his family's crimes because there's no way out now. Pan Seok is willing to lose his job to put Yoo Ae Yeon & everyone's who involved in Hwa Young's murder case in jail. At that time, not only a young boy witnesses his mother's death & lost his mom, the only parents he knew; but Pan Seok & Sa Kyung lost their young son.
Detectives & police officers are prone to bribery & corruption, Pan Seok & his team have their sense of duties to protect & serve the innocent citizens. I believe that's one the main message the writer is trying to convey. The world will become a much better world if influential people have the same perspectives as Pan Seok & his team.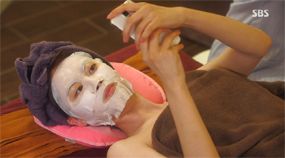 Team 3 work incredibly well together to ensure they'll get all the concrete evidence from Yoo Ae Yeon's own mouth. "Psychological expert" Sa Kyung trains them to use psychological method to "provoke" to obtain her confession after their research discovered that she's mentally unstable (she got upset easily, she's dying for attention, she's impatient & she hates sharp objects).
Dae Gu is the one who's in charge to interrogate her, I believe he'll do this job well. He's grown up not just physically but mentally that he can control his emotions. He will fulfill the promise he made to mom, he will put Yoo Ae Yeon behind bars.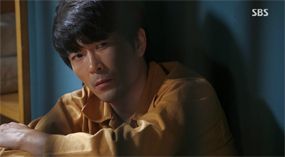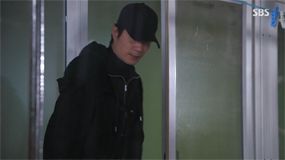 Side note: I think there were two "boots" and both of them are in the same prison. Hyung Chul might not realize it, but the first "boot" is aware about Hyung Chul's existence. It's not too clear, but I think Hyung Chul came to Hwa Young's house twice. Firstly to check if Hwa Young was dead, destroy the evidence, clean Yoo Ae Yeon's fingerprints and to make it look like it's a simple robbery (that's why the house was a mess when Dae Gu arrived home). Then to find the missing pendant, he didn't intend to kill Hwa Young. Probably he was shocked when she grabbed his foot, so as a self-defense, he killed her.
But who is this mysterious guy who stares at Hyung Chul deadly from his cell?
animated gifs cr to dcsiege