You're All Surrounded Episode 19 Mini Recap
Another roller coaster episode where Dae Gu can't escape from more heartbreaking tortures as more (twisted) truth are revealed. If he doesn't have Soo Sun as his "healer", he would've gone crazy by now. Politic is a dirty game, but the way Assemblyman Yoo "used" his own daughter for his greed & ambition is lame. >.<
With only two episodes left, the police force is once again challenged to choose to adhere to the code of ethics or to follow the bad guys' footsteps. Team leader Pan Seok taught his team well, they're now real detectives who have sense of duties. But his decision surprised everyone!
You're All Surrounded Episode 19 Mini Recap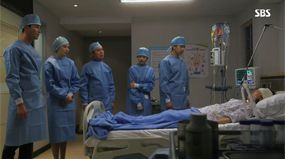 Chief Kang barely survives the truck of doom & the emergency surgery. She's in a coma in ICU now.
Dae Gu believes it's not a simple accident, it's all because of Assemblyman Yoo. The truck of doom precisely hit her car and she was upset after she got out from his office. If he reveals it all, Chief Kang's career will be over. But it's the best thing to do, they don't want to cover up Assemblyman Yoo's crime anymore.
Someone has already broken into Chief Kang's house before Dae Gu & Soo Sun arrive. Soo Sun finds letters that Dae Gu wrote to Chief Kang and their picture at her house. He explains she's the guardian who supported him.
Soo Sun encourages Dae Gu to tell everything to Chief Kang although she's in a coma. And to put their picture on her bedside.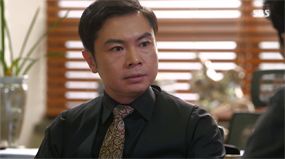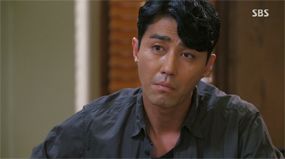 Toad is furious so many bad things happened on police gangnam station. Pan Seok reveals everything, but he asks him to keep this secret between themselves (for now). Toad realizes Chief Kang was re-organizing everything lately. Toad personally will assist this case to protect Chief Kang.
Because they couldn't find any skid marks on the street, the driver's alibi that he fell asleep while driving can be true.
Pan Seok finds Chief Kang's letter in her office room. She explains her plan for taking responsibility of her crime after the special committee is formed in the next couple of days. She entrusts Ji Yong who'll go unbearable pain because of her, to Pan Seok. She deeply apologizes for everything.
Dae Gu keeps talking to Chief Kang expressing his gratitude of her care, support & love for the past 11 years. He was really happy she came to hold his hands when he had appendix surgery. She gave him confidence to give her carnation on parents day, they took that cute picture together afterwards.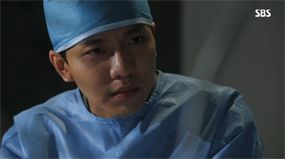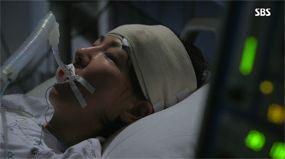 Dae Gu put that picture on the bedside table beside her bed. He begs her to live because there're lots of things still left unsaid. After Dae Gu leaves, tears drop from her eyes.
Toad points out that a detective needs: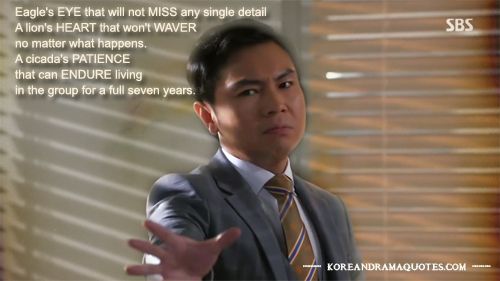 Eung Do finds the key evidence from the CCTV recording. The truck driver was pulled to the side for more than 3 hours prior to the accident. Not even 5 minutes after he started driving again, suddenly he fell asleep and hit Chief Kang's car. He's definitely lying!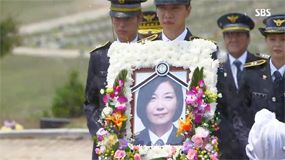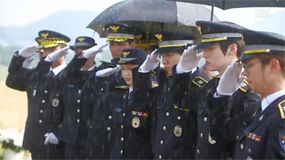 Sad news, Chief Kang passed away T_T Soo Sun holds back Dae Gu who wants to "kill" Assemblyman Yoo who comes to pay his respect at her funeral.
When Pan Seok was still a rookie, there were countless times he wanted to hurriedly wrap up the unending investigation. It was very tiring when the victim's family sometimes tortured him in the police station for over two months. Chief Kang was the person who encouraged him to continue until the family satisfied. Hence, he dreamed to be a detective like her. He's like her son.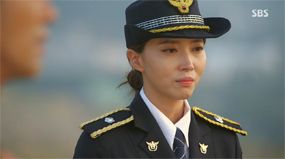 He should be the one who apologized that he couldn't trust her. Even Ji Yong trusted her until the end. Now he realizes how tainted he became up to the point that he can't trust anyone anymore. His passion has long gone.
Sa Kyung doubts Pan Seok. She knows how much Chief Kang loved police force, she's a great detective who's in a much better place now.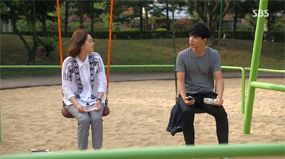 Soo Sun encourages Dae Gu to eat to get strength although he may not feel like it. She made rice balls for him. Awww.
Out of the blue, Dae Gu asks Soo Sun if she plans to betray him, please advise him in advance. Like, Dae Gu, I'm going to fall in love with another guy. She smiles as she nods. Most importantly, he pleads her for not dying in front of him. Awwww…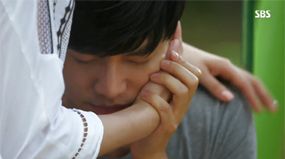 She promises she won't die in front of him & she won't betray him. In return, she asks him to share with her everytime he's having a hard time & want to cry. Don't pretend to be okay. She sweetly wipes his tears as he holds her hand tightly. Soo Sun is his "healer".
The team was able to recover the recording from Hyung Chul's car. It captured the scenes before Hyung Chul attacked Dae Gu that night. He met with Kim Ha Shin (Assemblyman Yoo's consulting lawyer) who gave him money in return to a mysterious envelope. It's a clear evidence Assemblyman Yoo was the culprit behind Dae Gu's attempted murder.
Another good news, Toad was able to get the truck driver to confess because of his amazing investigation skill.
Now they're interrogating Kim Ha Shin who calmly tells them that only gave a green light for the driver to proceed with the plan. He received the instruction from Madam Yoo.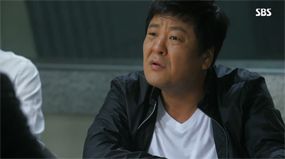 Eung Do doesn't believe him, she was in custody, it doesn't make sense. He also tells him that Madam Yoo instructed him to give the order to Hyung Chul to kill Dae Gu. It's obvious Assemblyman Yoo is pushing all charges to his daughter.
The team has just found out Madam Yoo has been transferred to the mental institution.
Ki Jae brought the DNA test result… they're not brothers! So why did his mom kill Dae Gu's mom? And where is she now? Poor boy, he doesn't know where his mom is at the moment. 🙁 He only knew his mom got a bail, but didn't know she's in a mental hospital. He begs the awesome man to find his mom. Sa Kyung with her missing team unit promises they'll find her.
Dae Gu meets Ji Il to tell him about the DNA test and to find out the real reason why his wife killed his mom.
He goes to see his father-in-law Assemblyman Yoo, pleading him to let him see his wife although he barely paid attention to her ever since they got married. Everything happened because of him, so he can no longer pretending.
Assemblyman Yoo blames Ji Il for never taking any responsibility & always manages to escape. He acted like a miserable person when he entered the Yoo's household, but it was his own choice to leave Hwa Young that day. It was his greed of money and power.
Assemblyman Yoo who always takes a good care of his daughter will decide the best thing for her. But Ji Il states that both of them are the same, they both lean on power on their wives, but he's trying his best for not leaning on his own child. Unlike Assemblyman Yoo. He pleads his evil father-in-law to tell him where she is now.
Sa Kyung & Tae Il find out Yoo Ae Yeon was taken by ambulance against her will. So it's most likely she's admitted to the mental hospital because of his family's approval.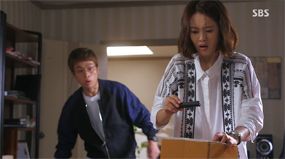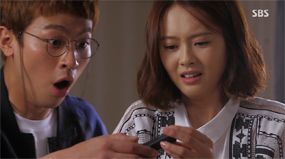 Soo Sun finds the recorder hidden on the bottom of the box that Chief Kang used to keep Dae Gu's letters.
The secret is out. Assemblyman Yoo ordered Hyung Chul & the prosecutor give a fake DNA test to Yoo Ae Yeon so she believed Dae Gu is her husband's son. He wanted her to wholeheartedly supported him again (both financially & emotionally) for his political career. She cut off his politic funds to support her uncaring husband. He promised to give Hyung Chul lots of money after he got elected.
Poor Yoo Ae Yeon, her father "used" her and now he locks her in the mental institution.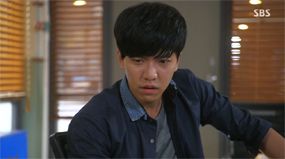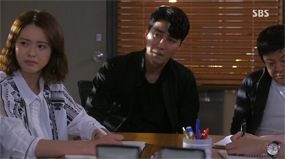 Nobody believes this lame reason, neither does Dae Gu who lost his mother & his surrogate mother. And I'm speechless with the writer's lame writing!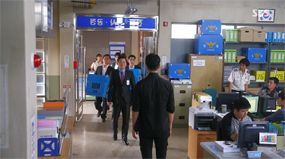 Prosecutor Han is back with a search warrant for Team 3 for investigating without police's approval and losing very importance evidence after concealing it.
Soo Sun fights back that they didn't conceal it, they found it after it went missing for eleven years. They then lost it because someone stole it from Tae Il who almost got killed while he's trying to protect it.
Everything doesn't add up here. Who were the people who wanted the prosecutor to cover up this case even when they're trying so hard to find & give all the concrete evidence?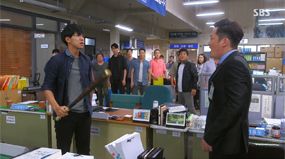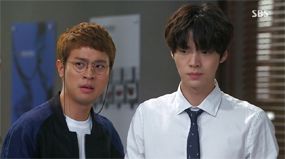 Dae Gu brings a baseball bat, starts to smash everything as the prosecutor's team is searching & collecting all the evidence from Team 3. When asked if he wants to get arrested, he confidently smash everything in front of him. Go for it, Dae Gu ya! Then, he leaves.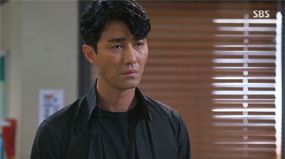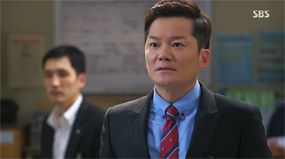 Pan Seok holds the bat on his hand, calmly orders Prosecutor Han to leave. He advises Pan Seok to send his team members for disciplinary action before warning him that the inspection division will come soon.
Dae Gu packs up his bag, he plans to quit. He doesn't want to be a weak police officer anymore. Tae Il and Ji Gook beg him for not quitting.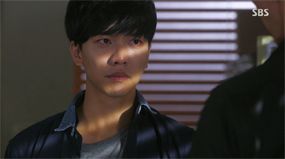 Pan Seok advises him for not suppressing his feeling, he'll get sick. He challenges Dae Gu if he's confident he can continue until the truth is out. Dae Gu confidently tells him he can & he will. So do Soo Sun, Tae Il & Ji Gook. Pan Seok is proud with his team. He asks his team to trust him no matter what he'll do. Because he's the legendary Seo Pan Seok.
Team 3 is working hard to reveal the truth to the public. The public now find out that Chief Kang's car accident is most likely a murder case related to Masan nurse's murder case. Amazing that Assemblyman Yoo keeps putting all the blame to his daughter.
The journalists are waiting for one more breaking announcement….
Pan Seok wears his police uniform, Eung Do begs him to look for another way. But he has already made his decision.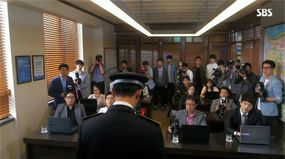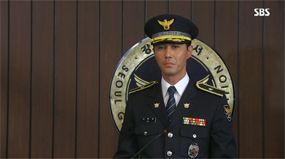 Eung Do brought his team to the conference room where Pan Seok… announces his resignation! He can no longer keep the code of ethic as a police officer. But that's not the sole reason why he resigned! He wants to get someone else to resign as well!
Very Brief Comments
What's going on here? Did SBS ask the writer to comply with their makjang free police hence she had no other choice but to change the birth secret plot? Although I silently relieved that Dae Gu is not related to Assemblyman Yoo.
Chief Kang's death is heartbreaking. But at least Dae Gu had a chance to say whatever he wanted to say to her. It gave him a closure knowing that Chief Kang found out Dae Gu still trusted her until the end.
The reason behind Dae Gu's mother's pitiful death is disappointing to say the least. Although Dae Gu received a consolation that his mother didn't lie, but Assemblyman Yoo's evil plans are unbelievably lame. One thing he has to know: his greed will ruin his life sooner or later! He can't hide his crime forever, the truth will prevail!