You're All Surrounded Final Episode Mini Recap
You're All Surrounded Episode 20 Mini Recap – Freeze! You're All Surrounded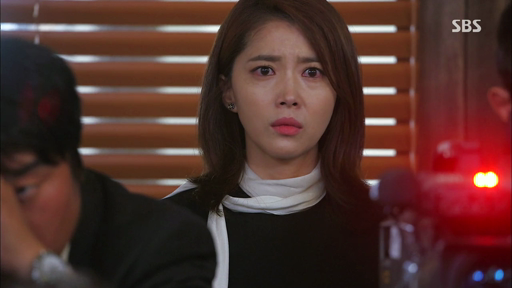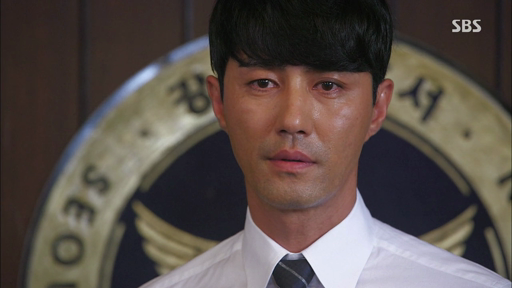 Pan Seok put his job on the line by releasing the evidence of the crime to uncover the whole truth. He reveals the suspect of Chief Kang's death (which was perfectly disguised as a car accident) is either Assemblyman Yoo or Chasung's Yoo Ae Yeon.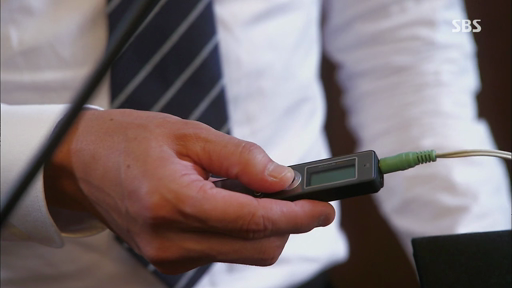 Pan Seok plays the recording related to Masan nurse murder case (Assemblyman Yoo ordered Hyung Chul to forge Dae Gu's paternity test so his daughter could support him financially for his political career)  in front of the  journalists. Chief Kang had this recording on her possession the day she was hit by the truck of doom.
If the recording is proven true, Assemblyman Yoo is the real culprit behind Chief Kang's death, Dae Gu's mom death and Dae Gu's attempted murder.
At the moment, Pan Seok and his team are trying to find out the relationship between Chief Kang & Assemblyman Yoo. He critizess the prosecutors for covering up Assemblyman Yoo's crime – they've never interrogated him neither they did try to uncover the truth. They simply put the blame to Yoo Ae Yeon.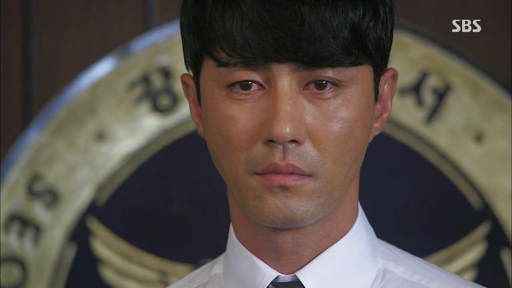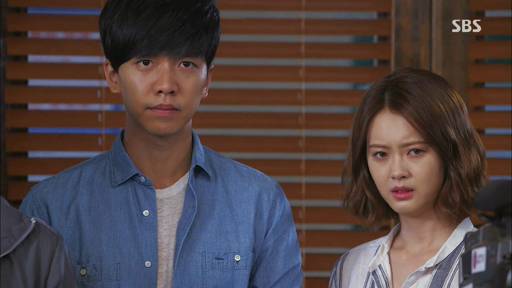 Pan Seok realizes he may lose his job because he broke the code of ethics by releasing evidence of a suspected crime publicly, however, he ask the public's support for a thorough investigation so his team can uncover the truth. He asks the public and the media to support his beliefs that the justice system and the media are not dead.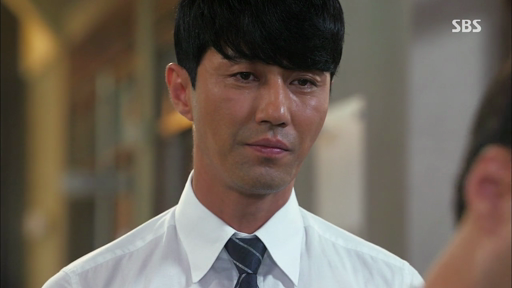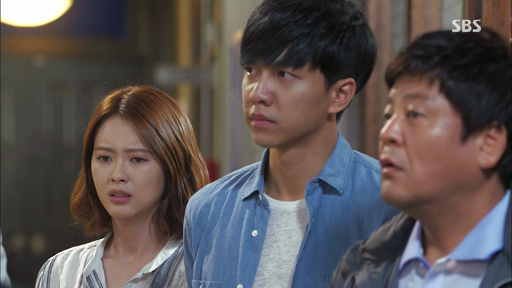 P4 are very worried, Pan Seok assures them everything is ok. But his bold decision has reached the Internal Affairs Department. From now on, they will thoroughly audit Pan Seok who entrusts his kids with Eung Do.
The journalist did their homework, they reported that Assemblyman Yoo & Yoo Ae Yeon are father & daughter.
Yoo Ae Yeon didn't even know who is Chief Kang, so Lawyer Kim's testimony that he received the killing order from her is not true.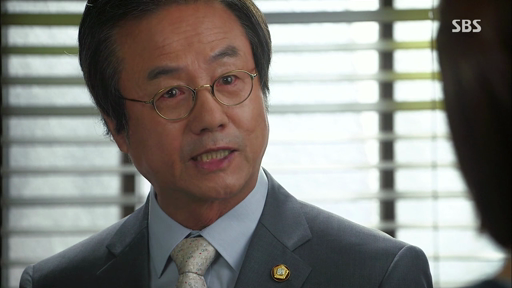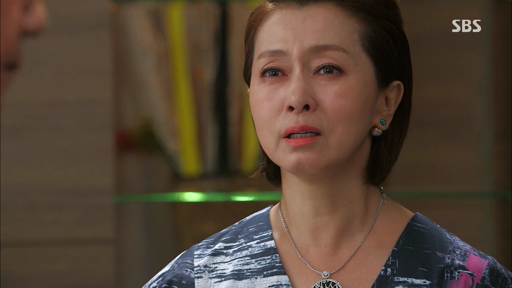 Assemblyman Yoo blames his daughter for hanging on onto a husband who he doesn't approve. Yoo Ae Yeon is enraged with her father's selfish ambitions! He did all these crimes, killed innocent people only because he disapproves his daughter's marriage! Now Yoo Ae Yeon understands the reason why her mom didn't leave any inheritance to her father. His greed is very destructive, it destroys everything!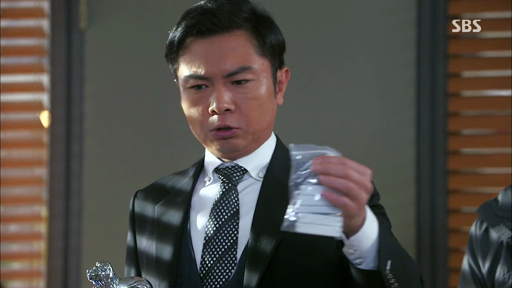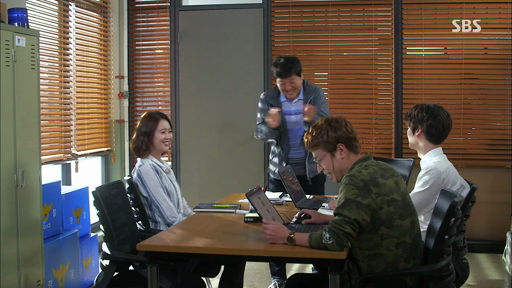 Toad thanks his powerful Korean red beans which removed all the bad vibes from Team 3. Prosecutor Han handed over the investigation to Team 3! Toad presents the latest gadgets to help them to uncover the truth.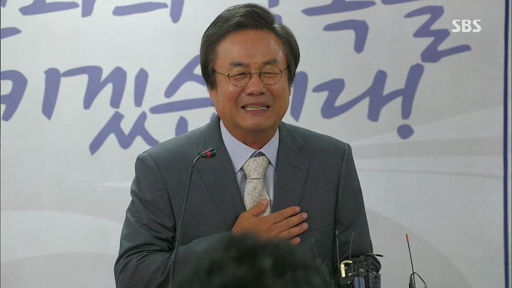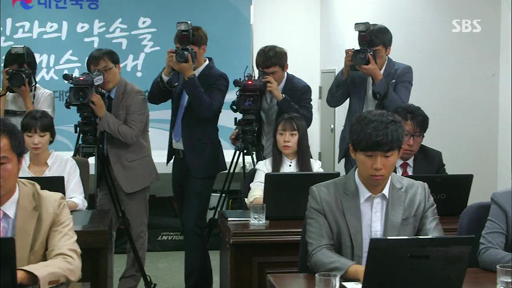 Just then, breaking news that Assemblyman Yoo is resigning! He holds a press conference, trying to gain the public's sympathy & begging for his daughter's forgiveness. However, he denies the accusation of Chief Kang's murder, he explains it's a slander. He promises to cooperate with police investigation to prove his innocence.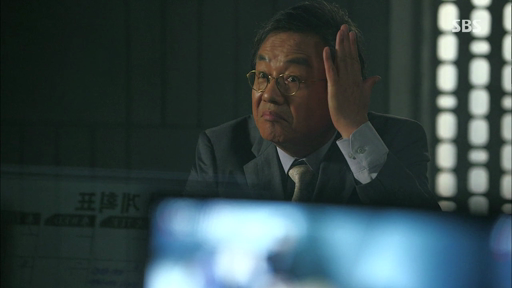 Team 3 didn't expect he would voluntarily come, hence they haven't made any adequate preparation. Eung Do advises them to treat this investigation as an initial observation, because he's very sly, they cannot fall into his trap.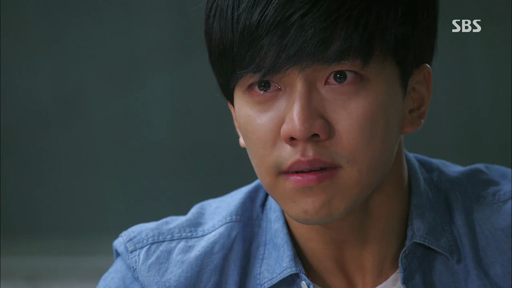 Dae Gu talks straight to the point while Assemblyman Yoo keeps denying all the accusation  (Masan nurse murder case, Dae Gu's attempted murder, Chief Kang's murder). If Chief Kang is alive now, she would prove his innocence. Instead of answering Dae Gu's questions, he asks if he knows why Chief Kang sponsored him. Calm down, Dae Gu ya…
He keeps attacking Dae Gu's soft heart by stabbing Chief Kang! He even accuses her for trying to kill Dae Gu!
Dae Gu is fed up dealing with the villain who pretends to be a respected politician but ends up to be a very evil man. Assemblyman Yoo advises that if one is too hot, he'll burn in his own flames.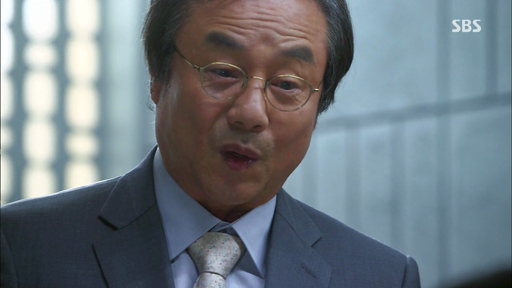 Another physiological attack, he tells Dae Gu that the dead people (Hyung Chul & Chief Kang) can no longer speak. There is nothing he can do even if he feels wronged. His calm advice drives Dae Gu mad!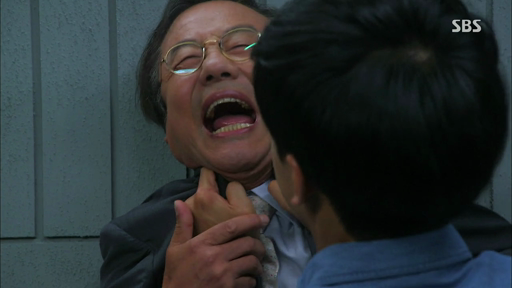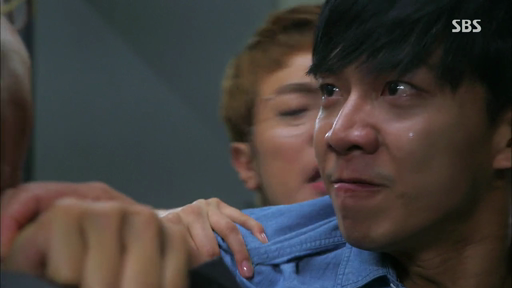 He strangles Assemblyman Yoo's neck, ready to kill him! Eung Do and P3 are trying to calm him down. Ji Gook tightly holds him, so he won't make a fatal mistake.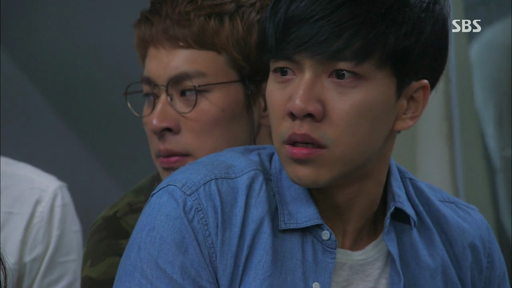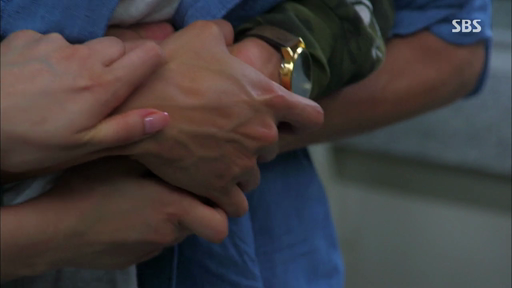 Assemblyman Yoo is in awe that Chief Kang was able to buy a young kid's heart. He requests full recording of this investigation.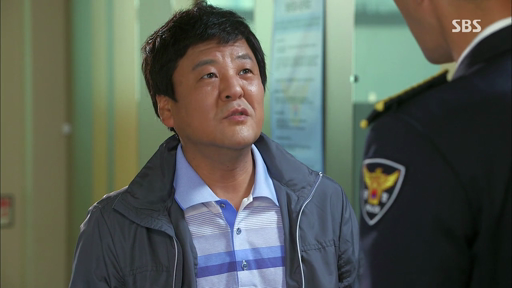 Eung Do begs Pan Seok for not quitting, if he is, he'll quit too and Pan Seok will be responsible for his wife & his 5 children.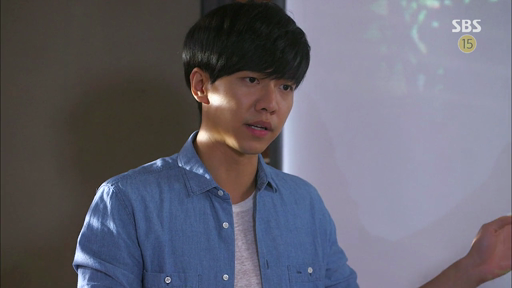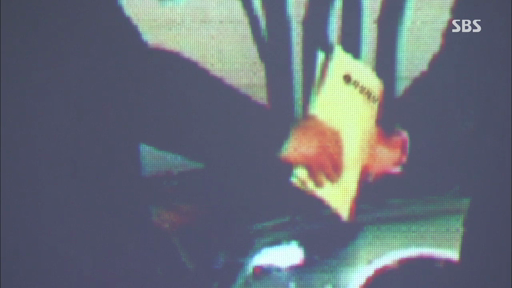 Dae Gu is comparing Chasung's current logo to the logo on the envelope that Hyung Chul carried (on the day Dae Gu was attacked). The Chasung food logo on that envelope was introduced in 2003 but it mysteriously disappeared 8 months later because they sold the company. Hence, the envelope that Hyung Chul gave to Lawyer Kim was the envelope from 11 years ago which could contain a very important evidence.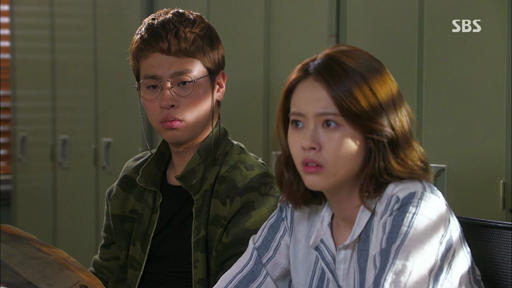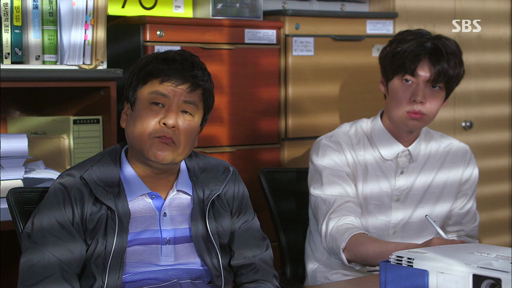 Soo Sun think it could be an old phone, Hyung Chul must've recorded everything on this phone as a crucial evidence. Remember, Hyung Chul was a detective before! Now they're racing against the time to find this phone.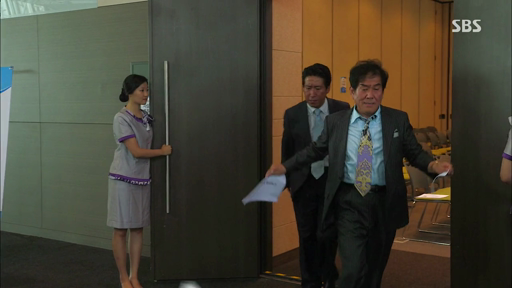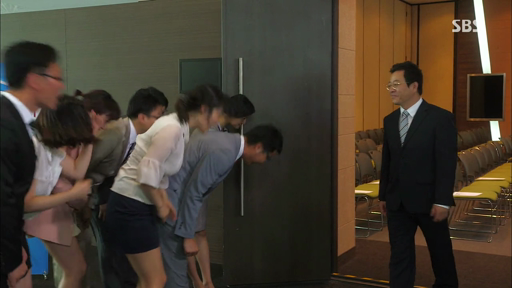 Angry Chasung shareholders as Shin Ji Il transferred the shares to Chasung employees who're very grateful with his kindness. He transferred the company's ownership to the employees.
He apologizes to his wife for making decision himself. Yoo Ae Yeon blames dad for putting her in the hospital, hence, she could do nothing when her husband transferred her shares to the employees. (great acting from both actors on this scene!)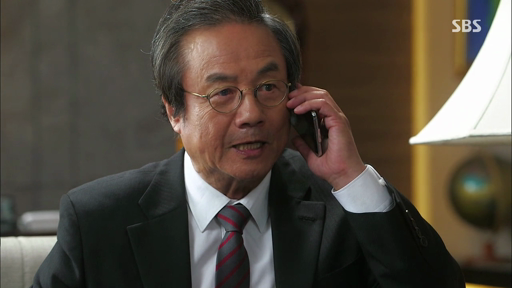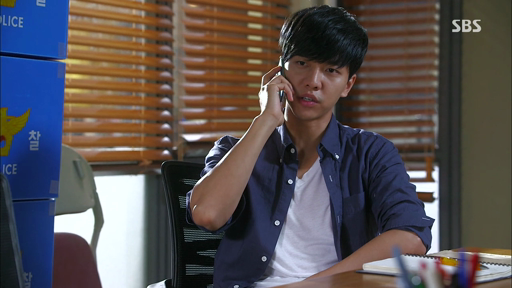 Assemblyman Yoo collapses.. his world is falling apart. Just then, Dae Gu sends him the picture of that envelope. He tricks him that Lawyer Kim is going to hand over the handphone to him, he suggests him to turn himself in to lessen his sentence. Not in million years, Dae Gu yaa…
He's furious that Lawyer Kim backstabbed him. Confused, Lawyer Kim keeps telling him he wouldn't betray him. This is a misunderstanding! Assemblyman Yoo orders his lawyer to hand over the phone to him ASAP.
As Lawyer Kim is going to get the cell phone, Ji Gook & Soo Sun are ready to tail him.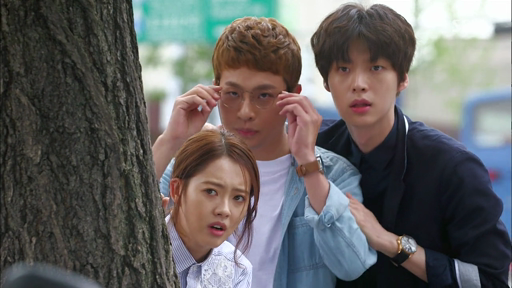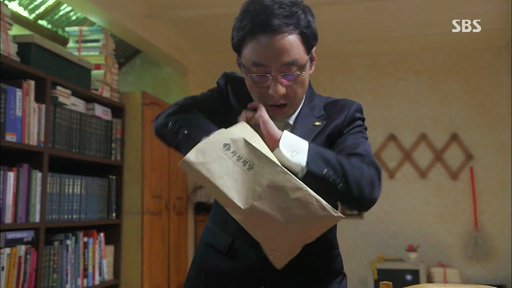 Ji Gook disguises himself as Lawyer Kim's friend. He explains to the book store owner (I guess she's Lawyer Kim's sister) that Lawyer Kim asked him to get the stuff he accidentally left behind.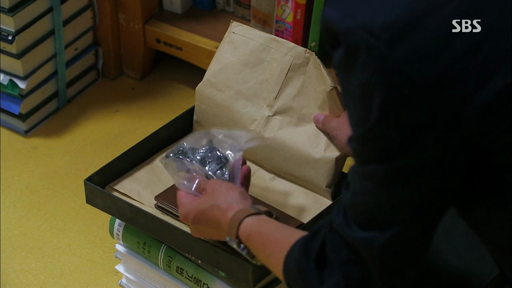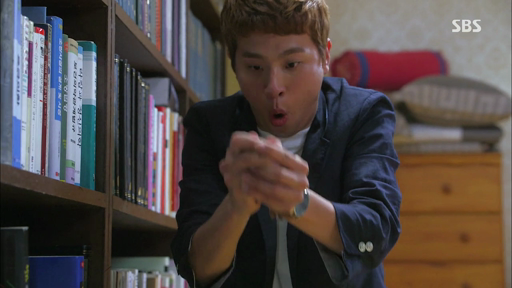 He searches through the room to find a hidden box & the cellphone!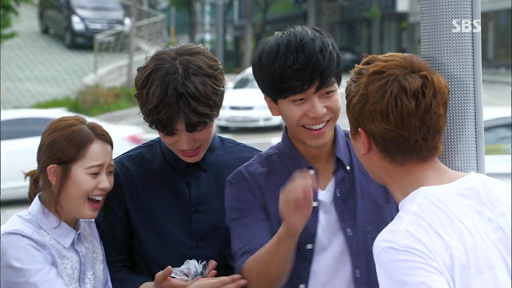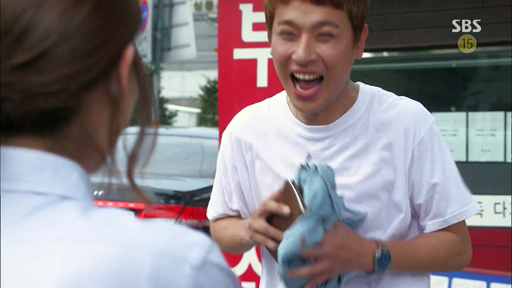 He presents the most important evidence to his team members who're anxiously waiting outside.  Great job, Ji Gook.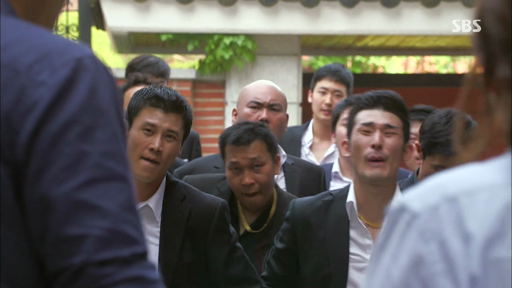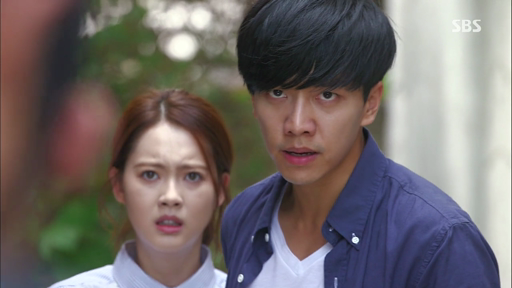 But before they can bring this evidence back to the police station, suddenly a group of thugs arrive! They run as fast as they can trying to avoid the thugs, Dae Gu holds Soo Sun's hand but they're caught.
Assemblyman Yoo has been waiting for them. Repeating his advice about burning in his own flame.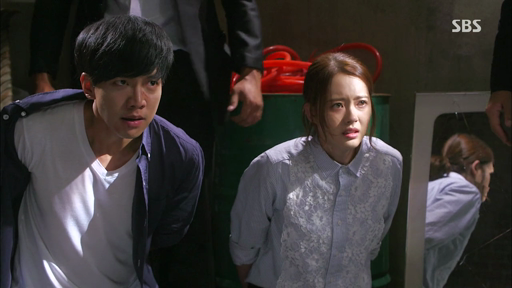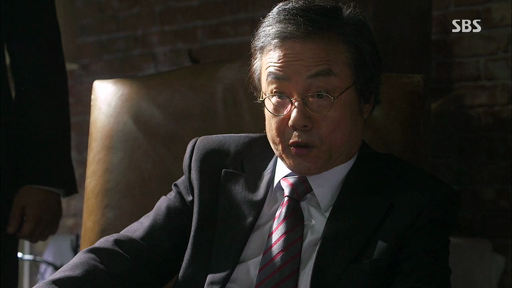 The thugs check the cell phone & the recording to ensure it's the one he's looking for. It's the recording of him instructing Hyung Chul to check if Dae Gu's mom was still alive, if she was, to kill her. He also ordered him to find & kill Dae Gu before things got worse! He blames Hyung Chul for failing to finish his job properly!
Dae Gu asks if he killed Hyung Chul, he replies that it's better for him to keep guessing so he won't feel too wronged on his way to the afterlife. He orders the thugs to kill Dae Gu & Soo Sun.
Dae Gu begs him to release Soo Sun as he promises he'll shoot himself (& make it look like a perfect suicide) because he doesn't want Assemblyman Yoo's hands to be stained with his blood. He advises him to stop killing people without any reason. Yoo let Dae Gu to do as he wishes.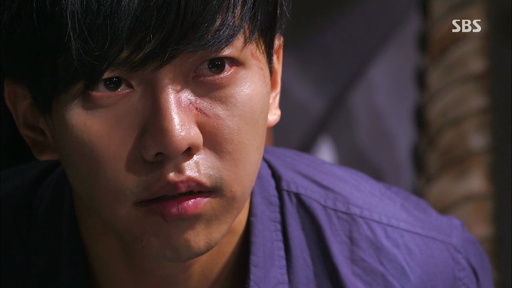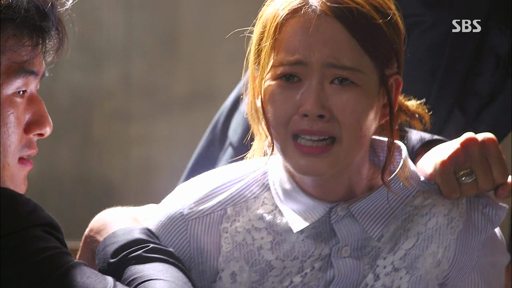 Soo Sun is shocked that Dae Gu is willing to sacrifice his own life. She reminds him of his request "please don't die in front of me", begging him to stay alive no matter what happens! She cries as she confesses she loves Ji Yong. T_T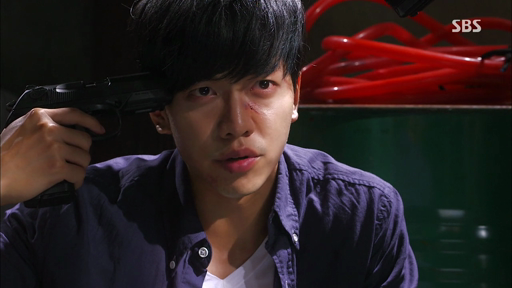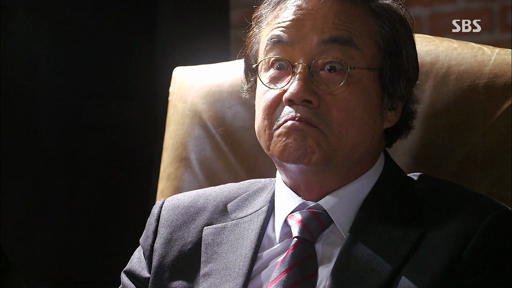 Dae Gu put a gun on his head, Assemblyman Yoo urges him to do it now.  But before he dies, Dae Gu asks if he killed Chief Kang. Assemblyman admits he did it, it was a regrettable sacrifice. He also admits he killed Hyung Chul.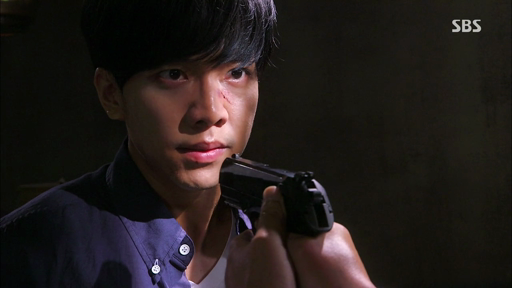 Confidently, Dae Gu drops his gun, asking Assemblyman Yoo to shoot him. He doesn't plan to hand his life over to him. He orders Yoo to kill him now!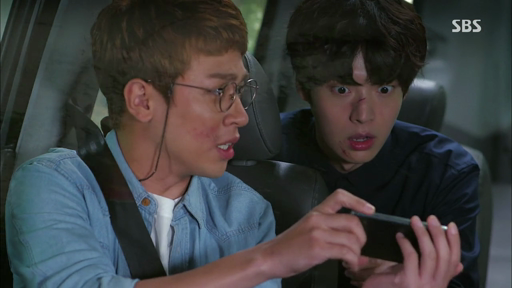 Just then, the camera that Dae Gu hid in his shirt, starts transmissing the live recording to Ji Gook and the team. Dae Gu might die soon, but everything Assemblyman Yoo said has been recorded and will be used as the evidence to prosecute him.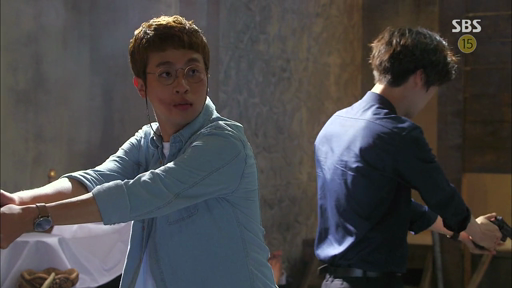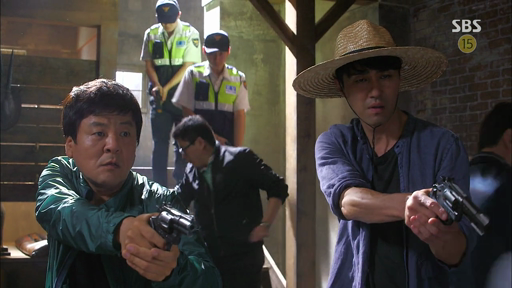 Out of nowhere, Pan Seok arrives (in a perfect disguise with a straw hat) to save Dae Gu. And so do the police teams. They hear a gun shot from inside the shack so they hurriedly go inside to find Dae Gu is arresting Yoo Moon Bae for his crimes of instigating the murder Masan school nurse, Chief Kang, Hyung Chul and the attempted murder of Eun Dae Gu.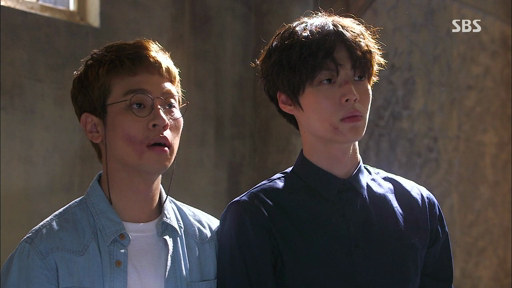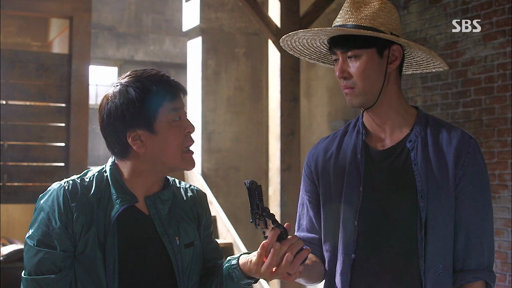 Eung Do is surprised Pan Seok only brought BB gun, but he couldn't bring any other gun because he's suspended.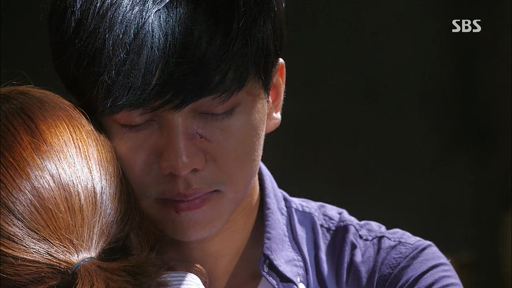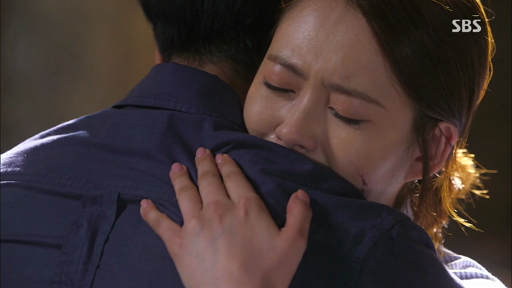 They abruptly leave when anxious Soo Sun arrives. Soo Sun warns Dae Gu that she'll kill him herself if he plans to die again. Awww…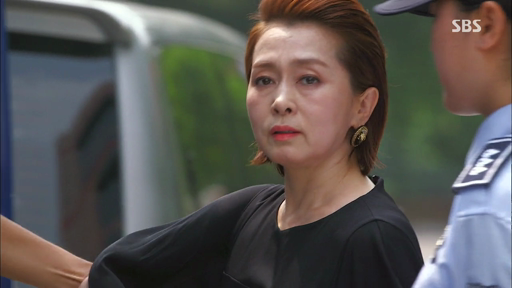 Assemblyman Yoo, his daughter Yoo Ae Yeon and his lawyer are arrested. Poor Ki Jae doesn't want to let his mom go T_T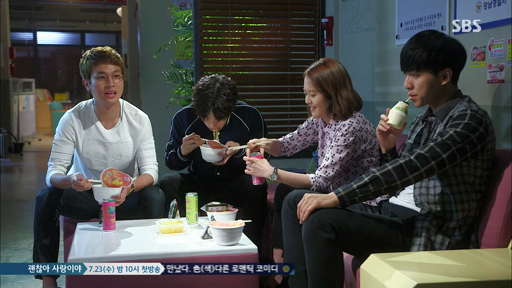 P4 are relieved they've finally caught Assemblyman Yoo. Ji Gook reflects back, he never thought of becoming a detective. Tae Il chips in, they turned Gangnam Police station upside down & turned it into a disaster zone. It's cute that maknae Ji Gook is still drinking his favorite banana milk.
Pan Seok's disciplinary hearing. He explains the reason why he chose to reveal the evidence publicly. The difficulties his team faced when they couldn't have any avenue to uncover the truth. Moreover, by risking his job, he wanted to ignite their passion & be a valuable support for them to finish this investigation until all the culprits are caught. He's aware divulging evidence is wrong so he's willing to accept the punishment.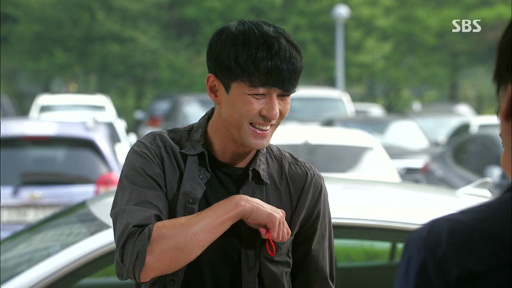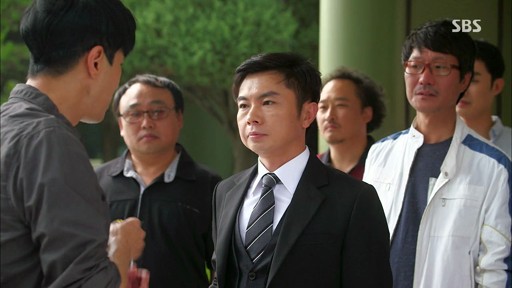 The team say goodbye to the legendary Pan Seok who stood up to justice by putting his job on the line. Toad presents him a red bean amulet. Pan Seok looks at his child, smiles proudly before he steps into his car.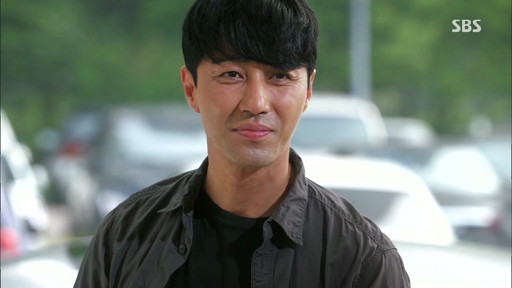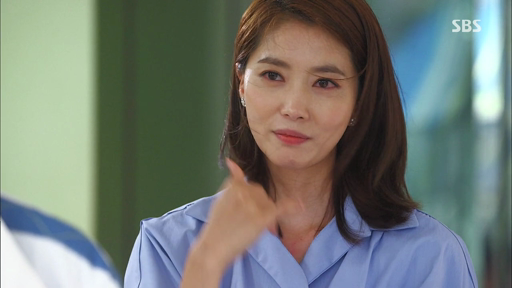 Sa Kyung gives a signal for him to keep in touch by phone.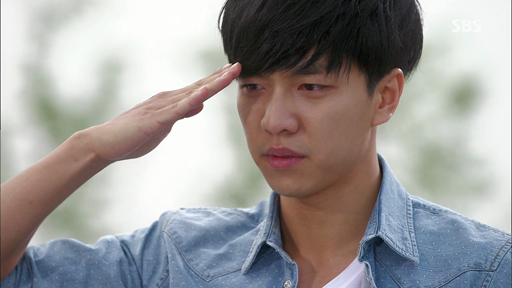 Dae Gu chases Pan Seok to return his book which he left behind at the police station. Pan Seok asks if he has anything to say. Dae Gu almost sincerely thanks him for everything. He tearfully salutes his team leader, appreciating & honoring everything he's done to him.
One year later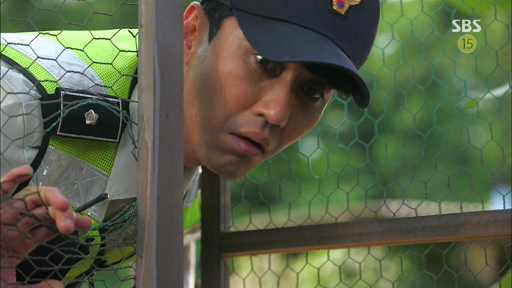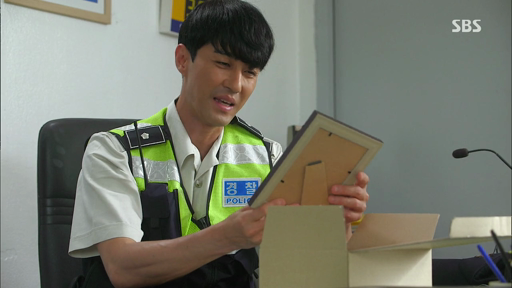 Pan Seok is busy trying to catch the thief who stole chickens, wondering if he should install a CCTV camera haha. He receives a parcel from Gangnam police station, they sent him a group picture & a heartwarming letter explaining what happened in the past year. Aww..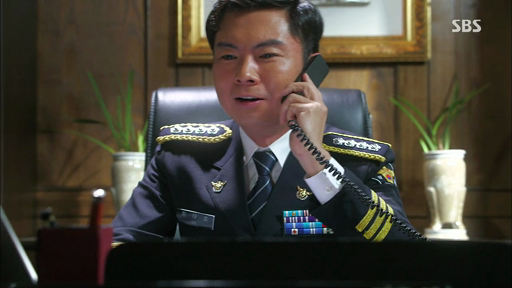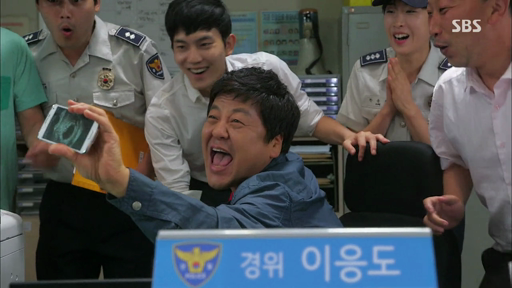 Toad has been promoted as the Police Chief, he's no longer a hot-tempered Toad. Eung Do is now a Team Leader and he received a Presidential award for arresting an escaped prisoner. Now he's expecting his sixth child. =)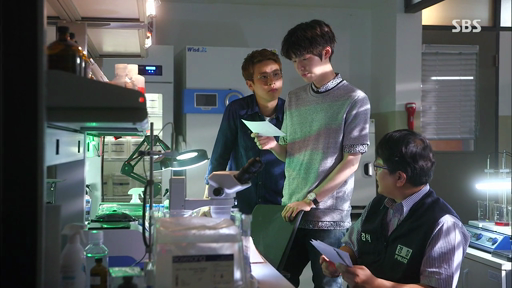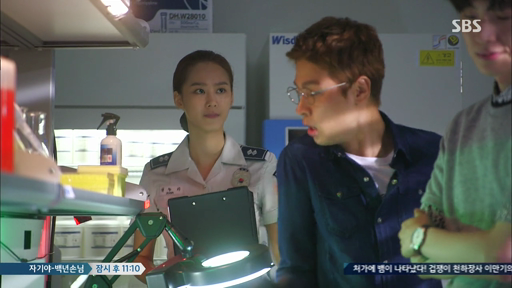 Park Tae Il who has a medical background uses his knowledge to be a forensic expert. Ji Gook? He's in love with a female police officer. =)
What about Dae Gu & Soo Sun?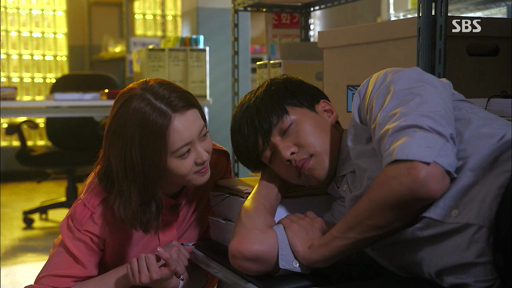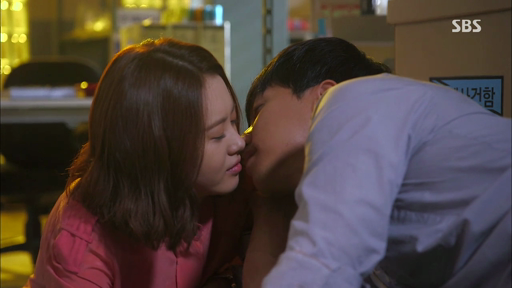 Dae Gu is sleeping… Soo Sun gazes at his sweetly, tries to kiss him. But he wakes up & teases her that it's an assault. LOL. He naturally holds her hand, brings her closer to him. But before they can kiss, two team leaders abruptly enter the room to find documents. Arghh… They almost got caught!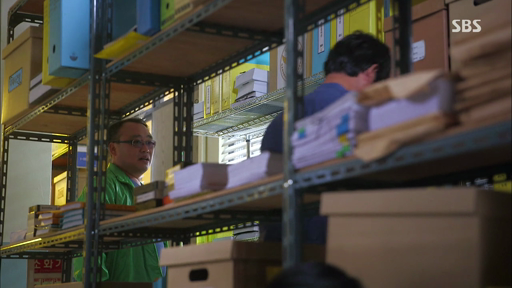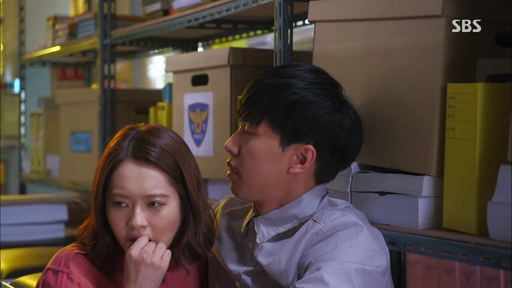 The lovebirds quickly hide behind the shelves. That's a heart-stopping moment!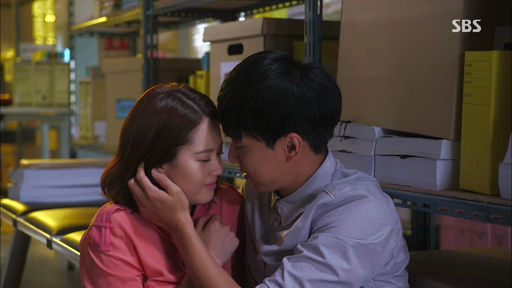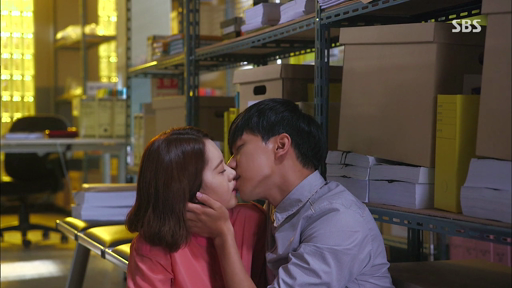 After the team leaders leave… They continue expressing their love… 😀 The long awaited kiss. Very sweet & beautiful.
Soo Sun tells Pan Seok that she & Dae Gu are getting along… well. =) Pan Seok chuckles… calling them sly rabbits. hahaha.
Soo Sun mentions they'll come to visit him soon during their vacation & they miss him so much.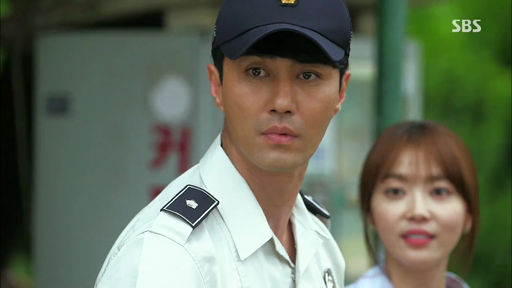 Sa Kyung arrives in the countryside. Pan Seok cheerfully greets her, ready to go on a date. Suddenly, Pan Seok sees the chicken thief riding the motorcycle.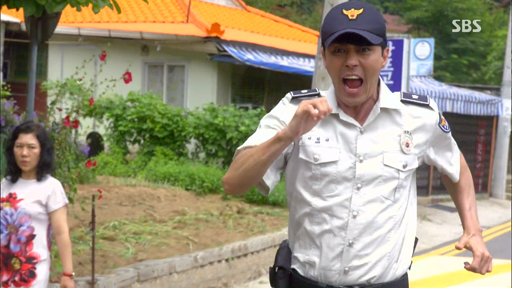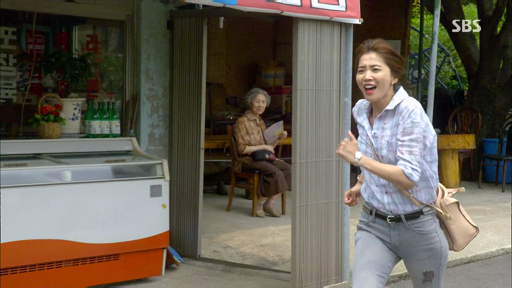 He runs to chase him, so does Sa Kyung who runs to chase Pan Seok. Hahahaha.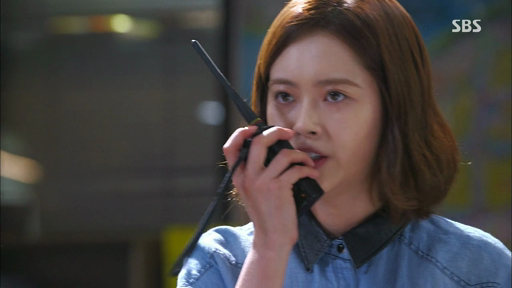 P4 are doing awesome jobs in Gangnam police station!
Pan Seok & Sa Kyung surrounded the chicken's thief. He smiles proudly to Sa Kyung =)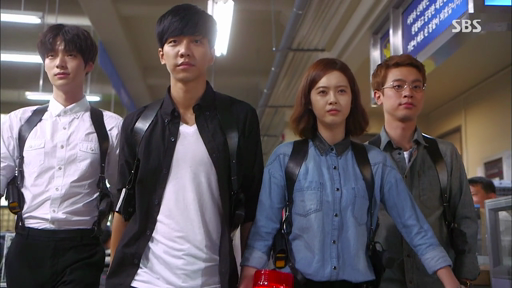 Congratulations for a job well done, P4!
Comments
The most satisfying ending I've ever seen in recent Korean dramas. P4 Rookie Detectives have all grown up into reliable real detectives who have sense of justice & duties. Beautiful poignant theme which stayed consistent throughout the 20 episodes of YAAS. P4, Pan Seok, Eung Do, Toad are amazing characters who never gave up fighting for justice for the innocent citizens & to uncover the truth although it could cost them their jobs. Although their ways were blocked by corrupted politicians & higher-ups, their persistence paid off.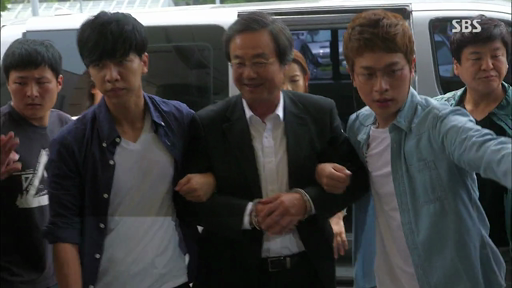 Assemblyman Yoo's greed ate him alive. He burnt himself in the flame he set up for himself, he destroyed himself & his family. When everything crumbled down, when his wealth was taken away from him, when his dignity was striped away from him; he's a weak man who no longer has anything he could hold on to. I feel bad for Ki Jae who had to be painfully separated from his own mother who was betrayed by her own dad.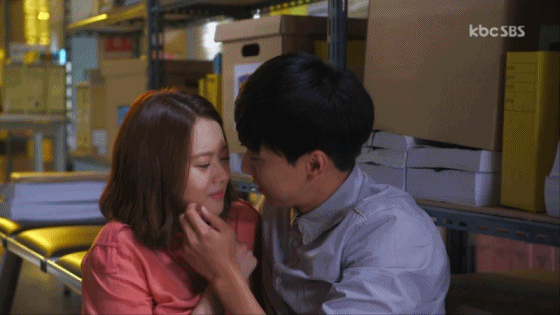 Dae Gu & Soo Sun love story is beautifully sweet. The writer has done a great job to build their solid romance – they're each other's supporter, protector, lover, healer. The kiss in the end sealed their beautiful love story.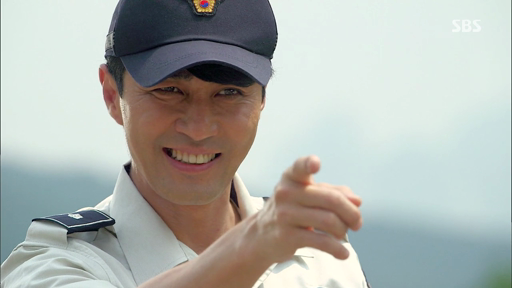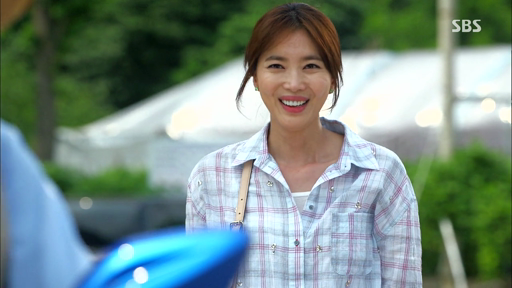 Pan Seok & Sa Kyung relationship wasn't explored much, but there's spark everytime they're together. Pan Seok realizes how much Sa Kyung really means for him and vice-versa that Sa Kyung is willing to chase him while he's busy with his detective job. Amazing couple who deserves all the happiness in the world.
It's a shame the writer didn't spend time to explore Ji Gook's backstory because Park Jung Min is such a great actor. It's a bit disappointing too that Toad was set-up as a comedic relief only, he only stepped up his game in the last two episodes which were hilariously fun but showed us his capabilities as a great Chief. Proud of him for climbing up the ladder, he never wavers although there're many outside pressures. He's the best police chief they could've have.
You're All Surrounded is not flawless, the writing could be improved in several areas (the mystery was lacking the "punch", the criminal cases were weak). I'd love to see Dae Gu's reaction about Pan Seok's son. Although it could give him more heartbreak, but he must know the truth. The birth secret which was proven false was dragged on for so long. >.<
However, the acting was solid across the board.
Cha Seung Won once again proves he's a versatile actor who acted his heart out as legendary Seo Pan Seok. He has amazing ability to transform from sad Pan Seok to angry Pan Seok to sweet Pan Seok to cute Pan Seok to proud Pan Seok with ease.
Lee Seung Gi started quite shaky as he challenged himself to portray cold Dae Gu who didn't speak much & suppress his feeling inside. Once he settled down, he immersed himself as Eun Dae Gu that we could no longer see traces of Lee Seung Gi. Eun Dae Gu is a very complex character who has immense amount of pain & torture. His raw emotions were spot on, his eyes spoke volume how much Dae Gu was hurt, betrayed, angry, disappointed, loved, cared.
Seo Yi Sook was amazing as Chief Kang. If the other actress played this role, I don't think I can sympathize with her character who committed lots of bad decisions in the past. She has the ability to perfectly portray many layers of Chief Kang, from kind-hearted surrogate mother to respectable Chief.
Song Young Kyu's deep voices are still lingering on my mind. He brought Boots / Hyung Chul alive.
Go Ara once again proves her natural acting. Ahn Jae Hyun had a very busy schedule in the first few weeks of YAAS due to his schedule conflict (with his movie filming), but he's no longer Chun Song Yi's brother for me. He's Park Tae Il who fulfilled his brother's dream to be the best detective by using his medical knowledge. Park Jung Min is a great actor, too bad the writer failed to utilize his full potential. Same with Oh Yoon Ah and the rest of the supporting actors.
Editing & cinematography were consistently good. YAAS had a very tight schedule with the scripts came out 3 days before the episode was aired, so well done the editing team! I didn't see any choppy editing even until the last episode where they were still filming 7 hours before the episode was broadcast.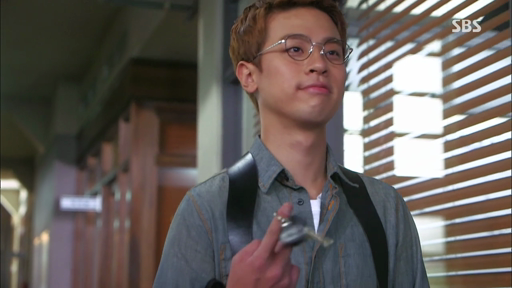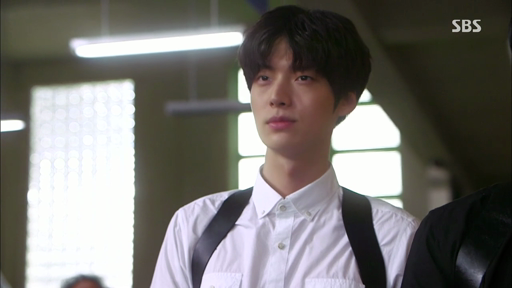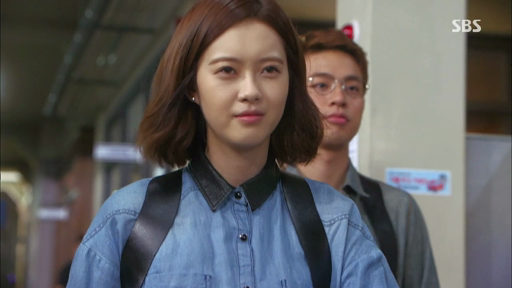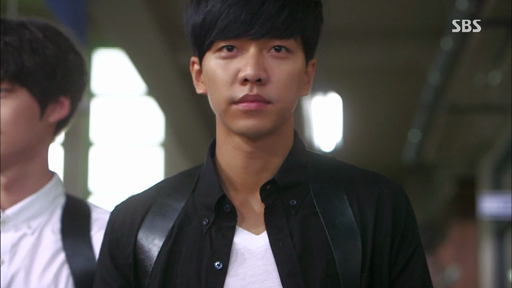 Overall, You're All Surrounded is a heartwarming drama about police officers who never afraid to stand up to justice. It showcase the beautiful friendship between the rookie detectives. Strangers who got closer as they grew up together solving unexpected cases which revealed their true colors. They're forced to share their deepest hurtful secrets which they carried on their shoulder, but once they released their burden, they realized that they're surrounded with supporting & trustable friends.